With the belief that "anything can and will be made better", Oakley lives up to the snow goggle hype each winter season. With so many models, sizes, and tints, it is hard to choose just one. In this guide we break it all down so the one you choose is the BEST fit, style, and lens combination for you.


Contents
1. What You Get With Your Oakley Goggles
2. Top Oakley Snow Goggles of 2019
A. Flight Deck
B. Flight Deck XM
C. Line Miner
D. Line Miner XM
E. Canopy
F. Airbrake XL
G. Fall Line
3. PRIZM Lens Technology Explained
Sunglass Rob and Tyler don't always agree on everything. But one thing they can agree on is how awesome Oakley snow goggles are! Check out the video below to see what they have to say about Oakley's 2019 goggle lineup. We also have a review of the Best Oakley Snow Goggles if you need more help narrowing down your search.
What You Get With Your Oakley Goggles
All the Oakley snow goggles in this guide have been engineered from the ground up to give you the best possible on-mountain performance. Any one of these goggles come standard with the following
PRIZM-Oakley PRIZM Lens Technology boosts contrast so you can see the edges and bumps in the snow easier, making for a safer and more enjoyable ride.
Triple-layer foam-This foam layer provides a seal around your face to keep cold air out and prevent chances of fogging. It also adds comfort to the fit so you can stay out on the mountain for hours on end.
Adjustable silicone-lined strap-You can customize the length of the strap to make it helmet compatible. The silicon lining helps to keep the goggle in place whether you are wearing a helmet or rocking a beanie.
Anti-fog coating- Applied to the inside of the lens to help combat fogging.
Dual Pane lenses-This helps to balance the inside and outside temperatures to greatly reduce any chance of fogging.
Top Oakley Snow Goggles of 2019
With so many options there is a goggle here for everyone. No matter what size, lens shape, or colorway you are looking for. Continue reading to find out more details about each goggle.
Flight Deck
An uncompromising viewing area has made the Flight Deck a fan favorite. The spherical and rimless lens gives you an unrestricted peripheral view. This goggle has a large fit so if you have a larger head or dig the oversize look this goggle is for you. We have a full review of the Flight Deck if you want to learn more.
Flight Deck XM
After the great success of the Flight Deck, Oakley packed all the same great features into a smaller package. The Flight Deck XM is more of a medium fit and has everything you need for a full day on the slopes. You can discover more of the similarities and differences between the Flight Deck and Flight Deck XM in our comparison review.
Line Miner
An expansive view meets a cylindrical lens in the Oakley Line Miner. The cylindrical lens sits closer to your face than a spherical lens so you don't lose any of the peripheral viewing area. The Line Miner features a full rim, cylindrical lens, and oversize fit. Like the Flight Deck, the Line Miner has a low profile fit that makes it very helmet compatible.
Line Miner XM
The Line Miner XM is new to the lineup this season. Following the success of the Flight Deck XM, Oakley engineers saw a need to develop a medium version of the popular Line Miner.
Canopy
The Oakley Canopy features a low profile design with ultra-wide peripheral views to meet all of your needs on the slopes. This helmet compatible goggle is built to keep up with the most advanced riders but works just as well for beginners too. Added venting in the top of the lens will keep you comfortable and fog-free so you can rip it up for hours on end.
Airbrake XL
The Airbrake XL has been a go-to for years now. Switchlock interchange allows you to seamlessly swap lenses based on changing weather conditions. This goggle comes with a bonus lens so you can have the most optimized contrast for whatever conditions you are in. The Airbrake XL has outriggers built into the sides for complete helmet compatibility. We have a full review of the Airbrake XL if you want the full scoop on all the features.
Fall Line
2020 Update! The Oakley Fall Line now comes in two sizes, an XL and XM. The Fall Line XL is Oakleys largest goggle and perfect for BIG heads. The Fall Line XM is most similar in size to the original Fall Line. You can learn about the differences between the two in our Fall Line XL vs Fall Line XM Comparison Review.
PRIZM Lens Technology Explained
Oakley developed PRIZM lenses to give you the ultimate on-mountain riding experience. Rather than just having a light or dark tint lens, PRIZM enhances contrast to make all of the details in your environment easier to see. The lenses are made with specific dyes that manipulate the light spectrum to filter out 'noisy' colors while simultaneously boosting the colors that you need to see. With a variety of PRIZM lenses, there is one designed for every condition you will encounter on the slopes. We have a complete Oakley PRIZM Snow Lens Guide for an even more in-depth lens review.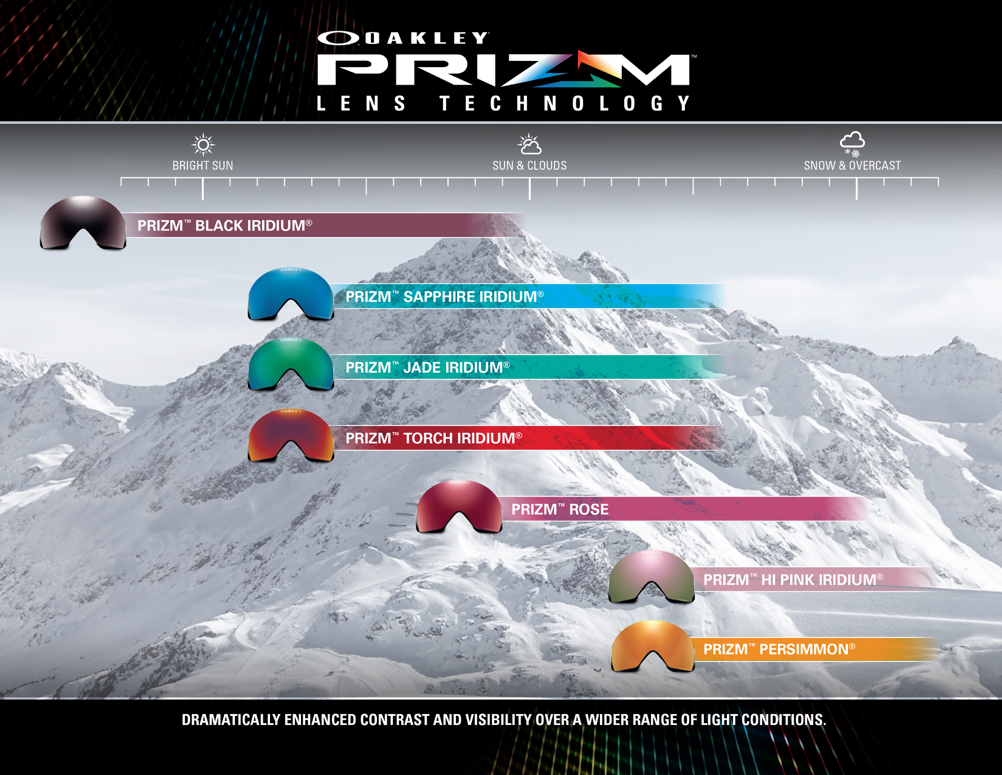 *VLT(visible light transmission)- A measurement of the amount of light that passes through the lens to your eyes. A lighter lens will have a higher VLT and a darker lens will have a lower VLT.
*All PRIZM snow lenses have a rose base and are 100% UVA, UVB, and UVC protected and meet ANSI standards for impact protection.
LOW LIGHT LENSES
PRIZM HI-Pink- Lightest tint out of any PRIZM Snow with a VLT(35-40%). Ideal for low light or overcast conditions.
PRIZM Persimmon- Functions similar to HI pink but offers a different aesthetic which is similar to Oakleys original persimmon snow lens.
PRIZM Rose- Also a very ideal low light lens with a VLT(25-28%). This is a great low light lens for people with more sensitive eyes.
MEDIUM LIGHT LENSES
PRIZM Sapphire, Jade, and Torch- All medium tint with VLT(17-20%). The main difference between these is aesthetics.
BRIGHT LIGHT LENSES
PRIZM Black iridium- Best for bright and sunny days VLT(10-13%). Darkest tint available in PRIZM Snow.
Oakley Snow Goggles in Prescription Online at SportRx!
Did you know we can make custom prescription inserts to fit any of these Oakley goggles? That's right, YOUR prescription in YOUR goggle. If you want more help in knowing what to look for when buying snow goggles ,we have opticians on the phones and live chat 7 days a week that can answer any of your questions. Contact us for any of your prescription or non-prescription needs!