Oakley PRIZM Lens Technology introduces a new way of looking at goggles…literally. PRIZM Snow tailors the lens and tints to specific environments and conditions you will encounter out on the mountain. It drastically increases contrast and visibility, bringing you an experience, like you've never seen before. Scope out the video below to see Sunglass Rob and veteran optician, Tyler, show you all of the PRIZM lenses and explain the types of conditions that they are great for.
With seven different options to choose from, there is always a PRIZM lens to meet YOUR needs. Explore all the Oakley PRIZM Snow lens options below. We have a Complete Oakley Goggle Guide if you are still trying to make up your mind on which model to choose.
Oakley PRIZM Snow Lenses
-PRIZM Black
-PRIZM Torch, PRIZM Jade, and PRIZM Sapphire
-PRIZM Rose
-PRIZM Persimmon
-PRIZM HI Pink
Oakley PRIZM Snow Lens Chart
We created this PRIZM Snow Lens Chart as a quick reference for you to discover the differences between all the PRIZM Snow lenses. The lenses are arranged from bright light to low light so you can find something for every condition you will encounter out on the slopes.
PRIZM Black
PRIZM Black Iridium is constructed for the bright, blue bird days. These goggles have a light transmission of 5.5%, making them the darkest tint in the PRIZM Snow collection. PRIZM lens technology guarantees the best possible contrast so you can find your lines with ease.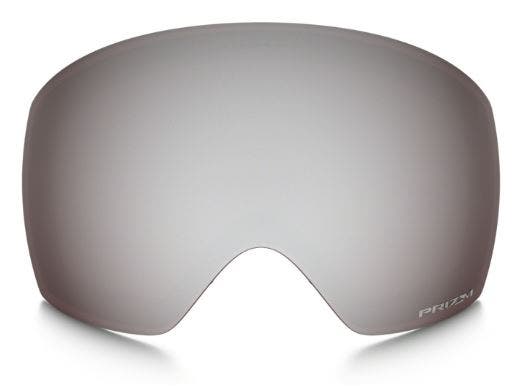 Conditions: bright and sunny

VLT: 5.5%
Base color: rose
PRIZM Torch, PRIZM Jade, and PRIZM Sapphire
PRIZM Torch, PRIZM Jade, and PRIZM Sapphire are all similar functionally, but feature different aesthetics. When deciding which lens tint is right for you, it ultimately comes down to which color you like best. The light transmission ranges from 13-20% on all three lenses, making them perfect for a variety of conditions.
Conditions: everyday, cloud and sun, variable weather
VLT: sapphire-13%, jade-15%, torch-19%
Base color: rose
PRIZM Rose
PRIZM Rose is very similar to HI-Pink, with a few key differences. PRIZM rose is also ideal for low light or overcast conditions but features a lower visible light transmission of 25-28%. This means that PRIZM Rose is a slightly darker lens than PRIZM HI-Pink. We also have a separate blog explaining the differences between PRIZM Rose and PRIZM HI-Pink.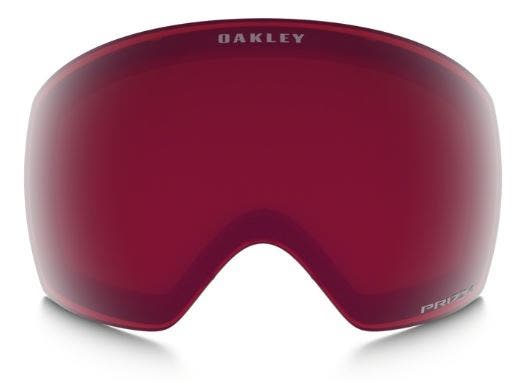 Conditions: cloudy/overcast, minimal sun, snow
VLT: 26%
Base color: rose
PRIZM Persimmon
PRIZM Persimmon, the newest addition to the PRIZM lineup, brings back the beloved tint that we have seen in the past. The difference here is the addition of PRIZM contrast. The original Oakley persimmon lens has now taken a back seat due to the popularity an superb performance only this new type of lens can provide. This lens functions very similarly to HI Pink and the main difference between PRIZM Persimmon and PRIZM HI Pink is aesthetics.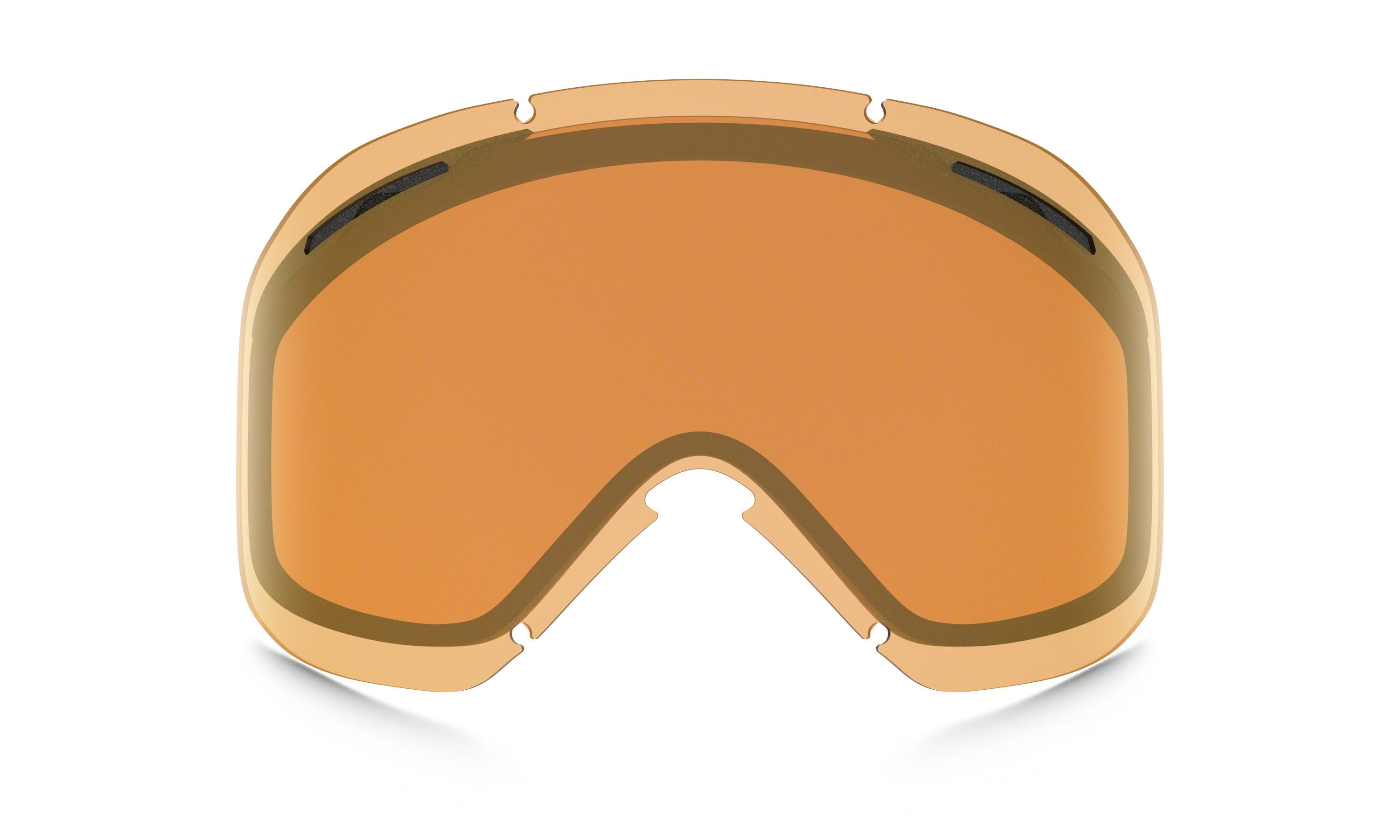 Conditions: low light, overcast, whiteout
VLT: 38%
Base color: orange
PRIZM HI Pink
PRIZM HI-Pink is Oakley's answer for the ultimate low-light lens. It will bring you unbelievable contrast on white out or overcast days, allowing you to see every little detail. HI-Pink has a visible light transmission of 35-40% with boosted contrast. A higher VLT will allow more light through the lens than a darker tint so you can see more clearly. The increase in contrast from PRIZM lens technology makes picking up on details in the snow easier, giving you a safer riding experience.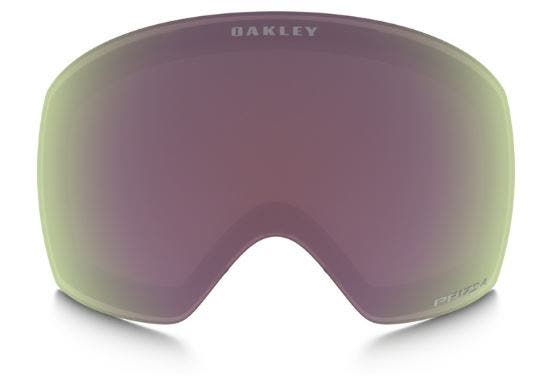 Conditions: low light, overcast, whiteout
VLT: 38%
Base color: pink
Which Oakley Lenses are Best for Skiing?
Ultimately, the choice is up to you. For bright blue bird days we recommend PRIZM Black. On white out days we would probably choose PRIZM HI Pink or Persimmon. And then of course PRIZM Sapphire, Torch, and Jade for everything in between-also a great choice if you want one lens to do it all. Picking up on all the details on the mountain is of utmost importance for advanced and beginners alike. The contrast needed to do so is exactly what makes a PRIZM lens more than just another lens. Whether you are navigating the bunny hill or charging down double blacks, the boost in contrast will make everything in your environment easier to see.

If you are struggling to find the perfect size Oakley goggles, we also have an
Oakley Goggle Size Guide
. In the meantime, you can scope out all the Oakley PRIZM snow lenses from lightest to darkest below.
Prescription Oakley PRIZM Snow Goggles Online at SportRx!
Oakley PRIZM Snow Lens Technology will enhance your vision and give you a more vibrant and exciting experience out on the slopes. With so many PRIZM Snow lenses available and the Best Oakley snow goggles to choose from, we will have something to meet your specific riding needs. If you are in need of a Oakley PRIZM prescription snow goggle option, we can do that too! Contact us if you need help placing an order or if you have any additional questions!