There is a new PRIZM flat light lens coming from Oakley for the 2019-20 winter season! We were lucky enough to get our hands on a sample of the all-new PRIZM Persimmon lens during demo days at Mammoth Mountain. Mother nature must have known we were testing it out because she served up some of the gnarliest white out conditions we have ever been in! Needless to say, it was the perfect testing environment to truly get a feel for what this lens can do. Sunglass Rob and Tyler break down the newest addition to the PRIZM Snow family.
PRIZM Persimmon mixes the orange color that many people are familiar with ultra enhanced contrast that only PRIZM lenses can provide. PRIZM Persimmon is closest to HI Pink on the PRIZM spectrum. As Tyler and Rob say in the comparison video, it is may be just a hair darker than HI Pink. If you have light-sensitive eyes but need a flat light lens, Persimmon is a better option for you. Another alternative that is a darker lens would be PRIZM Rose. You can see our PRIZM Persimmon vs. Rose Review to see how they compare. And if you want even more PRIZM Snow content, we have a complete guide to all the other PRIZM Snow lenses.
PRIZM Persimmon
Benefits of PRIZM Persimmon
Enhanced contrast gives you the definition needed to pick up on all the details on the slopes.
Allows more light through the lens so you aren't fighting to see in low light situations.
Easier to spot lines and bumps in the snow.
Dual-pane lenses help balance internal and external temperatures to reduce any chance of fogging.
Anti-fog treatment on the inside of the lens comes standard with any PRIZM Snow lens.
---
Oakley PRIZM Snow
See how PRIZM Persimmon stacks up against all the other PRIZM Snow lenses in the chart below!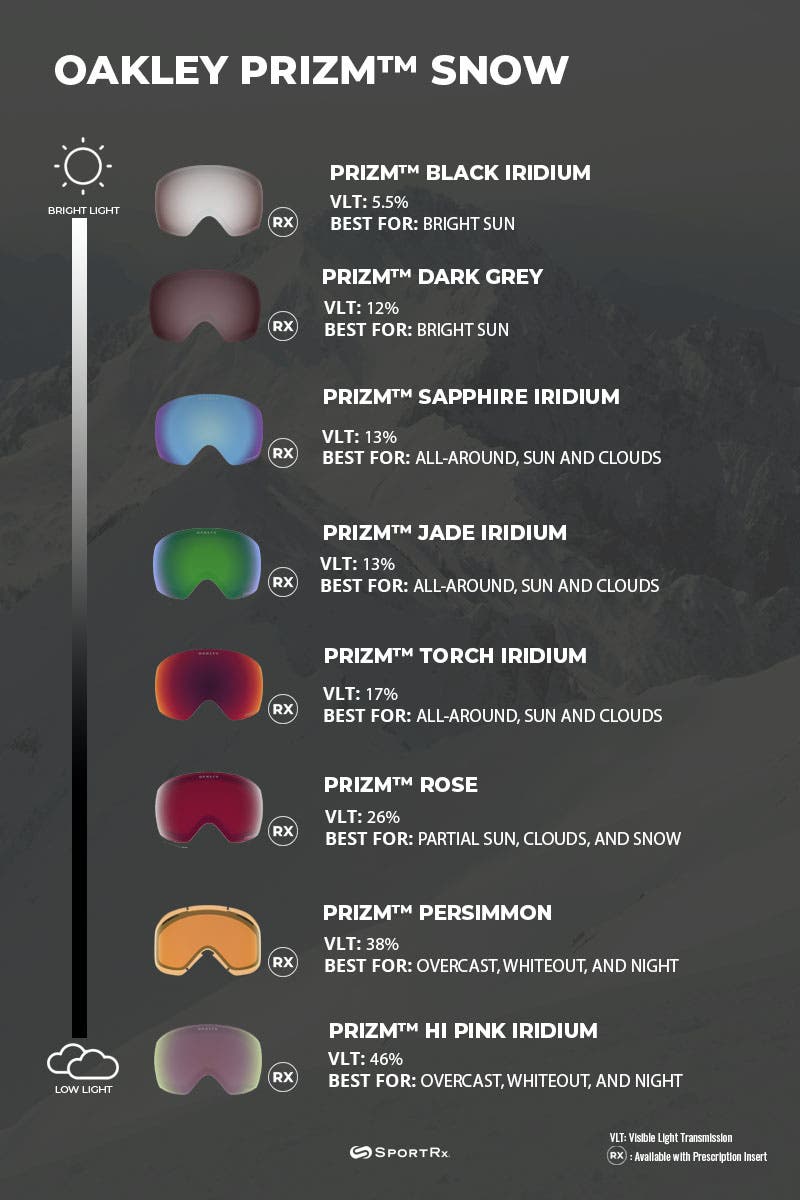 ---
Get Prescription Oakley Goggles Online at SportRx
Need prescription Oakley goggles? Done. We have a prescription insert that will be custom-made to fit YOUR goggle with YOUR prescription. When you shop with us, you'll find video guides and tooltips throughout the build process as you customize the perfect pair. An answer to all your questions is at your fingertips, and if you want to chat with an expert, Contact Us. We'll put you in touch with one of our friendly in-house opticians who can help you build your prescription snow goggles.
Ditch risky online shopping with the See Better Guarantee. Try your goggles for 45 days. If you're not satisfied, send them back. Get a full refund, exchange, or credit towards a better pair. And return shipping? Covered. Get your pair of prescription snow goggles at SportRx today!