There is some confusion around the appearance of Oakley PRIZM Sapphire and we are here to clear things up! Sunglass Rob and Prescription Goggle Tyler are on the scene to tell you exactly what to expect from a PRIZM Sapphire lens when you receive your Oakley Snow Goggles.
What does PRIZM Sapphire Look Like?
Upon first glance this lens may look more rose or silver than blue. In fact, we have gotten many calls from customers because they think they received the wrong goggles. The rose comes from the base color of the lens and the silver appearance is the iridium coating. The iridium acts as a mirror. However, it is very difficult to show what a mirrored lens looks like when you are not actually in front of a mirror. Check out our Oakley goggle guide to see what PRIZM Sapphire looks like on this years best Oakley goggles.
Why is PRIZM Sapphire a rose color?
A rose base will give you more contrast on the slopes. All PRIZM Snow lenses have a rose base but it is more noticeable in PRIZM Sapphire. PRIZM Jade, and Torch also have a rose base and function the same as Sapphire. The main difference between all three is aesthetics. So go ahead and choose whichever color you like best! We have a complete guide on Oakley PRIZM Snow lenses if you want to learn more about how PRIZM Lens Technology works.
How Does PRIZM Sapphire Perform?
PRIZM Sapphire has a VLT(visible light transmission) of 17-20%. This means that about 17-20% of the available light is able to pass through the lens to your eyes. The iridium coating on the outside of the lens acts as a mirror which also helps to control the amount of light entering the goggle. When the sun is out, it will be reflecting off the lens and the mirror will look more profound. But when the sun is not out or you are not under direct light, you will not get the full effect of the mirror. Instead, you will see more of the rose base color. We have an on-mountain review of PRIZM Sapphire if you want to learn more about the performance of the lens.
---
Oakley PRIZM Snow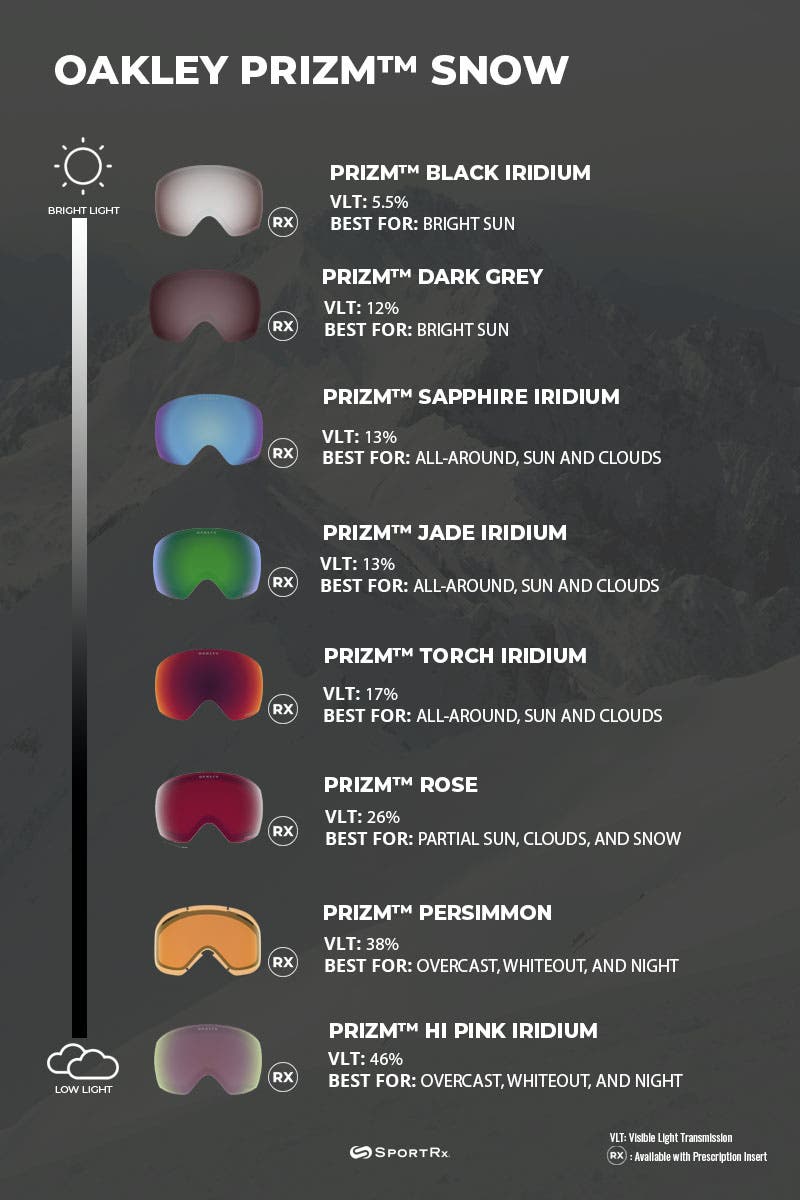 Oakley Prescription PRIZM Sapphire Goggles Online at SportRx!
Did you know we have a prescription insert system that will work with just about any goggle on the market? So if you have an rx and want to see all of the details out on the mountain, we have a solution for you! OTG Snow goggles are a thing of the past. With the SportRx prescription insert you don't have to worry about breaking your glasses, annoying temple pressure, or fogging. If you have questions about Oakley Snow Goggles or anything else, contact us! We have opticians on the phones and Livechat 7 days a week.