Make heads turn on the slopes this winter with the Oakley Fall Line XL and XM. This newly revamped version of the original Fall Line is available in two sizes to cover a wide variety of head shapes and size. Discover all the similarities and differences between the two models in the video below.
Since this guide is more of a comparison, we have a separate review of the Oakley Fall Line XL and the Oakley Fall Line XM if you want a more in-depth look at each goggle.
Oakley Fall Line XL
Oakley Fall Line XM
The Fall Line XM is most similar in size to the original Fall Line with a few minor updates. The lens is a bit taller and dips down further on the bottom edge and the face foam is a bit thinner, allowing the goggle to sit closer to your face. Both of these changes give you a wider viewing area which is always a plus!
Differences Between the Fall Line XL and Fall Line XM
The only difference between these two models is size. Just as the name indicates, the Fall Line XL is ideal for those looking for a large/oversized fit. The 'XM' stands for 'extra medium' and best fits people with a small-medium size head.
Similarities Between the Fall Line XL and Fall Line XM
PRIZM Lens Technology - Oakley PRIZM Snow Lens Technology makes finding your line down the mountain a breeze. This contrast-enhancing technology work by manipulating the light spectrum to make all the light-sensitive colors easier to pick up on. In turn, you can better read the terrain and bumps in the snow.
Pro Strap Compatibility - New to the 2019-20 season, the pro strap is offered as an accessory to the Fall Line XL. This strap is different from the traditional adjustable straps because it doesn't have a buckle on it. It is specifically designed to increase comfort when wearing the goggle under your helmet or on your beanie.
Rimless Design - No rim means wider view. Increased peripherals and a clean retro-inspired look is what you get with the Fall Line XL.
Dual Pane Lenses - The Fall Line XL lenses function similar to the way a dual-pane window works. Better heat regulation by dividing the internal and outside temperatures means less chance of fogging.
Anti-Fog - All Fall Line XL's come with anti-fog coating on the inside of the lens.
Triple-Layer Foam - This provides a proper seal around the edges of the goggles. Three layers of anti-microbial foam increase comfort so you can stay out on the slopes until the last lift shuts down.
OAKLEY PRIZM SNOW LENSES
There are Oakley PRIZM Snow lenses designed for every condition you will encounter out on the mountain. From blizzards to bright blue bird days, there always an option to meet your needs. We have a complete PRIZM Snow Lens Guide if you need help deciding which lens to choose.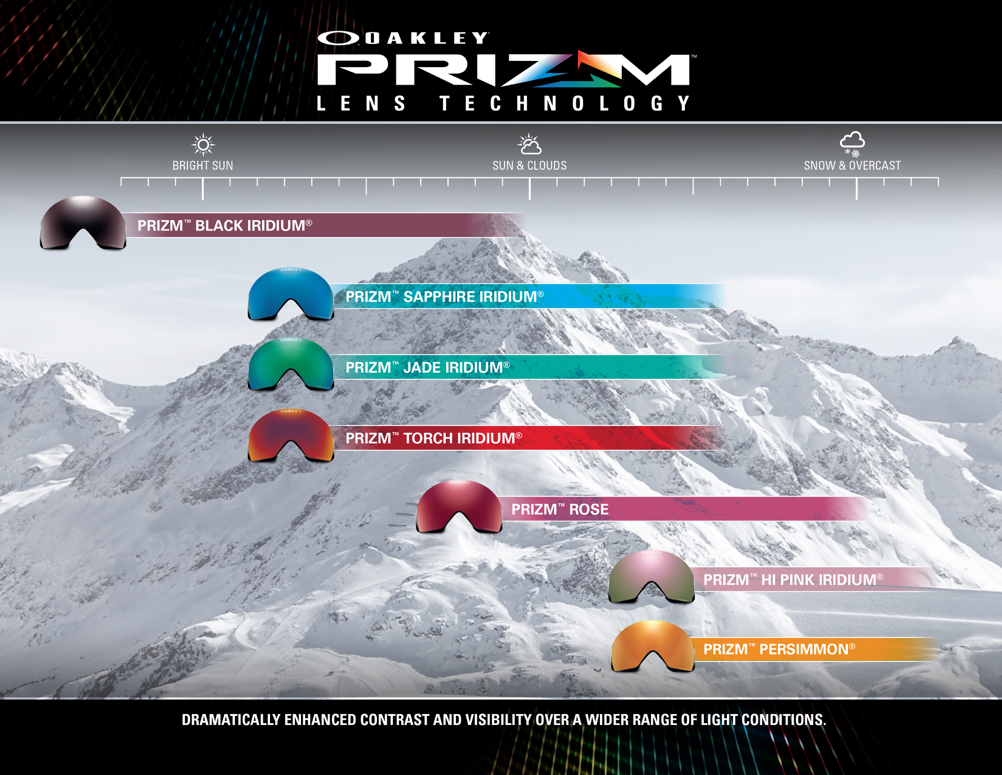 PRESCRIPTION OAKLEY FALL LINE XL IN PRESCRIPTION AT SPORTRX!
Need prescription Oakley Fall Line XL or XM Goggles? Done. When you shop with us, you'll find video guides and tooltips throughout the build process as you customize the perfect pair. An answer to all your questions is at your fingertips, and if you want to chat with an expert, Contact Us. We'll put you in touch with one of our friendly in-house opticians who can help you build your prescription Oakley snow goggles
Ditch risky online shopping with the See Better Guarantee. Try your Oakley Fall Line XL or XM goggles for 45 days. If you're not satisfied, send them back. Get a full refund, exchange, or credit towards a better pair. And return shipping? Covered. Get your pair of prescription Oakley goggles at SportRx today!