As the Oakley founder, Jim Jannard, has always said, "Everything in the world can and will be made better." PRIZM lens technology proves just that. PRIZM is designed to enhance contrast in a specific environment so you can perform your best while doing the activity that you love. There are several types of PRIZM Snow lenses, each fine-tuned for the varying conditions that exist on the slopes. In this review we take a closer look at Oakley PRIZM Rose and see why it stands the test of time as one of the best low light or overcast lenses on the market.
Oakley PRIZM Rose Snow Goggles
Through enhancing contrast and color over a wide range of light conditions, each of the PRIZM Snow lenses allow for the ultimate performance in all types of conditions. PRIZM Rose is designed for low light but still functions well when the sun peeks through. This means that if the sun comes out on a overcast day, your visibility and clarity will not be effected. During overcast conditions when visibility is hindered, it's important for a lens to be able to distinguish obstacles on the mountain. Oakley PRIZM Rose will be the lens you can count on during those conditions. PRIZM HI Pink or Persimmon are a lighter tint than Rose and may be preferred by some riders if they have less sensitive eyes or only plan on riding in whiteout conditions or at night. You can find out more about the similarities and differences between PRIZM Rose and Hi-Pink and even a comparison review of PRIZM Rose and PRIZM Persimmon.
The PRIZM Rose lens has a 25-28% visible light transmission which allows for the clarity and precision you need in bad weather conditions. Whiteouts can be crazy to run, but the PRIZM Rose can give you the edge to brave the storm. During these times, the Oakley PRIZM Rose will be the difference between retiring to the cabin early or tackling winter on your terms.
---
Oakley PRIZM Snow
See how PRIZM Rose stacks up against all the other PRIZM Snow lens options in the chart below!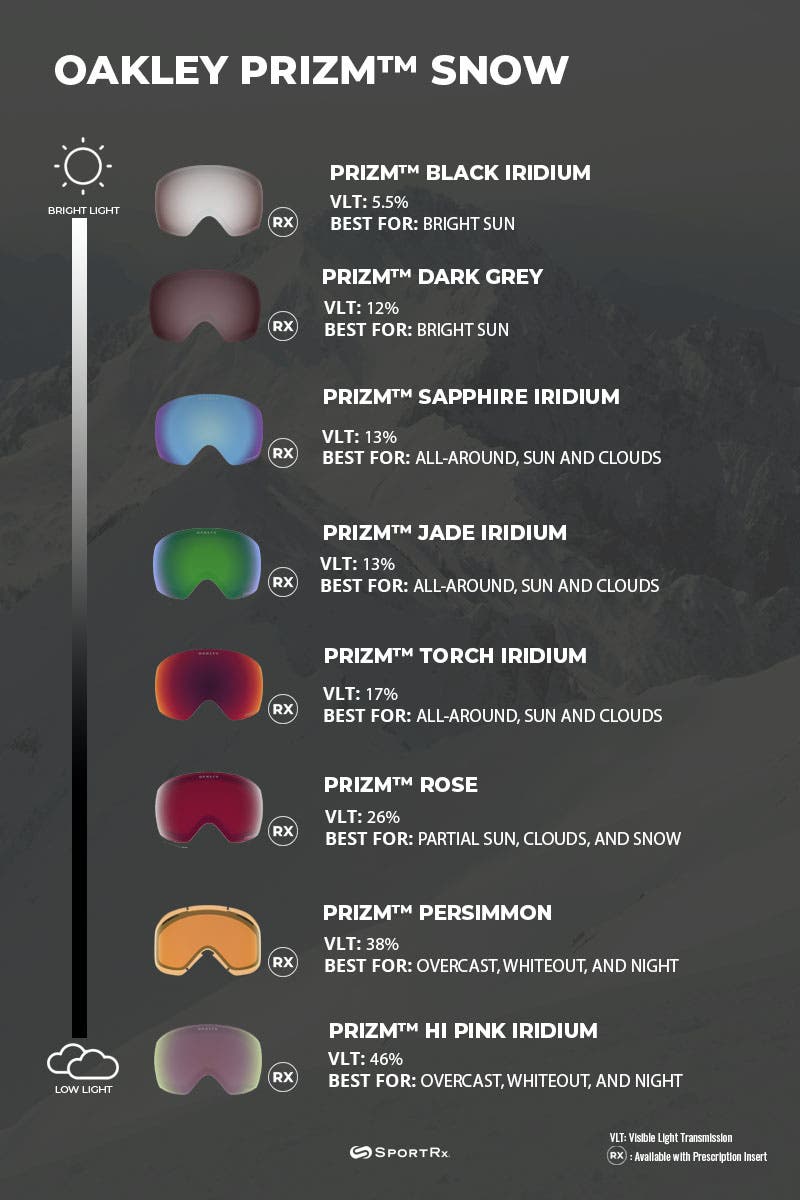 Oakley Prescription Goggles Online at SportRx
Get the PRIZM Rose lens in your favorite Oakley ski & snowboarding goggles at SportRx. We carry the best of Oakley and have custom-fitted prescription snow goggle inserts for all of Oakley's snow catalog. If you have any questions, please Contact Us to speak with one of our trained opticians. Expect great service, leave with the perfect snow goggles at SportRx.