There's so much that goes into finding the perfect pair of ski goggles, so we've created the perfect buyer's guide to break down the components of what makes for an exceptional ski goggle. Once you browse through this step-by-step buyers guide of ski & snowboard goggles, you should know everything to consider when choosing a snow goggle. We're confident this step-by-step ski goggles buyers guide will answer all your questions about prescription ski goggles.


Key Things To Consider When Buying A Snow Goggle
1. Which Snow Goggles are the Best?
2. Snow Goggle Sizing
3. Interchangeable Snow Goggle Lenses
4. How to Choose a Snow Goggle Lens Color
4.1. Best High Contrast Snow Goggle Lenses
5. How Anti-fog Goggles Work
6. Lens Shape
6.1. Cylindrical Lenses
6.2. Spherical Lenses
6.3. Toric Lenses
7. Why Prescription Inserts are Better than OTG Goggles
Sunglass Rob and Tyler sift through every little thing that you should consider when buying a ski or snowboard goggle. No matter what it is, they have the answers to any questions you may have.
Which Snow Goggles are the Best?
There may not be a single answer to "Which snow goggles are the best?" And the better question may be "Which snow goggles are the best for me?" This guide will help you know what to look for in choosing your ski or snowboard goggle. Each year, every brand is stepping up the previous year's offering to compete and hopefully come out on top. The good news for you is that no matter which brand you choose, you are going to get a solid snow goggle. Oakley, Smith, Dragon, SPY, Anon, and Giro are top contenders in the world of snow goggles. With the expansion of enhanced goggle technologies, the competition is stiff and the expectations are almost always exceeded. These brands produce ski goggles and snowboard goggles that will take your adventure to the next level.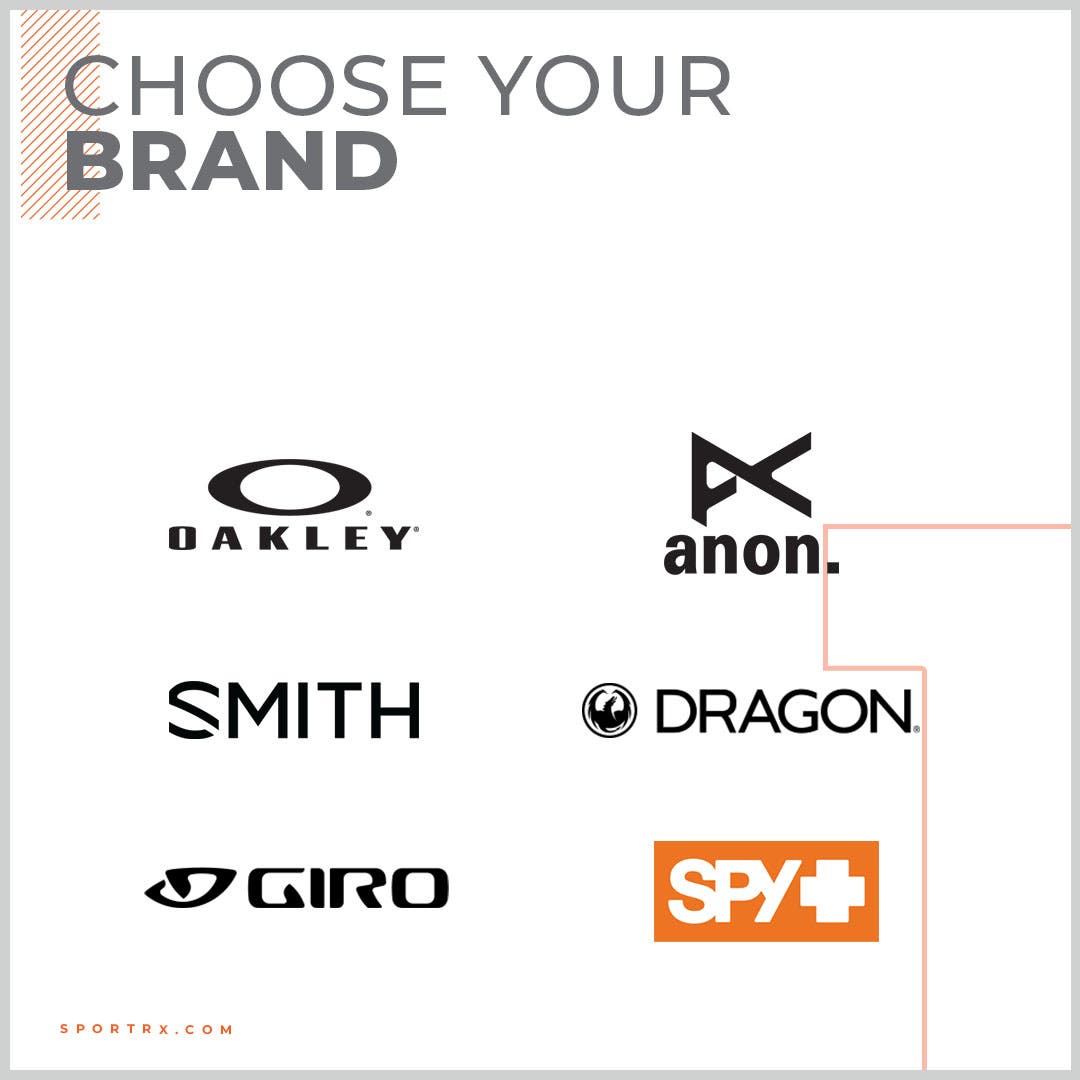 Snow Goggle Sizing
Fit- A top priority in making your snow goggle selection is fit. If the size is not right you will not be able to fully enjoy all of the awesome features of your goggle. Most all snow goggles are unisex and have sizes from youth to extra-large.
Triple-layer foam- Any top-of-the-line goggles will come standard with triple-layer foam. When you find the right fit, the triple layer foam around the edge of the goggle will create a full seal around your face that prevents any cold air from getting into the goggle. Be sure to find a fit where the foam provides a seal but does not pinch your nose or press to hard on your cheeks. Speaking of triple-layer foam, Asian Fit Snow Goggles come with thicker foam around the nosebridge area to help fill in any gaps if you have a flatter nosebridge.
Helmet Compatibility- Trying your goggles on with a helmet or beanie before you hit the slopes is always a good idea. You should look for a goggle that has vents on the top so if you do choose to wear a helmet, the warmer air can flow out the top of the goggle. Most helmets are designed to continue this air flow through the brim of the helmet. Therefore, the air would flow through the vents in the top of the goggle and also through the vents in brim of the helmet. You should also look for a low-profile goggle to ensure a minimal gap between your helmet and the goggle so no cold air can sneak in.
Strap-All goggles come with an adjustable strap. Most are silicone-ribbed and can easily fit around most any helmet. Some brands also have a snap on the strap for an even easier goggle adjustment.
Interchangeable Snow Goggle Lenses
Skiers and snowboarders encounter a range of weather conditions on the mountain, and although there are versatile lenses to help adapt to different weather conditions, no single lens can optimally perform in all of them. That's why the goggle-making geniuses have developed quick interchangeable lens systems to make changing lenses easy – even while you're wearing gloves. Nevertheless, some slope shredders prefer one lens, while others prefer multiple lenses. Here are three types of lens options to help you adapt on the slopes:
Interchangeable Lenses: A lot of goggles nowadays are interchangeable and they generally come with two sets of lenses. The idea is you get one lens for bright conditions, and one lens for low-light conditions that you can swap out as the weather changes.
One Lens: The other school of thought is to get something in the middle that will work fine in either type of condition if you don't want to change back and forth between lenses. It's not exactly perfect in either bright or super overcast days, but it's versatile enough to get you through a range of weather conditions with just one lens.
Photochromatic (light-reactive) Lenses: Photochromatic lenses are not very common when it comes to ski & snowboarding goggles. These lenses automatically react to changes in light conditions. The level of UV exposure triggers the lens to lighten or darken depending on how bright it is. Photochromatic lenses give you the benefit of having a single lens that can adapt to a variety of situations.
Polarized Lenses: The main benefit of a polarized lens is that it reduces glare. Glare is created when the vertical light rays from the sun reflect off a surface and combine with horizontal rays. Polarized lenses are commonly found in sunglasses but may not always be preferred in goggles because being able to pick up see glare can help you to spot ice on the slopes. Most polarized goggles come with a semi-polarized lens that would work well in sunny conditions but would probably end up being too dark in overcast weather. Studies have also indicated that polarized lenses throw off depth perception in some individuals.
How to Choose a Snow Goggle Lens Color
There is a variety of different lens colors and tints, each designed to help riders adapt to changes in light conditions. No matter what environment you will be riding in, there is a lens tint for you because there are snow lenses made for every condition. Every lens tint varies in how much light they allow to pass through the goggle. The amount of light allowed through the lens is referred to as Visible Light Transmission (VLT). VLT falls along a range between 0% and 100%, meaning, the higher the VLT, the more light allowed through the lens, and vice versa. If you need more help in choosing a tint, we have a separate guide on how to choose a snow goggle lens color.
Bright Conditions – A dark lens allows a low amount of light through the goggle, which is ideal for brighter conditions. They typically have a lower VLT between 5% and 20%, and are often mirrored to help deflect glare. These lenses are usually grey in color, however they often have a rose or brown base color to help enhance contrast vision, which is important for seeing in and out of trees and shadows.
Medium/Bright Conditions – For those "partly cloudy – partly sunny" days, you're going to want an all-weather snow goggle lens. We suggest going with a medium copper, rose, and brown tints with a light to no mirror. The rose tint gives you some contrast vision for the overcast conditions, yet they can still provide some brightness protection for sunnier days. These lens tints will be your best bet to contrast when cruising down the mountain on those fair weather days.
Low/Medium Conditions– The best lenses for overcast days on the mountain are going to be a yellow / amber tint with or without a mirror. This type of tint will deliver the best contrast, enabling you to clearly see the bumps in the snow up ahead. The mirror lenses on these days aren't as necessary because there won't be much glare, however, they won't negatively impact your vision either. We have a more complete guide of the best flat light goggle lenses if you want to know more.
Best High Contrast Snow Goggle Lenses
Contrast is what allows you to see the bumps and edges in the snow and find your lines easier. A snow goggle lens boosts contrast by filtering the colors of the light spectrum. Most lenses filter out 'noisy' colors while at the same time boosting the light-sensitive colors that help you to see detail. Each brand has their own contrast-enhancing lens technology but the idea behind the technology is similar. We have separate guides for some of the brands if you want to learn more about a specific lens contrast technology. We have more in-depth reviews of Oakley PRIZM, Smith Chromapop, Dragon Lumalens, SPY Happy, and, Anon Sonar lens technology.
How Anti-Fog Goggles Work
When it comes to skiing and snowboarding, fog has always been an enemy. Goggle technology in the last few years has come a long way and most of the newer, high-end goggles are pretty tough to fog. Ski and snowboarding goggle manufacturers have developed an arsenal of anti-fog ammunition to combat fog on the mountain. When it comes down to it, goggles are built with anti-fog technology but there are also things that you can do to keep your goggles from fogging.
Anti-Fog Coating – Most quality snow goggles on the market come equipped with an anti-fog coating on the inside of the goggle shield. An important thing to note is it's best to avoid excessively touching the inside of the shield in order to preserve the anti-fog coating.
Vented Lenses – Some snow goggles have vents built right into the shield. Lens technology has become more advanced over the years, enabling goggle makers to be more strategic in terms of where to put the vents and how many.
Dual-pane Lenses– Most medium-to-high-end goggles have dual lens technology. It's basically two shields molded together that help to keep the heat from your face separated from the cold outside air. It functions similar to a dual pane window in your house, keeping it insulted to help prevent fog.
Fans – In recent years, some brands have incorporated fans into their snow goggles for extreme anti-fog protection. Smith Optics has an amazing Turbo Fan system in some of their goggle models, such as the Smith I/OX Elite Turbo. It has a little, battery-operated fan mechanism built right into the frame that sucks the moisture right out of the goggle. Although it is not necessary for everyone, this option has become popular with back country riders.
Lens Shape
Historically there have been two main types of snow goggle lens shapes; Cylindrical and Spherical. But now there is a toric lens that essentially combines the two shapes. Here's a breakdown of the difference between cylindrical , spherical and toric lenses.
Cylindrical Lenses
Cylindrical lenses curve across the goggle from left to right, however they are vertically flat between the forehead and nose.
Glare: Given its flat surface, they do not reflect glare from the sun as well as spherical lenses, as there is a larger surface area for UV rays to penetrate.
Fog: The flatter surface of cylindrical lenses allows less volume between the face and the cold outside weather. This decrease in volume runs a higher risk of fogging.
Vision: Cylindrical lenses have flat edges that may cause a distorted view at certain angles, therefore becoming a hindrance to your peripheral vision.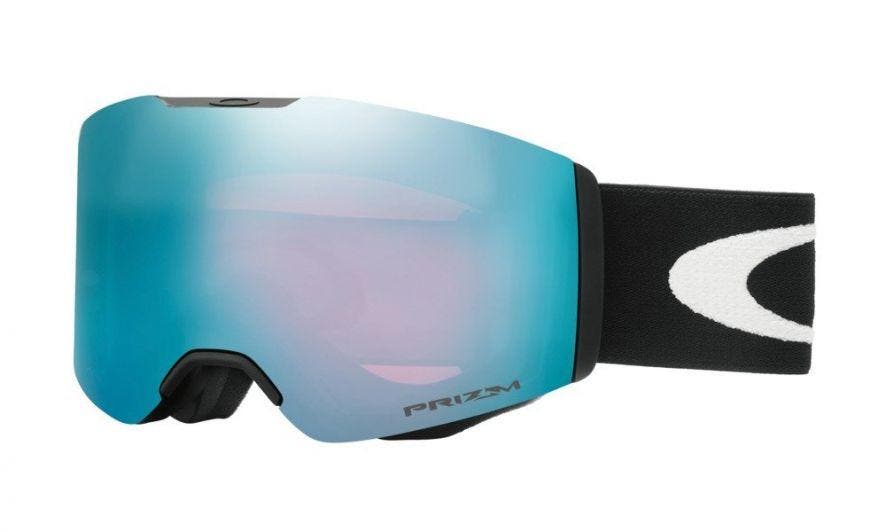 Oakley Fall Line in Matte Black with PRIZM Sapphire
Spherical Lenses
Unlike cylindrical lenses, spherical lenses are rounded on both the horizontal and vertical axis which gives them a bubble-like appearance.
Glare: The curve of the spherical lens provides a better defense against glare, as it has fewer surface points for UV rays to penetrate.
Fog: The curvature of the lens also creates more volume between your face and the cold outside, therefore facilitating better ventilation and defense against fog.
Vision: The tapered design of spherical lenses provide a more optically-correct view through the goggles, therefore minimizing distortion and allowing for better peripheral vision.
Toric Lenses
By combining the two lens options, you get the best of both worlds. A toric lens has slightly less curvature on the y-axis but a true spherical curve on the x-axis. The shape of the lens more closely follows the shape of your face so it gives you better optics and you still get an amazing peripheral view.
Glare: Like a spherical lens, the curve of the toric lens has fewer surface points for UV rays to penetrate.
Fog: The volume between your face and the lens is less than a spherical lens but more than a cylindrical lens, making it sufficient for combating fog.
Vision: The toric design better follows the curve of your face and shape of your eyes, making it the most optically true lens choice.
Why Prescription Inserts are Better than OTG Goggles
Prescription snow goggles have lens inserts that fit securely inside your goggle. You can find custom prescription goggle inserts for virtually any snow goggle at SportRx. These Rx goggle inserts are far more effective than over-the-glasses (OTG) goggles for three main reasons:
Anti-Fog- Prescription snow goggles fight fog far better than the eyeglasses-inside-the-goggle combo. The Rx insert for your prescription goggles sits flush against the shield of the goggle, which is farther away from your face which is where the heat comes from, and closer to the shield of the goggle which is where the ventilation is. Unlike your eyeglasses, prescription goggle inserts are treated with an anti-fog coating – just like the one your goggle lens is coated with.
Comfort- Prescription snow goggles are far more comfortable than wearing eyeglasses underneath your goggles. For one, there is no temple pressure from the arms of your glasses; and two, you don't have to mess with adjusting your glasses as they move around inside your goggle. Prescription goggle inserts stay in place and optically-aligned.
Safety & Damage Control- Let's face it. Regular eyeglasses are not the safest thing to have next to your eyes when you're bombing down slopes at 40+ MPH. What's more, if you take a spill, you risk damaging your only pair of everyday eyeglasses, or even worse, losing them in a sea of snow.
Prescription Ski and Snowboard Goggles Online at SportRx!
We know it's a lot to take in, but hopefully this guide gives you a clear path toward owning that perfect pair of ski goggles for your next trip to the mountains. Here at SportRx we consider ourselves goggle experts. We know what this years top selling snow goggles are and can answer any questions you may have about them. If you have any further questions about ski goggles or prescription goggles, please don't hesitate to call us. We're here to help, 7 days a week!