Finding the perfect pair of ski goggles can be as intimidating as a black diamond slope. Our step-by-step snow goggles buyer's guide focuses on what you need to know for choosing the best prescription or non-prescription ski & snowboard goggle — so you can cruise down the mountain with ultimate comfort and clarity.
Key Considerations When Buying A Snow Goggle
1. Which Snow Goggles are the Best?
2. Snow Goggle Sizing
3. Interchangeable Snow Goggle Lenses
4. How to Choose a Snow Goggle Lens Color
4.1. Best High Contrast Snow Goggle Lenses
5. How Anti-fog Goggles Work
6. Lens Shape
6.1. Cylindrical Lenses
6.2. Spherical Lenses
6.3. Toric Lenses
7. Why Prescription Inserts are Better than Goggles "Over-The-Glasses" (OTG)
8. Buy Prescription Ski and Snowboard Goggles Online at SportRx!
---
Sunglass Rob and Eyeglass Tyler sift through everything that you should consider when buying a ski or snowboard goggle. They cover sizing, lens colors, anti-fog options, and how different lens shapes affect performance.
---
Which Snow Goggles are the Best?
A better way to phrase this question is "Which snow goggles are the best for me?" Each year, your favorite brands continue stepping up with the expansion of goggle technologies — with Oakley, SMITH, Dragon, SPY, Anon, and Giro as the top contenders in the world of snow goggles. The good news is that each brand provides a solid goggle in terms of overall frame features, clarity enhancements, and tech. Our snow goggles buyer's guide takes a comprehensive look at each frame and lens technology to help you decide which options best suit your riding needs.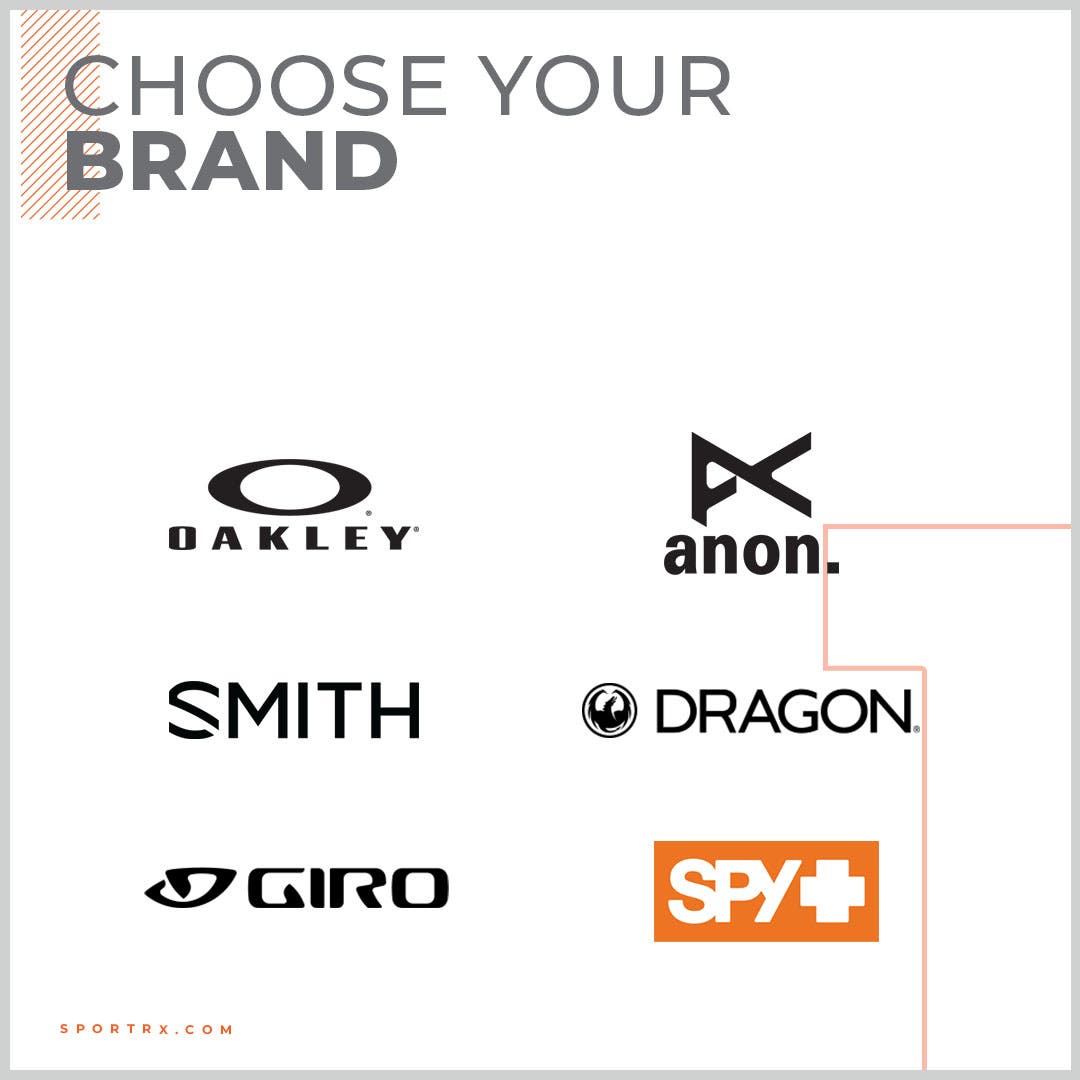 If you want to cut to the chase and see which goggles are the best, check out some of our lists below:
---
Snow Goggle Sizing
The first consideration for choosing a snow goggle is making sure they're the right size with features that fit your face. If they're too tight they'll feel uncomfortable and if they're too big, you'll constantly adjust them so they don't slip off.
Fit
When observing the sizing, pay attention to the goggle information and its descriptions. On sportrx.com, we mark each goggle type by size or age (adult or youth) and describe if it's a standard goggle or something more specific — such as an Asian fit or women's-specific goggle.
Triple-Layer Foam
Top-of-the-line goggles will come with triple-layer foam. This is featured around the edge of the goggle and creates a full seal around your face — preventing any cold air from getting in. A good triple-layer foam provides a seal, but does not pinch your nose or press too hard on your cheeks.
Asian Fit Snow Goggles come with thicker foam around the nose bridge for filling in any gaps if you have a flatter nose.
Helmet Compatibility
Try your goggles with a helmet or beanie before hitting the slopes. When wearing a helmet, we recommend a low-profile goggle — so there's a minimal gap between your helmet and the goggle. This prevents cold air from sneaking in and fogging you up. Also, goggles and helmets with venting will transfer warm air flow through the goggle and out of the helmet for additional fog prevention.
Strap
Look for an adjustable strap that easily wraps around your helmet for safety and comfort. For an easier adjustment, we recommend a goggle containing a snap on the strap for perfecting the fit.
---
Interchangeable Snow Goggle Lenses
Skiers and snowboarders encounter a range of weather conditions on the mountain. Although there are many lenses for adapting to weather changes, no single lens can perfectly perform in all of them. That's why goggle manufacturers developed systems for quickly and easily swapping lenses — even while you're wearing gloves.
Check out each lens option description, so you select features that suit your preference.
Interchangeable Lenses
Many goggles are interchangeable and generally come with two sets of lenses — one lens for bright conditions and a second lens for low-light conditions. With a simple lens replacement, you'll have perfect vision during sudden weather changes.
One Lens
If you don't feel like swapping lenses, middle-ground single lens works fine in bright or low-light conditions. A single lens, however, isn't ideal during super bright or super overcast days, but it's versatile enough to get you through a range of weather conditions.
Photochromic/Light-Reactive Lenses
Photochromic lenses aren't very common when it comes to ski and snowboarding goggles. This is because the chemical that's responsible for the lens tint transition generally gets darker in cold weather, as well as in conditions with stronger UV. In addition, photochromic lenses aren't compatible with mirror coatings — which is strongly recommended for snow goggle lenses.
On the other hand, photochromic lenses work as a single lens that adapts more precisely to a variety of situations. If you prefer this option, Dragon and Zeal are brands that feature a photochromic lens features.
Polarized Lenses
The main benefit of a polarized lens is its glare reduction. This also provides better safety from distinguishing between snow and ice.
---
How to Choose a Snow Goggle Lens Color
There are a variety of different lens colors and tints — each designed for helping riders adapt to changing light conditions.
The amount of light allowed through the lens is called Visible Light Transmission (VLT), which ranges between 0% and 100%. The higher the number, the lighter the lens tint and vice versa.
Bright Conditions
A dark lens allows minimal light through the goggle — which is ideal for bright conditions. They typically have a lower VLT between 5% and 18%, and are often mirrored for deflecting glare. These lenses also usually have a grey, bronze, or rose base tint. Bronze and rose tints improve your contrast, which is important for seeing in and out of trees and shadows. Meanwhile, grey tints stay true-to-color and are best if you want the darkest possible lens.
Medium/Bright Conditions
For those partly cloudy/partly sunny days, you'll enjoy an everyday snow goggle lens with a VLT of about 20%. We suggest a medium copper or rose tint lens with a flash mirror. These tints provide contrast vision for overcast conditions, yet offer some brightness protection for sunnier days.
Low/Medium Conditions
The best lenses for overcast days on the mountain contain a yellow or light pink tint, with or without a mirror. This type of tint gives the best contrast during low to medium conditions — so you clearly see the bumps in the snow. Check out our complete guide to the Best Flat Light Goggle Lenses.
If you need more help in choosing a tint, check out our guide on Snow Goggle Lens Colors. You can also learn more with our guide on Snow Goggle Lenses for Every Condition.
---
Best High Contrast Snow Goggle Lenses
Contrast is what allows you to see the bumps and edges of the snow and to find your lines easier. Most lenses with contrast-enhancing technology filter out 'noisy' colors while boosting light-sensitive colors — helping you see all details clearly. Each brand has their own contrast-boosting lens technology, but the feature benefits are generally the same. Learn more from our brand-specific guides below on lens contrast technology.
---
How Anti-Fog Goggles Work
When it comes to skiing and snowboarding, fog is a huge enemy. That's why goggle manufacturers developed an arsenal of anti-fog techniques for combating fog on the mountain.
Anti-Fog Coating
Most quality snow goggles on the market come with a hydrophilic anti-fog coating on the inside of the goggle shield. This coating causes water to bead on the inside of the lens for clear sight. As a rule of thumb, avoid touching the inside of lens shields with hydrophilic coatings.
Vented Lenses
Some snow goggles have vents built right into the shield. Vents help with airflow on the inside and are designed for working with your snow helmet.
Dual-Pane Lenses
Most medium-to-high-end goggles have dual lens technology. This consists of two molded shields that's designed for separating your face heat from the cold air. It functions similar to a dual pane window in your house — keeping it insulated for fog prevention.
Visit How to Keep Your Goggles from Fogging to learn more.
---
Lens Shape
Traditionally, there's two main types of snow goggle lens shapes: cylindrical and spherical. There is also a toric lens that essentially combines both shapes.
Cylindrical Lenses
The classic cylindrical lenses curve across the goggle from left to right; however, they are vertically flat between the forehead and nose.
Glare: Given its flat surface, they do not reflect glare from the sun as well as spherical lenses — since there's a larger surface area for UV rays to penetrate.
Fog: The flatter surface of cylindrical lenses allows less volume between the face and the cold outside weather. This decrease in volume means you run a higher risk of fogging.
Vision: Cylindrical lenses have flat edges that may cause a distorted view at certain angles, therefore becoming a hindrance to your peripheral vision.
Overall, cylindrical lenses are generally purchased for a more retro look and feel, and are generally the least expensive.
---
Spherical Lenses
Unlike cylindrical lenses, spherical lenses are rounded on both the horizontal and vertical axis, which gives them a bubble-like appearance.
Glare: The curve of the spherical lens provides a better defense against glare — as it has fewer surface points for UV rays to penetrate.
Fog: The curvature of the lens also creates more volume between your face and the cold outside — providing better ventilation and defense against fog.
Vision: The tapered design of spherical lenses offer a more optically correct view through the goggles — minimizing distortion and allowing for better peripheral vision.
Learn more by reading Spherical vs. Cylindrical Lenses.
Toric Lenses
A toric lens has slightly less curvature vertically but a true spherical curve horizontally. The shape of the lens more closely follows the shape of your face so it gives you better optics, while having an amazing peripheral view.
Glare: Like a spherical lens, the curve of the toric lens has fewer surface points for UV rays to penetrate.
Fog: The volume between your face and the lens is less than a spherical lens but more than a cylindrical lens, making it great for combating fog.
Vision: The toric design better follows the curve of your face and shape of your eyes, making it the most optically true lens choice.
---
Why Prescription Inserts are Better than Goggles "Over-The-Glasses" (OTG)
Prescription lens inserts offer a variety of advantages for your Rx needs. You can find custom prescription goggle inserts for virtually any snow goggle at SportRx. These Rx goggle inserts are far more effective than "over-the-glasses" (OTG) goggles for three main reasons.
Anti-Fog
Prescription inserts fight fog far better than ol' OTG. The Rx insert for your prescription goggles sits flush against the shield of the goggle, which is farther away from your face and closer to the shield of the goggle where the ventilation flows. And unlike your eyeglasses, prescription goggle inserts and the goggle lens are treated with an anti-fog coating.
Comfort
Prescription inserts are more comfortable than wearing eyeglasses underneath your goggles. First, there is no temple pressure from the arms of your glasses. Second, you won't constantly adjust your glasses as they move around inside your goggle. Prescription goggle inserts stay in place and are optically aligned.
Safety & Damage Control
Let's face it. Regular eyeglasses are not safe when you're bombing down slopes at full speed. If you take a spill, you risk damaging your everyday eyeglasses, or even worse, losing them to a sea of snow.
---
Shop Prescription Ski and Snowboard Goggles Online at SportRx!
Need prescription snow goggles? Done. When you shop with us, you'll find video guides and tool tips throughout the build process as you customize the perfect pair. An answer to all your questions is at your fingertips, and if you want to chat with an expert, contact us. We'll put you in touch with one of our friendly in-house opticians who can help you build your prescription snow goggles.
Ditch risky online shopping with the See Better Guarantee. Try your prescription goggles for 45 days. If you're not satisfied, send them back. Get a full refund, exchange, or credit towards a better pair. And return shipping? Covered. Get your pair of prescription snow goggles at SportRx today!