A pair of snow goggles is one of, if not the most important gear for a skier or snowboarder. The technology and design of goggles have improved over the years and lens shape is a topic that has long been up for debate. Some riders prefer the bubble-like appearance of a spherical lens, while others dig the retro look of a cylindrical lens. There's also a newer lens shape known as "toric" that combines the two. Let's take a closer look at the pros and cons of these three lens shapes so you can decide which is best for you.
Table of Contents
1. Spherical VS. Cylindrical VS. Toric Goggle Lenses
2. Cylindrical Goggle Lenses
3. Spherical Goggle Lenses
4. Toric Goggle Lenses
5. Prescription Ski & Snowboard Goggles Online at SportRx
---
Sunglass Rob and Eyeglass Tyler discuss the different lens shapes in the video below. Watch or keep reading to learn all the details!
---
Spherical VS. Cylindrical VS. Toric Goggle Lenses
Aesthetics are one thing, but the functions and performance of these lens shapes differ quite a bit. This is definitely something you want to consider when choosing a snow goggle. We also have a Snow Goggle Buyer's Guide if you want more general information on what to consider.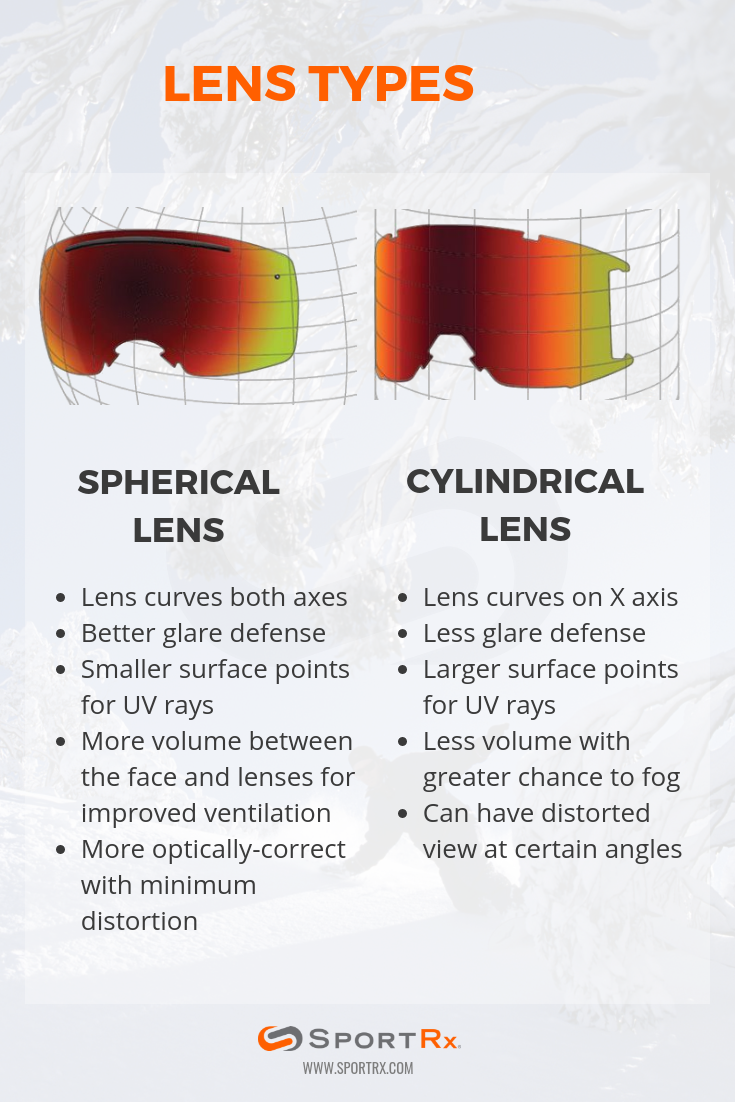 We dive deeper into each below, but the main difference between spherical, cylindrical, and toric lenses is the shape. The shape of the lens affects things like viewing area, glare reduction, optical clarity, and anti-fog capabilities.
---
Cylindrical Goggle Lenses
A cylindrical lens is vertically flat and curved on the sides, giving it a low-profile design. This design has become popular as more of a "throwback" look.
But the main drawback to a cylindrical lens is that they're more prone to glare because of the flat vertical axis. The optics are also not always optimal, but most cylindrical goggles are designed to sit close enough to your face to still give you a decent peripheral view.
---
Spherical Goggle Lenses
A spherical goggle has a rounded, bubble-like appearance which provides superior peripheral view and less distortion. The curve of the lens also reduces glare because there are virtually no flat spots where light can hit to create glare. Another benefit of a spherical lens is the added volume inside of the goggle, which helps to reduce fogging.
---
Toric Goggle Lenses
By combining the two lens options, you get the best of both worlds. A toric lens has slightly less curvature on the y-axis but a true spherical curve on the x-axis. The shape of the lens more closely follows the shape of your face so it gives you better optics and you still get an amazing peripheral view.
If we had to pick a downside? Toric lenses are new to the scene, so there are only a few goggles that feature them like the Anon M4 below and the Dragon PXV.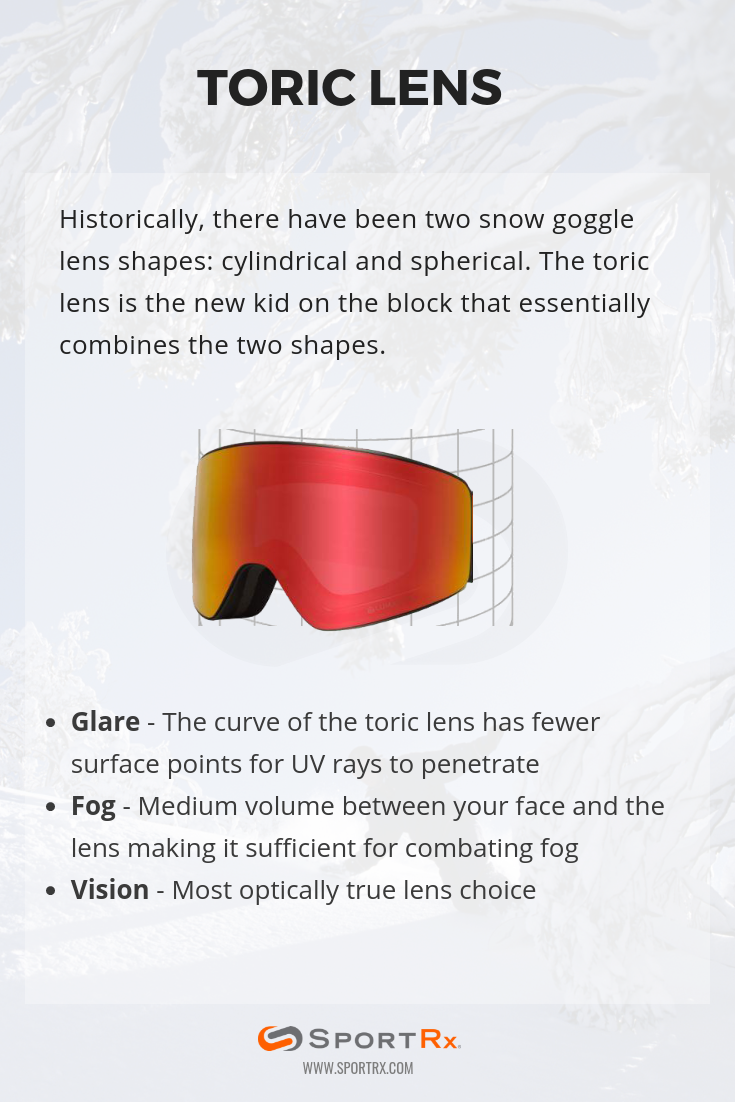 ---
Prescription Ski & Snowboard Goggles Online at SportRx!
Need prescription ski & snowboard goggles? Done. When you shop with us, you'll find video guides and tooltips throughout the build process as you customize the perfect pair. An answer to all your questions is at your fingertips, and if you want to chat with an expert, contact us. We'll put you in touch with one of our friendly in-house opticians who can help you build your prescription ski & snowboard goggles.
Ditch risky online shopping with our See Better Guarantee. Try your goggles for 45 days. If you're not satisfied, send them back. Get a full refund, exchange, or credit towards a better pair. And return shipping? Covered. Get your pair of prescription ski & snowboard goggles at SportRx today!