The team at SMITH offers some great ski and snowboarding goggles in their I/O line up. SMITH believes in their ChromaPop technology so much that they offer both a bright light and low light lens with all of their snow goggles. When you buy a SMITH snow goggle, you get to choose between a Sun and Everyday ChromaPop lens and you get a free Storm lens. All of their I/O goggles are interchangeable so you will always be covered no matter the conditions. That's great value.
With so many lenses designed for different conditions, we explain the ChromaPop technology and which lens is best for which weather condition. Follow along to learn more!
What is ChromaPop?
ChromaPop is SMITH's proprietary lens technology that allows the eyes to identify true color. The technology filters two specific wavelengths of light that cause color confusion to give you greater definition, more natural color, and unmatched clarity. ChromaPop delivers enhanced clarity and definition across a greater range of conditions than traditional lenses.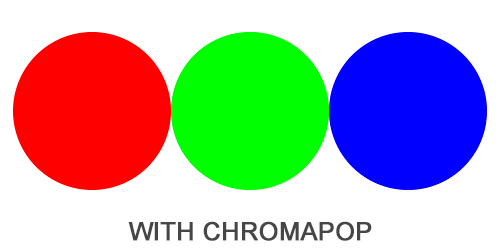 ---
ChromaPop Snow – Base Lens Colors
The base color affects how colors are rendered. If you prefer seeing more natural colors, go with the grey base. Grey lenses offer a true-to-color tint. These are best on bluebird days.
If you like more warmth, then go with the brown base. Brown lenses boost color and contrast to let you spot more details. These can work on bluebird days, but are best for partly cloudy days.
Rose and yellow base tints are best for overcast or whiteout conditions because they block out the blue light found in the extra water vapor in the air. Too much blue light decreases our visual acuity and depth perception, causing eye fatigue. These tints also maximize color and contrast, something you'll need when everything is various shades of grey.
---
Which Lens for Which Light Condition
SMITH's ChromaPop snow lenses are designed for 3 different light conditions:
Sun Lens: Bluebird days
Everyday Lens: Medium light conditions
Storm Lens: Overcast and whiteout conditions
The amount of light allowed into the lens is called Visible Light Transmission or VLT. The higher the VLT, the lighter the lens tint.
Bright conditions require a low VLT and darker conditions need a higher VLT. SMITH offers a VLT range from 9% with their Sun lenses and up to a 50% VLT in the Storm lenses. Let's look at how the different lenses compare.
Note: Storm Yellow Flash is no longer available.
ChromaPop Sun Lenses
ChromaPop Sun Green Mirror
VLT: 9%
Base Lens Tint: Grey
This lens is for the brightest conditions. It keeps a balanced contrast with amazing depth and detail in the snow.
ChromaPop Sun Blackout
VLT: 12%
Base Lens Tint: Grey
An incredibly versatile lens in bright conditions.
ChromaPop Sun Platinum Mirror
VLT: 13%
Base Lens Tint: Grey
Very similar to Blackout but with more of a mirror coating.
ChromaPop Sun Red Mirror
VLT: 13%
Base Lens Tint: Grey
Relaxing to the eyes while offering the mirror finish.
ChromaPop Everyday Lenses
ChromaPop Everyday Green Mirror
VLT: 23%
Base Lens Tint: Brown
An extremely versatile lens.
ChromaPop Everyday Violet Mirror
VLT: 23%
Base Lens Tint: Brown
An excellent go-to for an everyday lens.
ChromaPop Everyday Red Mirror
VLT: 25%
Base Lens Tint: Brown
Versatile and great-looking lens.
Photochromic Rose Flash
VLT: Variable (30% – 50%)
Base Lens Tint: Rose
Truly the most versatile lens that SMITH offers, this lens will automatically change VLT based on conditions. The best of both worlds in offering ChromaPop contrast and photochromic technology.
ChromaPop Everyday Rose
VLT: 36%
Base Lens Tint: Rose
This lens is not mirrored and falls right in the middle of the Everyday lens spectrum.
---
ChromaPop Storm Lens (ChromaPop Low Light)
ChromaPop Storm Rose Flash
VLT: 50%
Base Lens Tint: Blue Flash
Easy on the eyes with excellent depth and contrast.
ChromaPop Storm Yellow Flash
VLT: 65%
Base Lens Tint: Yellow Blue Flash
Maximum depth and contrast via ChromaPop while offering the lightest lens for the stormiest days. If you've just gotta run no matter how bad the weather, this is the lens for you.
---
Prescription SMITH ChromaPop Snow Goggles at SportRx
Need SMITH prescription ski goggles? Done. When you shop with us, you'll find video guides and tooltips throughout the build process as you customize the perfect pair. An answer to all your questions is at your fingertips, and if you want to chat with an expert, Contact Us. We'll put you in touch with one of our friendly in-house opticians who can help you build your prescription SMITH snow goggles.
Ditch risky online shopping with the See Better Guarantee. Try your goggles for 45 days. If you're not satisfied, send them back. Get a full refund, exchange, or credit towards a better pair. And return shipping? Covered. Get your pair of prescription SMITH snow goggles at SportRx today!