Perform at your peak in crazy flurries and bright days with SMITH snow and ski goggles. SMITH goggles provide the best clarity, comfort, and style, making a day on the slopes a breeze.
---
Best SMITH Goggles of 2022/2023
A. What to Look for in SMITH Snow and Ski Goggles
B. Best SMITH Snow and Ski Goggles
1. Cylindrical Lens: Squad MAG
2. Spherical Lens: I/O MAG
3. Birds-Eye Lens: 4D MAG
C. Prescription SMITH Snow and Ski Goggles at SportRx
---
If you aren't sure which goggle is your match, TJ from SportRx is here to break down the best SMITH snow and ski goggles for the 2022/2023 season.

---
What to Look for in SMITH Snow and Ski Goggles
Lens Technology
SMITH ChromaPop™ lens technology brings more details into your vision by enhancing natural colors. Let's face it - the better you can see, the better you'll perform. Our favorite SMITH snow and ski goggles offer different lens tints to deliver ultimate visibility in any condition. Contrast-enhancing lens technology gets better every year, and ChromaPop™ really makes colors pop. Learn more by checking out our SMITH ChromaPop™ Goggle Lens Guide.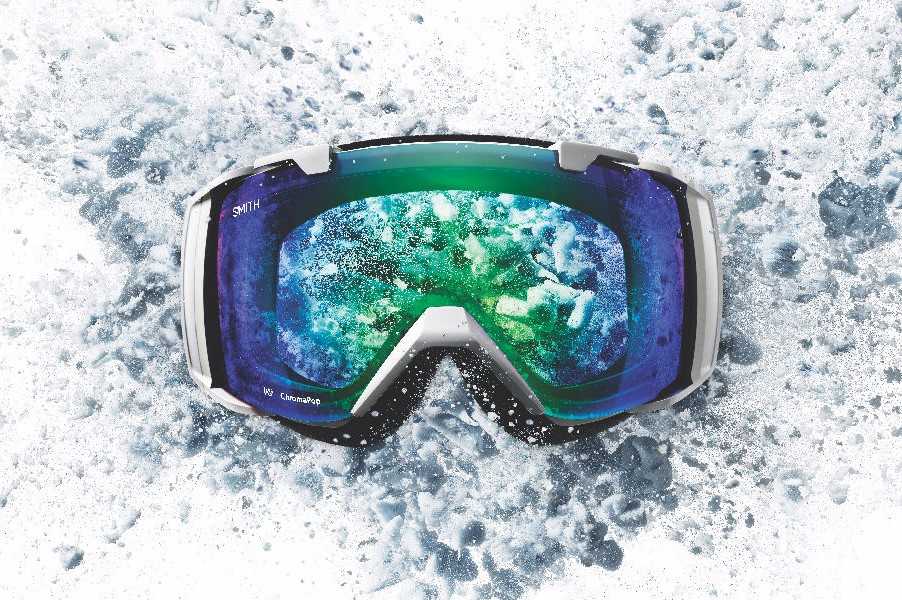 ChromaPop™ has three different types of lenses to cover the full spectrum of lighting conditions. The best part is that all these goggles come with a bonus spare lens. Swap out lenses with ease thanks to SMITH MAG technology and be prepared to face the mountain no matter what the weather throws at you.
---
Best SMITH Snow Goggles
Before we get into the individual features, all of these goggles are compatible with a SportRx prescription insert! If you don't like dealing with glasses or contacts in snowy, windy weather, this is the perfect solution for you. All SMITH goggles come with moisture-wicking triple-layer face foam, a clasp system for easy removal, and 5x Anti-Fog coating.
---
Cylindrical Lens: Squad MAG
The SMITH Squad MAG provides a streamlined look with above-and-beyond features. The anti-fog technology and face foam prevent fog and moisture from building up on the lenses. Interchangeable ChromaPop™ lenses ensure you have clear and sharp vision, no matter the conditions.
Key SMITH Squad MAG Features:
Cylindrical lens shape provides a retro look
Feels like less bulk on the face
Available in a low bridge fit
---
Spherical Lens: I/O MAG
The I/O MAG is a tried-and-true hit for SMITH. Combined with MAG interchangeable lens technology and ChromaPop™ lenses, the I/O MAG goggles are a must-have on the slopes. AirEvac ventilation and anti-fog technology gives you crystal clear visibility with one of SMITH's largest spherical lenses.
Key SMITH I/O MAG Features:
Spherical lens shape provides the clearest optics
Larger field of view
Available in three sizes including XL and a low bridge fit
---
Birds-Eye Lens: 4D MAG
Last but certainly not least, the 4D MAG lens curves at the bottom to give you a better downward view. These unique-looking goggles are great if you want to stand out from the crowd. Pick the best ChromaPop™ lens for you with the magnetic MAG lens-change system for clear and color-popping vision.
Key SMITH 4D MAG Features:
SMITH's BirdsEye Vision curved lens provide 25% increase in downward vision
Quickest lens interchangeability
Available in two sizes and a low bridge fit
---
Prescription SMITH Snow and Ski Goggles at SportRx
Need prescription SMITH snow and ski goggles? Done. When you shop with us, you'll find video guides and tooltips throughout the build process as you customize the perfect set. The answers to all of your questions are at your fingertips, and if you want to chat with an expert, Contact Us. We'll put you in touch with one of our friendly in-house opticians who can help you build your prescription SMITH goggles.
Ditch risky online shopping with the See Better Guarantee. Try your goggles for 45 days. If you're not satisfied, send them back. Get a full refund, exchange, or credit towards a better pair. And return shipping? Covered. Get your prescription SMITH goggles at SportRx today!