For years, SMITH has created eyewear for those with the adventurous spirit. So it was easy for us to compile a list of SMITH sunglasses that are perfect for any fishing adventure on the water. Join us as we breakdown our picks for the top 5 best SMITH fishing sunglasses of 2021!
---
Table of Contents
A. What to Look for in SMITH Fishing Sunglasses
B. Top 5 Best SMITH Fishing Sunglasses of 2021
1. Guide's Choice
2. Longfin
3. Castaway
4. Deckboss
5. Hookshot
6. Honorable Mention
C. Best SMITH Fishing Sunglasses of 2019
D. Prescription Fishing Sunglasses at SportRx
---
What to Look For in SMITH Fishing Sunglasses
Frame Technology
When fishing, you want to ensure that you're not getting distracted by the sun or slipping sunglasses. Our list includes frames with a wrap-around design that offer exceptional eye coverage and protection from excessive sunlight. Rubberized temples and nosepad are essential for the stability and optical alignment, while a leash attachment is a great addition.
As for material, lightweight is the way to go. Nylon frames are a great choice because of how light they are. Materials such as metal and acetate can corrode over time from salt water, so it's best to steer clear of those frames.
---
Lens Technology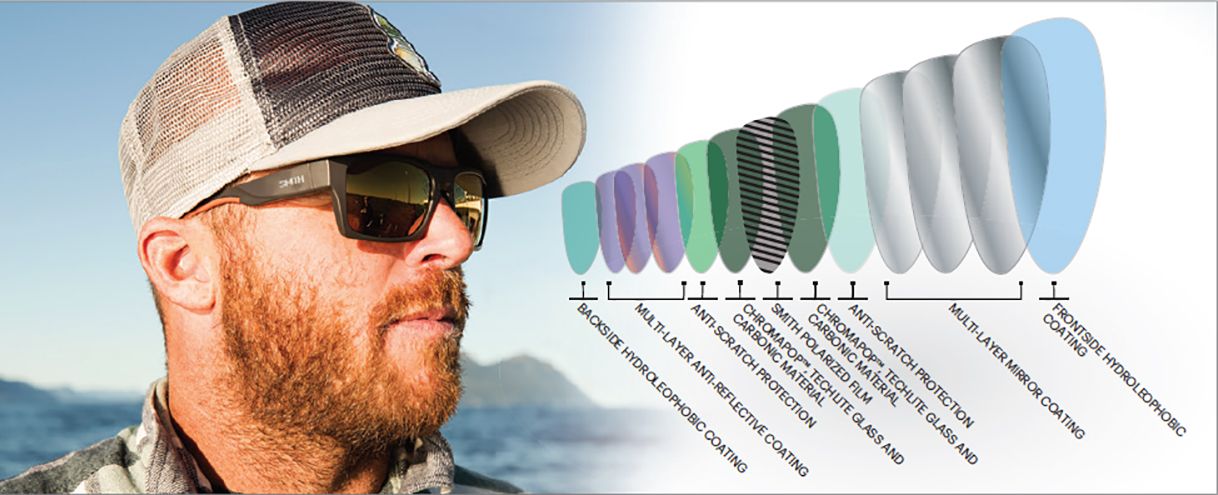 SMITH is known for their elite lens technology known as ChromaPop™. ChromaPop™ lenses offer glare-cutting polarization and color enhancement, ideal for fishermen. True to their name, they make colors and contrast pop, and come with numerous layers of coatings and protection to give your sunglasses the best quality possible. This technology provides a better overall fishing experience for all.
As far as tint, it depends on your personal preference and the weather. Dark grey or green tints are best for bright, sunny days with a potential drawback of less contrast. Meanwhile, rose, copper, and brown tints are great for cloudier days and enhance contrast, but might not be dark enough when it's sunny out. On rainy days or for nighttime fishing, consider a yellow tint to enhance contrast in low lighting. A photochromic lens is another great option if you anticipate rapidly changing weather.
Lens coating is also a great additional feature. Many sunglasses on our list come with hydrophobic, oleophobic, and anti-reflective. Hydrophobic and oleophobic coating works to repel water and oil, while anti-reflective coating minimizes glare and reflections that bounce off lenses.
For more about buying SMITH fishing sunglasses, visit our SMITH Fishing Sunglasses Buyer's Guide.
---
Top 5 Best SMITH Fishing Sunglasses of 2021
Our in-house opticians and fishing experts teamed up to bring you the best sunglasses SMITH has to offer for fishing. Read on to find a pair that works for you!
---
Guide's Choice
The sun is no match for the SMITH Guide's Choice sunglasses. With tall lenses and a wrap-around design, these sunglasses block out excessive sunlight and harmful UV rays. Techlite glass lenses with ChromaPop™ technology offer optimal color enhancement and clarity, making a day on the water a breeze. Additional Megol® nosepad and temples will provide all-day comfort, making these an easy choice. For those needing a larger size, the Guide's Choice also comes in XL and includes all the same top-grade features as the original.
SMITH Guide's Choice Key Features
Includes a leash attachment for on-and-off wearing convenience
ChromaPop™ lenses enhance color and visual detail
Hydrophobic lens coating repels water
Lightweight and scratch-resistant Techlite lenses minimize glare
Rx-able
SFW: 135 (Men's M/Women's L)
---
Longfin
Spot your next big catch in a pair of SMITH Longfin sunglasses. Frame side shields offer optimal eye protection, while flexible temples provide ideal comfort. The anti-reflective lens coating and ChromaPop™ polarized technology will minimize the impact of the glare coming off the water. Rubberized grips on the nose pads and temples will ensure a secure fit no matter how many waves come your way.
SMITH Longfin Key Features
Side shields provide above-and-beyond eye coverage
Anti-reflective coating minimizes glare
Spring hinge allows temples to hug head securely
Rx-able
SFW: 135 (Men's M/Women's L)
---
Castaway
Go fishing in style in the SMITH Castaway sunglasses. Flattering on all face shapes, the wrap-around design of the frames provides exceptional eye coverage and protection. Spring hinges and rubberized grips ensure the sunglasses are comfortably secure, while hydrophobic lens coating repels water. A built-in leash option allows you to secure your sunglasses so they don't fall off or float away.
SMITH Castaway Key Features
Made from lightweight TR-90 nylon
ChromaPop™ lens technology enhances color and clarity
Hydrophobic coating repels water from the lenses
Rx-able
SFW: 136 (Men's/Women's L)
---
Deckboss
The SMITH Deckboss is the perfect co-captain for a day out on the water. The polarized lenses cut the glare coming off the water, allowing you to clearly see what's swimming beneath the surface. ChromaPop™ lens technology also enhances color, which provides clearer details and visibility, key for when you're fishing. Rubberized grips keep the sunglasses secure for a strong hold and fit.
SMITH Deckboss Key Features
8-base curve (What is a base curve?)
Adjustable temples for a customizable fit
Oleophobic lens coating that repels water, oil, and dirt
Rx-able
SFW: 139 (Men's L/Women's XL)
---
Hookshot
Cast and reel with the best of them in a pair of SMITH Hookshot sunglasses. Large lenses with a wrap-around design protect your eyes from excessive sunlight and harmful UV rays. Thanks to hydrophobic lens coating and Megol® rubber grips, water and sweat won't build up on your lenses or cause your sunglasses to fall off. The bio-based frame material is lightweight, meaning you'll be able to comfortably wear these sunglasses for hours on end.
SMITH Hookshot Key Features
ChromaPop™ lens technology for color enhancement and 100% UV protection
Rubberized nose pads and temples that secure sunglasses in place
Anti-reflective lens coating reduces glare
Rx-able
SFW: 140 (Men's L/Women's XL)
---
Honorable Mention – Barra
We've got an honorable mention to add! The SMITH Barra features square frames with side shields, perfect for additional eye coverage and protection. Made of eco-friendly material, these sunglasses come with ChromaPop™ polarized lenses and hydrophobic and anti-reflective coating. With sweat management features and rubberized grips on the nosepad and temples, you'll be able to comfortably wear the Barra for a full day of fishing.
SMITH Barra Key Features
Hydrophobic coating repels water
Anti-reflective lens coating minimizes glare
Straight temples hit perfectly underneath a hat or visor
Rx-able
SFW: 138 (Men's/Women's L)
---
Best SMITH Fishing Sunglasses of 2019
If you're looking for more options, check our our 2019 list!
---
Guide's Choice
---
Redding
The Redding is all about sleekness. Its spring hinges are hidden, megol nose pads and temples provide a secure fit for all-day comfort, and the frame shape is simplistic but modern. If you want performance craftsmanship and high-quality materials, grab the Redding for your next fishing adventure.
---
Barra
---
Longfin
---
Hookshot
---
Prescription Fishing Sunglasses at SportRx
Need prescription SMITH fishing sunglasses? Done. When you shop with us, you'll find video guides and tooltips throughout the build process as you customize the perfect pair. An answer to all your questions is at your fingertips, and if you want to chat with an expert, Contact Us. We'll put you in touch with one of our friendly in-house opticians who can help you build your prescription SMITH fishing sunglasses.
Ditch risky online shopping with the See Better Guarantee. Try your fishing sunglasses for 45 days. If you're not satisfied, send them back. Get a full refund, exchange, or credit towards a better pair. And return shipping? Covered. Get your pair of prescription SMITH fishing sunglasses at SportRx today!