The Best Fishing Sunglasses of 2019
The life of a fisherman is marked by long days on open waters without a cloud in sight. It's essential for every fisherman to have the proper eyewear to protect their eyes against UV and to maximize their performance. We compiled a list below of the best fishing sunglasses of 2019 because no ordinary pair of sunglasses will do when you're reeling in the big one. While many brands offer quality fishing sunglasses, the best fishing sunglasses of 2019 are coming from Costa, Smith, Kaenon, Spy, Oakley and Maui Jim. Now, before we dive deep into each frame and the features they hold, let's go over some essential components you need for fishing sunglasses.
What to Look for in Fishing Sunglasses
When reeling in the catch of the day, it's important for your fishing sunglasses to have 3 key essential features: protection, durability, and comfort.
1) Protection is another way to say the lenses on your fishing sunglasses must be polarized. When the suns reflection bounces off the water it creates a harsh glare that will hinder your vision and make it difficult to track the fish. Polarized lenses will cut out any undesirable glare, so you aren't forced to be squinting and cause extra eyestrain to yourself. Many of the brand's lenses today will even block HEV blue light. Shortwave HEV blue light has a reputation for damaging your eyes and it is everywhere. Today's best fishing sunglasses are the ones that will protect you from HEV blue light, glare, and other light forms that can ruin your day on the water.
2) Let's face it you must have fishing sunglasses that can withstand the heat, salty air, and water from the ocean. The salty air and water attract moisture which sets up corrosion. Corrosion makes it essential for your fishing sunglasses to be made with a durable material. Many of the frames listed below are made with a Nylon material. Nylon is almost unbreakable, lightweight, flexible, and can handle extreme temperatures, which make them perfect for long days on the water.
3) As a fisherman, you need sunglasses that feel like they are apart of your face and not adding any extra stress. When you go on a fishing trip it requires you to wear your sunglasses for hours at a time. To help make their sunglasses more comfortable many brands will put a rubberized material along the temples and nose bridge. As mentioned above, Nylon is lightweight material that adds to the comfort of the fishing sunglasses listed below.
Our Best Fishing Sunglasses of 2019
1) Costa Tuna Alley Fishing Sunglasses
Randy, 40-year fishing veteran of Royal Star Sport Fishing, joins us to roundup the best fishing sunglasses of 2018. At the top of our list is Mr. Reliable himself, Costa Tuna Alley. This frame is made of a durable TR-90 Nylon material that is ready to tackle any adventure with you. It has a ventilation system on the frame to keep the airflow going and never let them fog up. Costa designed the Tuna Alley with an 8-base curve for maximum protection from the sun, glare, and any other ocean element. Pair these bad boys up with the 580 lens technology and get on the water today.
2) Costa Fantail Fishing Sunglasses
The Costa Fantail sunglasses provide you with the necessary coverage without ruining the comfort or fit. Fantails are made with their patented TR-90 Nylon material that can take on the salty air and water. Costa put their patented Hydrolite material along the temples and nose bridge to keep the sunglasses snug on your face while you are battling the fish. The more you sweat the more they grip. Per usual, these Costa sunglasses are available with their 580 lenses so make sure to check them out today.
3) Costa Permit Fishing Sunglasses
If you need sunglasses that are durable and can take on anything, then the Costa Permits are the ones for you. These sunglasses are a tough piece of fishing equipment designed with heavy duty TR-90 Nylon. They feature vents on the side on the side to help with air flow and it has an 8 base design to keep you protected. Costa also put Hydrolite along the nose bridge and arms to allow for all-day use. Pair these up with the 580G glass lenses and your favorite lens tint today at SportRx!
4) Costa Cape Fishing Sunglasses
The Costa Cape frames are everything you want in performance fishing sunglasses. These big boys have an L to XL fit and were built for all-day use on the open water. The Cape has Hydrolite along the temples and nose bridge to keep them in place, even during a choppy storm. This larger Costa frame also has thicker temples to combat the breeze, glare, and other debris. Costa put a ventilation port on the side of the temples to control airflow and sweat. Essentially, the Costa Cape sunglasses have everything you want in a pair of fishing sunglasses so make sure to get yours today from SportRx.
5) Costa Rincon Fishing Sunglasses
The Costa Rincon sunglasses have become a fan favorite at SportRx and it's easy to see how they landed on the list for top fishing sunglasses of 2018. They feature an anti-corrosive material which means the frame is flexible and will retain its shape after all day use. Essentially, Costa ensured the Rincon will always be comfortable and provide a sturdy fit. The frame is constructed of TR-90 Nylon plus it has Hydrolite along the temples and nose bridge. Costa designed the Rincon with a 6-base design so they can be used as lifestyle sunglasses off the boat.
6) Oakley Split Shot Fishing Sunglasses
The Oakley Split Shot is the brand's first water-specific frame. A wraparound fit gives you the coverage and protection you need in a water environment. The highly-durable O-Matter frame features extended coverage on the top, sides, and temples to keep light out and reduce backside glare. The 20" lightweight coated woven steel leash (integrated into the frame but can easily be removed) keeps the sunglasses on your face or around your neck, so you can move seamlessly throughout your day. Another key feature is the curved brow line for hat compatibility. The outside edges of the frame front are tilted downward to avoid contact with the brim of your hat. Oakley PRIZM Deep Water or PRIZM Shallow Water lenses are a must for fishing because they will help you to spot fish by seeing into the water rather than just the reflection of glare. Make the most of your next fishing adventure with the Oakley Split Shot.
7) Oakley Double Edge Fishing Sunglasses
Oakley's Double Edge glasses give you the coverage you need without sacrificing comfort and fit. Made especially for larger faces, these glasses feature an 8-base wrap and wider lenses to give you the protection you need for a bright day out on the water. The Unobtanium nosepad and three-point fit system will keep the frames secure and comfortable. The Double Edge is available with PRIZM Shallow Water and PRIZM Deep Water lens technology for an even better view and ultimate protection.
8) Oakley Drop Point Fishing Sunglasses
The Oakley Drop Point is an obvious choice if you are in the market for new fishing glasses. The O-Matter frame construction will hold up to anything you throw at it. The 8-base wrap and side shields on the temples will help defend against backside glare coming off the water. Oakleys three-point fit system and Unobtanium nose pads will keep the frames in place even when conditions get rough. For a more medium to small face, these are a great alternative to the Double Edge above. Oakley polarized PRIZM fishing lenses offer the ultimate coverage with 100% UVA, UVB, and UVC protection.
9) SMITH Guide's Choice Fishing Sunglasses
We all need a reliable pair of sunglasses for those long days on the water and that is what the SMITH Guide's Choice sunglasses provide. It has hydrophilic megol nose and temple pads for a comfortable fit. SMITH constructed the Guide's Choice sunglasses with a lightweight material and it has an 8-base design for unbeatable lightweight protection. Get these in SMITH's premium ChromaPop or Techlite glass polarized lenses and experience clarity on the water.
10) SMITH Challis Fishing Sunglasses
The SMITH Challis sunglasses are a popular pair among the fishing community. One awesome feature it has is the integration of premium spring hinges into the temples. This allows the sunglasses to wrap around your head comfortably and ensure they aren't flopping around on a choppy day. Experience SMITH's ChromaPop lenses with the SMITH Challis and you will wonder how you ever survived without them.
11) Kaenon Redding Fishing Sunglasses
These Kaenon Redding frames offer a cleaner and less hardcore look compared to the other sunglasses on this list. The Redding is built with a durable TR-90 material and the frame is flexible. Fit wise it would be considered more of a medium fit, but it is lightweight and built for long durations of use. Pair these off with Kaenons Ultra lenses to tackle the infamous sunlight.
12) Kaenon Anacapa Fishing Sunglasses
Opposite of the Kaenon Redding frame, the Anacapa sunglasses offer a bold fishing look. The Anacapa as an 8-base design and thicker arms to ensure no wind, sunlight, or other elements get in the way. It is a medium to large fit.
13) SPY Angler Fishing Sunglasses
The SPY Angler sunglasses are a good option for someone who needs great fishing sunglasses but wants to use them for lifestyle purposes as well. It features a wayfarer round lens shape in a 6- base wrap design. Also, the Angler's features SPY's Hytrel rubber nose pads and temple tips for a comfortable fit in wet conditions. Get the SPY Anglers with their HAPPY lens technology from SportRx today.
14) Maui Jim Big Wave Fishing Sunglasses
The last frame on the best fishing sunglasses list goes to the Maui Jim Big Wave. To make the lenses Maui Jim will use MauiPure material, which combines optics with premium scratch and shatter resistance. It has an 8 base frame design to keep your eyes clear of any distortion from the glare or sunlight. Get the Maui Jim Big Wave's with their SuperThin glass lenses to experience ultimate clarity on the water.
Brand Technology Breakdown: Fishing Lenses
Costa 580 Fishing Lenses
Costa uses their in-house light spectrum experts to enhance the colors we see and in return, they developed the 580 lens technology. The 580 technology manipulates the color spectrum to filter out the harmful shortwave high-energy blue lights and harsh yellow light. This allows Costa to enhance the red, greens, and blue lights to provide the clearest optical experience while you are out on the water battling the ocean elements. Below is a diagram of the seven colors Costa offers with their 580 lenses. From super bright days to more overcast ones, Costa will have you covered for all weather conditions.

Costa offers two different kinds of lens materials with their 580 technology: Glass and Polycarbonate lenses.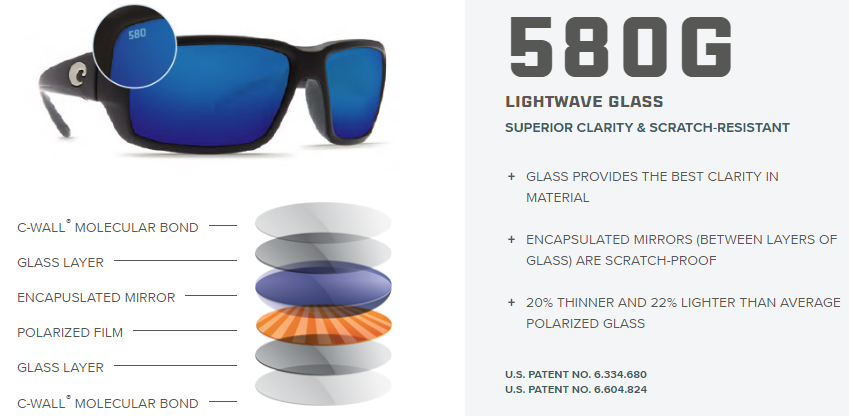 The benefits of Glass lenses are illustrated in the image above and the benefits of polycarbonate are listed below.

Oakley PRIZM Fishing Lenses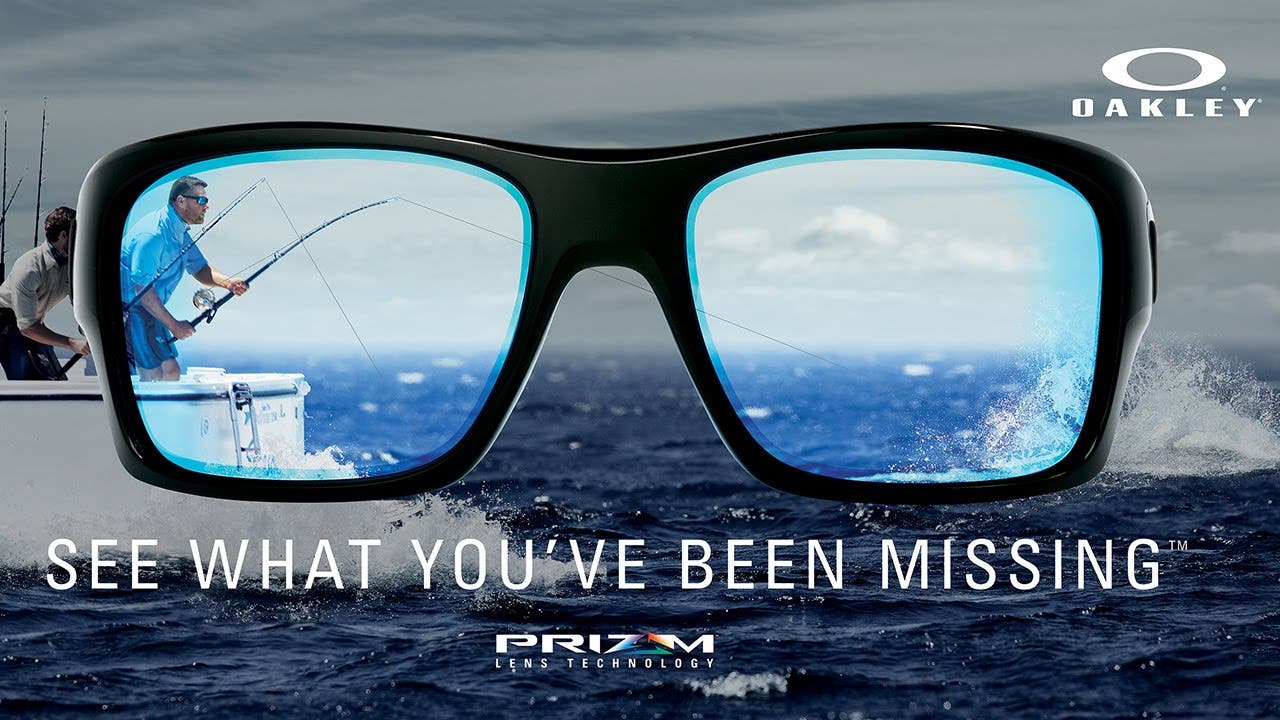 PRIZM Deep Water Polarized lenses are fine-tuned for an open water environment. These lenses have a rose base and are great for super bright and sunny conditions. PRIZM Deep Water lenses will help you to filter through the shades of blue, allowing you to focus on your next catch. Oakley's patented Plutonite lenses feature High-Definition Optics for ultimate clarity, are highly impact resistant, and are 100% UVA, UVB, and UVC protected.
PRIZM Shallow Water Polarized lenses are ideal for inland fishing on rivers and lakes. These lenses have a brown base which will give you really great contrast and make seeing below the surface easier on your eyes. Like the PRIZM Deep Water lenses, these are 100% UVA, UVB, and UVC protected so you don't have to worry about unnecessary eye strain.
SMITH Chromapop Fishing Sunglasses
Smith offers a few options that are perfect for fishing environments. First, they offer a lens technology called Chromapop. Chromapop lenses work by filtering out specific wavelengths on the color spectrum and enhancing other colors to provide a sharper optical experience. Also, Chromapop polarized lenses are water and oil resistant, so you never have to worry about the waves from the ocean or salty air damaging your lenses. Another option Smith offers is their Techlite polarized glass lenses. These lenses are a perfect choice for fishing because they are highly scratch resistant and eliminate any unwanted glare that bounces off the water. Both Chromopop and Techlite lenses are 100% UV protected and will protect you from any ocean elements.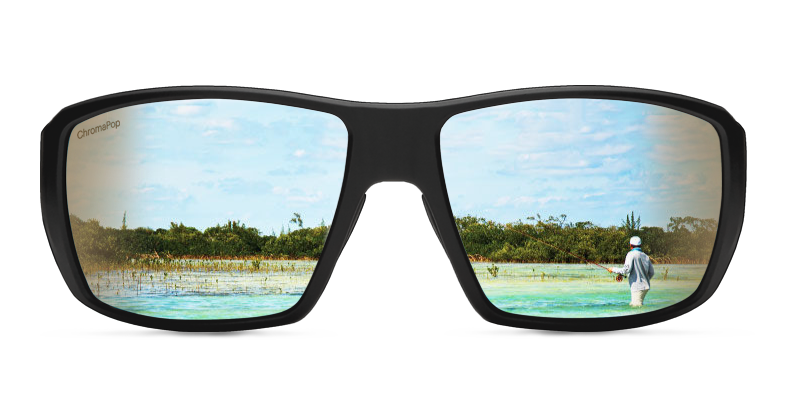 Kaenon Ultra Fishing Sunglasses
As Kaenon likes to say, "Contrast is in our nature" and that is exactly what their SR-91 Ultra lenses do. Kaenon's team was able to exploit the color spectrum and manipulate it to enhance certain colors around you. These Ultra lenses will enhance the browns, red, and greens to provide clear color separation. All Ultra lenses are polarized and feature a hydro-oleophobic coating. A hydro-oleophobic coating helps keep dirt, water, and oil from damaging your lenses on or off the boat. The SR-91 material is a fraction of the weight for glass and is still lighter than your average polycarbonate lens. This helps provide a comfortable fit, so you can wear them all day long without any issues. Ultra-lenses come in three different colors: Ultra Blue Mirror, Ultra Grey, and Ultra Brown.
Ultra Blue Mirror
Grey Base
Main usage: Deep Water fishing, stand up paddle, cycling
Enhances overall color and contrast for better clarity of warm colors in intense blue environments
Ultra Grey
Grey Base
Main Usage: Deep Water fishing, stand up paddle, cycling
Enhances color and contrast while providing protection in very bright conditions
Ultra Brown
Brown Base
Main Usage: Shallow water fishing, hiking, mountain biking, golf
Enhances the browns and reds for better clearer optical experience in medium or overcast conditions.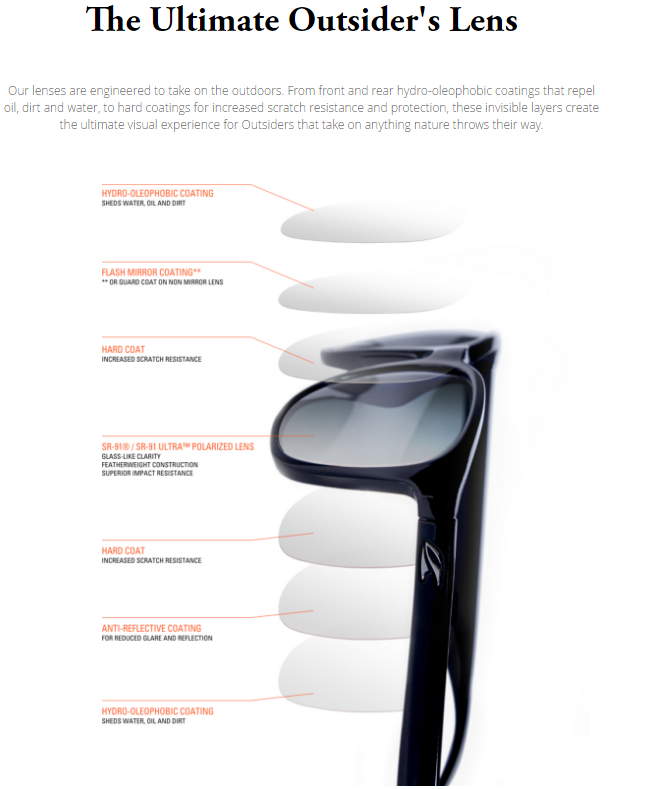 SPY Happy Fishing Lenses
Many lenses tout their color and contrast enhancement, but SPY's HAPPY Lens is the only lens capable of harnessing the power of long-wave blue light too. These light waves have been studied and linked to an uplift in mood, alertness, and wakefulness. What better way to see better than with HAPPY? All SPY HAPPY lenses are 100% UV protected and are available with polarization.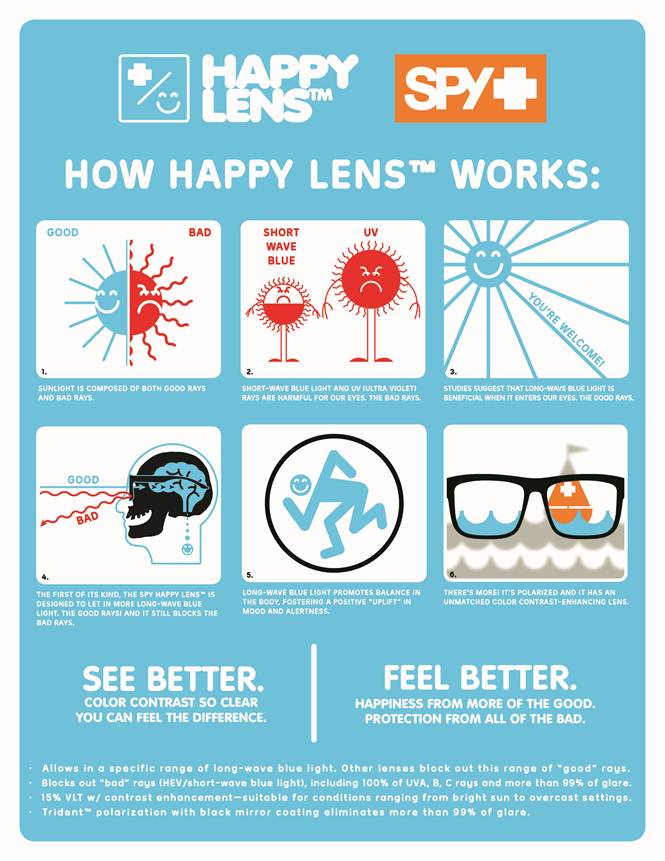 Maui Jim Polarized Plus 2 Fishing Lenses
Maui Jim offers a color enhancing lens technology called Polarized Plus2. PolarizedPlus2 lenses work to enhance the colors around you, eliminate glare, protect your eye from long-term damage, and provide protection daily. The PolarizedPlus2 lenses are offered in 4 different lens materials: SuperThin Glass, Mauipure, Maui Evolution, and Maui Brilliant. Check out the diagram below to check out the benefits of each lens material.

The Best Prescription Fishing Sunglasses of 2018 Online at SportRx
At SportRx we want you to have the best fishing sunglasses on the market and enjoy the natural beauty our ocean provides. All 12 of these sunglasses are available with prescription lenses at SportRx. Need a little bit more help or still have questions? Feel free to contact our opticians here or give us a call at 888-831-5817.