When it comes to fishing gear, what is the most important piece of fishing equipment? Sunglasses, of course! Duh! When looking for the perfect pair, options can be endless. How do you even know what to look for? The biggest factor in finding the right pair of fishing sunglasses is lens color. Finding the right lens color includes knowing what time of day you'll be out, what the weather conditions are like, and if you are going to be in shallow or deep waters. When narrowing down which lens color is best, there are many variables to factor in. It's ok, don't stress. We are here to help you find the best lens color for fishing. Each color serves its specific purpose and will help optimize your fishing experience.

Best Lens Color for Fishing
1. Yellow Lenses
2. Copper Lenses
3. Amber Lenses
4. Gray Lenses
5. Need a Mirrored Coating?
6. Blue Mirror
7. Green Mirror
---
Yellow Lenses
Perfect for those early mornings or dinner time. Fishing in low-light is difficult until you use yellow colored lenses. Yellow lenses remove the blue light and help the surrounding environment appear brighter. This heightened contrast during darker hours will make fishing in the flats, beds, and shallow waters much easier. You will notice your overall sharpness and depth perception improve while fishing. Watch out, Superman! The yellow color allows for maximum light transmission during cloudy, overcast, or everyday weather.
---
Copper Lenses
This lens is popular because it keeps the color pure and is useful in everyday weather. Copper lenses prevent eye strain during dawn and dusk as well as can be relatively versatile. Shallow waters, inshore, and sight fishing are all the best times to wear copper lenses. They make fishing painless with little to no glare! The only pain is when you don't catch anything.
---
Amber Lenses
For moderate-to-lowlight conditions during darker times of the day, amber lenses work great. They are best for cloudy, rainy, and foggy weather. Although these are the prime weather conditions, amber lenses are easily adaptable to other circumstances. This color is best when fishing in shallow waters. More specifically, in-sight and flat fishing, because of the high contrast the amber lenses provide. These are different from copper lenses because they brighten the field of vision and have high contrast. Many brands lean towards copper or brown options. Contact Us if you'd like to slap some amber lenses into your fishing frames.
---
Gray Lenses
Gray-colored lenses also have high contrast. Gray's high contrast is designed for moderate-to-bright conditions. They block the reflection of the intense sun on still waters, reducing eye fatigue. In contrast from amber, these gray, high contrast glasses are not ideal for shallow waters and flat fishing. Gray lenses are for deep, offshore waters ranging anywhere from overcast to bright days. Having this lens will improve overall color perception while cutting the glare.
---
Need a Mirrored Coating?
In addition to the many colors, most sunglasses offer a mirrored tint as well. Mirrored lenses are the reflective optical coating on the outside of the lens. This makes the lens appear as a mirror from the outside. It helps cut the glare by reflecting the amount of light that gets through. It serves as extra protection and reflects the sunlight to reduce eye strain and increase visibility. Depending on the color and coat, it may alter the original color and visibility. You just have to decide on what's more important, amplified reflection or more prominent color.
---
Blue Mirror
Most sunglasses are not made with a fully blue lens, rather just a blue-tinted mirror. That is why blue lenses differentiate from most other colors. When fishing on a clear, hot, summer's day, sunglasses with a blue mirror coating is what you need. The blue mirror will help block the brightness from the harsh sun. The glare is especially noticeable when boating and fishing in open waters. Most fishermen use this lens coating while fishing in deep waters where the sun's reflection is at its peak.
Oakley Deep Water PRIZMS has the blue mirror on top with the rose base lens. The purpose of the rose color is that it lightens your vision while still cutting the harsh glare with the blue mirror. Check out our PRIZM Deep Water Lens review.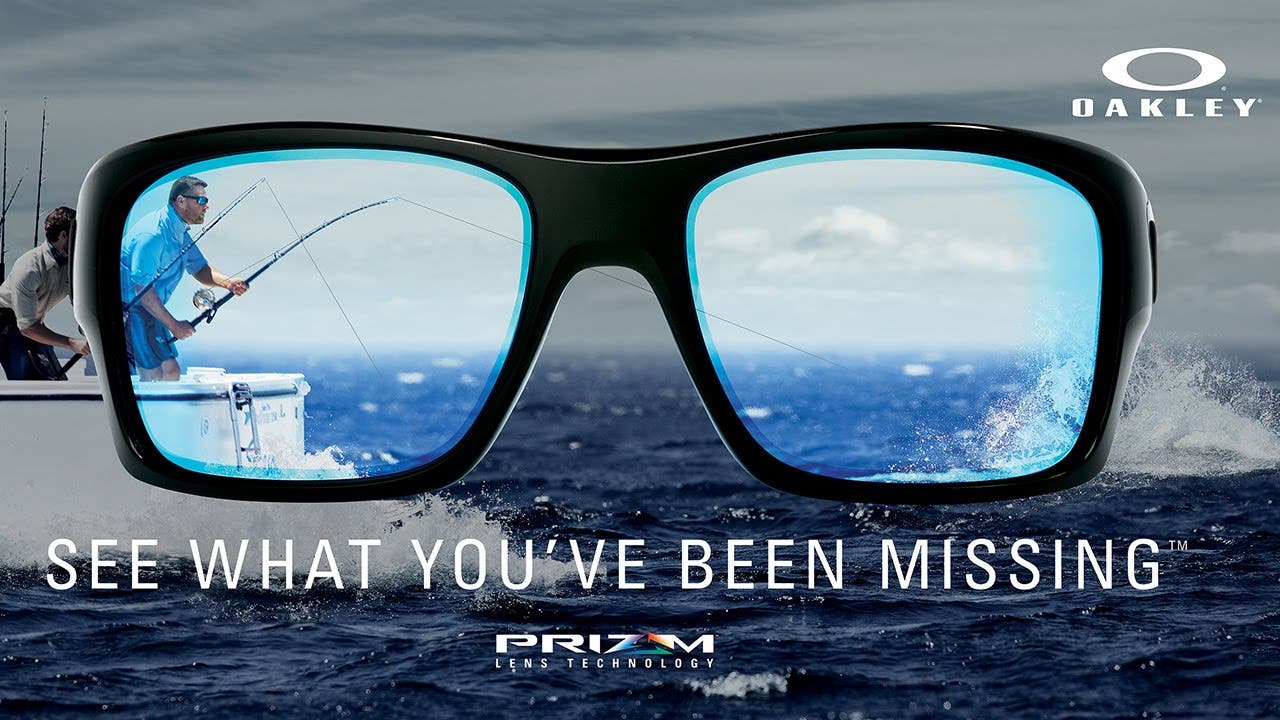 Many sunglasses brands have a signature lens color behind their blue mirror coating. Both Smith and Costa have a blue mirror coating with a gray base lens. Gray lenses make for a darker tint, which emphasizes on protection from the blazing sun.
---
Green Mirror
Green is another color that is primarily used as a mirror coating. The green mirror enhances vision specifically for bed fishing. The high contrast helps fishing inshore and on the flats. During sight fishing, it will help bleach out the browns and dirty water to enhance the greens. This makes the fish easier to spot.
Costa specializes in their green mirrored sunglasses by incorporating a copper-colored lens behind the mirror. The combination of copper and green is distinct because the copper keeps a real color while the green illuminates the field of vision.
---
Get Prescription Fishing Sunglasses at SportRx
SportRx specializes in prescription lenses for most frames! SportRx has certified opticians that are available to help you with your prescription needs! Please Contact Us. if you have any specific questions about this process or any other sunglass or prescription questions. Expect quality service and exceptional product at SportRx! We'll put you in touch with one of our friendly in-house opticians who can help you build your tennis sunglasses.
Ditch risky online shopping with the See Better Guarantee at SportRx!