SMITH puts science to work when optimizing a fisherman's experience. The brand has made a name for themselves when it comes to frames that are perfect for a day on the water. SMITH is all about the thrills — equipping you to get out there and pursue limitless adventures. From their proprietary ChromaPop™ lens technology to their revolutionary Pivlock™ system, SMITH fishing sunglasses are more advanced than others and built to protect your eyes and provide you comfort. Continue reading our SMITH Fishing Buyer's Guide, as we walk you through everything you need to know about various brand features, as well as highlight one of our favorite picks.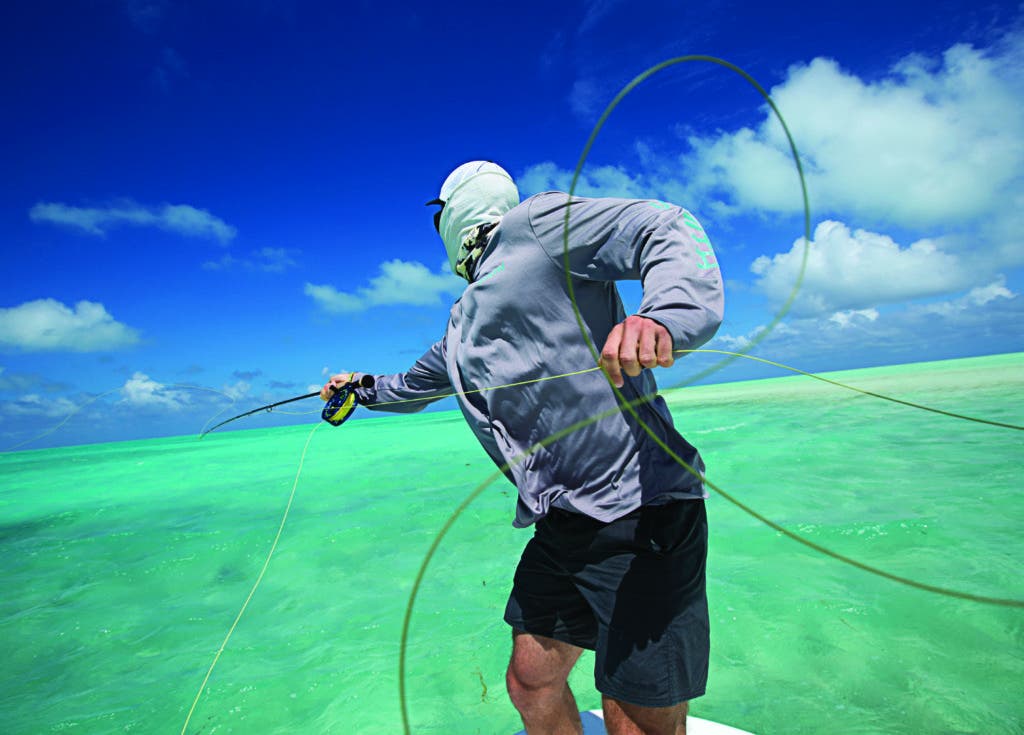 Table of Contents
A. What to Look for in SMITH Fishing Sunglasses
1. Frame Technology
2. Lens Technology
B. Best Lenses for Your Environment
C. Our Pick - SMITH Guide's Choice
D. SMITH Prescription Fishing Sunglasses at SportRx
---
What to Look for in SMITH Fishing Sunglasses
The two most important features to keep an eye out for when picking your next pair of sunglasses are frame and lens technologies, as they will affect how you perceive and navigate your environment.
Frame Technology
A true pair of fishing sunglasses is built to last and remain securely on your face. SMITH designs frames that offer maximum coverage to keep the elements out of your eyes and in prime condition to spot your next catch. Additionally, SMITH fishing sunglasses crafted from lightweight and durable material, such as TR90 Grilamid, can withstand an all-day fishing trip without quitting.
Coverage
SMITH fishing frames typically have an 8-base curve and wrapped design that protects against sun, wind, and other airborne debris. The design contours one's face and secures the sunglasses so rough seas or windy conditions won't knock them off. Optimal coverage and security are vital when you want to cast your line without your frames slipping down or when water splashes into your face.
Materials
Thick moisture and salt permeate the air in fishing environments, causing rust and corrosion to eat away metal and acetate. Because of this, we do not recommend these materials for fishing. Instead, opt for sunglasses constructed from nylon, as it's lightweight and able to withstand extreme temperatures. SMITH also utilizes TR90 Grilamid, designed to be extremely light, resilient, and flexible.
Fit
Whether you're fishing for a couple hours or a full weekend, it's imperative to be wearing comfortable sunglasses. The last thing you need is blinding glare bouncing off the water or a headache from frames that are too tight. SMITH's Pivlock™ interchangeable lens system enables an unobstructed view and maintains a secure fit by allowing the temples and nose piece to be easily removed. This system is a game-changer because you can transition from the water to the drive home with a quick switch of the lenses or temples when a wrapped design is no longer needed. Megol grips on the temples and nose pad gently hold to your skin, especially when moisture is introduced. SMITH also developed spring hinges that smoothly adjust to accommodate a variety of head shapes and sizes.
Lens Technology
As important as the frame is, the lenses also need to offer function you can easily depend on. Fishers know glare gets in the way of seeing beneath the water's surface, and a little color and contrast can help spot the elusive catch hidden beneath the ripples. SMITH ChromaPop™ lenses offer glare-cutting polarization and a true pop in color for a better experience for anglers at every level.
Polarization
Polarized lenses are necessary for any pair of fishing sunglasses, because polarization is what cuts the glare when you're looking at the water. SMITH has multiple types of polarized lenses:
Carbonic Polarized:

optically tuned for visual comfort and glare-cutting polarization

ChromaPop™ Polarized:

same great features of Carbonic Polarized, and added color-enhancement

ChromaPop™+ Polarized:

same benefits of Carbonic Polarized, with glare-cutting polarization, are 10% lighter than standard ChromaPop™ lens, and delivers the most clarity

Techlite Glass Polarized:

optimal visual comfort including polarization, with 12x more scratch resistance, and are 20% lighter than traditional glass

Polarchromic:

self-tint-adjusting photochromic technology adapts to changing light conditions
Color-Enhancement
To create more vivid and clear surroundings, ChromaPop™ lens technology enhances natural color and promotes sharper details. By filtering out two specific wavelengths of light that cause color confusion, ChromaPop™ delivers unmatched clarity and definition.
Types of ChromaPop™ Lenses
All three types of ChromaPop™ lenses offer 100% UV protection and are water resistant, oil resistant, and anti-reflective.
ChromaPop™

lenses are made of impact-resistant carbonic and boast visual comfort.

ChromaPop™ Polarized

lenses have advanced glare reduction in addition to all of the original features.

ChromaPop™+ Polarized

are made of impact-resistant polymer, making them more lightweight than the other categories. They have visual acuity similar to glass and are extremely durable due to their trivex polarized lens.
---
Best Lenses for Your Environment
Off-Shore
When off-shore fishing, you're often in direct sunlight and dealing with glare bouncing off the water. Because of this, polarization is a must in a pair of fishing sunglasses, and contrast-enhancement is a great addition. We recommend Blue Mirror Polarized for off-shore fishing. The grey base tint is ideal for anyone not looking to color-tune their experience too much, but still wants sharper optics. The reflective blue mirror adds a little more color enhancement to the package, reflects more light, and looks great on the water.
In-Shore
In-shore fishing takes place in water that is 30 meters deep or less. In this environment, trees and plants may provide shade, color, and softer light. Because of these factors, there are various combinations of base tints and mirrors that will make surrounding colors pop, aiding your ability to easily spot and track fish. Ultimately, seek out fishing sunglasses with lighter lens tints to contrast the dark hiding places of fish.
---
Our Pick for Fishing - SMITH Guide's Choice
The SMITH Guide's Choice with ChromaPop™+ Polarized lenses incorporate the brand's most advanced technologies, making the frames ideal for long days spent on the water. The color-enhancing lenses transform dark or washed out color into a vividly colorful landscape. Designed for the outdoor enthusiast, the 8-base wrapped sunglasses provide superior protection from harsh light and keeps the frames secure so you can reel in a big catch without hesitation or interference. Megol grips on the nose pad and temples provide hour-long comfort and frame security. Let's face it, life on the water can wreak havoc on our eyes. Outsmart the elements with fishing sunglasses engineered for optical clarity and all-day wearability.
---
SMITH Prescription Fishing Sunglasses at SportRx
Need SMITH prescription fishing sunglasses? Done. When you shop with us, you'll find video guides and tool tips throughout the build process as you customize the perfect pair. An answer to all your questions is at your fingertips, and if you want to chat with an expert, contact us. We'll put you in touch with one of our friendly in-house opticians who can help you build your prescription fishing sunglasses.
Ditch risky online shopping with our See Better Guarantee. Try your sunglasses for 45 days. If you're not satisfied, send them back. Get a full refund, exchange, or credit towards a better pair. And return shipping? Covered. Get your pair of SMITH prescription fishing sunglasses at SportRx today!