SMITH has elevated how you see your surroundings and created a collection of top-notch lenses for their sunglasses – 7 to be exact! While it may be confusing to keep track of them all, SportRx is here to explain it all. Sunglass Rob from SportRx and Mark from SMITH Optics have compiled a SMITH lens guide that covers all seven types of SMITH lenses, to help you decide with one is best for you.
---
Table of Contents
A. SMITH Lens Guide
1. Carbonic Lenses
2. Carbonic Polarized Lenses
3. ChromaPop™ Lenses
4. ChromaPop™ Polarized Lenses
5. ChromaPop™+ Lenses
6. Techlite Polarchromic Lenses
7. ChromaPop™ Techlite Lenses
B. Which SMITH lenses are available in prescription?
C. What other features do SMITH sunglasses have?
D. What about SMITH ChromaPop™ goggles?
E. Prescription SMITH Sunglasses at SportRx
---
SMITH Lens Guide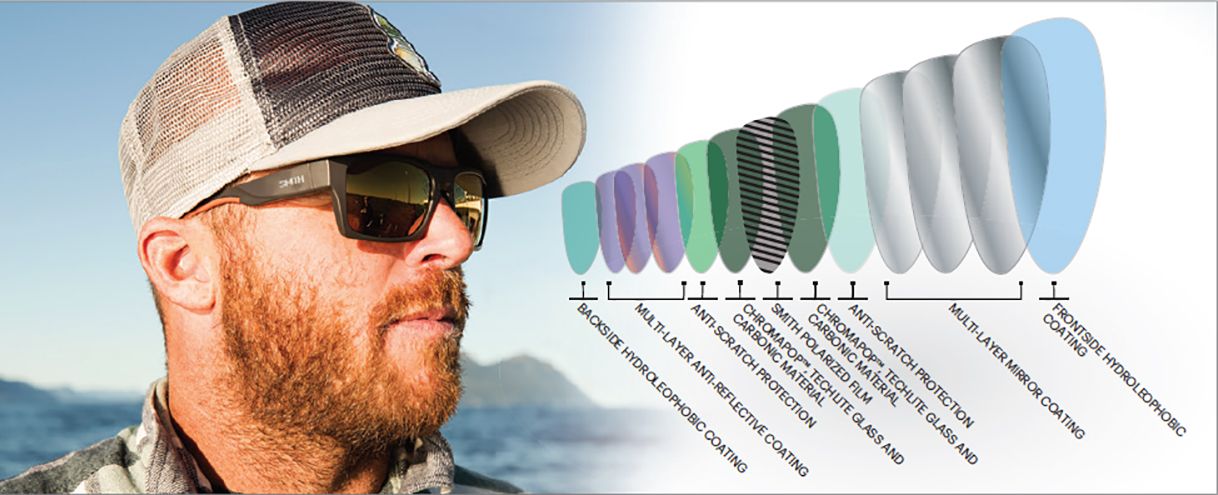 Our SMITH lens guide begins with the most basic SMITH lens technology and continues to the most intricate. Note that all SMITH lenses come with the brand's Tapered Light Technology, which works to correct distortion on the outer edge of the lens and gives you the clearest vision possible.
Carbonic Lenses
The standard SMITH sunglasses lens. Crafted from lightweight polycarbonate with no special coatings, the Carbonic is your best bet if you're looking for something simple that will get the job done.
Carbonic Polarized Lenses
Same as SMITH Carbonic lenses, but polarized! Polarization blocks glare, which makes it ideal for driving, fishing, or everyday use.
ChromaPop™ Lenses

SMITH's proprietary lens technology, ChromaPop™, is true to its name by making colors pop. The tech corrects color confusion by maximizing color and contrast. Whether you wear prescription or not, you'll be seeing better than ever when you slide on a pair of sunglasses that feature ChromaPop™. Like the Carbonic lens, SMITH ChromaPop™ sunglasses lenses are made of polycarbonate. They also come with anti-reflective and hydroleophobic coatings to reduce reflections, repel water and oil, and keep your sunglasses clearer and cleaner longer.
ChromaPop™ Polarized Lenses
Same as SMITH ChromaPop™ lenses, but again, polarized! Sunglass Rob notes that polarized lenses are not always a benefit, especially in a sport like mountain biking. But if you're looking for a great casual frame, opt for polarization!
ChromaPop™+ Lenses
How can SMITH's lens technology get any better? By adding a plus to it! ChromaPop™+ lenses are made of NXT Trivex, a lighter and thinner polycarbonate with much better clarity. This lens is a little harder to scratch than polycarbonate, and only comes polarized.
Techlite Polarchromic Lenses
Techlite Polarchromic is a polarized and photochromic lens. That means that in addition to polarization, the sunglasses will get darker and lighter depending on how much UV light is taken in. These lenses are made of glass for superior clarity and scratch-resistance, which is why they're slightly heavier than polycarbonate and Trivex. Glass lenses are big in the fishing world due to their scratch-resistance.
ChromaPop™ Techlite Lenses
Last but certainly not least, ChromaPop™ Techlite combines ChromaPop™ technology with a glass lens to give you the best clarity, color, and experience possible.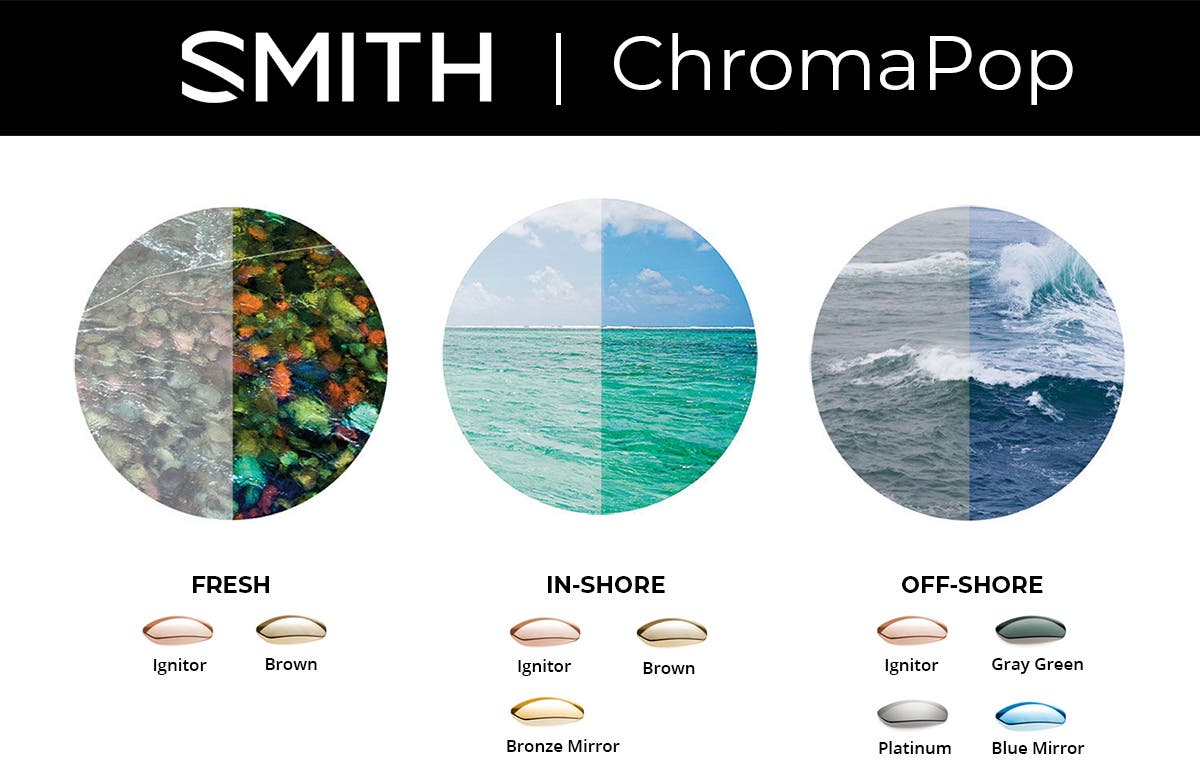 ---
---
---
---
Prescription SMITH Sunglasses at SportRx
Need prescription SMITH sunglasses? Done. When you shop with us, you'll find video guides and tool tips throughout the build process as you customize the perfect pair. An answer to all your questions is at your fingertips, and if you want to chat with an expert, give us a call! We'll put you in touch with one of our friendly in-house opticians who can help you build your prescription sunglasses.
Ditch risky online shopping with our See Better Guarantee. Try your SMITH sunglasses for 45 days and if you're not satisfied, send them back. Get a full refund, exchange, or credit towards a better pair. And return shipping? Covered. Get your pair of prescription SMITH sunglasses at SportRx today!