Everything You Need to Know About Goggle Lens Colors and Tints for All Light Conditions
There's nothing worse than struggling to see the ruts and bumps in the snow on those low light days or being blinded by the sun reflecting off the snow throughout those blue bird days. Snow goggle brands have developed lens colors and technologies that uniquely cater to certain weather and lighting conditions, and we're here to help you decide which ones are best for your vision needs out there on the slopes!
How Goggle Lenses Filter Light & Cater to Weather Conditions: Goggle lenses have set limitations for the amount of light allowed to pass through in relation to the weather conditions outside. This limitation is known as Visible Light Transmission (VLT), is conveyed as a percentage indicating the amount of light able to pass through, and falls somewhere between 0% and 100%. Lenses on higher end of the spectrum are made for those cloudy, overcast days, as the goal is to let as much light in as possible, and vice-versa, the brighter it gets. Here's a breakdown of the best goggle lens colors for every condition:
Best Goggle Lens Colors for Bright Conditions
For those who prefer to hit the slopes on those blue bird days, a darker lens will be your best bet to keeping the glare out of your eyes, as they typically have a lower VLT between 5% and 20%, and therefore, allow less light to pass through. The best lenses for bright conditions on the mountain are either a plain dark grey lens, or a dark brown, rose lens coupled with a heavy mirror. A solid mirror will help deflect glare, while the grey, brown, or rose color gives off added contrast, which is important for seeing definition in the snow in and out of shadows.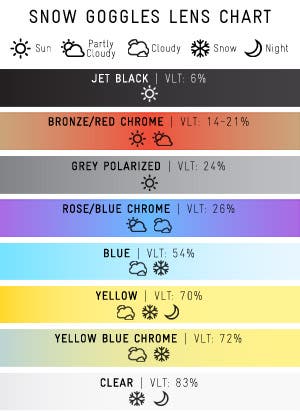 If you're an all weather skier who'd rather not worry about interchanging your lenses, we recommend going with a universal lens featuring a happy-medium of VLT, which will allow the goggle lenses to perform fairly well in all conditions.  These goggle lens colors typically have a medium copper, rose, or brown tint with a little to no mirror. The tints give you some contrast vision for the overcast conditions, while still providing some brightness protection for the sunnier days. These lens colors will be your best bet to contrast no matter what mother nature throws at you.
As for low light conditions, you'll want goggle lenses that feature a yellow, amber or light rose tint. These lens colors offer the highest VLT, usually ranging from about 60%-90%, which will allow as much light in as possible and provide you with enhanced contrast throughout those darker days. A mirror coating on a low-light lens isn't necessary, as there won't be any glare to reflect. However, it won't hinder your riding performance.
All ski goggles online at SportRx come available with a variety of lens colors and tints for you to choose from. Many of the goggles feature an interchangeable lens option, so you can be equipped with the best lens for all the above conditions. If you have Rx-needs, we'll gladly custom-build prescription goggle inserts for whatever goggle-lens combo you choose. If you have any further questions about which lenses may be the best bet for your riding and vision needs on the mountain, or about prescription ski goggles in general, please don't hesitate to give us a call. Our expert sports opticians are more than happy to answer all your questions about prescription ski goggle inserts and ski goggle lenses!