The Oakley Line Miner has all the features you need in a goggle at a fair price. Originally released in 2016, The Line Miner remains a go-to goggle for many of the world's top riders. PRIZM lens technology, triple-layer antimicrobial foam, and an adjustable silicon lined strap make this goggle perfect for anyone looking to get the most out of their on-mountain experience. See what Sunglass Rob and Oakley Ambassador, Andrew, have to say about the features on this goggle.
The Oakley Line Miner is a large goggle and is perfect for anyone looking for a large/oversize fit. However, there is also a more medium fit, Line Miner XM, and even a kids size, Line Miner Youth. Check out our Comparison Review of the Line Miner and Line Miner XM to see the differences in size.
Oakley Line Miner
Oakley Line Miner XM
Oakley Line Miner Youth
WHAT YOU GET WITH YOUR OAKLEY LINE MINER GOGGLES
Cylindrical Lens- Stay cool with whats hot on the streets. A cylindrical lens is now favored by many team riders for a throw-back look that still gives you great optics. Some goggles that feature cylindrical lenses will cut out some of the peripheral view but the Line Miner is designed to fit close enough to your face so you can max out your peripheral and vertical viewing area. We have another guide on the differences between spherical and cylindrical lenses if you want to know more about each shape.
Full Rim Construction- Having a full rim helps to provide more stability to the goggle and holds the lens securely in place. The lens is removable and replacement lenses are available if you are looking to maximize contrast for a specific riding condition. We have a separate guide about how to choose a lens color if you want to know more about what to look for.
PRIZM Lens Technology- PRIZM Snow lenses give you the contrast needed to see every little detail on the mountain. There are a variety of options available that are designed for specific conditions you will encounter on the slopes. Having a lens that will increase contrast makes for a safer and more enjoyable riding experience.
Dual-pane Lenses- Having two layers of lens helps to balance the outside and internal temperatures and reduces any chance of fogging. We also have a separate review showing you how to interchange lenses on the Line Miner.
Anti-Fog Coating- All Line Miners come standard with anti-fog coating on the inside of the goggle lens.
Triple-Layer Foam- This is crucial for a proper seal around the edges of the goggles. With three layers of anti-microbial foam it is also very comfortable to be worn for extended periods of time.
Available in Prescription- We have a prescription insert specifically designed to fit the Line Miner. Learn more about how the rx insert works.
OAKLEY PRIZM SNOW LENSES
The innovation of Oakley PRIZM Snow lenses make this goggle even more awesome. Based on decades of color science research, Oakley patented the PRIZM Lens technology to provide unprecedented control of light transmission resulting in colors precisely tuned to maximize contrast and enhance visibility. This is possible through an emphasis of specific wavelengths along the color spectrum by filtering some others. Optimizing the contrast and fine-tuned vision will give you a level of detail that you cannot get with the naked eye. This will also enable you to ride in a wider range of lighting conditions, decreasing the need to switch lenses as conditions change.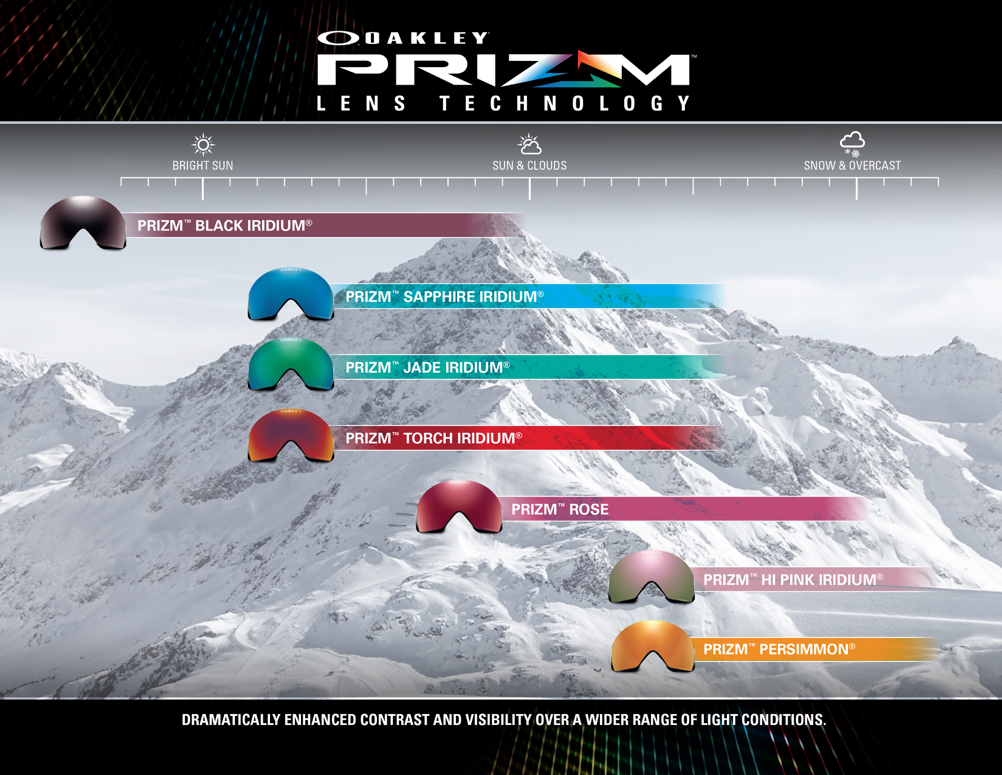 Prescription Oakley Line Miner Online at SportRx!
Did you learn everything you wanted to know about the Oakley Line Miner? Did you know you can get your goggle in prescription? That's right! We have prescription inserts to fit any Oakley goggle so you can have crystal clear vision out on the slopes. Contact Us with any questions about the Oakley Line Miner or other Oakley snow goggles.