When you're scanning the ocean or lake surfaces, your eyes are the most important tool you can use in fishing. The best polarized fishing sunglasses will not only work to protect your eyes from the harsh rays reflecting off the water, but they also work to enhance your game by filtering out certain lighting. The best fishing sunglasses with the ultimate fishing lenses will enable you to effortlessly and clearly spot fish below the surface. Because fishing sunglasses are the most important tool in a fisherman's arsenal (aside, of course, from the device you're using to catch fish), we're giving you a thorough breakdown of what to look for when shopping for the best polarized fishing sunglasses and lenses.
Table of Contents
A. Why Polarized Fishing Sunglasses Make for the Best Fishing Sunglasses
B. The Best Polarized Fishing Lenses for Your Environment
C. Environment-Specific Lenses for Polarized Fishing Sunglasses
D. The Best Polarized Fishing Sunglasses & Lens Technologies
1. Costa 580
2. Oakley PRIZM™
3. Maui Jim PolarizedPlus2®
4. SMITH ChromaPop™
E. Find the Best Polarized Fishing Sunglasses Online at SportRx
---
Sunglass Rob and Eyeglass Tyler team up to talk about the best polarized fishing sunglasses. Watch them go over it or keep scrolling to learn more!
---
Why Polarized Fishing Sunglasses Make for the Best Fishing Sunglasses
Whether your fishing passions reside offshore or onshore, in a stream, on a lake bed, or out in the middle of the ocean, polarized fishing sunglasses are a must. When your sports environment is surrounded by glare, you want to make sure you have over-the-top protection. Otherwise, your favorite sport could become extremely detrimental to your vision.
Polarized lenses offer the best protection while fishing because they work to cut glare, which helps avoid eye strain and unnecessary squinting. The best polarized fishing sunglasses will help you see beyond the surface of the water, allowing you to spot your next big catch more seamlessly.
---
The Best Polarized Fishing Lenses for Your Environment
When shopping for the best polarized fishing sunglasses, it's important to consider your typical fishing environment so that your lenses cater to the appropriate light conditions. As a rule of thumb, if you spend your days fishing offshore, a grey base lens with a blue mirror is the way to go. For freshwater and inshore, an amber, rose or copper lens with a green mirror are lenses you can count on. Check out our guide on how to buy the Best Polarized Fishing Sunglasses for more detailed explanations.
---
Environment-Specific Lenses for Polarized Fishing Sunglasses
If you're after an overarching look at fishing lens tech, head over to What's the Best Lens Color for Fishing?
Offshore Fishing
A darker lens with a solid mirror is important for offshore fishing because the light reflecting off the open ocean can be extremely intense. While a gray base with a blue mirror is the most popular option, not all of our recommendations feature this.
Heading out to the open ocean? Read Best Lens Color for Deep Sea Fishing Sunglasses for more specific lens tech.
Inshore Fishing
If your fishing passions live on the shore or in freshwater — whether it's fly fishing, lake fishing, stream fishing, etc., you'll want a lighter lens that gives a little bit more contrast because the lighting isn't as severe. Polarization and mirrors are equally important inshore as they are offshore, because they'll work in the same in terms of eliminating glare. But lenses that are amber, rose, copper, and brown in color will make for a brighter setting.
For a more detailed look at inshore fishing, check out the following guides:
---
The Best Polarized Fishing Sunglasses of 2021
1 | Costa Fantail Polarized Fishing Sunglasses
Costa Fantail fishing sunglasses paired with 580G lenses will provide you with unbeatable coverage, protection, and optimal clarity. These heavy-duty TR-90 nylon frames are exceptionally impact-and scratch-resistant and work together with the lenses to make up a pair of fishing sunglasses you can count on throughout the whole day.
---
2 | Costa Tuna Alley Polarized Fishing Sunglasses
These Costa fishing sunglasses have made it to the top of our list for all their exceptional features. Costa Tuna Alley fishing sunglasses are constructed with heavy-duty TR-90 nylon frame material, integral hinges, and a patented ventilation system that works to let air flow through so you don't ever have to worry about your favorite pair of fishing sunglasses flying off your face while you're riding in the boat. Get the best of clarity and protection when you couple the Costa Tuna Alley with impact- and scratch-resistant Costa 580G lenses.
---
3 | Costa Blackfin Polarized Fishing Sunglasses
The Costa Blackfin sunglasses will always have you covered. They feature thick nylon temples, a large lens design, and an extensive wrap around style, which makes them perfect for a long day out on the boat. They also feature Hydrolite material along the temple and nose bridge to ensure a comfortable fit. Pair your favorite 580 lens color with the Costa Blackfins and never let the elements get in the way again.
---
4 | Costa Whitetip Polarized Fishing Sunglasses
The Costa Whitetips feature a heavy-duty TR-90 frame that can withstand anything the ocean throws at you. It also has Hydrolite along the temples and nose bridge to keep the Whitetips snug to your face. Lastly, the Whitetip has vents on the side of the lenses to allow airflow and circulation. Essentially, these Costa sunglasses were built to be on the water, and with 580 lens technology, your vision will never be a problem again.
---
Costa 580 Polarized Fishing Lenses
Costa sunglasses have advanced the world of fishing sunglasses with their unbeatable lens technology. For Costa, the best lenses go way beyond polarization. Costa lenses are all about dissecting the light spectrum, removing the harmful blue light, and enhancing beneficial light. The Costa 580P lenses (polycarbonate) and Costa 580G lenses (glass) are the clearest lenses on the planet.
Costa 580 lenses work to reduce haze and blur while providing greater contrast, enhanced color definition, and unmatched clarity. On top of that, Costa 580 lenses reduce harmful high-energy blue light which not only provides greater visual clarity and sharpness, but is also super important and beneficial for our eye health. Costa 580 lenses are your absolute best bet to eye protection when it comes to fishing sunglasses for every environment.
Want even more details on Costa lenses? Sunglass Rob talks to Johnathan from Costa to fully explain the technology behind them.
---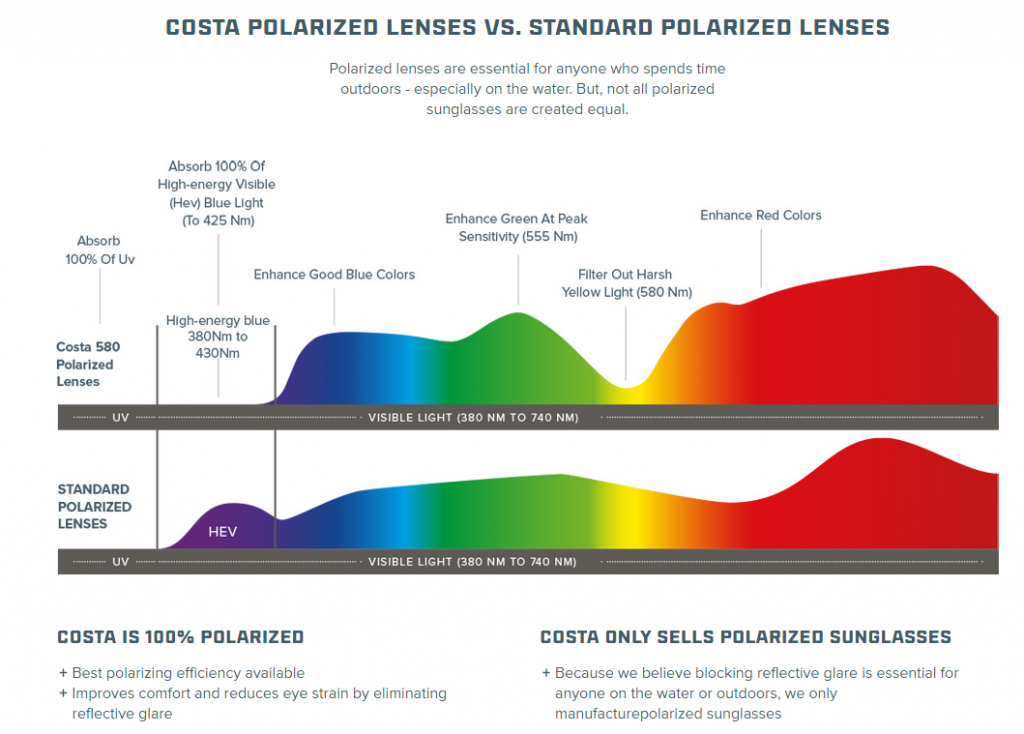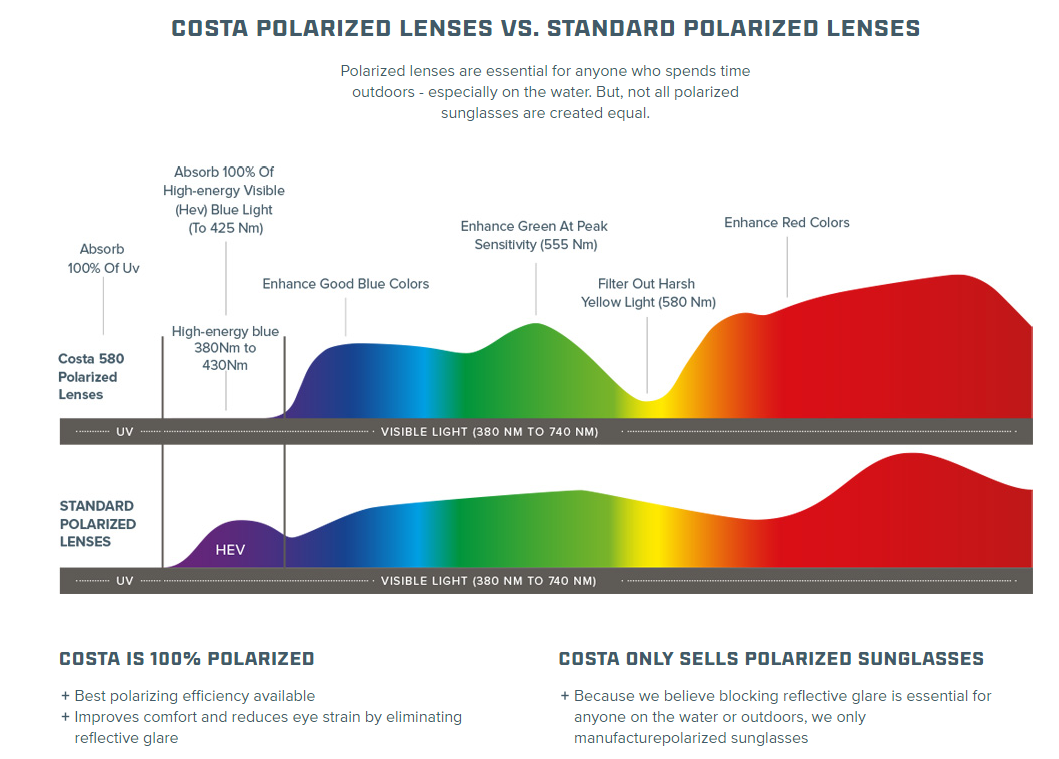 ---
5 | Oakley Split Shot Polarized Fishing Sunglasses
The Oakley Split Shot is the brand's first water-specific frame. A wraparound fit gives you the coverage and protection you need in a water environment. The highly-durable O Matter™ frame features extended coverage on the top, sides, and temples to keep light out and reduce backside glare. The 20" lightweight coated woven steel leash (integrated into the frame but can easily be removed) keeps the sunglasses on your face or around your neck, so you can move seamlessly throughout your day. Another key feature is the curved brow line for hat compatibility. The outside edges of the frame front are tilted downward to avoid contact with the brim of your hat. Make the most of your next fishing adventure with the Oakley Split Shot.
---
6 | Oakley Double Edge Polarized Fishing Sunglasses
Oakley Double Edge fishing sunglasses take a spot on the list of best polarized fishing sunglasses with their wraparound frame design, Three-Point Fit system, lightweight O Matter™ frame material, and Unobtainium™ rubber. All of these features work exceptionally well together in order to provide a secure, durable, comfortable fit with an optical clarity you can count on. No matter the environment, the Oakley Double Edge fishing sunglasses are a pair of fishing sunglasses that will deliver ample protection in every fishing condition. And you can get them in prescription too!
---
7 | Oakley Turbine Polarized Fishing Sunglasses
When you're out on the water, you deserve the feeling of knowing the sunglasses you are wearing have you covered — that's what the Oakley Turbine provides. Available with PRIZM™ polarized lens technology, these will give you the competitive edge in either shallow or deep water. The Turbine features a large rectangular lens to provide a wide peripheral view. Oakley uses its patented O Matter™ to construct the frame and give it a comfortable and lightweight fit. Lastly, Oakley's Three-Point Fit system ensures the frame and lenses are optically aligned to eliminate any pressure points or discomfort.
---
8 | Oakley Flak 2.0 XL Polarized Fishing Sunglasses
The Oakley Flak 2.0 XL has been a go-to pair of fishing sunglasses for quite some time and it's not going anywhere anytime soon. These Oakley fishing sunglasses combine aggressive styling with the best technologies that work to dominate light rays bouncing off the water. Your eyes will be fully protected with PRIZM™ polarized lenses available for both shallow or deep water environments. And if you didn't get your fill from the frames on this list, you can check out more Oakley fishing sunglasses.
---
Oakley PRIZM™ Lens Technology
Oakley PRIZM™ lenses increase contrast by boosting the colors that you want to see while filtering out the distracting colors. This allows you to perform at your peak while doing the activity that you love, which in this case is fishing. To meet the demands of fishing conditions, Oakley designed shallow water and deep water lenses.
PRIZM™ Shallow Water Polarized
PRIZM™ Shallow Water is for inland situations on streams, rivers, and lakes in medium to bright conditions. This lens has a brown base and a VLT of 16-26%. PRIZM™ Shallow Water will keep the whites vibrant for you to see the flash of fish. The boost, in contrast, will make finding hiding spots and tracking fish easier.
PRIZM™ Deep Water Polarized
PRIZM™ Deep Water is darker than Shallow Water and ideal for open water fishing in bright conditions. This lens has a grey base and a VLT of 12-20%. PRIZM Deep Water lenses will help to filter the shades of blue and allow you to pick up on the details below the surface.
Oakley HDPolarized Technology
What sets Oakley HDPolarized apart from other brands' polarized lenses is the assembling process. Oakley uses an infusion molding process to produce a single-layered lens. This gives you the best optical clarity because there is no sandwiching of layers or adhesives used. Also, a single pair of lenses is made at the same time to guarantee that the axis of polarization is centered. Some competitor brands manufacture their lenses at different times, which means there is a much greater chance of the axis of polarization being off-center on one of the lenses. This reduces the quality of the polarized lens because more glare is able to sneak past the filter to your eyes.
All Oakley lenses are also 100% UVA, UVB, and UVC protected to preserve the long-term health of your eyes. With a Shallow Water and Deep Water PRIZM™ lens available, Oakley has all of your fishing needs covered. See what's going on beneath the surface with Oakley PRIZM™ fishing lenses.
---
9 | Maui Jim Peahi Polarized Fishing Sunglasses
Maui Jim Peahi sunglasses are a great option of fishing sunglasses for more reasons than one. The Peahi features Maui Jim's unbeatable PolarizedPlus2® lenses. This color enhancing technology will save your eyes from water glare and boost color contrast. The wrap-around frame style will also add another element of protection. These Maui Jim fishing sunglasses feature a highly durable, ultra-lightweight nylon frame material. This nylon material is perfect for all-day use and won't corrode from salt water.
---
10 | Maui Jim World Cup Polarized Fishing Sunglasses
The Maui Jim World Cup has a high-grade injected nylon frame for a lightweight and comfortable fit. They feature anti-corrosive spring hinges for a flexible and reliable fit that won't be compromised when they get wet. Maui Jim also added built-in rubberized nose pads which enable a secure fit during your all-day fishing excursions. These Maui Jim fishing sunglasses feature an 8-base curve which will ensure the best coverage from all angles.
---
Maui Jim PolarizedPlus2® Lens Technology
Both of these sunglasses, along with every other pair of Maui Jim fishing sunglasses, have PolarizedPlus2® lenses, which offer the highest percentage of glare protection polarized lenses can have, along with great color-enhancing elements. You'll be sure to reap the benefits of optical clarity when you seek out Maui Jim to provide you with the best polarized fishing sunglasses. Plus, you can get them in prescription!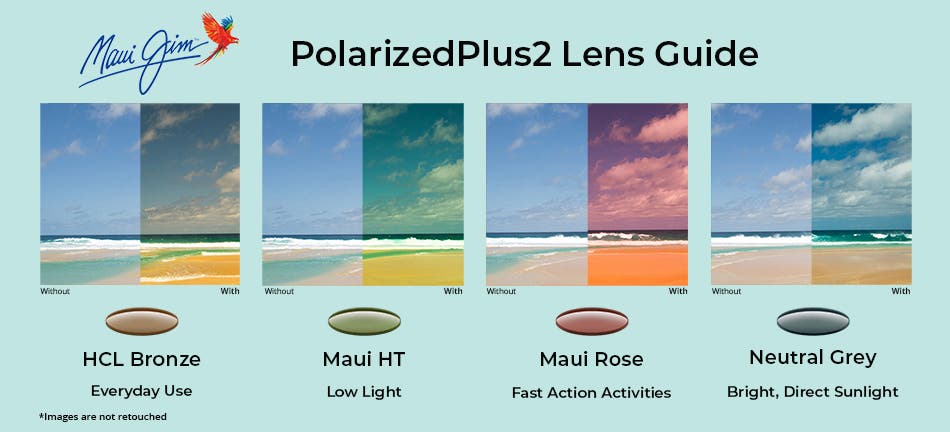 If you're looking for a pair of off-shore Maui Jim fishing sunglasses, we recommend their Neutral Grey lens. If you're looking to cast out in shallow waters or on a lake bed, we recommend Maui Jim's HCL Bronze or Maui HT, as those will provide excellent contrast for in-shore environments.
---
11 | Smith Guide's Choice Polarized Fishing Sunglasses
The SMITH Guide's Choice is a great selection as your fishing sunglasses. They feature a lightweight frame material plus hydrophilic Megol nose and temple pads to keep them tight on your face. SMITH Guide's Choice sunglasses boast a wrap-around design that will block sunlight from all angles. Experience SMITH's Techlite glass polarized lenses or ChromaPop™ polarized technology for optical clarity while on the water.
---
12 | SMITH Deckboss Polarized Fishing Sunglasses
Note: The SMITH Transfer featured in the video has been discontinued. Instead, check out our alternative!
If you need a pair of innovative fishing sunglasses then the SMITH Deckboss is the one for you. It features a bio-based frame material that is both lightweight and durable. Megol® rubber and QuickFit temples also provide a sturdy, customized fit. The Deckboss has an 8-base frame with a full wrap that protects you from sunlight so you can fish from dawn till dusk.
---
SMITH ChromaPop™ Polarized Lenses
You have the option to go with SMITH's ChromaPop™ lens technology or Techlite polarized glass lenses. ChromaPop™ lenses work by filtering out specific wavelengths on the color spectrum to create a clearer optical experience. ChromaPop™ polarized lenses are oil-and water-resistant, meaning you never have to worry about saltwater splashing on the lenses. Techlite lenses work to cut out glare you might have from the sun reflecting off the water or various objects. As a result, these glass lenses are more scratch-resistant and lighter than the average polycarbonate lens.
---
13 | Kaenon Capitola Polarized Fishing Sunglasses
Note: The Kaenon Anacapa featured in the video is currently unavailable. Instead, try the Kaenon Capitola.
Kaenon Capitola fishing sunglasses will provide the perfect protection whether you're casting out in-shore or off-shore. These fishing sunglasses offer a wrap around fit to protect from wind and, most importantly, the sun reflecting off the water. The Capitola offers a lightweight, flexible TR-90 frame material that will not corrode from salty air or water. Also, they feature hypoallergenic Recessed Variflex nose pads to provide a comfortable fit. These are the perfect pair of shades for someone who has a large fit.
---
14 | Wiley X Nash Polarized Fishing Sunglasses
The Wiley X Nash has all the essential features to make them a great option for fishing sunglasses. First, they have a wrap around design with thick temples that will protect you from the sun and various ocean elements. Second, the Nash sunglasses have a no-slip grip on the temples and nose pads. As a result, this rubberized material ensures that they never fall off during a choppy day on the water. Experience maximum coverage, great comfort, and optical clarity on the boat with a pair of Wiley X Nash sunglasses.
---
Find the Best Polarized Fishing Sunglasses Online at SportRx
Need prescription polarized fishing sunglasses? Done. When you shop with us, you'll find video guides and tooltips throughout the build process as you customize the perfect pair. An answer to all your questions is at your fingertips, and if you want to chat with an expert, Contact Us. We'll put you in touch with one of our friendly in-house opticians who can help you build your prescription polarized fishing sunglasses.
Ditch risky online shopping with the See Better Guarantee. Try your sunglasses for 45 days. If you're not satisfied, send them back. Get a full refund, exchange, or credit towards a better pair. And return shipping? Covered. Get your pair of prescription polarized fishing sunglasses at SportRx today!