What Are the Best Polarized Fishing Sunglasses?
When you're out on the water scanning the ocean or lake surfaces, your eyes are the most important tool you can use. The best polarized fishing sunglasses will not only work to protect your eyes from the harsh rays reflecting off the water, but they also work to enhance your game by filtering out certain lighting. The best fishing sunglasses with the ultimate fishing lenses will enable you to effortlessly and clearly spot your fish below the surface. Because fishing sunglasses are the most important tool in a fisherman's arsenal, we're giving you a thorough breakdown of what to look for shopping for the best polarized fishing sunglasses and lenses.
Why Polarized Fishing Sunglasses Make For the Best Fishing Sunglasses:
Whether your fishing passions reside off shore or on shore, in a stream, on a lake bed, or out in the middle of the ocean, polarized fishing sunglasses are a must. When your sport environment is surrounded by the main source of glare, you want to make sure you have over-the-top protection. Otherwise, your favorite sport could become extremely detrimental to your vision. Polarized lenses offer the best protection while fishing because they work to cut glare, which helps avoid eye strain and unnecessary squinting. The best polarized fishing sunglasses will help you see beyond the surface of the water, allowing you to spot your next big catch a lot more seamlessly.
The Best Fishing Lenses for your Environment:
When shopping for the best polarized fishing sunglasses, it's important to consider your typical fishing environment so that your lenses cater to the appropriate light conditions. As a general rule of thumb, if you spend your days fishing offshore, a grey base lens with a blue mirror is the way to go.For freshwater and inshore, an amber, rose or copper lens with a green mirror are lenses you can count on.
Environment-Specific Lenses:
Off-Shore: A darker lens with a very heavy mirror is important for off shore fishing because the light reflecting of the open ocean can be extremely intense. While a gray base with a blue mirror is synonymous across many brands of fishing sunglasses, you can't go wrong with the Costa 580G Blue Mirror lenses. Not only will the lens color provide ample protection, superior contrast and eliminate glare better than you'd except, but this Costa glass lens is also extremely durable in the harsh conditions off shore. Some other options for off-shore polarized fishing lenses include Smith Chromapop Blue Mirror, Oakley Deep Blue Iridium, Revo Blue Water, and SportRx Deep See Blue lenses.
On-Shore: If your fishing passions live on the shore or in freshwater, whether its fly fishing, lake fishing, stream fishing, etc., you'll want a lighter lens that gives a little bit more contrast because the lighting isn't as severe. Polarization and mirrors are equally as important on shore as they are off shore because they'll work in the same in terms of eliminating glare. but  lenses that are amber, rose, copper, and brown in color will make for a brighter setting. Some options for on-shore polarized fishing lenses include the Costa Green Mirror, Silver Mirror, Copper, and Sunrise lenses, the Revo Green Water, Smith Panchromatic Igniter Rose, Kaenon's Copper lens, Hobie's Brown Polarized, and the SportRx Fresh Water Green lens.
The 9 Best Polarized Fishing Sunglasses:
1 | Costa Fantail
Costa Fantail fishing sunglasses paired with 580g lenses will provide you with unbeatable coverage, protection and optimal clarity. These heavy-duty TR-90 nylon frames are exceptionally impact and scratch-resistant lenses work together to make up a pair of fishing sunglasses you can count on throughout every day on the water.
2 | Costa Tuna Alley
These Costa Fishing sunglasses have made it to the top of our list for all its exceptional features. Costa Tuna Alley fishing sunglasses are constructed with heavy-duty TR-90 nylon frame material, integral hinges, and a patented ventilation system that works to let air flow through so you don't ever have to worry about your favorite pair of fishing sunglasses flying off your face while you're riding in the boat. Get the best of clarity and protection when you couple the Costa Tuna Alley with impact and scratch resistant Costa 580G lenses.
Costa sunglasses have advanced the world of fishing sunglasses with their unbeatable lens technology. For Costa, the best lenses go way beyond polarization. Costa lenses are all about dissecting the light spectrum, removing harmful blue light, and enhancing beneficial light. Costa 580P lenses (plastic) and Costa 580G lenses (glass) are the clearest lenses on the planet. Costa 580 lenses work to reduce haze and blur while providing greater contrast, enhanced color definition, and unmatched clarity. On top of that, Costa 580 lenses reduce harmful high-energy blue light which not only provides greater visual clarity and sharpness, but is also super important and beneficial for our eye health. Costa 580 lenses are your absolute best bet to eye protection when it comes to fishing sunglasses for every environment.
3 | Maui Jim Peahi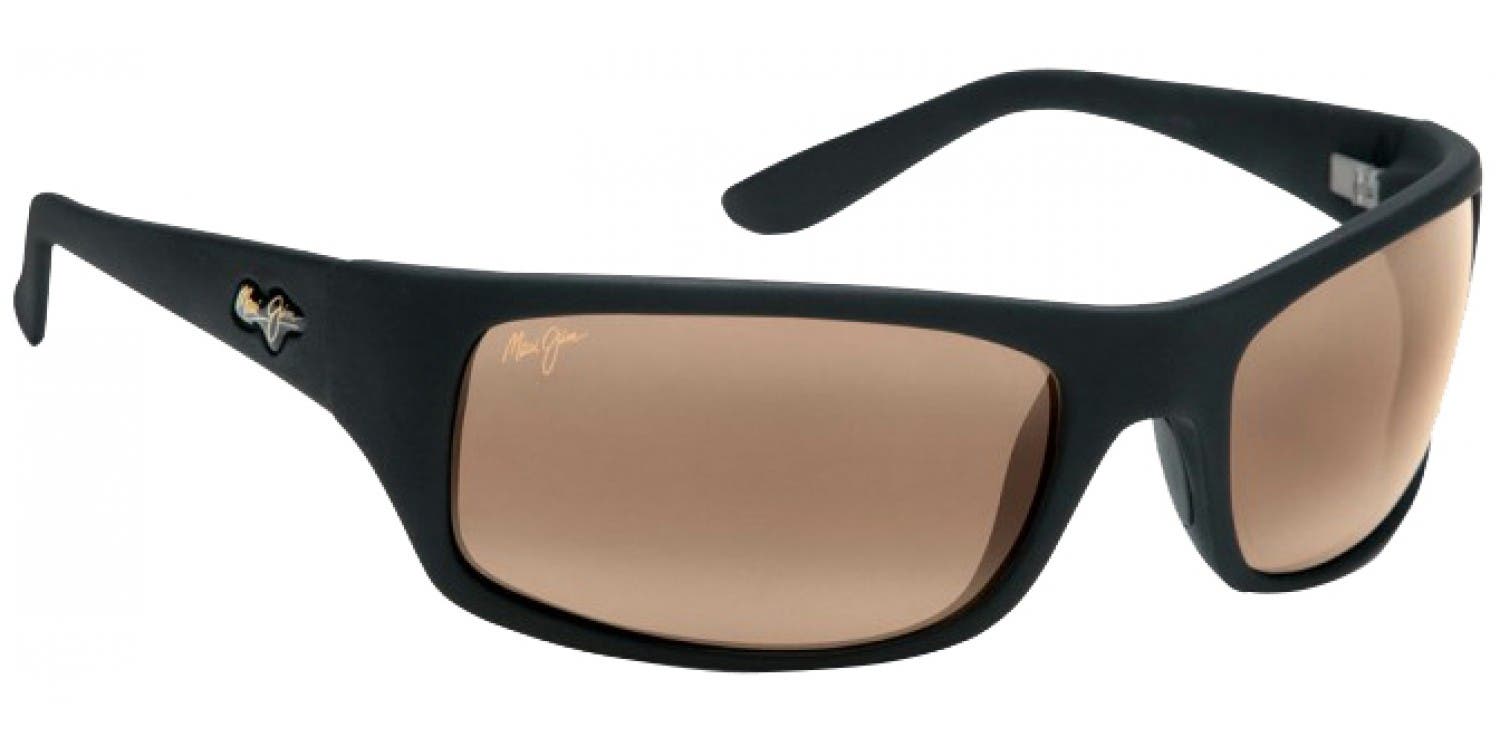 Maui Jim Peahi sunglasses are a great option of fishing sunglasses for more reasons than one. Not only are they crafted with Maui Jim's unbeatable PolarizedPlus 2 lenses that'll be sure to save your eyes from water glare and boost color contrast, but the wrap around frame style will add another element of protection. These Maui Jim fishing sunglasses are made of highly durable, ultra-lightweight frame material that'll provide long-lasting wear and am all-day comfortable fit.
Inspired by the only worldwide blue marlin fishing tournament, the Maui Jim World Cup sunglasses are, to no surprise, another exceptional pair of Maui Jim fishing sunglasses. The Maui Jim World Cup is constructed with high-grade injected nylon for a lightweight and comfortable fit, anti-corrosive spring hinges for a flexible and reliable fit that won't be compromised when they get wet, and built-in rubberized nose pads which will enable a secure fit during your all day fishing excursions. These Maui Jim fishing sunglasses feature an 8 base curve which will ensure the best coverage from all angles.
Maui Jim Fishing Lenses:
Both of these sunglasses, along with every other pair of Maui Jim fishing sunglasses, will be equipped with PolarizedPlus2 lenses, which offer the highest percentage of glare protection polarized lenses offer, along with great color-enhancing elements. You'll be sure to reap the benefits of optical clarity when you seek out Maui Jim to provide you with the best polarized fishing sunglasses. If you're looking for a pair of off-shore, Maui Jim fishing sunglasses, we recommend their natural grey lens. If you're looking to cast out in shallow waters or on a lake bed, we recommend Maui Jim's HCL Bronze or Maui HT, as those will provide excellent contrast for in-shore environments.
5 | Smith Dockside
Smith Dockside sunglasses are a go-to winner when it comes to the best polarized fishing sunglasses. These Smith sunglasses feature the perfect frame curvature and thick temples that work to keep the sun and glare out of your eyes from all directions.  For in-shore fishing, Smith Panchromatic Igniter Lens with a Rose Base and Silver mirror is a great option. For those off-shore fishermen, you can't go wrong with the Smith Chromapop Polarized Blue Mirror.
Oakley Five Squared fishing sunglasses take a spot on the list of best polarized fishing sunglasses with their wrap around frame design, three-point fit system, lightweight O-Matter frame material, and Unobtainium rubber, all features that work exceptionally well together in order to provide a secure, durable, comfortable fit with optical clarity you can count on. No matter the environment, the Oakley Five Squared fishing sunglasses are a pair of fishing sunglasses that'll deliver ample protection in every fishing element.
The Oakley Flak 2.0 XL has been a go-to pair of fishing sunglasses for quite some time and its not going anywhere anytime soon. These Oakley fishing sunglasses combine aggressive styling with the best technologies that work to dominate light rays bounding off the water.
8 | Hobie Bayside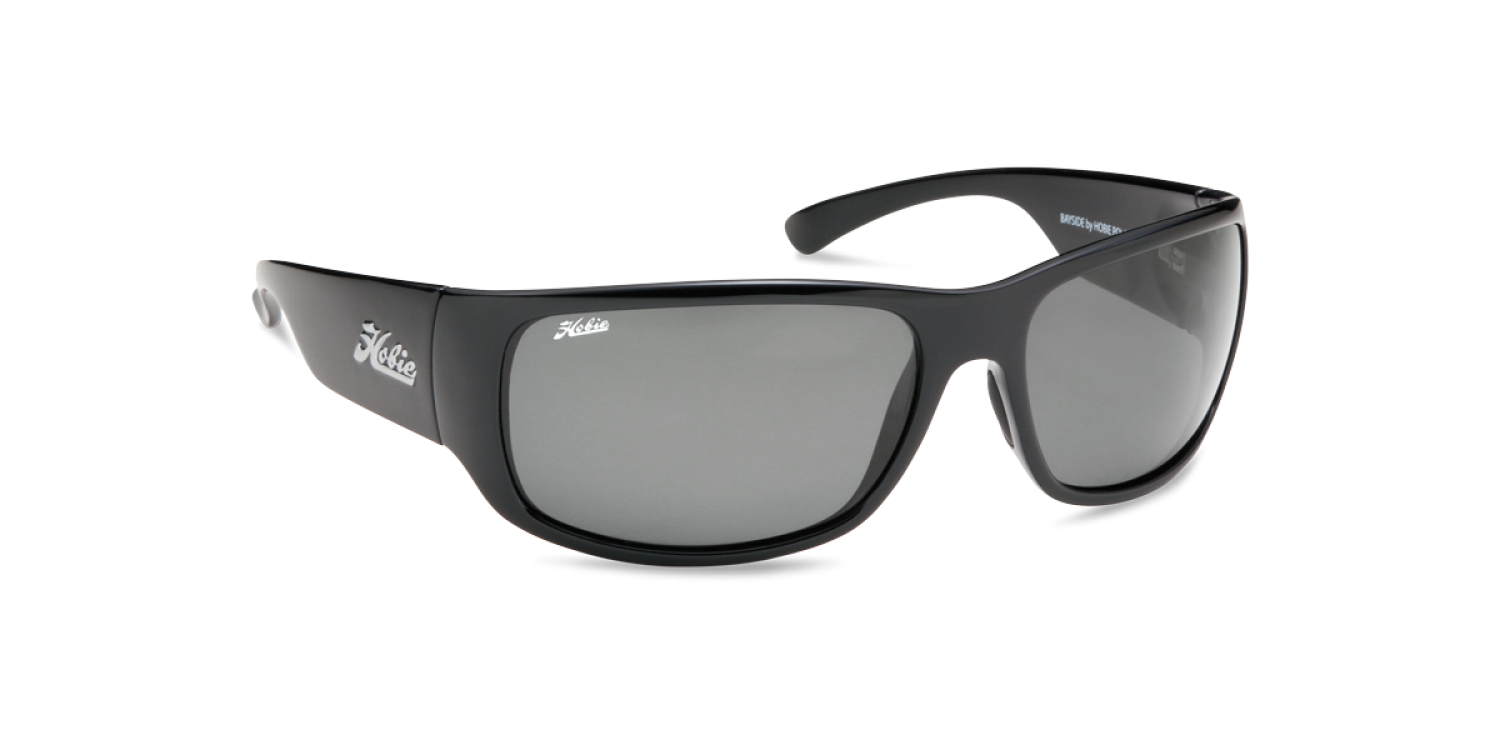 Hobie Bayside fishing sunglasses will provide the perfect protection whether you're casting out in-shore or off-shore. Both stylish, and functional these Hobie fishing sunglasses offer a wraparound fit to protect from wind and most importantly, the sun reflecting off the water. These are the perfect pair of shades for someone with a larger sized head and a desire to find the best polarized fishing sunglasses. 
9 | Revo Guide
Revo Guide sunglasses fill another spot on our list for the best polarized fishing sunglasses for many reasons. These Revo fishing sunglasses offer a sleek fit with fast-flow vents that provide optimal comfort during those long days on the water. Whether your passion for fishing reside in the open ocean or a creek bed, Revo polarized lenses cater to your eye-protection needs with their Revo Blue Water lenses (off-shore) or Revo Green Water lenses (in-shore). You can't go wrong with a pair of Revo Guide polarized fishing sunglasses. 
The Best of Fishing Sunglasses Online at SportRx
Before you head out on your next fishing adventure, triple check to make sure you have your best polarized fishing sunglasses packed! Trust us, you won't want to be without them. Not sure which frames or lenses to get for your type of sport fishing? We'll be sure to guide you in the right direction, no doubt about it! If you have further questions about prescription fishing sunglasses or which fishing sunglasses best suit your fishing needs, we'll answer all of them! Give us a call, 7 days a week, and we'll gladly take care of you.
You might also like