Why do you fish? Perhaps, it's your love the quiet nature of a long fishing day. Maybe you enjoy hanging out with your friends and throwing back a couple of cold ones. Regardless of why you fish at the end of the day, you will always need fishing sunglasses that protect your eyes from the wind, sea, and sun. Fishing is one of the few industries and sports that have sunglasses as one of its essential tools. In many sports, you will benefit from a pair of sunglasses but they are indispensable when it comes to a long day out on the water. You may be wondering what to look for when you are looking to buy fishing sunglasses? Keep reading to find out what are the essential features to look for and some top picks from our opticians. If you already know what to look for, check out the Best of 2020 to get the latest and greatest fishing sunglasses.
Table of Contents
1. What to look for in Fishing Sunglasses
1.1.Frame Technology
– Coverage
– Materials
– Fit
1.2. Lens Technology
– Polarized
– Materials
– Color Enhancement
2. Best lenses for your environment
2.1 Off-shore
2.2 In-shore
3. Our Top 5 Fishing Sunglasses
What to Look for in Fishing Sunglasses
When looking for a pair of fishing sunglasses, there are two main categories of technology: frames and lenses. In this section, we will be diving into the essential features of frame shape, fit, comfort and material. As well as, what lens coatings, materials and whether or not to polarize your lens.
Frame Technology
The main purpose of frames is to not only protect your eyes but to keep your lens in place so you can see with greater clarity. The main features that are a must in fishing sunglasses are coverage, the right materials, and fit.
Coverage
To help with protection and to provide greater coverage many fishing sunglasses are offered in 8-base frame design. An 8-base frame is another way to say it has a wrap-around design with thicker temples. Thick temples make sure the sunlight, wind, and various debris does not enter your eyesight at any time. The ocean is known for having storms and is not always providing a smooth ride. An 8-base frame will enable the frame and lenses to wrap on your face and feel like they aren't there. Knowing your sunglasses are secured to your face allows you to focus on the task at hand and make sure you reel in the big one for the day.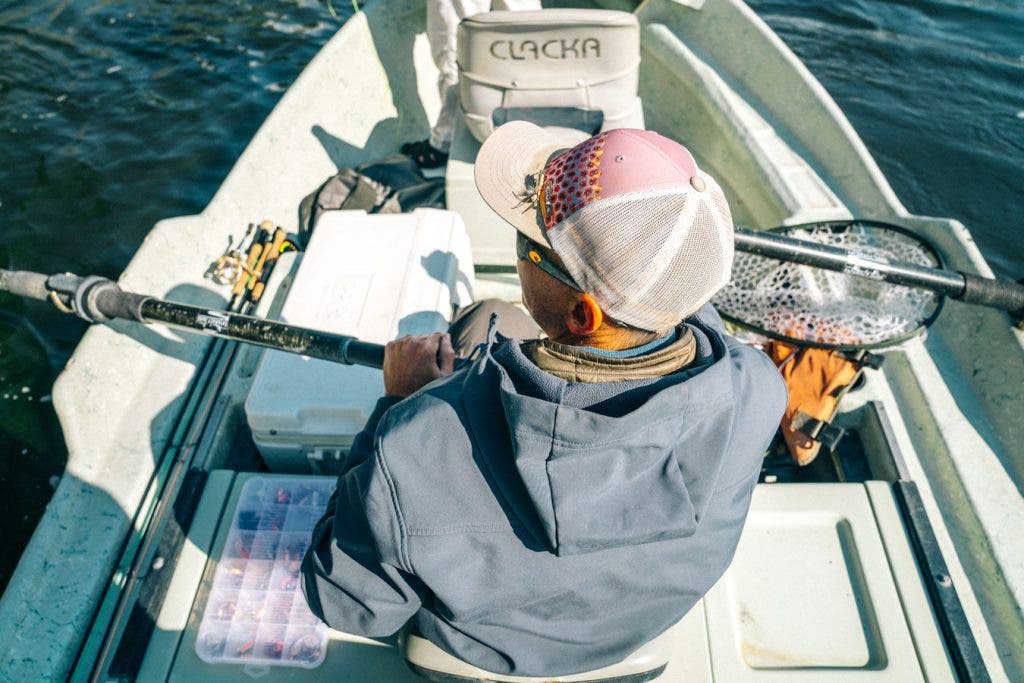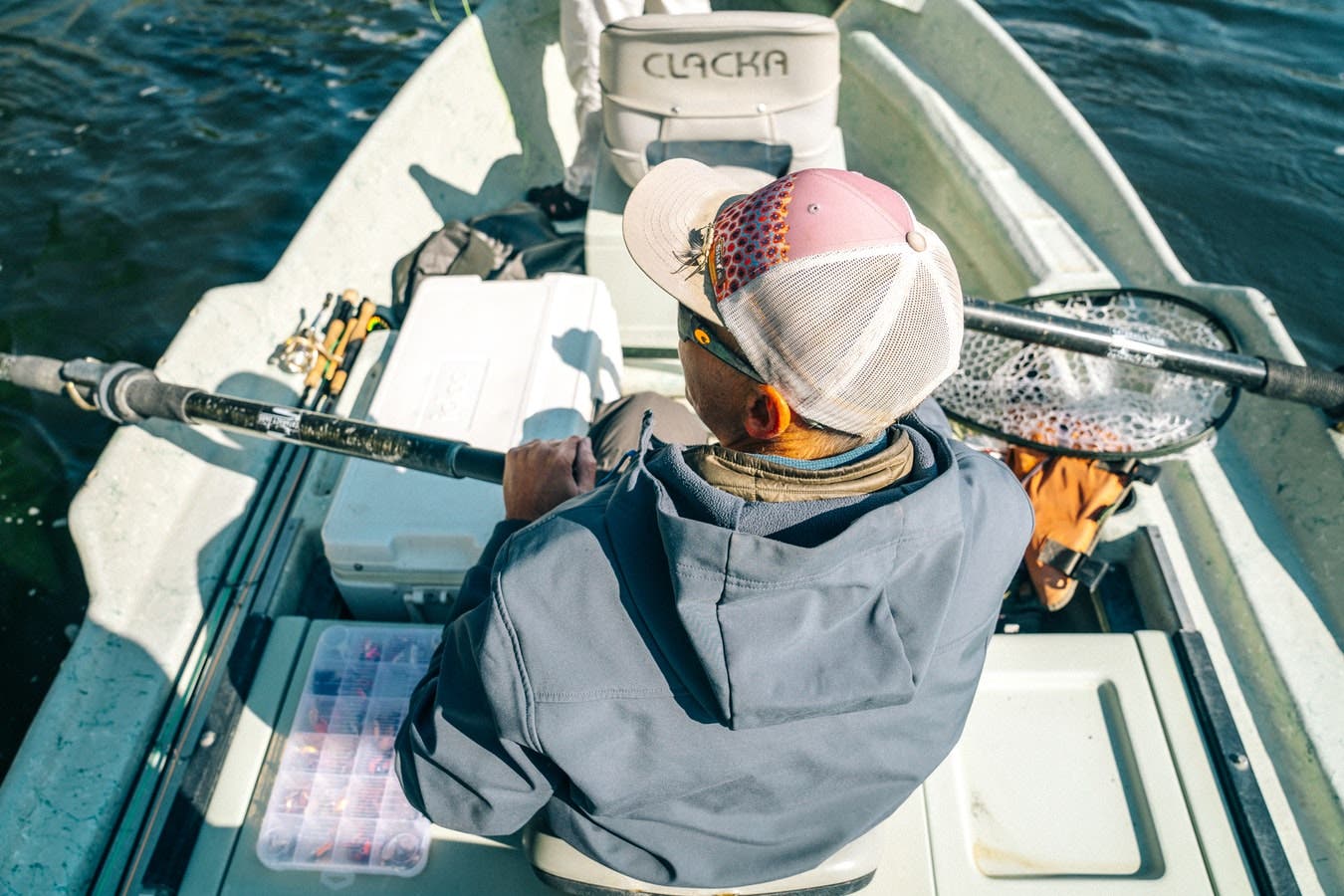 Materials
We mentioned it before and we will keep talking about it, the ocean does not care about damaging your fishing sunglasses. Salty air and water create heavy moisture inviting rust and corrosion to run free, so you need your sunglasses to be durable. Metal sunglasses tend to corrode the fastest, provide the lowest amount of protection and coverage and also bend in the heat. Similarly, acetate, a type of plastic, is not recommended because if its ease of bending in the heat due to the meal core. Instead, the best material option is a blend of nylon. Nylon is known as polyamides, co-polyamides, and gliamides. One main attribute of nylon is that it can withstand extreme heat, hot or cold, and keep the same shape so you never have the sunglasses morphing out-of-place. Another attribute is how lightweight it is.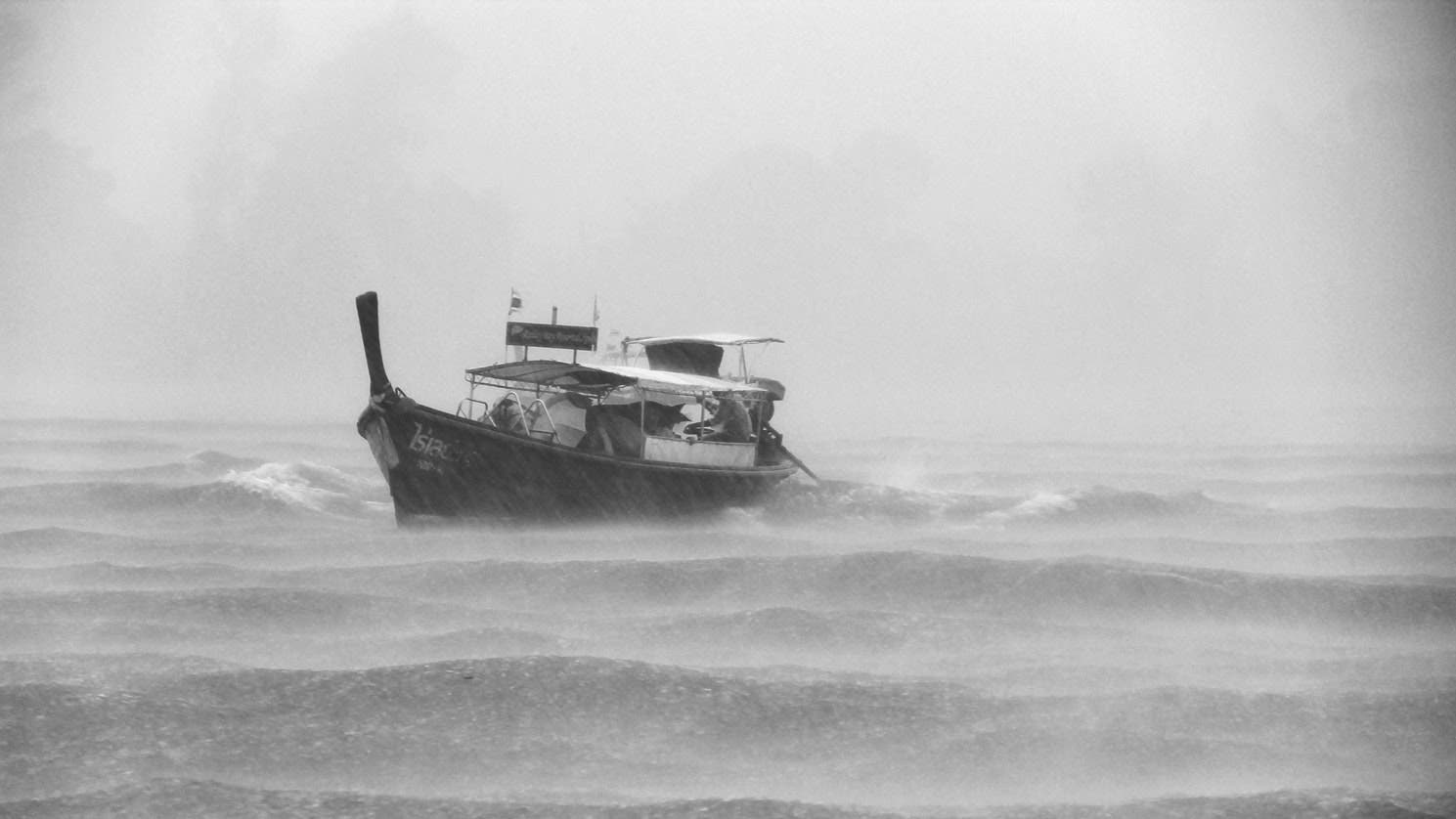 Fit
Our last key feature is something that may seem obvious but many people overlook it. Your fishing sunglasses MUST BE comfortable. Imagine packing and preparing for a long fishing trip with your dad. You get the boat prepped, make sure you have enough bait for the day, check the lines and get out on the water, to only find yourself taking off your sunglasses after 45 mins because of how uncomfortable they are. Now you have a headache from the sunglasses being uncomfortable, the glare is blinding you. The fishing experience ruined.
So how do we stop this bad fishing experience from happening? Simple, we find sunglasses that are the proper size, the temples are snug but do not press against the side of your head, and have grip along the temples & nose bridge. These will keep your sunglasses optically aligned even if you get a huge tug on your line. For all-day use, an 8-base design maximizes comfort and ensures the sunglasses will never fall off. Also, many fishing sunglasses use a nylon material that is lightweight and again comfortable to wear for long periods.

Lens Technology
Sunglasses are all about the lenses. From whether or not to polarize to the types of materials and coatings can be applied, lenses have an incredible about of tech in such a small piece of equipment. When it comes to fishing sunglasses, it is crucial to have a polarized lens made from scratch resistant materials with a mirror finish to keep the most light out while still enhancing your fishing experience. The last piece of the puzzle to choose from is the color of the lens.
Polarized
Polarized lenses are a must for any fishing sunglass. Why? Well, when sunlight first comes down it is a vertical wavelength, but when it reflects off of the water or shiny object it is redirected into horizontal wavelength, which our eyes translate as a glare. Polarized lenses filter out these horizontal wavelengths so you can see clearly through the water's reflective surface. Now you can track the fish at a deeper level, tie your hooks on with no glare interference, and most importantly enjoy your day on the water with optical clarity.
Materials
There are three main types of lens materials: Polycarbonate, Glass, and Trivex. Each has its benefits and drawbacks. For instance, polycarbonate is super safe, shatter resistant and lightweight, but it is easy to scratch. Glass, on the other hand, is the most durable, clearest, and doesn't scratch but, is heavier and can shatter. Finally, Trivex is in the middle of both of these two extremes. They are harder to scratch than Polycarb lenses but equally lightweight.
Depending on what type of fishing you enjoy different lenses will work better for you. You can never go wrong with a glass lens when you are out on the open ocean, as durability is the main need. When fly fishing or fishing on a lake or stream, it comes down to a matter of personal preference and what your needs are.
Color Enhancement
The third and final feature that we will be going through is a color enhancement. There are two main categories of tint, grey and colored, each giving a different effect. Grey tinted lenses will not change the color that you view through the lens, but rather will darken it. For example, the white becomes light grey. Greys are great for bright and sunny days, but give you less contrast. Color tinted lenses, such as copper and rose, will change the tint of your surroundings, while enhancing the contrast. Most fishermen prefer this copper tint to get both protection on sunny days and good contrast even when it's cloudy.
If you expect very cloudy weather or if you fish at night, a yellow lens is also a good idea. Yellow lenses boost contrast in low-light environments, but aren't dark enough to work on sunny days.
Best Lenses for Your Environment
Off-Shore
Offshore fishing takes place in water that is least 30 meters down. This is your deep-sea fishermen looking for big trophy fish. An example of a trophy fish would be a blue marlin, yellowfin tuna, or Spearfish. Unlike in-shore fishing, offshore fishing typically means you will be in the direct sunlight with nothing to protect you other than a few clouds if you are lucky. This means the glare and sunlight bouncing off the water will be intense, making it harder to track the fish as you reel them to the surface. To counteract this sunlight and glare it is important that you get fishing sunglasses with a gray base.
If you want even more protection and for less light to travel through the lens, then pair the gray base with a blue mirror. Gray base lenses provide a more natural, sharper optical color experience. This allows your eyes to experience the natural beauties of the open ocean while keeping you protected. You can't go wrong with Costa's 580 G lenses in the blue mirror. Glass lenses are more scratch resistant and ready to take on the harsh environment the salty air and water can create. Another great option would be Oakley's Prizm Deep Water lenses because they will help to filter out the shades of blue so you can see what's going on beneath the surface. Some other great lenses are Smith's Chromapop Blue Mirror lenses, SportRx Deep Sea blue lenses, or Kaenons Ultra Blue Mirror lenses.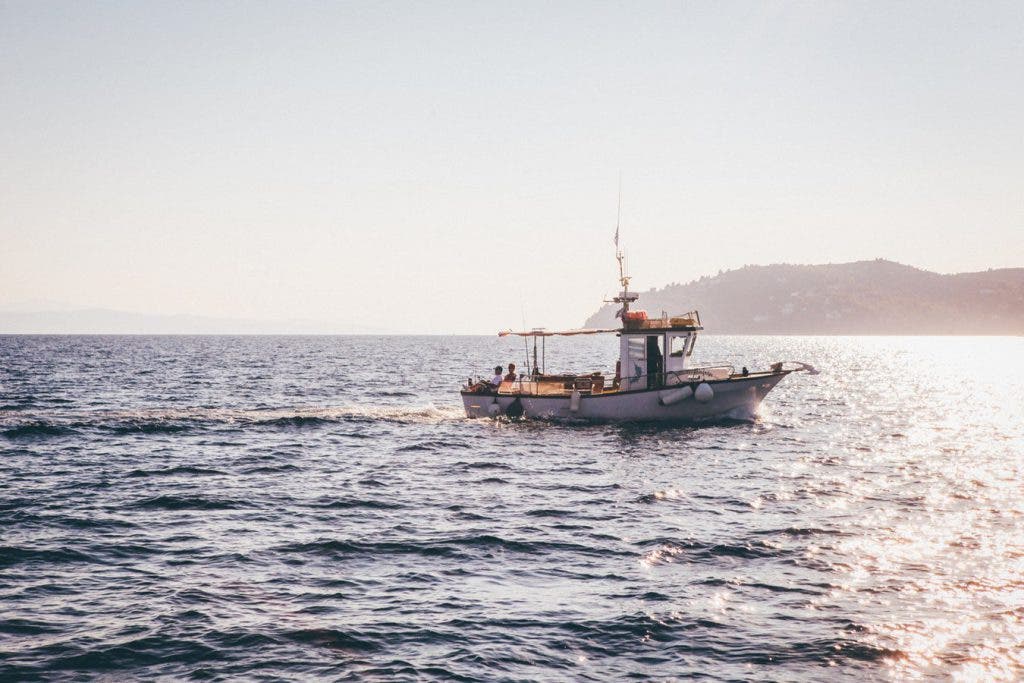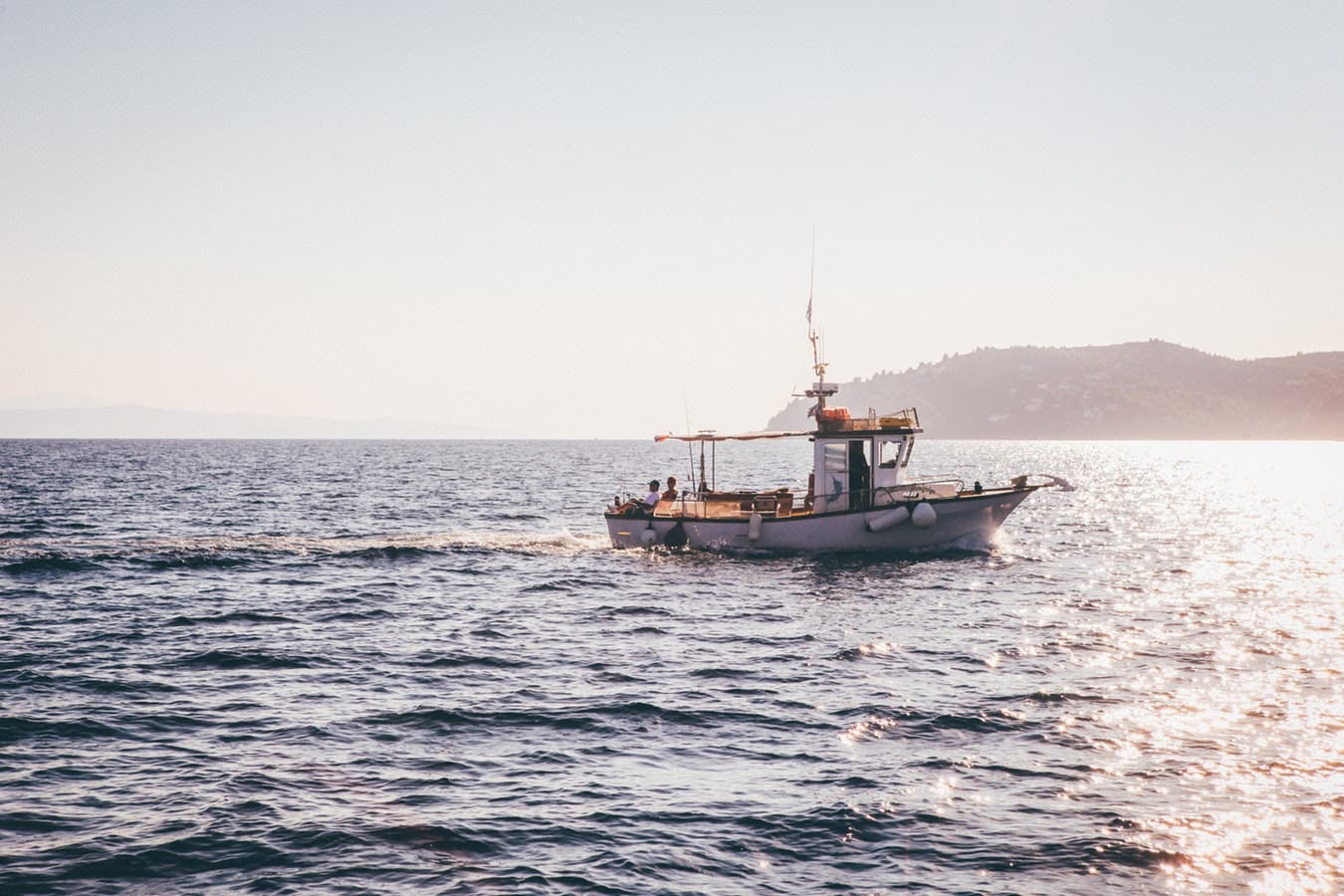 In-Shore
In-shore fishing takes place in water that is 30 meters deep or less. Typically, this would be lake fishing, fly fishing, and stream fishing. This type of fishing will take place in a lake, river, saltwater bays, or flats close to the shore. In this fishing environment, you are surrounded by lots of trees, bushes, and various things you find in nature. The result is more shade, colors, and the lighting is not as severe as it would be on the open water. Which is why you would look for a lighter lens tint to boost the contrast and give a brighter fishing setting.
A rose, copper, amber, or brown lens tint would be the most ideal colors to choose from. A few options to consider would be Costa's 580 color enhancing lens technology with their Green mirror, Copper mirror, or Sunrise Silver mirror. Oakley offers their PRIZM Shallow Water Polarized lenses that come with a brown base and help you to see the hiding spots of fish to make them easier to track. If you still need more options then check out Smith's Chromapop polarized lenses, Kaenon's Ultra brown lenses, or Spy's Happy lens technology. Essentially, almost every brand will have a variety of options for your fishing sunglasses.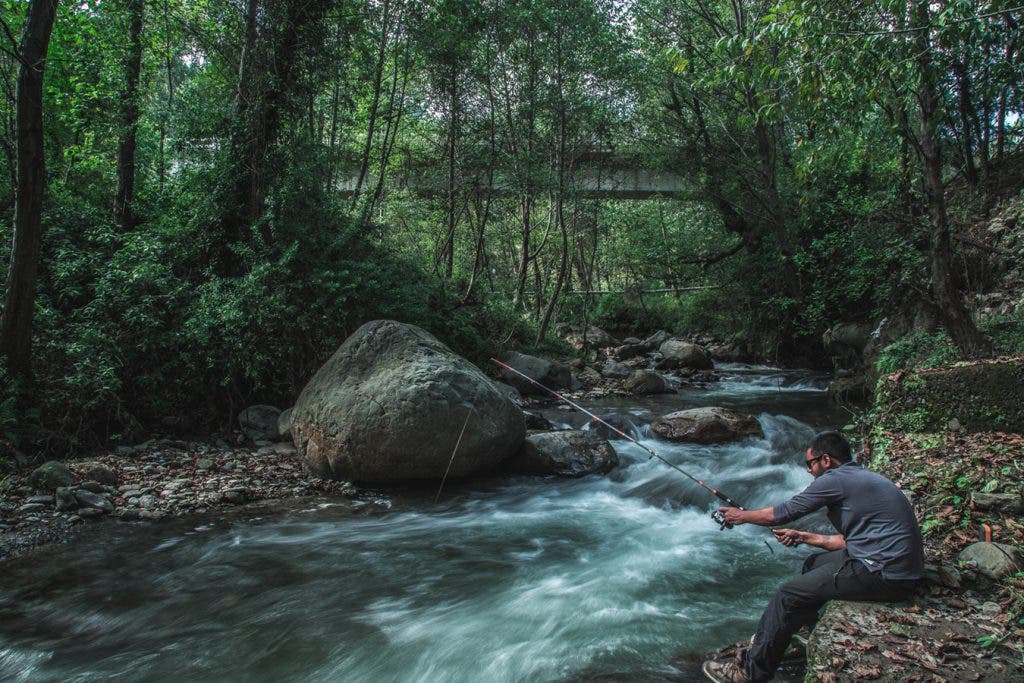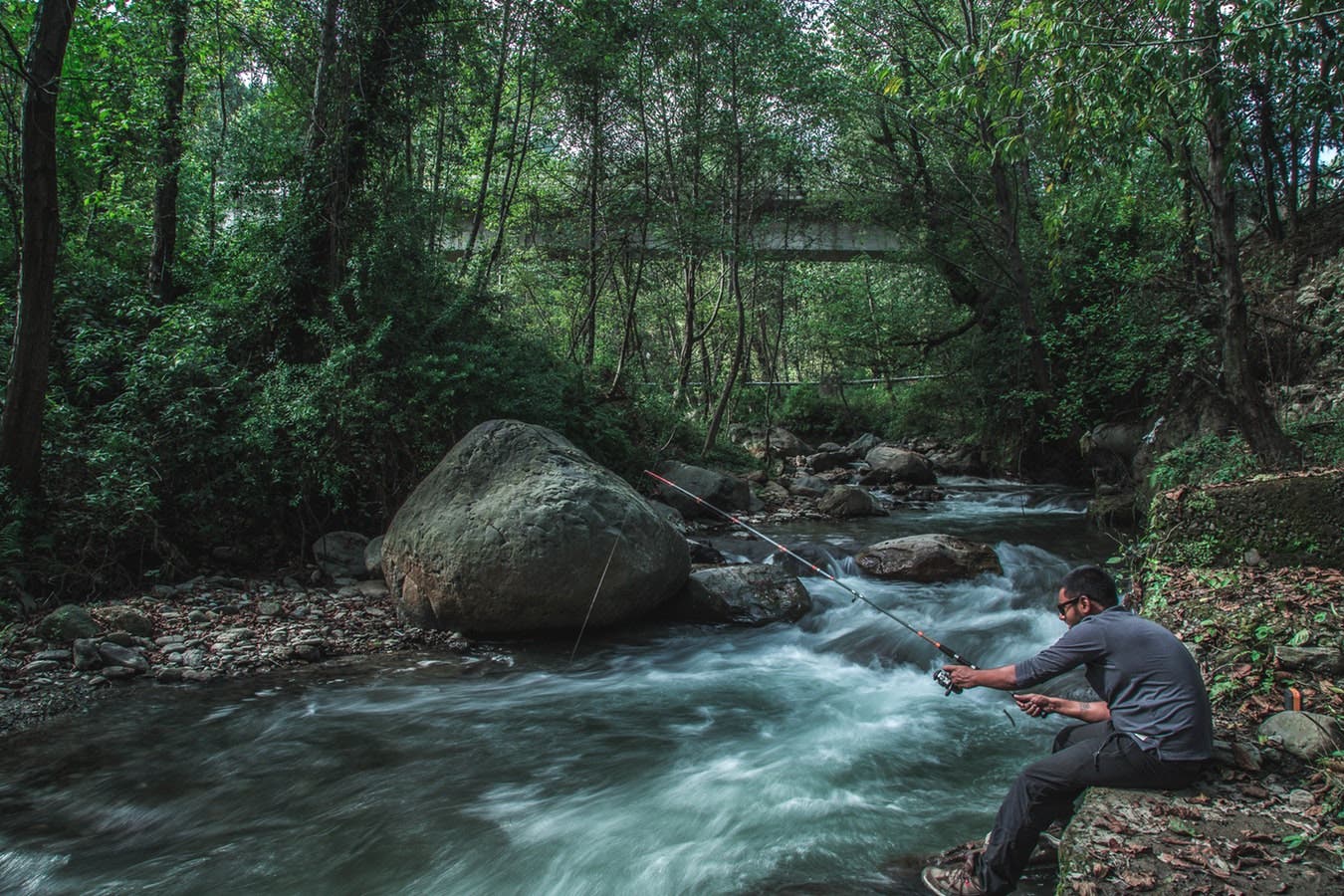 Our Top 5 Fishing Sunglasses
Below we have wrangled up some of our best fishing sunglasses to get your fishing sunglass wheels turning. Check out Best of 2020 fishing sunglasses blog, for the full list.
Costa Tuna Alley
The Costa Tuna Alley is a great go-to and fans favorite for fishing sunglasses. Tuna Alley features an 8-base wrap frame with rubberized nose pieces and rubber temples to give the full coverage needed in a fishing sunglass. The side vents along the bottom front of the frame whisk sweat away from your face while having a good amount of airflow. Pairing these with Costa's Blue mirror 580 Lens you are sure to have a winner.
Costa Fantail
The Costa Fantail is a smaller build of the Costa Blackfin frame, but lacking none of the adventures. Designed with a comfortable medium fit, heavy-duty TR 90 nylon frames, the Fantails have optimal protection and come prescription ready. Also featured, along the nose and temples are rubberized grips that add to both the comfort and grip strength of these killer frames. Pair with the 580 Gray Silver Mirror for a timeless polarized lens.
Oakley Split Shot
The first water sport-focused frame that Oakley designed, the Slip Shot, has all of the quality and comfort that you have come to expect from Oakley sunglasses. The O-Matter frame material, both lightweight and durable, provides great support for your day out fishing. The Unobtainium nose pads and temples give grip that doesn't stop no matter how much you sweat. Last but not least, the 20″ detachable wrapped wire leash keeps these sunnies easy and accessible all day. Pair these with PRIXM Deep Water lenses for unparalleled clarity and protection.
Oakley Turbine
The Oakley Turbine is designed for the adventurous male who wants a performance frame with style. The Three-Point Fit system holds the Oakley Turbine lenses in precise optical alignment all while eliminating discomfort and pressure that other frames can commonly cause. The rubber nose pads and temples keep your frames in place as you reel in the catch of the day. Pair with PRIZM Shallow Water Polarized lenses for pristine and color enhanced vision.
Smith Guides Choice
Designed for the outdoor enthusiast, SMITH Guide's Choice is a great choice for versatility. The Guide's Choice feature rubber nose pads and spring hinges for added grip and comfort. With an 8-base wrap, these frames provide great coverage and protection. Paired with SMITHs ChromaPop lenses for contrast and color enhancement, you will not be disappointed.
The Best Prescription Fishing Sunglasses Online at SportRx
Need prescription Fishing Sunglasses? Done. When you shop with us, you'll find video guides and tooltips throughout the build process as you customize the perfect pair. An answer to all your questions is at your fingertips, and if you want to chat with an expert, Contact Us. We'll put you in touch with one of our friendly in-house opticians who can help you build your prescription Fishing Sunglasses.
Ditch risky online shopping with the See Better Guarantee. Try your sunglasses for 45 days. If you're not satisfied, send them back. Get a full refund, exchange, or credit towards a better pair. And return shipping? Covered. Get your pair of prescription Fishing Sunglasses at SportRx today!