Complete Guide: How-To Buy Fishing Sunglasses
Why do you fish? Do you love the quiet nature of a long fishing day? Maybe you enjoy hanging out with your friends and throwing back a couple of cold ones? You may have different reasons for going out on the water but at the end of the day, you will always need to buy fishing sunglasses that are high quality and protect you from those harmful UV rays.
Below is a complete guide on how to buy fishing sunglasses online and all the necessary features to consider. First, we will dive into the key features you need to look for when you buy fishing sunglasses and how they will enhance your fishing adventures. Then we will go over the best lens options for in-shore and off-shore fishing.
4 Key Features for Fishing Sunglasses
Polarization
As most fishermen know, the open ocean has no sympathy when it comes top blinding you with harsh glare and sunlight. The open ocean will even throw in the occasional storm to keep you on your toes and make sure you have the necessary tools to make it through the day. This means your fishing sunglasses should be treated as an important piece of equipment, like your fishing rod or reel.
Polarized lenses are a must for any fishing sunglass. When the sunlight comes down it creates a vertical wavelength, then when it bounces off the water or shiny object it creates a horizontal wavelength. These two wavelengths then vibrate together to create a harmful glare that will cause extra eyestrain and long-term damage to your retina. Polarized lenses have a filter that only allows light through at a 90-degree angle and in return, the wavelengths can't make it through the lenses. Now you can track the fish at a deeper level, tie your hooks on with no glare interference, and most importantly enjoy your day on the water with optical clarity.
Protection
To help with the protection many fishing sunglasses are offered in an 8 base frame design. An 8 base frame is another way to say it has a wrap-around design with thicker temples. Thick temples make sure the sunlight, wind, and various debris does not enter your eyesight at any time. As we mentioned before, the ocean is known for having storms and is not always a smooth ride. An 8 base frame will enable the frame and lenses to wrap on your face and feel like they aren't there. Knowing your sunglasses are secured to your face allows you to focus on the task at hand and make sure you reel in the big one for the day.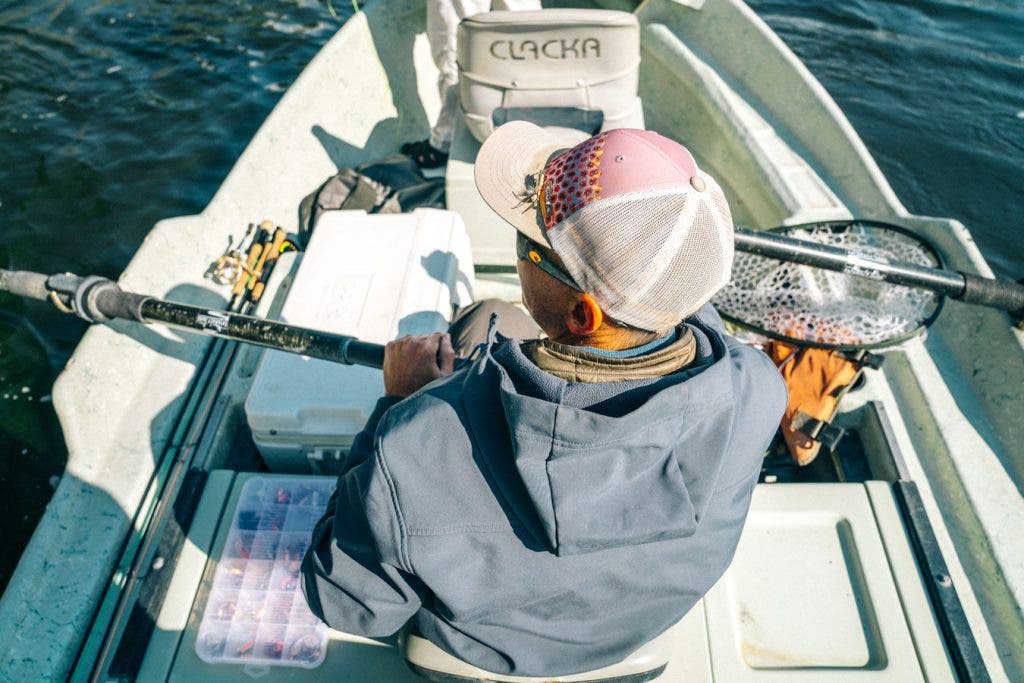 Durability
We mentioned it before and we will keep talking about it, the ocean does not care about damaging your fishing sunglasses. Salty air and water create a heavy moisture that invites rust and corrosion. Metal sunglasses tend to corrode the fastest and the best option would be a frame with a blend of nylon material. Nylon is known as polyamides, co-polyamides, and gliamides. It is the main material on all premier sports frames for a couple different reasons. One reason is nylon can withstand extreme heat, hot or cold, and keep the same shape so you never have the sunglasses morphing out-of-place. The second reason nylon has become popular is because of how lightweight it is.

Comfort
Our last key feature is something that may seem obvious but many people overlook it all the time. Your fishing sunglasses MUST BE comfortable. Imagine packing and preparing for a long fishing trip with your dad. You get the boat prepped, make sure you have enough bait for the day, check the lines and get out on the water, to only find yourself taking off your sunglasses after 45 mins because of how uncomfortable they are. Now you have a headache from the sunglasses being uncomfortable, the glare is blinding you, and your fishing experience has been ruined.
So how do we stop this bad fishing experience from happening? Simple, we find sunglasses that are the proper size, the temples do not press against the side of your head, and have a rubberized material along the temples & nose bridge. We've mentioned a couple of different things that can make sunglasses more comfortable so let's review. First, an 8-base wrap-around design is the best sunglass design for all day use and ensures the sunglasses never fall off. Second, many fishing sunglasses use a nylon material that is lightweight and again comfortable for all day use.

The Best Fishing Lenses for your Environment:
Off-shore fishing
Offshore fishing takes place in water that is least 30 meters down. This is your deep-sea fishermen looking for big trophy fish. An example of a trophy fish would be a blue marlin, yellowfin tuna, or Spearfish. Unlike in-shore fishing, offshore fishing typically means you will be in the direct sunlight with nothing to protect you other than a few clouds if you are lucky. This means the glare and sunlight bouncing off the water will be intense, making it harder to track the fish as you reel them to the surface. To counteract this sunlight and glare it is important that you get fishing sunglasses with a gray base.
If you want even more protection and for less light to travel through the lens, then pair the gray base with a blue mirror. Gray base lenses provide a more natural, sharper optical color experience. This allows your eyes to experience the natural beauties of the open ocean while keeping you protected. You can't go wrong with Costa's 580 G lenses in the blue mirror. Glass lenses are more scratch resistant and ready to take on the harsh environment the salty air and water can create. Another great option would be Oakley's Prizm Deep Water lenses because they will help to filter out the shades of blue so you can see what's going on beneath the surface. Some other great lenses are Smith's Chromapop Blue Mirror lenses, SportRx Deep Sea blue lenses, or Kaenons Ultra Blue Mirror lenses.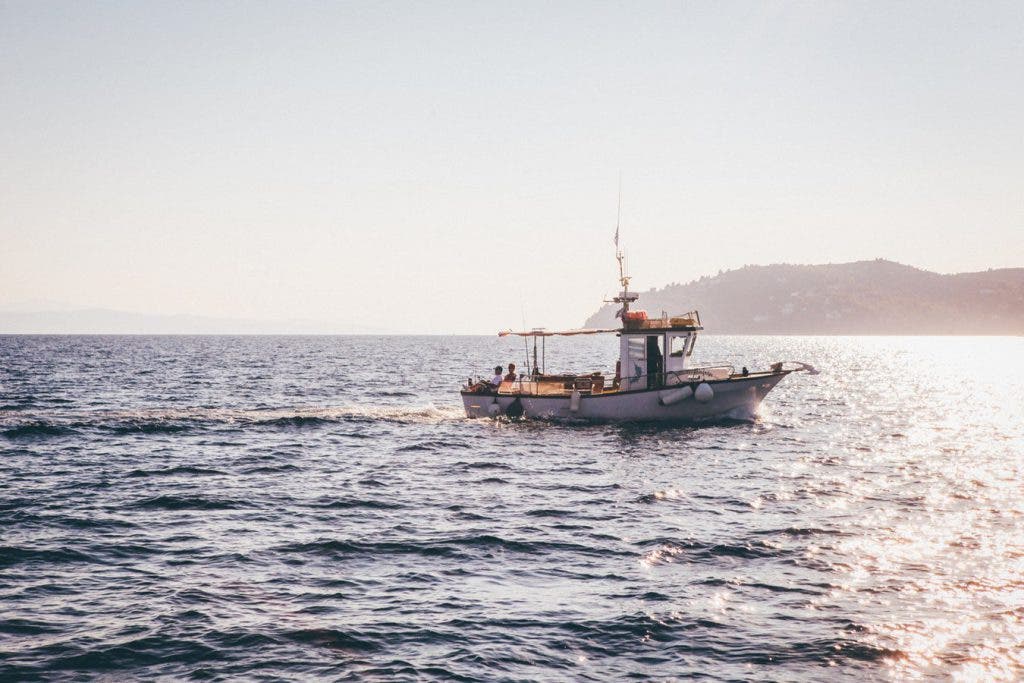 In-Shore fishing
Inshore fishing takes place in water that is 30 meters deep or less. Typically, this would be lake fishing, fly fishing, and stream fishing. This type of fishing will take place in a lake, river, saltwater bays, or flats close to the shore. In this fishing environment, you are surrounded by lots of trees, bushes, and various things you find in nature. The result is more shade, colors, and the lighting is not as severe as it would be on the open water. Which is why you would look for a lighter lens tint to boost the contrast and give a brighter fishing setting.
A rose, copper, amber, or brown lens tint would be the most ideal colors to choose from. A few options to consider would be Costa's 580 color enhancing lens technology with their Green mirror, Copper mirror, or Sunrise Silver mirror. Oakley offers their PRIZM Shallow Water Polarized lenses that come with a brown base and help you to see the hiding spots of fish to make them easier to track. If you still need more options then check out Smith's Chromapop polarized lenses, Kaenon's Ultra brown lenses, or Spy's Happy lens technology. Essentially, almost every brand will have a variety of options for your fishing sunglasses.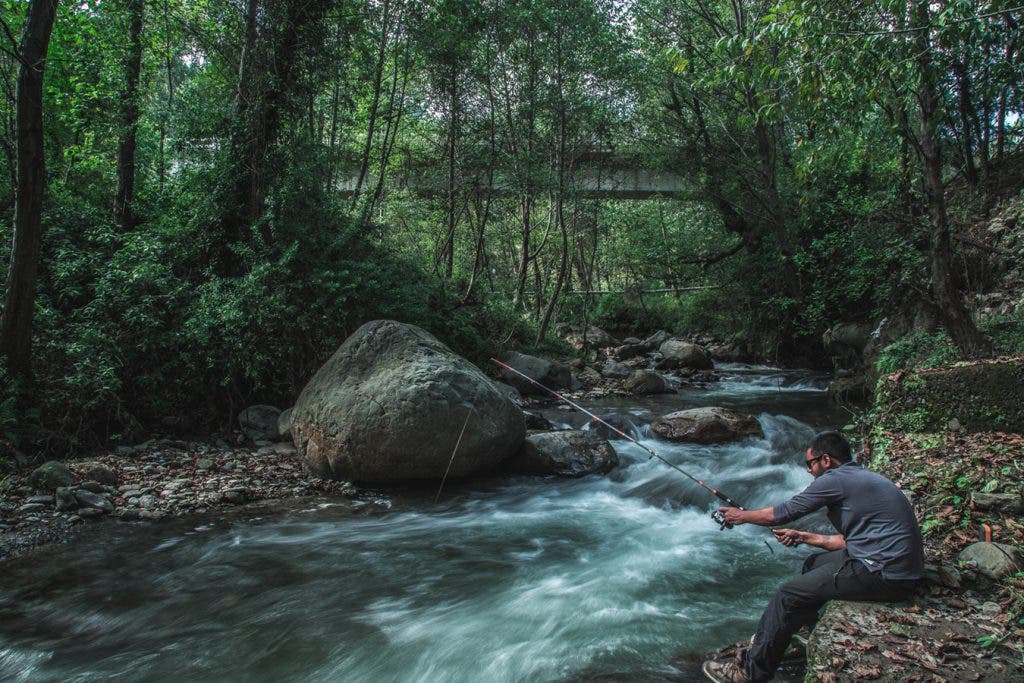 Our Top 5 Fishing Sunglasses
Costa Blackfin
Frame Dimensions
Bridge - 14mm
Frame Width - 143mm
Temple Length - 130mm
Lens Width - 63mm
Lens Height - 43mm
Costa Tuna Alley
Frame Dimensions
Bridge-18mm
Frame Width-128mm
Temple-120mm
Lens Width-60mm
Lens Height- 38mm
Costa Fantail
Frame Dimensions
Bridge-16mm
Frame Width-140mm
Temple-135mm
Lens Width-59mm
Lens Height- 51mm
Oakley Split Shot
Frame Dimensions:
Bridge-17 mm
Frame Width-130 mm
Temple-132 mm
Lens Width-64 mm
Lens Height- 43.5 mm
Oakley Turbine
Frame Dimensions
Bridge-18mm
Frame Width-135mm
Temple-138mm
Lens Width-61mm
Lens Height- 34mm
Smith Guides Choice
Frame Dimensions
Bridge-18mm
Frame Width-135mm
Temple-138mm
Lens Width-61mm
Lens Height- 34mm
The Best Prescription Fishing Sunglasses Online at SportRx
We hope this guide has helped you with your journey in finding the perfect pair of fishing sunglasses. At SportRx we offer a variety of fishing sunglasses that are made with prescription lenses. From Costa to Oakley and everyone else in between, we are confident we have the fishing sunglass you have been waiting for. Have more questions or need help ordering? Make sure to contact our opticians here or give us a call at 888-831-5817.