Get ready to catch more fish with the new Costa PRO Series! Taking performance to the next level, Costa Del Mar has made six angler-approved updates to their most beloved fishing frames. We'll reveal which new performance features made it into the Costa PRO Series sunglasses and do a complete review of the collection. Trust us, you're not going to want to leave the dock without a pair.
Costa PRO Series
A. Video Review
B. PROformance Features
C. Costa PRO Series Sunglasses
1. Blackfin PRO
2. Tuna Alley PRO
3. Reefton PRO
4. Fantail PRO
D. Shop Costa Prescription Sunglasses Online at SportRx
---
Video Review
Tune in here with Eyeglass Tyler as he takes you through the Costa PRO Series. Also, keep an eye out for an updated video, which will feature the NEW Costa Tuna Alley PRO and Reefton PRO!
---
PROFormance Features
Always chasing the next big catch, Costa revisits their frames to help fishermen do what they love — longer. With the introduction of the PRO Series, Costa brings six new performance features that are designed to enhance the fishing experience. Let's review each of these additions below, along with their benefits.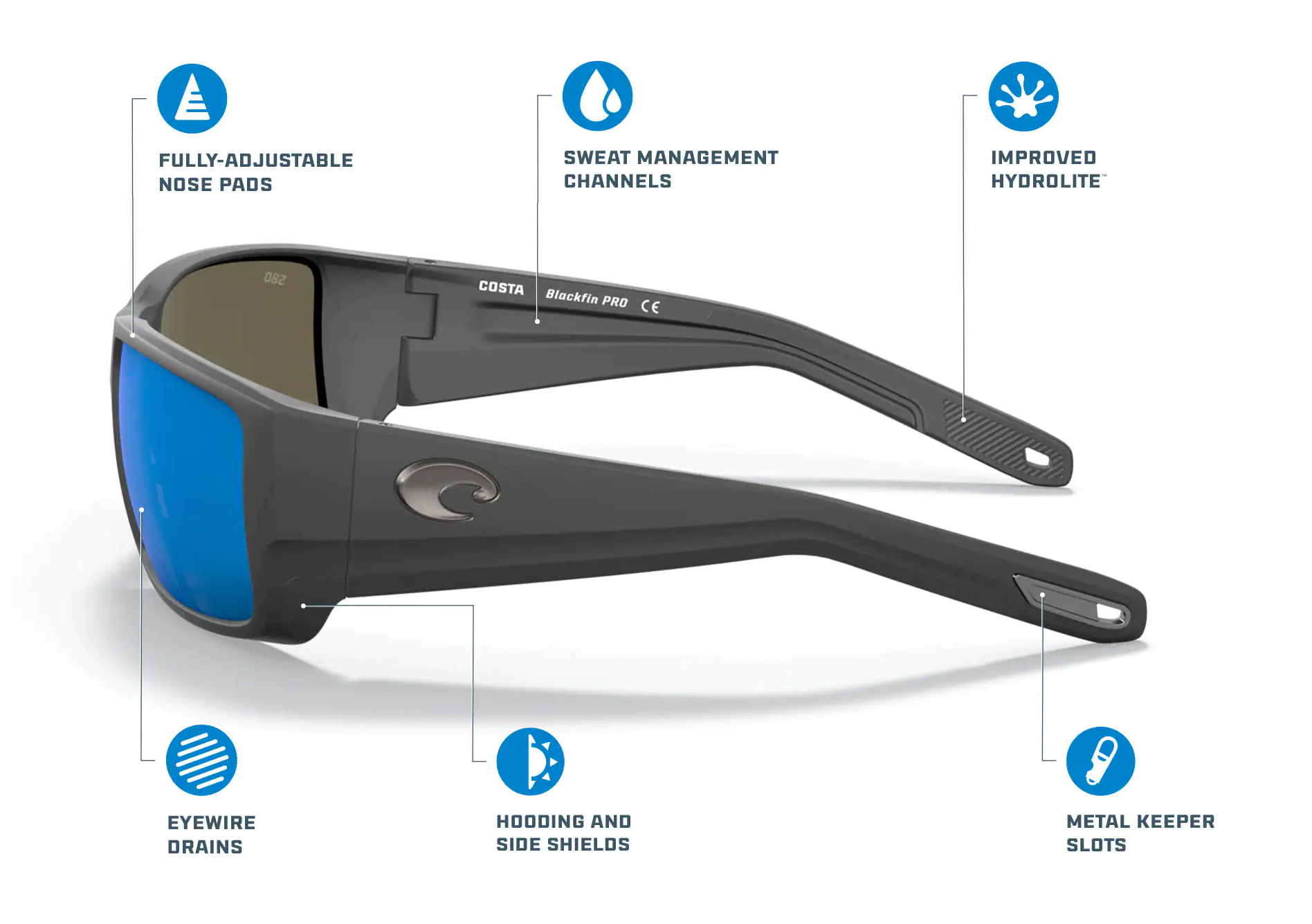 Fully-Adjustable Nose Pads: It's rare that our Sports Opticians see something they haven't seen before, but the fully adjustable nose pads made our team go wild. Full-rim nylon frames are traditionally created with static, non-maneuverable nose pads, which means a less than ideal fit. The PRO Series' adjustable nose pads are one of the first of its kind and allow you to create a completely custom fit that is as unique as you.
Sweat Management Channels: When adrenaline is pumping, don't let sweat interfere with your vision. The cutting-edge sweat management channels direct moisture away from the frame, so your sight stays clear from distractions and fog.
Improved Hydrolite™: Your favorite rubber grip just got grippier. The updated formula is more durable while providing the tackier when wet reaction you love.
Eyewire Drains: Whether you get an unexpected splash, or are breaking a sweat while reeling in your trophy fish, strategically-placed eyewire drains prevent moisture from pooling inside the frame for uninterrupted vision.
Hooding & Side Shields: In addition to extra protection from harsh UV rays, you won't get distracted by pesky light leakss sneaking in from the peripherals.
Metal Keeper Slots: For extra choppy days, clip on a leash to keep your Costas near and dear — and far away from the bottom of the ocean.
At SportRx, we see a lot of sunglasses and to say Costa left no stone unturned with their PRO Series is an understatement. We are blown away with their innovative take on an already amazing product. In fact, we love it so much, that it won the Best Design Award at this year's REXYS!
---
Costa PRO Series Sunglasses
As we just learned, the Costa PRO Series is a one-stop-shop for everything you need in fishing sunglasses. In addition to the 6 performance features we reviewed above, let's check out how it translates to your favorite Costa fishing sunglasses.
Costa Blackfin PRO
An angler favorite, the Costa Blackfin PRO features an 8-base wrap and a stay-put design. Featuring a generous Hydrolite™ lining, you'll get extra grip along the temples, cheekbones, and nose pads, so your hands stay on the rod — instead of fiddling with frame readjustments. Constructed from Costa's eco-friendly bio-resin nylon, you'll get lightweight and durable wear with a side of a feel-good attitude.
As for the lenses, the Blackfin PRO features Costa 580 lens technology. Available in both glass (580G) and polycarbonate (580P) options, you can select from a variety of tints to get the perfect level of contrast for your specific environment.
Costa Blackfin PRO Key Features:
Eco-friendly bio-resin is saltwater-safe & anti-corrosive, so you can wear your frames worry-free
8-base wrap comfortably contours your face to protect from UV rays & light leak
Available with contrast-enhancing Costa 580 lens technology
Rx-able
SportRx Frame Width: 135 (What is SFW?)
---
Costa Tuna Alley PRO
Similar in size and style to the Blackfin PRO, the Costa Tuna Alley PRO is no stranger to the waters. Its inspiration frame, the classic Tuna Alley, is loved for all types of fishing — from deep sea to inshore. The 8-base rectangular lenses are available with 580 lens technology, which reveals sharper contrast and higher definition. And it's Rx-able!
The biggest difference between the Blackfin PRO and Tuna Alley PRO is the ventilation system. The Tuna Alley PRO has front venting to encourage air flow and keep your vision fog-free. However, both styles, and all frames in the Costa PRO Series, feature a C-Wall® coating which repels water, oil and sweat. So, no matter which Costa PRO frame you choose, you'll always get clear vision and easy cleaning.
Costa Tuna Alley PRO Key Features:
Front venting encourages air flow & minimizes fogging
8-base bio-resin frame is saltwater-safe & provides generous sun protection
C-Wall® coating repels water, oil, & sweat
Rx-able
SFW: 136
---
Costa Reefton PRO
Working our way up in size, the Costa Reefton PRO features a taller and wider lens than then previous frames in our lineup. Compared to the Tuna Alley PRO, it has three more centimeters in both lens height and width. You get the same 8-base wrap with additional sun coverage, thanks to the extra lens real estate. Its clean design is also the most angular of the bunch. Ultimately, the Reefton PRO delivers the same performance we love from Costa fishing sunglasses, in a timeless design that looks great on and off the boat.
Costa Reefton PRO Key Features:
Tall & wide lenses provide extra coverage from harsh UV rays
8-base wrap comfortably wraps your face to prevent peripheral light leak
Available with contrast-enhancing Costa 580 lens technology
Rx-able
SFW: 138
---
Costa Fantail PRO
With a slightly smaller look than the Blackfin PRO, the Fantail PRO delivers the same performance features in a more compact design. However, don't let the sleek design fool you — the Fantail PRO is actually a touch larger with a SportRx Frame Width of 139. Unfamiliar with SFW? Visit our sunglasses size guide to learn how to use the SFW to understand and determine your frame size.
This 8-base frame features the same lightweight and durable construction of Costa's bio-resin. This unique frame material is treated to be saltwater-safe and anti-corrosive, so you can enjoy long days out on the water without worrying about the longevity of your frames. The lenses also receive a similar treatment with their hydro-oleophobic coating that repels water, oil, and dust. As for your vision, all Costa 580 lenses are polarized and block 99.9% of glare. And in case you were wondering, yes, polarized sunglasses really do help you see fish!
Costa Fantail PRO Key Features:
8-base bio-resin frame delivers lightweight & durable wear with maximum sun protection
More compact design but a slightly larger fit than the Blackfin PRO
Available with contrast-enhancing Costa 580 lens technology
Rx-able
SFW: 139
---
Shop Costa Prescription Sunglasses Online at SportRx
Need Costa PRO sunglasses with prescription? Done. When you shop with us, you'll find video guides and tool tips throughout the build process as you customize the perfect pair. An answer to all your questions is at your fingertips, and if you want to chat with an expert, contact us. We'll put you in touch with one of our friendly in-house opticians, who can help you build your perfect pair of Costa PRO Series sunglasses with prescription.
Ditch risky online shopping with our See Better Guarantee™. Try your Costa PRO Series sunglasses for 45 days. If you're not 100% satisfied, send them back. Get a full refund, exchange, or credit towards a better pair. And return shipping? Covered. Get your new favorite pair of fishing sunglasses from the Costa PRO Series online at SportRx today!