When shopping for eyewear on the market, look for lenses built with the best technology. Costa Del Mar features 580 lenses with their top of the line frames. But what makes the Costa 580 lens so special, and what does the "580P" and "580G" mean? Put simply, it's the difference between seeing the world and experiencing it.
Sunglasses have come a long way from their humble origins. They provide more than just shade from the sun, they filter UV light and reduce glare. Now, the best lenses offer protection against blue light, or HEV (high-energy visible) light, that is known to damage our eyes. Costa established themselves as one of the top brands for sunglasses with their 580 lenses, named after the wavelengths of blue light they were designed to filter. Costa was also the first to feature light enhancing technology for their polarized lenses. You can find all these technologies in Costa lenses.
Why Choose Costa 580 Lens?
Color.
Costa's 580 lens technology is the next level in color enhancement and they offer 7 different lens tints. It has a 99.9% polarization efficiency for the best glare reduction on the market, blocks all UVA/UVB/UVC light, and filters out the harmful blue light. 580 lenses also have the ability to filter harsh yellow light for greater contrast. By filtering yellow light on the 580 nm wavelength, the reds and greens appear sharper.

Fishermen will love 580 lenses because the filters will directly affect their ability to spot their prize in the water. Anyone doing an activity that requires attention to detail would benefit from these lenses.
Costa 580G vs 580P Lenses
The "G" and "P" corresponds to the material of the lens, glass or polycarbonate. Most Costa frames are offered with 580G and P lenses, so availability won't be an issue. However, choosing the right material might be, and each medium has its own advantages:
Costa 580 Glass Lens Benefits
Glass lenses provide the best optical clarity in material
580G glass lenses have encapsulated mirrors, between the layers of glass, which make them scratch proof.
Costa 580G glass lenses are20% thinner and 22% lighter than average polarized glass lenses.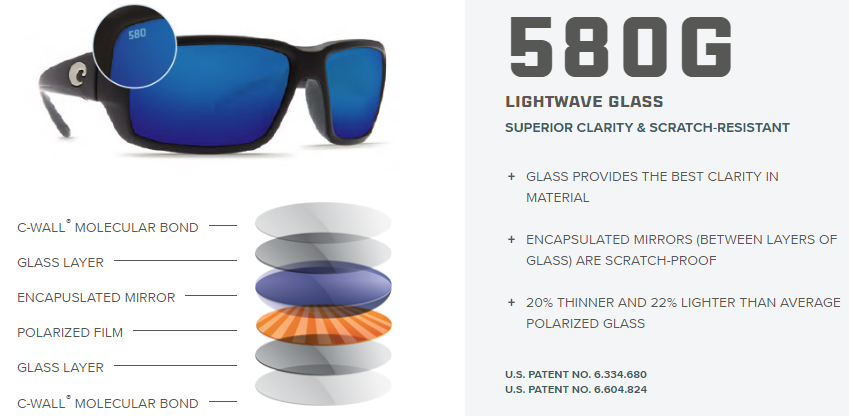 Costa 580 Polycarbonate/Trivex Lens Benefits
Costa 580P polycarbonate and trivex lenses are the lightest lens material compared to 580G lenses
580P polycarbonate and trivex lenses are the most durable lenses, Costa offers
580P lenses have a C-Wall Molecular Bond which makes the lenses more scratch-resistant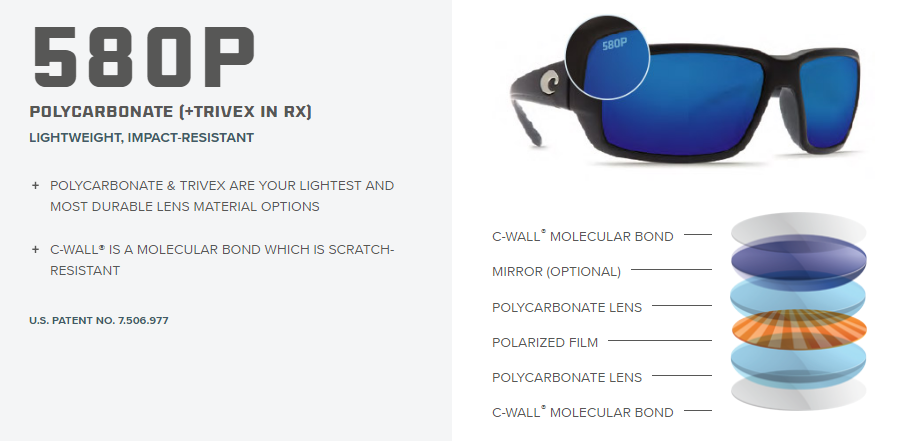 This does not mean either of these materials is of poorer quality. These are simply the advantages each material has when compared to the other. In fact, Costa has a lifetime guarantee that covers defects related to their sunglasses. And of course, if you get your Costa sunglasses from SportRx, we are more than happy to help you with our See Better Guarantee.
Authentic Costa 580 Prescription Lenses at SportRx
Costa offers glasses for all lifestyles, whether it's hardcore angling on open water or lazing away in a hammock by the beach. They are also available in a prescription at SportRx. Get Costa frames with authentic Costa prescription lenses with 580 technology. Our certified opticians are available, so Contact Us with all questions. There's no better place to shop for Costa. Find the styles you want in the fit you need at SportRx.