Buying sunglasses online is a tricky thing, especially if you're looking for prescription. It's hard to know if the sunglasses will look good on you, and, more importantly, whether they'll even fit. With our comprehensive size guide, we hope to clear up that mystery and give you a place to start in your search.
Table of Contents
1. What is SFW?
2. How Do I Measure My SFW?
3. SportRx Sunglasses Size Guide
3.1. XXL
3.2. Extra Large
3.3. Large
3.4. Medium
3.5. Small
3.6. Extra Small
4. Prescription Sunglasses at SportRx
---
What is SFW?
SFW stands for SportRx Frame Width, and it's a measurement we devised to better represent how a frame will fit you. Frame measurements are confusing and often contradictory, so our solution is a standardized frame measurement that works across all brands and frame shapes. Measure your SFW once, and you'll be able to use that number across our whole site.
---
How Do I Measure My SFW?
Sunglass Rob is here to explain how to do just that! Tune into our video.
In short, it involves a ruler and a pair of eyeglasses that you already own. Measure the inside of the glasses from temple to temple, and that measurement in millimeters (mm) is your SFW.
---
SportRx Sunglasses Size Guide
Once you have your SFW, check out Eyeglass Tyler's size guide for some popular SportRx frames.
---
We'll now do a comparison of SFW with conventional sizing from largest to smallest. We also pick a frame for men and for women that falls under each size so that you have a place to begin your search!
XXL
These are for the biggest of big heads out there. If the usual larges and extra-larges out there still pinch your head, rest easy knowing our XXL frames will be comfortable.
---
Extra Large
If you have a big head, you probably know it. Our extra-large men's and women's frames are wide enough to fit you comfortably while still having plenty of flair.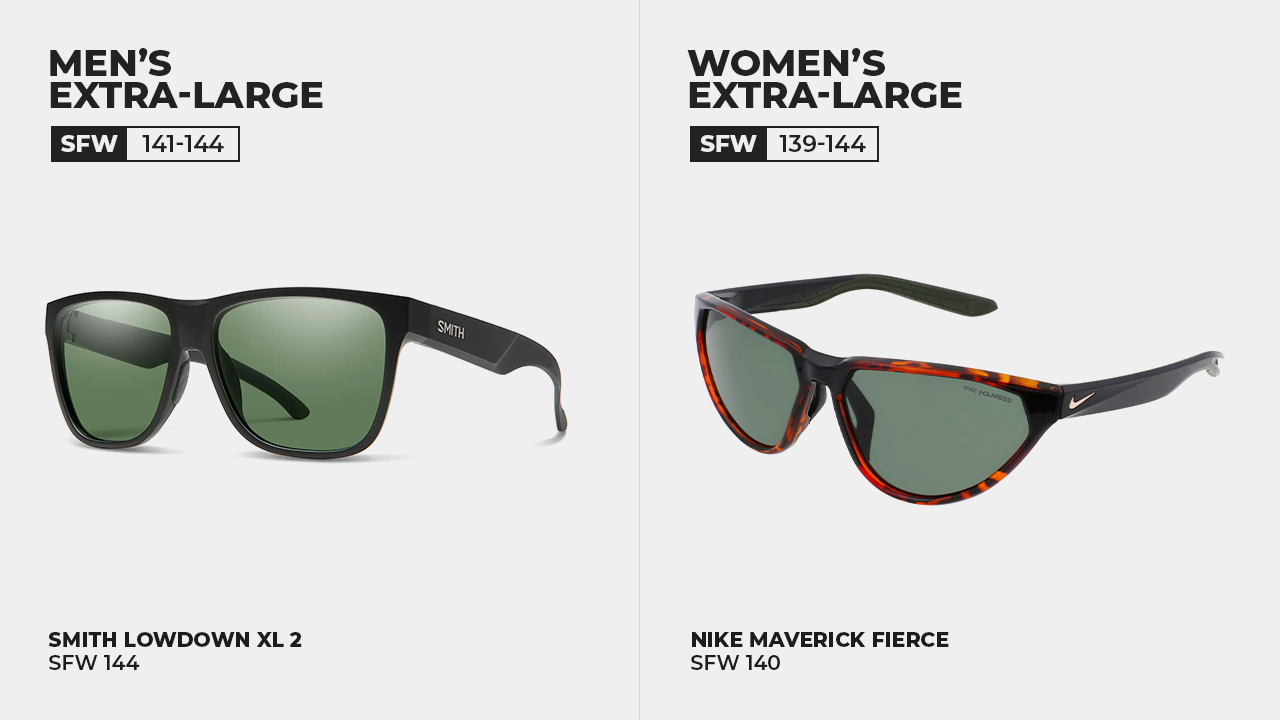 ---
Large
Our large frames still qualify as sunglasses for big heads, but they may also be an option if you like the oversized look.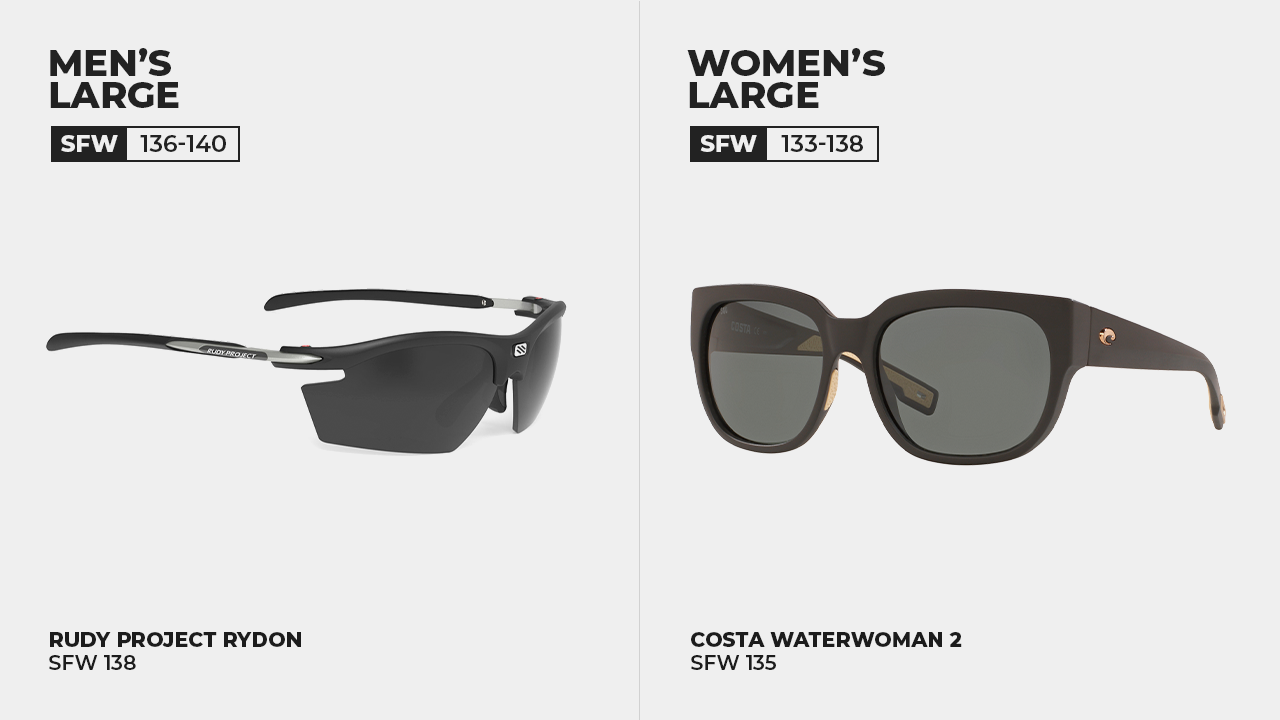 ---
Medium
If you don't know how big your head is, that means you're probably a medium! The rule of thumb we operate off of is that people who need large or small sunglasses tend to already know in advance. A note on the Flak 2.0 XL: While we classify this as a medium, it's also one-size fits most, meaning it will probably fit you anyway.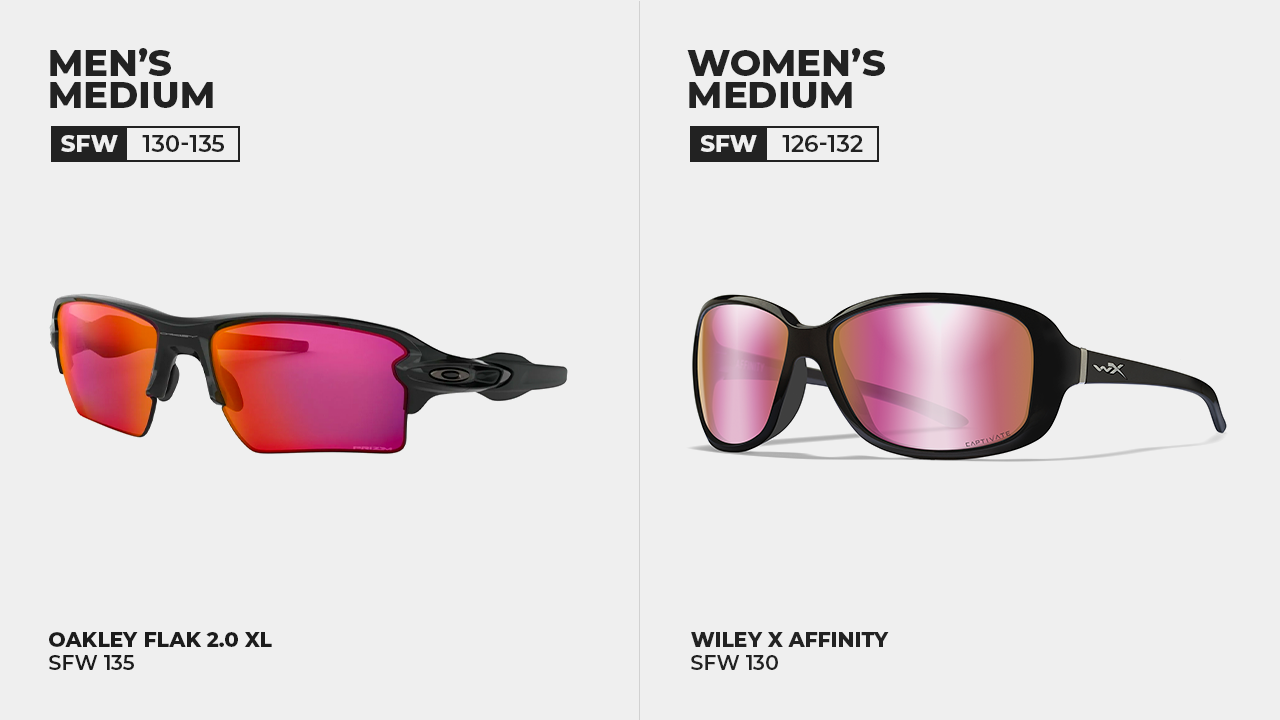 ---
Small
For those on the smaller side, we have options for you too! These sunglasses may also work if you have a medium-sized head, but you like your sunglasses feeling snug against your face.
---
Extra-Small
For the exceptionally petite faces out there, our extra-small frames will still give you the style you need in a size that works.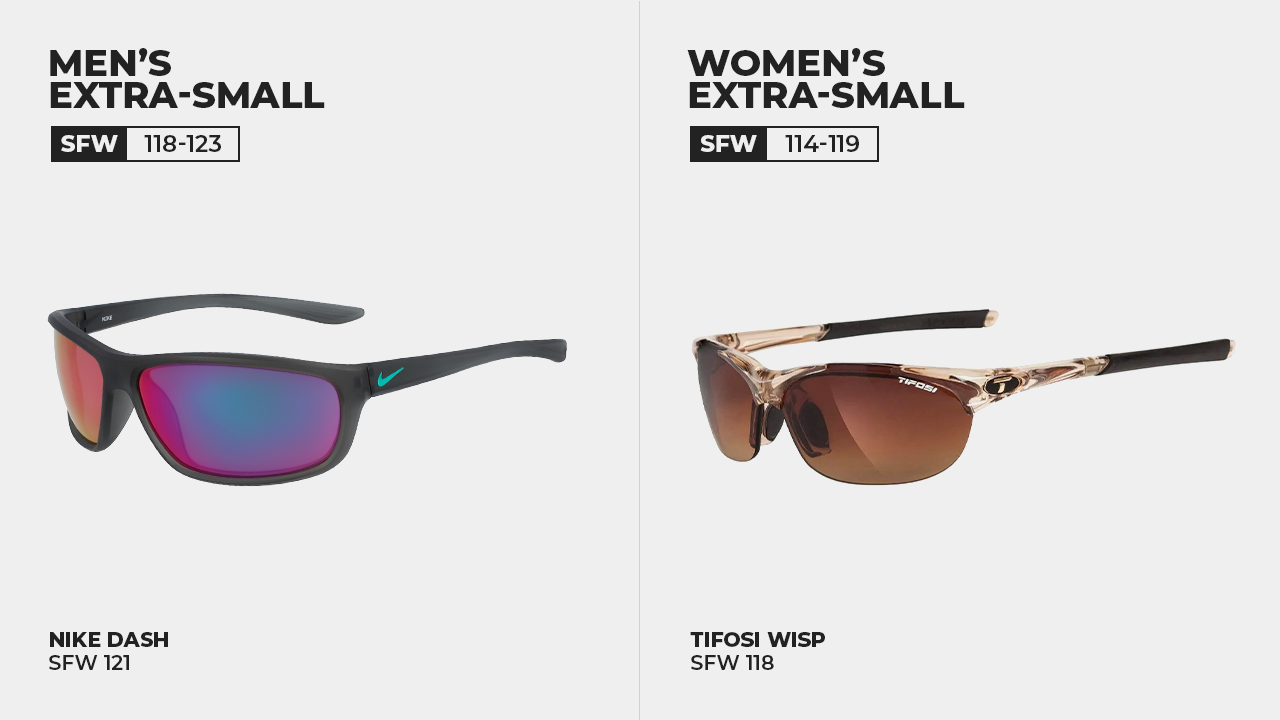 ---
Prescription Sunglasses at SportRx
Whatever size sunglasses you choose to get, when you shop at SportRx you're backed by our See Better Guarantee. That way, even if you get the wrong size, you'll be able to exchange or return your sunglasses in a snap.
Need prescription sunglasses? Done. When you shop with us, you'll find video guides and tooltips throughout the build process as you customize the perfect pair. An answer to all your questions is at your fingertips, and if you want to chat with an expert, contact us. We'll put you in touch with one of our friendly in-house opticians who can help you build your prescription sunglasses.