Whether you are fishing, biking, hiking, or simply relaxing on the beach, the experience of crisp, clear vision is everything you need to enhance. The optical wizards at Smith went above and beyond to develop the world's most advanced polarized lens that provides protection and clarity in every situation. Smith ChromaPop lens technology provides us with a lens that will protect your eyes all day, every day while making every detail pop.
What is Chromapop?
Chromapop is Smith's proprietary lens technology that allows your eyes to see true color. This technology filters out distorted color confusion that causes eye fatigue and vision distortion. These lenses will truly bring an amazing "pop" of color and enhance any outdoor experience through unmatched contrast.
frame>
How Chromapop Lenses Work
All visible light is composed of 3 colors- blue, green, and red. Naturally, our eyes can clearly distinguish these 3 colors, but when these colors start to overlap, "color confusion" occurs. ChromaPop Lenses filters out 2 specific wavelengths of light that cause color confusion, resulting in an increase in clarity & higher definition.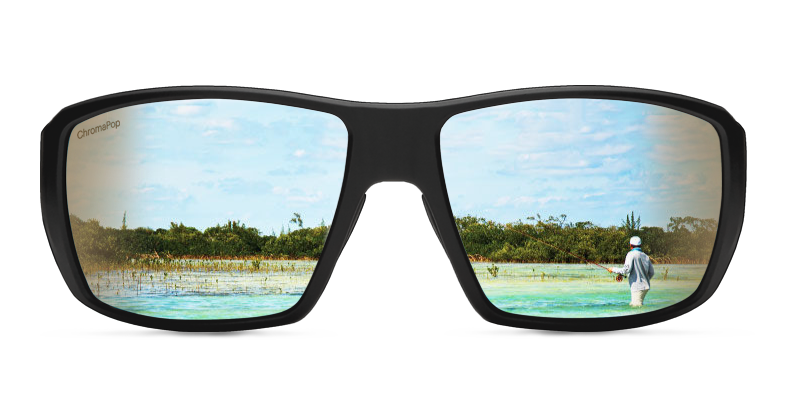 Advantages of Smith ChromaPop Lens Technology:
-Better Experience: Sharper, more vivid and clear colors
-Less Work: Don't have to work as hard to see details, reducing eye fatigue
-Faster Performance: You can respond quicker & more confidently and with more visible details
ChromaPop+ Polarized vs. ChromaPop Polarized: Whats the difference?
ChromaPop+ Polarized Lenses:
- Lens material: impact resistant polymer
- Benefits: Trivex polarized lenses bring extreme durability, water resistance, scratch resistance and 100% UV protection to the table. Visual acuity similar to glass. Even more impressive, the ChromaPop+ Polarized brings even more clarity than polycarbonate lenses while maintaining an ultralight weight (up to 10% lighter) feel.
ChromaPop Polarized Lenses:
- Lens material: impact resistant carbonic
- Benefits: Polycarbonate polarized lenses offer visual comfort and impact protection with enhanced glare reduction, while simultaneously giving you a water resistant, oil resistant, anti reflective and 100% UV protected lens.
ChromaPop Lenses:
- Lens material: impact resistant carbonic
- Benefits: the ChromaPop polarized lens delivers visual comfort and impact protection topped off with an anti-reflective, water and oil resistant coatings + 100% UV protection.
Smith ChromaPop Lens Colors | What lens color is right for you?
Smith offers different tints for different environments to ensure you are getting the most beneficial optical experience out there. The following environments have various tint options to make sure you can pick the best color for the environments you are surrounded by most.
Best Fishing and Fly Fishings Lens Colors:
Bronze mirror: This tint is specifically designed for medium to bright, in-shore conditions. Made specifically with fresh water fisherman in mind, the ChromaPop Polarized Bronze Mirror lens offers a glare reducing, color-enhanced visual with high contrast reds, blues, and greens.
Blue mirror: This Blue Mirror tint is specially made for bright, sunny open-ocean conditions. This lens tint, the darkest ChromaPop tint offered, is the only tint other than the bronze mirror that isn't applicable to multiple environments. The blue mirror lens is geared towards saltwater fisherman or any off-shore waterman seeking to cut glare, eliminate reflections, and maximize clarity.
Platinum: The platinum lens is perfect for road and/or ocean conditions. The Platinum lens tint performs best in bright conditions and features a reflective lens coating that effectively decreases the amount of light transmission.
More information and specifics on the best fishing sunglasses and lens filters, here!
Additional fishing lens color options:
Fresh Water: Ignitor, Bronze
In-Shore: Ignitor, Brown, Bronze Mirror
Deep Ocean: Ignitor, Gray Green, Platinum, Blue Mirror
Best Lens Color Options for Road, Trail and Field Conditions:
Road: Ignitor, Platinum, Gray Green
Trail: Ignitor, Brown, Gray Green
Field: Ignitor, Brown
Popular Smith ChromaPop Sunglasses and Prescription Sunglasses:
Smith Outlier sunglasses, also available in XL, is perfect for the seriously active individual. A careful modern refinement to the legendary Smith brand DNA, its clean lines are complemented by performance features and detailed technical elements. Features include: eco-friendly Evolve frame material, hydrophilic Megol nose and temple pads, Rx-able.
These Smith sunglasses combine a bold, lightweight frame with a cool, classic style. Perfect for your every day look, the Lowdown (also available in XL) offers enhanced details for understated performance and a comfortable fit. Features include: durable Evolve frame material, impact- resistant lens, form-fitting hydrophilic Megol nose and temple pads, prescription-ready.
Smith Guide's Choice Sunglasses
Smith Guide's Choice sunglasses continue to exceed the needs and expectations of Smith sunglass critics around the world. These lightweight frames are perfect for the outdoor enthusiast who values both performance and style. Features: Hydrophillic megol nose and temple pads, premium Italian spring hinges, wide temples and an aggressive wrap for superior light protection
Smith Dover will keep you protected on any adventure that you may have in store. Find all-day comfort with the Dover's superb lens overage and glare eliminating coatings. Features: Evolve Frame Material, sculpted temples, stainless steel spring hinges, prescription ready.
Smith Redmond sunglasses are equipped with more than just your ChromaPop needs. With classic styling and exceptional coverage, these shades will provide you with unsurpassed optical clarity. Features: 8 base wrap, Techlite glass lens technology, narrow lightweight temples, spring-hinge, Megol nose and temple pads
Smith Ridgewell offers the best optical clarity in addition to a classic, timeless style. These high quality, high performing shades are designed specifically to fit a smaller profile. Features: 8 base wrap, Techlite glass technology, narrow lightweight temples, premium spring hinges and megol nose and temple pads.
Bringing a more feminine frame to the table, Smith Bridgetown offers a combination of elegance and bold style through a round lens profile. This refined, smooth design has subtle performance detailing that may surprise you. Features: Lightweight frame constructed of Evolve eco-material, megol nose pads, metal bridge detailing.
Smith ChromaPop Prescription Sunglasses Online at SportRx!
Smith ChromaPop Lens Technology offers quality protection along with crisp vision that will make sure every detail "pops." Ready to see the world through with its every color? SportRx offers Smith ChromaPop Lens technology with your individual prescription to make sure you're vision is crystal clear. Every frame on our list of favorites is available with ChromaPop prescription lenses. Questions on Smith ChromaPop Lens Technology or how to make your Smith Sunglasses Rx-able? Feel free to give our SportRX opticians a call, available 7 days a week!