Genuine since 1937. For more than eight decades, Ray-Ban has been the global leader in eyewear. Originating with the iconic Aviator, this timeless shape has since become synonymous with a sunglass style of its own. The first of its kind, Ray-Ban established itself as the trailblazer in innovative eyewear design and lens technology.
Today, Ray-Ban's catalog is extensive and continues to grow with each year. Join SportRx as we explore the many areas of expertise of this iconic brand. We'll visit the legendary Ray-Ban Collections, review lens options and Ray-Ban's proprietary lens technology, go over their frame materials of choice, demystify Ray-Ban sizing, and talk all things prescription.
A word of advice? Buckle up, because you're about to discover everything you need to know about Ray-Ban.
---
Table of Contents
1. The Ray-Ban Icons
1.1. The Aviator
1.2. The Wayfarer
1.3. The Clubmaster
1.4. The Round
2. Ray-Ban Lenses
2.1. Sunglasses
2.1.a. Classic (Solid)
2.1.b. Gradient
2.1.c. Mirror
2.1.d. Chromance
2.1.e. Polarized
2.2. Eyeglasses
2.2.a. Prescription Type
2.2.b. Ray-Ban Blue
2.2.c. Transitions®
2.3. Ray-Ban Authentic Lenses
2.4. Ray-Ban Prescription Replacement Lenses
3. Frame Material
3.1. Metal
3.2. Nylon
3.3. Acetate
4. Ray-Ban Sizing
5. Ray-Ban Asian Fit
6. Ray-Ban Guides at SportRx
7. SportRx See Better Guarantee
---
The Ray-Ban Icons
Chances are you're already familiar with the iconic Ray-Ban Collections, whether you know it or not. Today, these collections are household names that have inspired countless imitations: The Aviator, the Wayfarer, the Clubmaster, and Round. Each beginning with one legendary design, they inspired complete collections that embrace a distinct shape or style.
The Aviator
The first Ray-Ban design that captured the world. Dramatic teardrop lenses encapsulated by a minimalist and elegant metal frame. A timeless frame that will never go out of style.
Want to learn more about the history of the Aviator and discover the other styles it inspired? Visit our blog on the Ray-Ban Aviator!
If you're ready to shop this iconic collection, click the button below!
The Wayfarer
The second Ray-Ban design that continues to be a favorite today, the Wayfarer. Debuting in 1952, the Wayfarer's distinctive trapezoidal shape and striking pantoscopic tilt was immediately noticed by Hollywood. This glamorous style was a favorite in cinema and has been seen on A-listers spanning decades.
If the stylish Wayfarer is calling your name, check out our blog on The Wayfarer Collection.
Ready to add a stylish Wayfarer frame to your sunglasses collection? Click the button to shop all the Wayfarers!
The Clubmaster
Even though this frame debuted in the '80s, you wouldn't be able to tell by looking at it. The Clubmaster is a retro-lover's dream with its stylized '50s flare. This mixed-composition frame features a distinctive browline and metal details making it an instantly recognizable style.
To achieve an intellectual look, see the complete lineup of the Ray-Ban Clubmaster Collection.
This timeless frame immediately elevates any look. If you want to take your style to the next level, explore the full Clubmaster Collection by clicking the button below.
The Round
This minimalist frame packs a style punch. With a name that doesn't leave room for guessing—you know exactly what you're getting with the legendary Ray-Ban Round.
Whether you're seeing stars, or enjoying life through rose-tinted glasses, we guarantee that the Ray-Ban Round encourages good times.
Stay groovy and get a move on the Ray-Ban Round Collection. You'll be seeing far-out when you follow our lead with the button below!
---
Ray-Ban Lenses
Not only was the Ray-Ban Aviator impressive for its elegant design, the lens technology was the driving force of its creation. Ray-Ban created G-15 lenses to block harsh UV rays, provide optimal clarity, and deliver the most comfortable visual experience yet. Over the years, Ray-Ban continues to grow its lens technology know-how. Today, there are hundreds of combinations to deliver a visual experience & style that is unique as its wearer.
To begin our exploration of Ray-Ban lenses, we must split into two categories: sunglasses and eyeglasses.
Sunglasses
With origins in sun, it's only natural for the majority of the Ray-Ban lens offering to consist of vibrant colors, playful mirrors, and stylish gradients. We'll take a quick look at each of these finishes, but if you want to see any of these colors in depth, our extensive Ray-Ban Lens Guide is just a click away!
Classic (Solid)
A uniform layer of a solid color that covers the entire surface of the lens. Ray-Ban's first, and most well-loved color today is the iconic G-15. A smokey grey-green hue that is a signature of the brand. You'll also find the brown alternative (B-15) and blue.


VLT- Visible Light Transmission is the amount of light that passes through a lens. The lower the percentage, the darker the lens tint will be with the least amount of light reaching your eyes.
---
Gradient
Characterized by a flawless transition from a solid color to a transparent shade of the same hue, gradient lenses are a unique and stylish finish. An ideal choice for low to medium light conditions.
---
Mirror
Acting like a one-way mirror, these lenses are highly reflective and completely shield your eyes. A note for the timid: Your gaze will be hidden while your admirer may be checking themselves out in their reflection!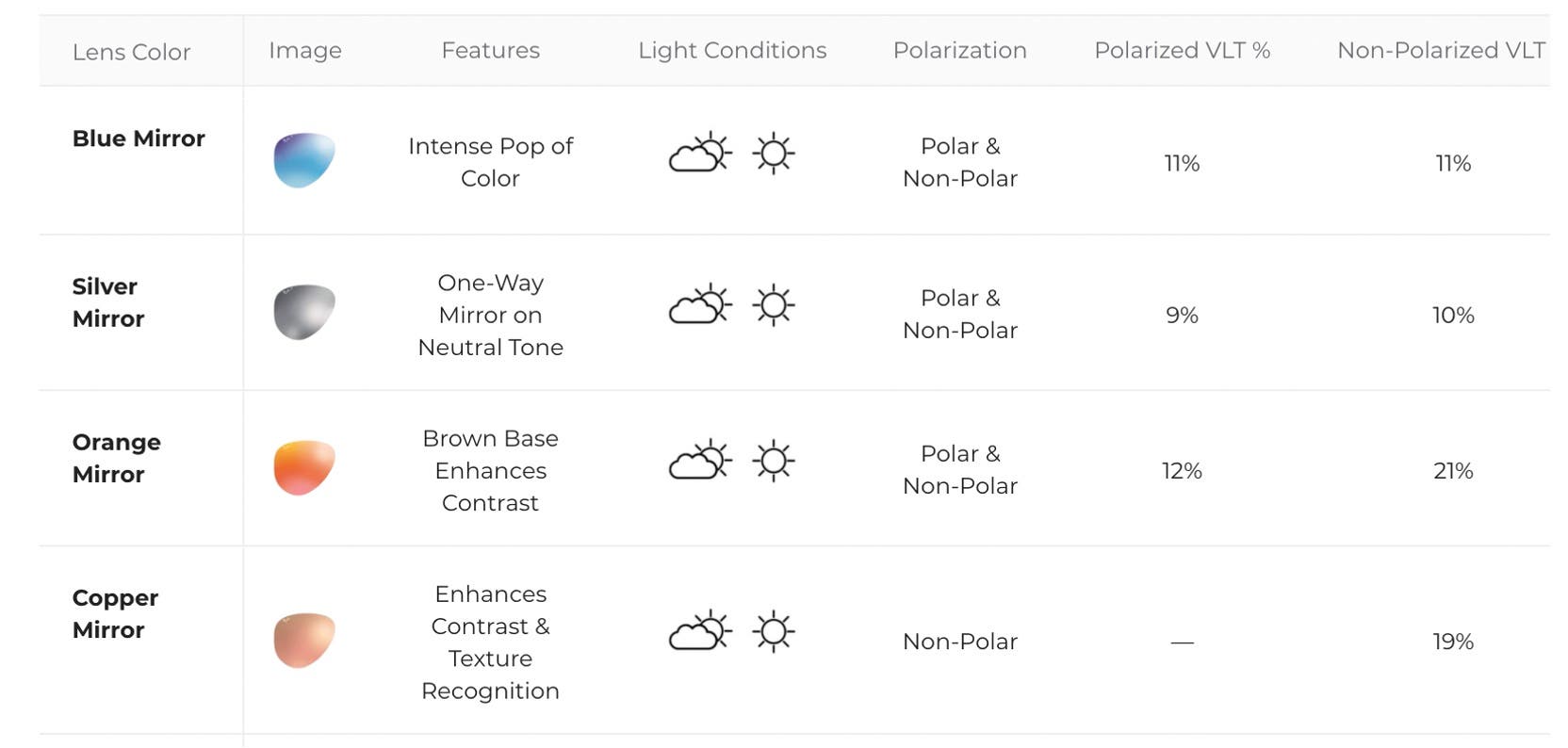 ---
Chromance
Ray-Ban's newest lens technology, Chromance, boasts brighter colors, enhanced contrast, and better clarity. Meant to enhance your environment, Chromance lenses will have you viewing the world like never before. And just when you thought they couldn't get any better, all Chromance lenses are polarized.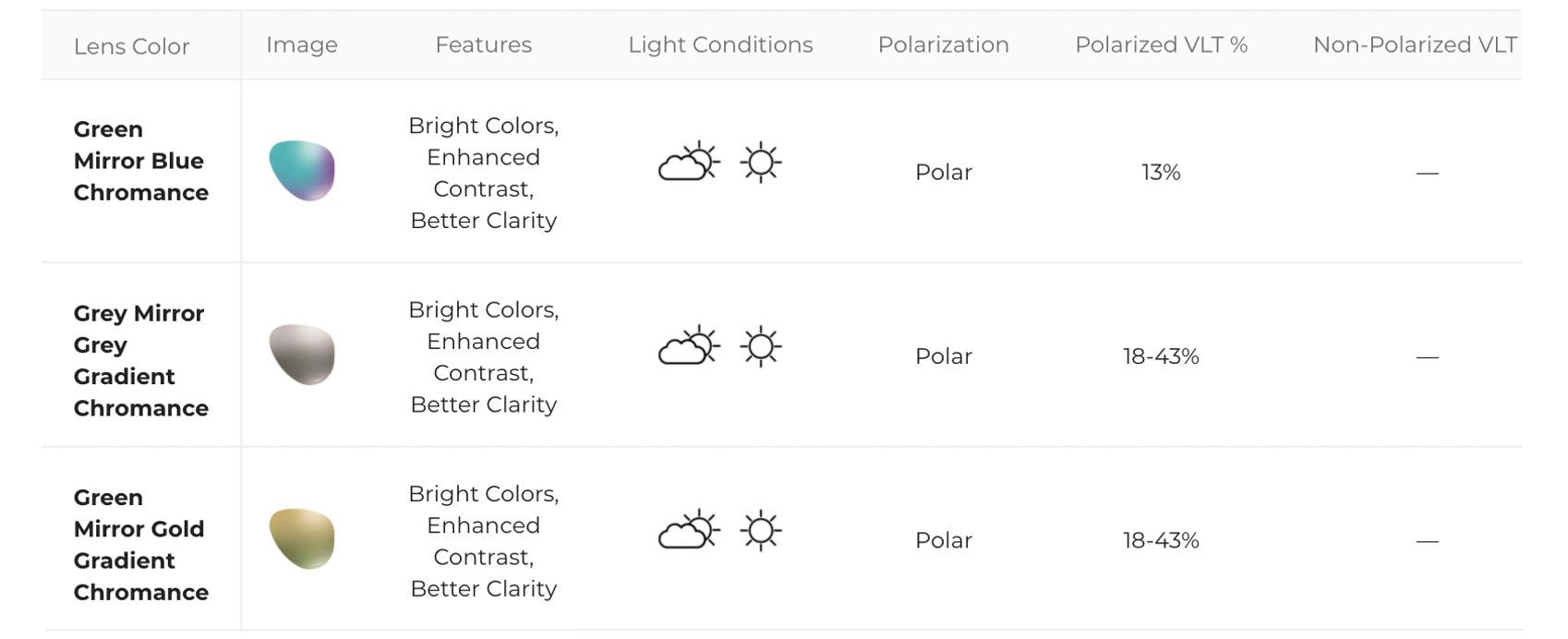 *Chromance Lenses are only available in Chromance frames. This also applies to prescription Chromance lenses. Currently, custom prescription Chromance orders can be placed with an optician via phone or chat.
---
Polarized
Now that we know all Ray-Ban Chromance lenses are polarized, what about all the other lens colors and their polarization options? Check out our helpful lens color chart in the Ray-Ban Lens Guide to see the polarization availability of every single Ray-Ban lens color!
If you're new to polarized lenses, they reduce glare by blocking out light that bounces off reflective surfaces. This is achieved with a special coating that prevents horizontal waves from reaching your eyes. This means you can enjoy the view without blinding glare or the dreaded squint!
---
Eyeglasses
With a foundation in high-performance lens technology, it was only a matter of time before Ray-Ban expanded its sun offering to the world of optical. Now you can enjoy the Ray-Ban visual experience in your favorite styles with crystal-clear optical lenses.
Available in a variety of lens materials and AR coatings, explore our Ray-Ban Clear Lenses Guide to discover all your options. We'll get you started with a few basics!
Prescription Type
Ray-Ban clear lenses are available in Single Vision and Progressive. If you wear prescription, you are probably already aware of which you need. If not, here's a quick summary:
Need help seeing near OR far? Select select vision. Need help seeing near AND far? Select progressive!
---
Ray-Ban Blue
If you're reading this article, we can already tell you that you'd benefit from Ray-Ban Blue on your next pair of eyeglasses. Whether you're a Baby Boomer, Millennial, or Gen Z, we're all living in a digital world. Today's screens emit harmful UV lights and we must take a proactive approach to protecting our vision and the integrity of our eyes. Ray-Ban Blue works to block harmful blue light from reaching your precious peepers and creates one of the most comfortable digital experiences to date.
To read more about the harmful effects of blue light, and how Ray-Ban Blue works to protect your eyes, visit our blog on the Ray-Ban Digital Experience.
---
Ray-Ban Transitions®
When you need one less thing to worry about, Ray-Ban Transitions® offer a convenient solution to having the perfect eyewear on hand—at all times. Reacting to UV exposure, Ray-Ban Transitions® start in a natural clear state and transition to the iconic G-15 sun lens color. You'll always receive the perfect level of sun protection and 100% UV protection, even when clear!
For answers to all your Transitions® FAQs, read up on Ray-Ban Transition Lenses!
---
Ray-Ban Authentic Lenses
Wear prescription? You're in luck because every Ray-Ban frame available on www.sportrx.com is available with prescription! Whether it's a timeless sun style or clear optical lenses, the options are endless when you select Ray-Ban Authentic Lenses. Completely customizable to fit your vision needs and personal style, you'll receive a custom pair of Ray-Ban prescription lenses that are tailor-made by Ray-Ban. For you.
Wondering about the signature logo? Yep, you'll get that too!
To get you started on your Ray-Ban prescrption journey, here are two guides of how to order prescription Ray-Bans online!
---
Ray-Ban Prescription Replacement Lenses
Already have a beloved Ray-Ban frame and simply need to replace the lenses? At SportRx, we're proud to offer Ray-Ban prescription replacement lenses with the logo! Whether your prescription has changed, your frames have hit the floor one too many times, or tiny hands did big damage, you'll be back to seeing better than ever with a quick and easy Ray-Ban replacement lenses order. Available in both tinted sun and clear optical options, giving your favorite frame an update has never been easier.
Oh, and since Ray-Ban will be the one making your prescription replacement lenses, you'll get the same quality and visual experience that you already know and love. With the logo!
---
Frame Material
Ray-Ban frames are available in a variety of materials to best suit your personal needs. Let's take a look at some of their most popular frame materials and see the benefits of each.
Metal
Metal frames are best known for their lightweight wear and elegant design. Minimalist but available in a variety of finishes, you'll achieve effortless style when wearing a Ray-Ban metal frame.
Nylon
If you need a frame that is more durable than metal, nylon is an excellent option that still provides a comfortable and ultra-lightweight fit. More resilient to whatever the day may throw at us (hopefully just figuratively), nylon frames can handle a little more tough love than our metal friends.
Acetate
Another popular frame material is acetate. Known for its resiliency and flexibility, acetate is the material of choice for those looking for a frame that will be ultra-comfortable to wear and last for years. This nylon-based material is stronger and more durable than traditional plastic.
---
Ray-Ban Sizing
When it comes to finding your perfect pair of sunglasses or glasses, fit is arguably the most important factor. If you wear prescription, there is no debate because the optical center of your lenses influences your entire prescription experience. With a frame that doesn't sit properly on your face, this optical center will be astray and lead to a less than ideal visual experience.
Ray-Ban is no stranger to a perfect fit and offers multiple sizing options to make it their eyewear accessible to all. With so many styles to choose from, we'll share our size guides to each collection here:
You'll also find several more guides on our blog! Click the button below to explore more helpful size guides & product reviews of Ray-Ban at SportRx!
---
Ray-Ban Asian Fit
Your favorite Ray-Ban styles are now available in Asian Fit! These frames are all about comfort and a perfect fit to enhance your unique features. Here's a breakown of what makes Ray-Ban Asian Fit different from Standard Fit sunglasses:
Reduced Pantoscopic Tilt. The forward angle of a frame is referred to as the pantoscopic tilt. This angle can create uncomfortable friction for those with higher cheekbones. By reducing the tilt, your lenses won't rest against your cheeks.
Decreased Curvature of Frame Front. Typically sunglasses have a slight wrap design to provide optimal coverage. By decreasing this curve, the frame continues to follow the natural shape of your face and fits more comfortably.
Longer Temples with More Curve. These temple adjustments provide a more secure fit than short, straight temples.
Nose Pad Modifications. Ray-Ban Asian Fit sunglasses feature more pronounced nose pads to fit snugly on the nose and set the frame higher on the face. Say good-bye to the days of sunglasses resting on your cheeks!
Ready to find your pair of the best fitting sunglasses ever? Explore the Ray-Ban Asian Fit Collection by clicking the button below!
---
Ray-Ban Guides at SportRx
In addition to the Ray-Ban blog we mentioned earlier, we have countless product reviews and Ray-Ban guides at your fingertips! If you're a visual learner, you'll love our YouTube channel that features all the latest products, collection overviews, size guides, and more! You'll see Ray-Ban frames on real faces, get expert optician advice, and hopefully get a laugh (or two) while watching. Explore our playlists to filter by Ray-Ban!
You can also find helpful product information on the product page of each and every Ray-Ban frame. You'll see things like the frame measurement, material, sizing and color options, a video review, and written reviews from customers like yourself.
---
SportRx See Better Guarantee
At SportRx, you're always backed by our See Better Guarantee. More than just a catchy rhyme, it's peace of mind put to action. If you are not 100% satisfied with your Ray-Ban sunglasses or eyeglasses (including prescription), simply let us know within 45 days of receipt. We will remake them to perfection, coordinate an exchange, or provide a full refund. Don't let fears of shipping and restocking fees hold you back. We cover shipping both ways and never charge restocking fees.
Want to get it right the first time? Give us a call and our friendly expert opticians will be happy to help you perfect your Ray-Ban frame and lenses!
Ready to get started on YOUR perfect Ray-Ban pair? Click the button below!