Whether you're just starting your search of how to buy Ray-Ban eyeglasses online, or you need a little help navigating all the prescription options, SportRx is here to demystify the online prescription ordering process. With helpful guides and friendly opticians just a call away, we've made it easier than ever to build your completely custom pair of Ray-Ban eyeglasses in just a few clicks. Join us as we walk through a step-by-step guide of how to buy Ray-Ban prescription glasses online at www.sportrx.com!
By the way, if you're after Ray-Ban prescription sunglasses, check out our step-by-step guide to buy your very own custom pair: How to Buy Ray-Ban Sunglasses Online at SportRx.
Table of Contents
1. Finding Ray-Ban
2. Frame Selection
3. Customization
3.1. Prescription Type
3.2. Lens Material
3.3. Lens Color
3.4. Prescription Upload
3.5. Summary
4. Shipping
5. Payment
6. SportRx See Better Guarantee
---
If you prefer a video, check out ours below. Otherwise, keep scrolling for the step-by-step guide.
---
Step 1: Finding Ray-Ban
To start your journey towards your new Ray-Ban eyeglasses, we'll begin at www.sportrx.com. At the top menu bar, you'll hover over "Brands" which will populate a second popout menu with logos. You'll recognize the iconic lettering and simply need to click on "Ray-Ban" to reach the main Ray-Ban page.

If you're shopping on a mobile device, you'll start with the menu at the left-hand corner of the page, then click "Brands" and "Ray-Ban."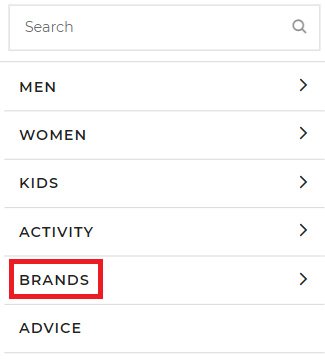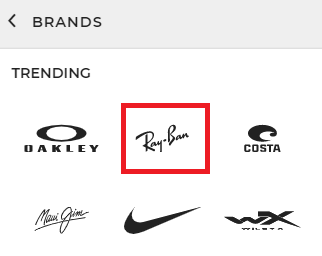 Reading this article and want to a 1-click entry to the Ray-Ban page? Click the button below!
---
Step 2: Frame Selection
You're one step closer to your Ray-Ban prescription glasses and now the fun really begins. Frame selection! After landing on our main Ray-Ban brand page, you'll be able to access several categories of styles. Today, we are focusing on crystal-clear Ray-Ban prescription glasses. Click "Eyeglasses" just below the text.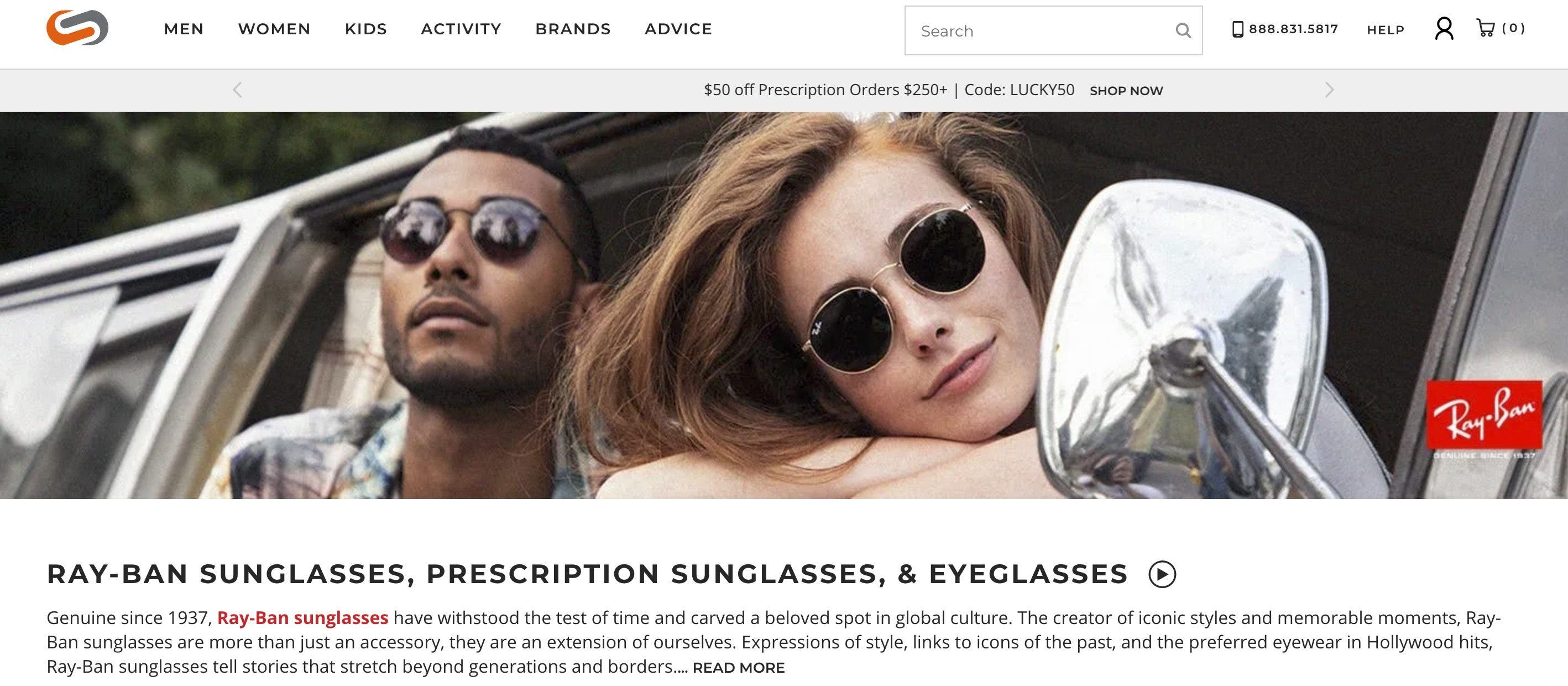 You may also access the Ray-Ban eyeglasses page with the button below.
You'll be greeted with a page full of Ray-Ban frames that were handpicked by our expert opticians. The best of the best of stylish frames that deliver the clearest optics—in any prescription. To find out more about each frame, simply click the one that catches your eye. You'll be lead to a product page that tells you everything you need to know about that specific Ray-Ban style. A few things to keep an eye out for: color & sizing options, frame measurements, a video review, and customer reviews.
Want a head start? Check out our lineup of the Best Ray-Ban Eyeglasses!
---
Step 3: Customization
Once you've decided on the Ray-Ban frame that speaks to you, let the customization begin! Your eyewear deserves to be just as unique as your vision needs and personal style. With our step-by-step customization process, we'll take you through each component of creating a perfectly custom pair of Ray-Ban eyeglasses that compliments you and your prescription.
Let's take a look at the Ray-Ban RB5154 Clubmaster as we build a custom pair together.
After using the dropdown menu to select your perfect fit, we'll click "Select Product Type" and choose "Prescription Glasses."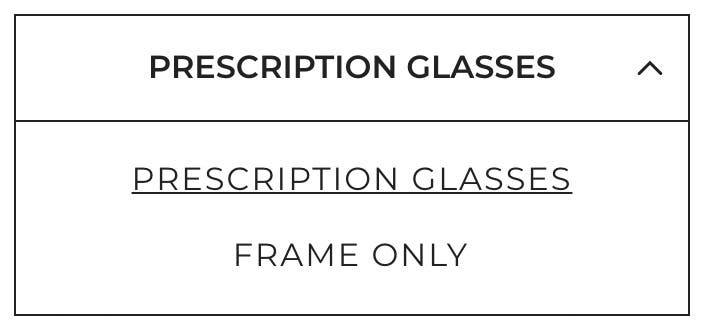 You'll then select your frame color and click "Customize Lenses."
Welcome to the SportRx Lens Configurator! You've already started the process of creating your custom Ray-Bans, so we're here to walk you through perfecting your prescription lenses.
First course of action: selecting your brand of lenses. Ray-Ban Authentic Lenses are tailor-made by Ray-Ban for you. Masters of their designs, they intimately know their frames and how to create optimal lenses to fit in them. For our How-To, we will select Ray-Ban Authentic Lenses.
Visit our blog on Ray-Ban clear lenses if you'd like to read more about the benefits of Ray-Ban Authentic Lenses.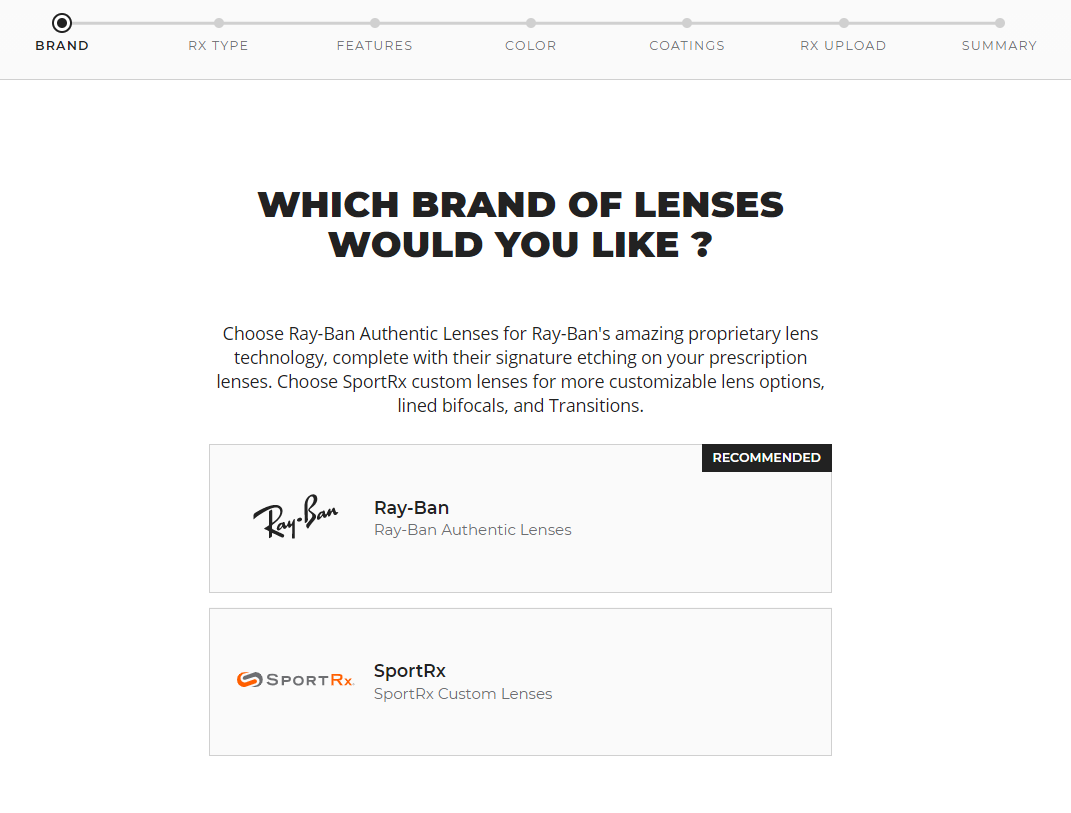 And if you're wondering about that iconic Ray-Ban logo, yes, your Ray-Ban Authentic Lenses will feature the signature logo on your clear prescription lenses!
---
Step 3.1: Prescription Type
This section of the lens configurator asks about your prescription type. While your prescription should say which one you need, here is a quick clue: if you need help seeing near OR far, select Single Vision. If you need help seeing near AND far, select Progressive.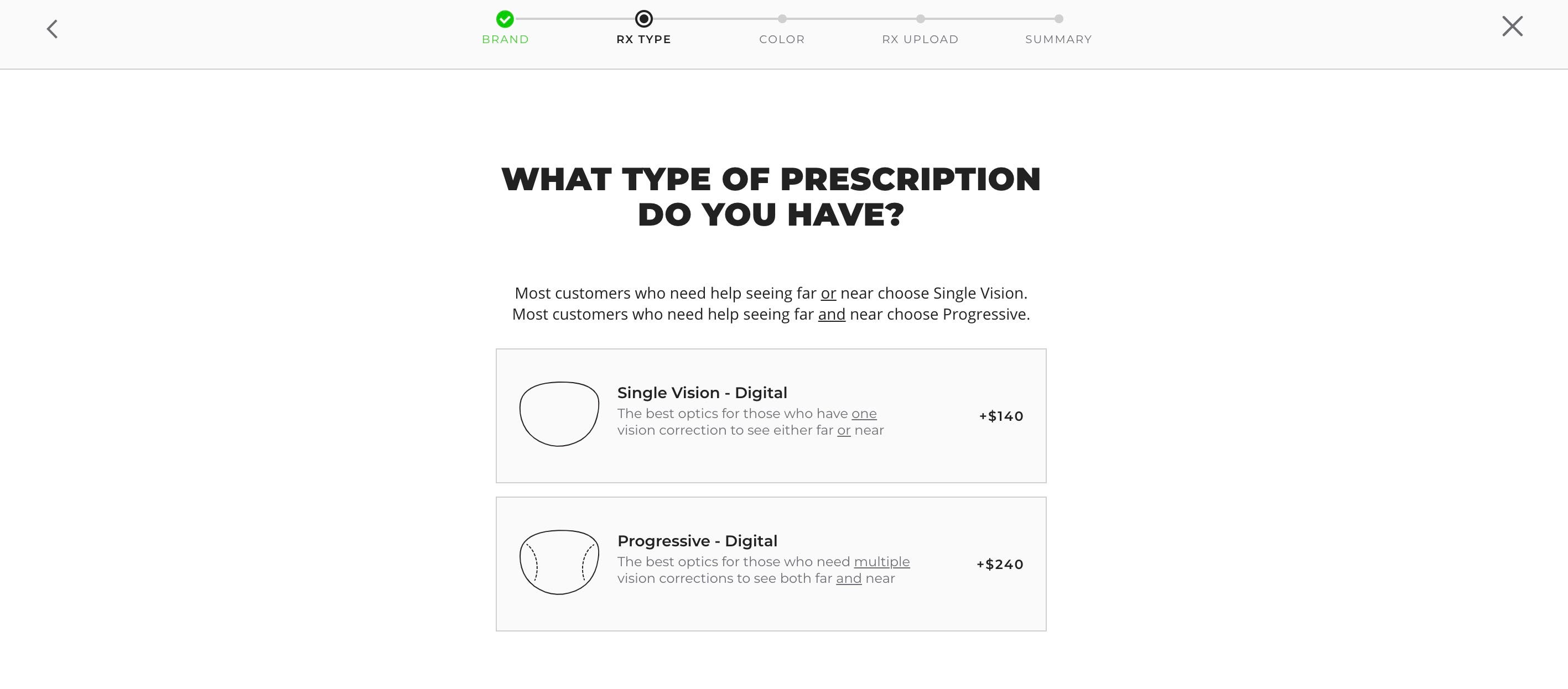 If you're unsure of which to select, you may hover over each option to get more information. You may also contact us to speak to a friendly optician who can review your prescription with you.
For our example, we will select Single Vision.
---
Step 3.2: Lens Material
Ray-Ban Authentic Lenses are available in three lens materials: 1.59, 1.67, and 1.74. With each lens material thinner than its predecessor, select the one that best suits your prescription. You may hover over each lens material to get more information, or you may reach out to an optician for personalized feedback.

We will select High Index 1.67 for our How-To.
---
Step 3.3: Lens Color
Color? Let's not forget that we are building a pair of clear Ray-Ban glasses! You'll be shown three clear (colorless) lens options, followed by one tinted option (Transitions G-15). To learn more about the last choice in the lineup, read our blog on Ray-Ban Transition Lenses.
As for the other three, you may find additional information as you click on each option. Ray-Ban Blue, despite its name, is colorless and features high-performance blue blocking technology to deliver the most comfortable digital experience yet. Standard Clear and Premium Clear feature various levels of anti-reflective coating that you may select based on your personal preferences.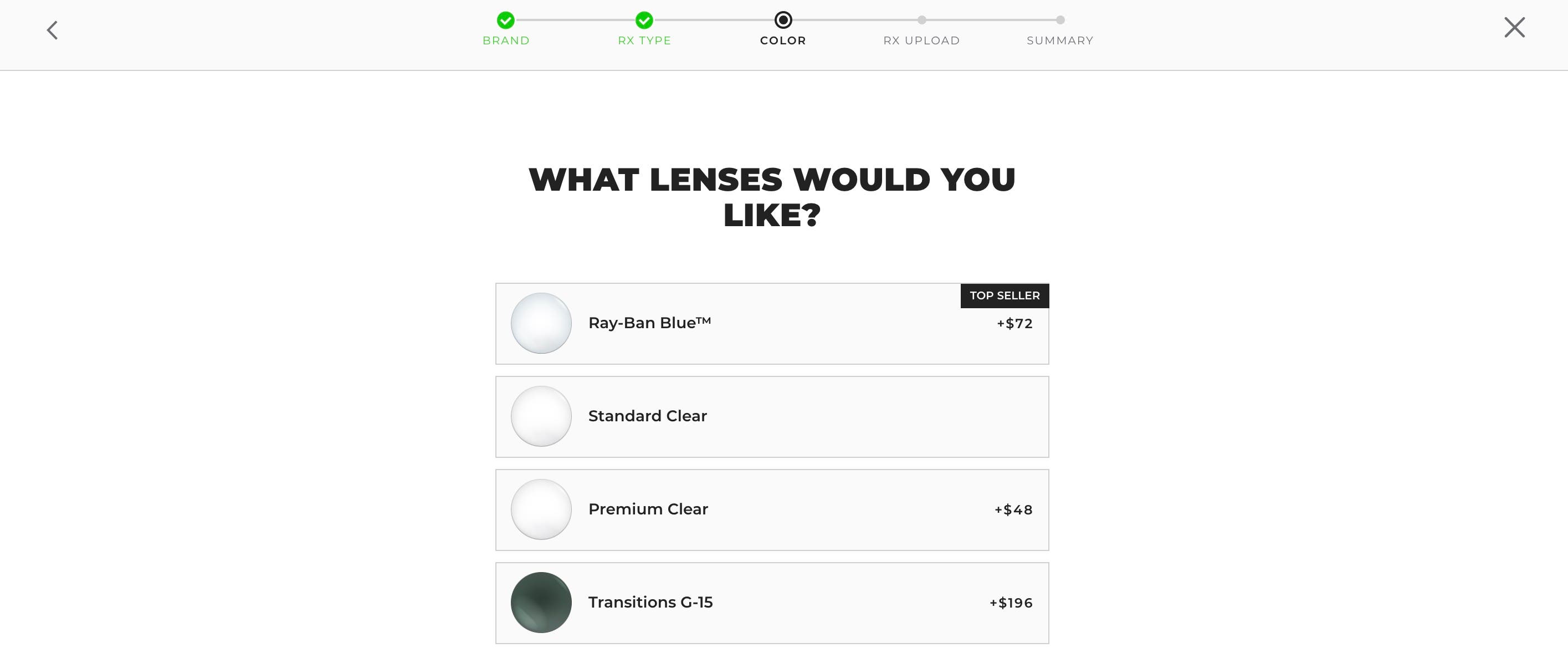 We'll select Ray-Ban Blue to continue with our customization.
---
Step 3.4: Prescription Upload
You're almost there! You've made it through the decision-making process and it's smooth sailing from here on out. In this step, we ask for your prescription. Don't have it on hand? Not to worry. You can send it to us later and continue checking out. If you have your prescription readily available, go ahead and upload it. Bravo, one more piece off your to-do!

---
Step 3.5: Summary
Take a look at the beautiful frame you created! In the final summary page, you'll see your perfectly custom Ray-Ban prescription glasses with your handpicked selections. A cost breakdown will show you the price associated with each, so you know exactly what you're getting and paying. At SportRx, we don't do surprises (unless we're talking birthdays and nerf guns).
Ready to make the next move? Click "Add to Cart" and you're almost there!
---
Step 4: Shipping
You've already spent time creating your custom Ray-Ban glasses, so why start rushing now? Keep perusing the site until you're ready to check out. Once you're ready for us to get going on your custom pair, click "Proceed to Checkout."
If you're already an avid online shopper, the rest should be second nature, but we'll take you through so you know all your options.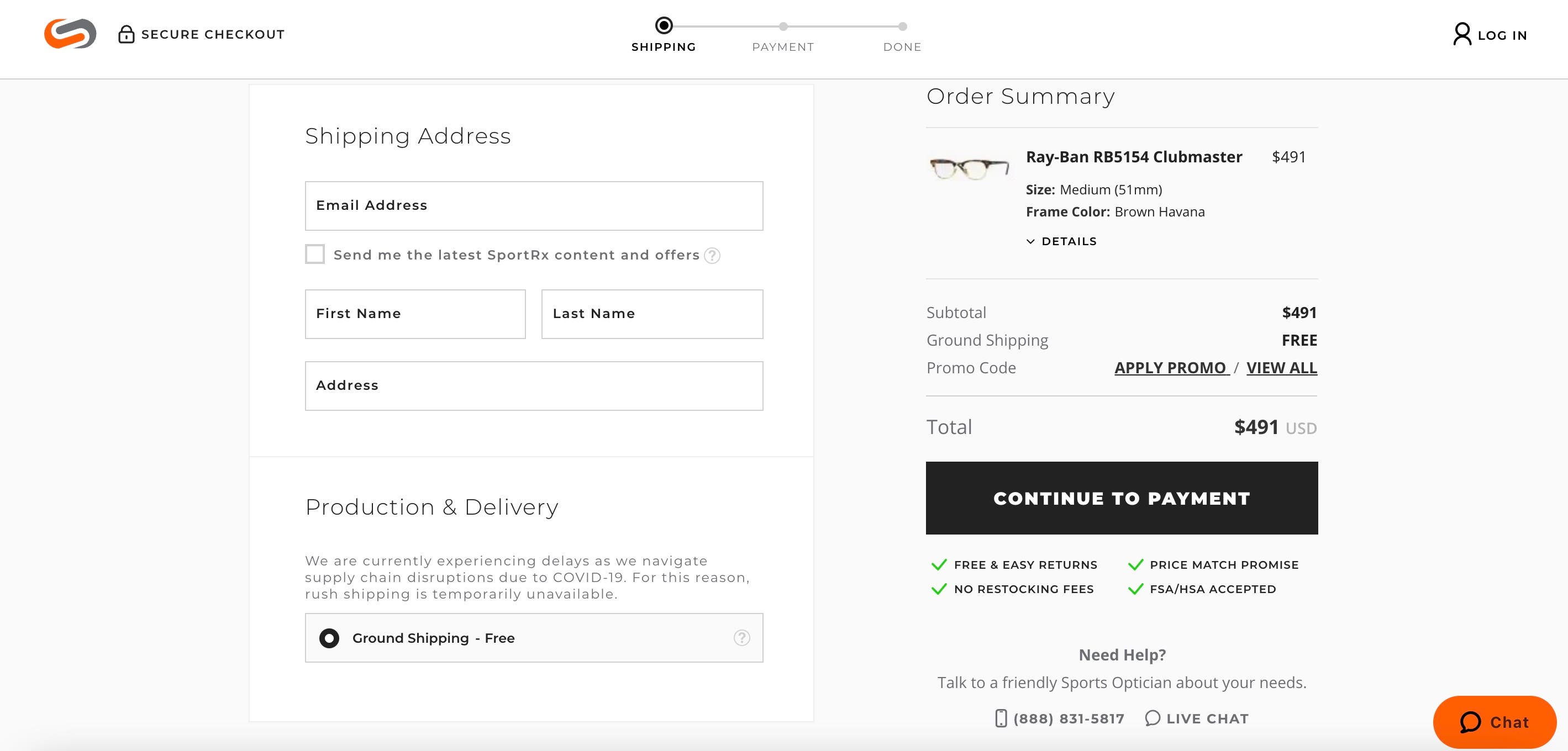 On your left, you'll fill in each box for email address, name, and shipping address. You'll also notice a small checkbox that signs you up to our email subscriber list. Completely optional, yet strongly recommended, you'll be the first to hear about new releases and upcoming deals.
From here, you'll be given ground and rush shipping options. As explained on the page, rush is currently unavailable due to COVID-19 supply chain disruptions. No need to fret. We'll still get started on your order ASAP.
On your right, you'll see a summary of your order and have the opportunity to add a promo. To see if any current promos are valid on your order, click "View All." If your order qualifies, simply click the code to have it automatically applied. Once you're ready, click "Continue to Payment."
---
Step 5: Payment
Payment is the last step needed before getting you into your new prescription Ray-Ban eyeglasses. SportRx currently offers four payment methods: credit card, FSA/HSA card, PayPal, and Klarna. Select your preferred method by clicking the circle corresponding to your choice.
Insider Tip: Ray-Ban prescription glasses are considered an FSA/HSA eligible expense. To learn more about eligible eyewear, visit our blog on FSA/HSA spending.
After entering your desired payment method, verify that your billing address is the same as shipping. If not, uncheck the box and you will be prompted to enter a new billing address. Once you have reviewed your information, click "Place Order."
Congratulations! You are about to be the proud owner of custom Ray-Ban eyeglasses. You'll be seeing clearly in no time and looking good while doing it.
Still have questions? Visit our Ray-Ban Buyer's Guide for everything you need to know about shopping Ray-Ban online!
---
SportRx See Better Guarantee
The best is yet to come. Once you've received your custom pair of Ray-Ban prescription glasses, let us know what you think! At SportRx, you're always covered by our See Better Guarantee. If you're not 100% satisfied with your Ray-Ban frames, simply let us know within 45 days of receipt and we'll be sure to make it right. We will remake them to perfection, coordinate an exchange, or provide a full refund. Don't let fears of shipping and restocking fees hold you back. We cover shipping both ways and never charge restocking fees. Your peace of mind is worth it.
Ready to get started on your custom pair of Ray-Ban eyeglasses? We invite you to try the customization process on your own by clicking the button below!