Since 1937, Ray-Ban sunglasses have been some of the most iconic in the world. All those famous styles you know and love are available right here in prescription from sportrx.com and we're going to walk you through how to buy your very own. With our step-by-step guide and the help of our friendly, expert opticians you'll have all the information you need to make an informed purchase.
---
Table of Contents
1. Finding Ray-Ban
2. Frame Selection
3. Customization
3.1. Prescription Type
3.2. Lens Features
3.3. Prescription Upload
3.4. Summary
4. Shipping Information
5. Payment
Prescription Ray-Ban Sunglasses at SportRx
---
If a video is easier for you to navigate, check out ours below! Otherwise, keep reading for the step-by-step.
---
Step 1: Finding Ray-Ban
Without further ado, let's get into it! First, navigate to sportrx.com and take a look at the menu at the top. When you hover over "Brands," several logos, including Ray-Ban, pop up. Click it to be taken to our Ray-Ban hub.

On mobile, tap the menu on the top left corner of our page, then tap "Brands" and "Ray-Ban."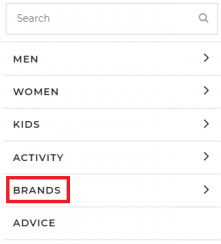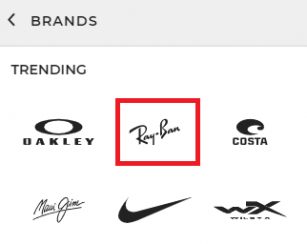 Shortcut time! You can also click the button below to be taken directly to the Ray-Ban hub on sportrx.com.
You'll see all of our Ray-Ban options laid out before you. You can click any of the icons to shop by sunglasses, eyeglasses, lenses, or various collections. Be sure to scroll through the page to see them all! For our purposes, we'll keep it easy and click "Sunglasses." Whichever option you click, you'll land on a page with our offerings. Keep an eye out for that gold or silver banner reading "REXY AWARD" on certain frames—those are our personal favorites.
---
Step 2: Frame Selection
Now comes the hard part, picking out which frame you want. We've tried to make your job a little easier with the various options on the Ray-Ban hub. To get started, click on "Sunglasses."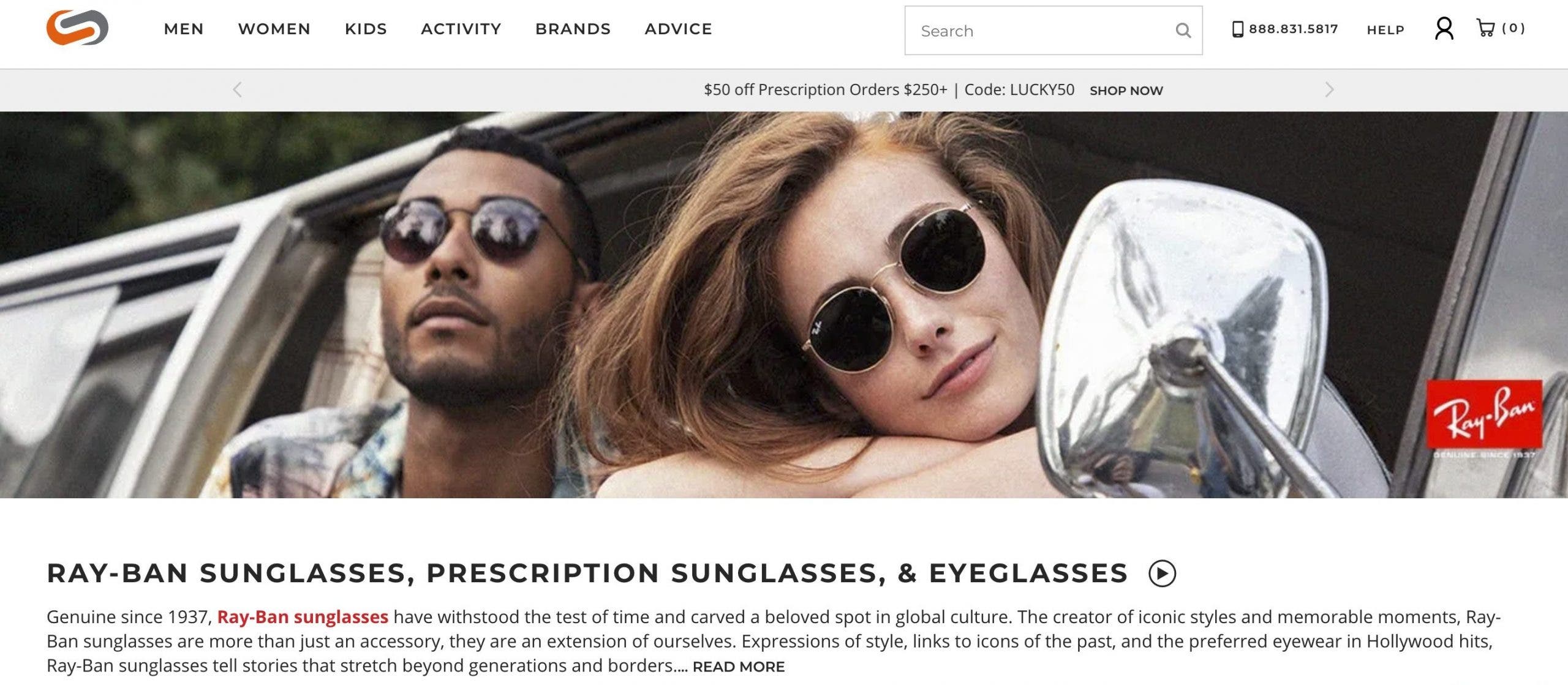 From here, you will be shown all the Ray-Ban sunglasses we have to offer! Click on any picture to be taken to the page and browse full-res images, color options, and read reviews written by other customers. For our example, we'll go with the ever-popular, REXY-winning Ray-Ban Aviator.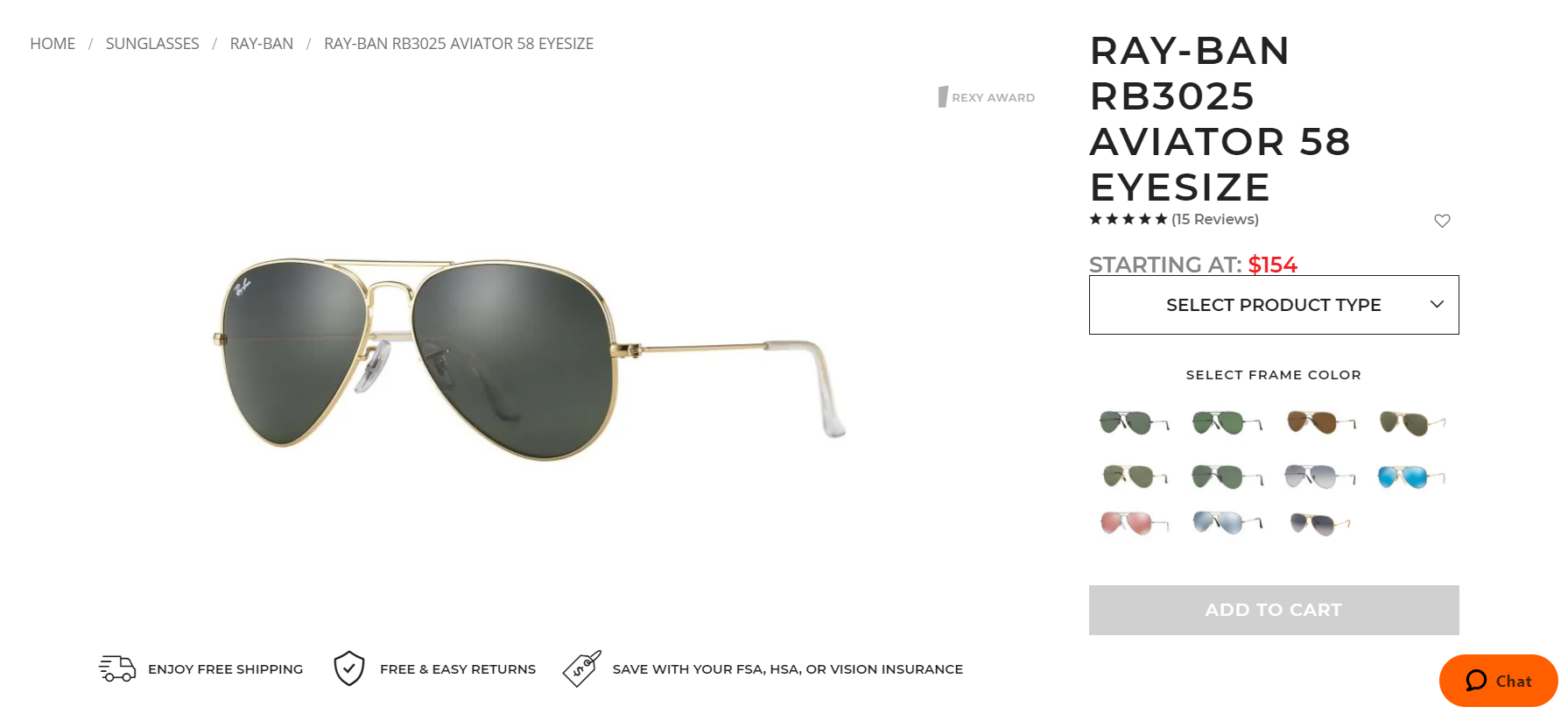 Here's another shortcut! If the Ray-Ban Aviator sounds like the frame for you, click the button above to be taken directly to its page.
More information, as well as customer reviews, are found by scrolling further down the page. You can also contact our opticians via the button below. Our friendly opticians will help you find a compatible frame.
---
Step 3: Customization
Once you've found a frame that interests you, it's time to start the fun part! On the product page, click that drop-down menu to choose between prescription or non-prescription sunglasses. If you choose non-prescription, pick the color you want and proceed to checkout! But since we're centering on prescription sunglasses, we'll walk you through how to do that.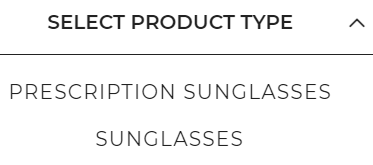 Click the one saying "Prescription Sunglasses," then check out the various frame colors available to you. You can do that by clicking the miniature icons below the menu to bring up large images. The lenses are customizable, so make sure to focus on a frame color you love in this step. We think that Gold colorway is looking pretty snazzy, so we'll pick that.
Once you've found a color you're interested in, click the "Customize Lenses" button to be taken to our lens configurator. You can always go back and pick another frame or color if you decide this one isn't for you after all, so have fun exploring your options!
Now that you're in the lens configurator, you'll be able to start customizing your prescription lenses to your liking. First, we'll ask which brand of lenses you want.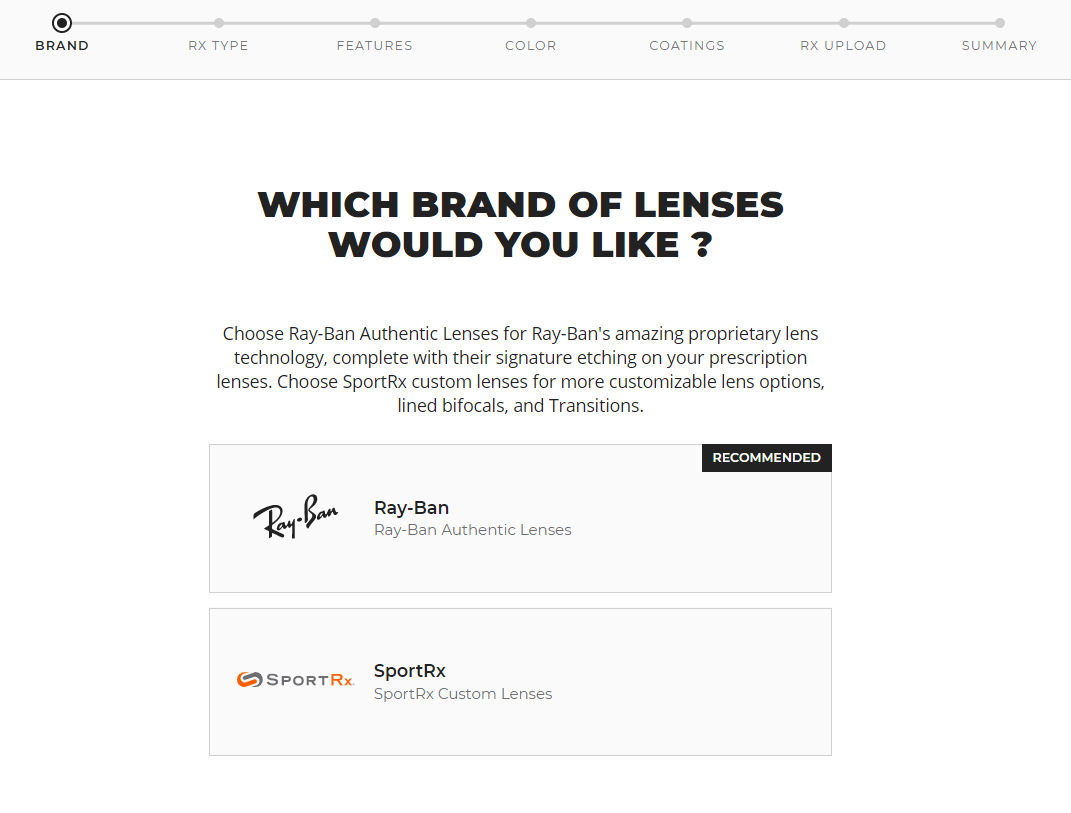 We sell Ray-Ban authentic prescription lenses that include the famed logo and etching, so click the Ray-Ban button to proceed to the next step.
---
Step 3.1: Prescription Type
This section asks you if you would like digital single vision or digital progressive prescription lenses. You should already know which type of lenses you need, but to briefly explain: Single vision lenses carry one type of prescription correction while progressive lenses include distance, intermediate, and reading corrections all in the same lens.
Click the option corresponding with your prescription type, or hover over either option to read more information if you're not sure. Remember, you can also always contact us with questions! For our example, we'll go with the digital progressive option.
Now we'll ask which lens material you prefer. As explained above, polycarbonate is a great lens for everyday or sport application. Meanwhile, the high index material is better if you have a strong prescription as it reduces the lens thickness. As on the last page, you can hover over either option to read a little more, or contact us if you're unsure. For our example, we'll pick polycarbonate.
---
Step 3.2: Lens Features
The next section asks which lens type you would prefer, standard non-polarized lenses or polarized lenses. This may be another thing you already have an idea of, but to quickly explain, non-polarized lenses are great for everyday or sport use and polarized lenses are a great option for activities such as fishing or driving. These lenses block glare, but note that you might not always want a polarized lens!
Again, if you're not sure, you can always contact us and ask. Since we're looking at Aviators today and pilots avoid polarization, we'll go with the standard option for now. We'll backtrack and cover the polarized options a bit further down too.
Here's another shortcut! Click the button below to get in contact with an optician.
Back to the configurator, you'll see some options for plain tints, or a tint with an added mirror. Basically, G-15 is the original Ray-Ban lens with a distinctive smoky green color. You also have a B-15 with a brown tint for some added contrast, or a Blue tint. All of these options are excellent, so rest assured the difference comes to personal preference. You can also click each one for more information.
Meanwhile, mirror lenses include a colored, reflective coating on the outside of the lens. These lenses both look cool and block extra light, so if you want a darker lens or you just like how mirrors look, click the "Tint + Mirror" box to view your options. As with the non-mirrored lenses, all your options are fantastic and you can click on each color to learn more information.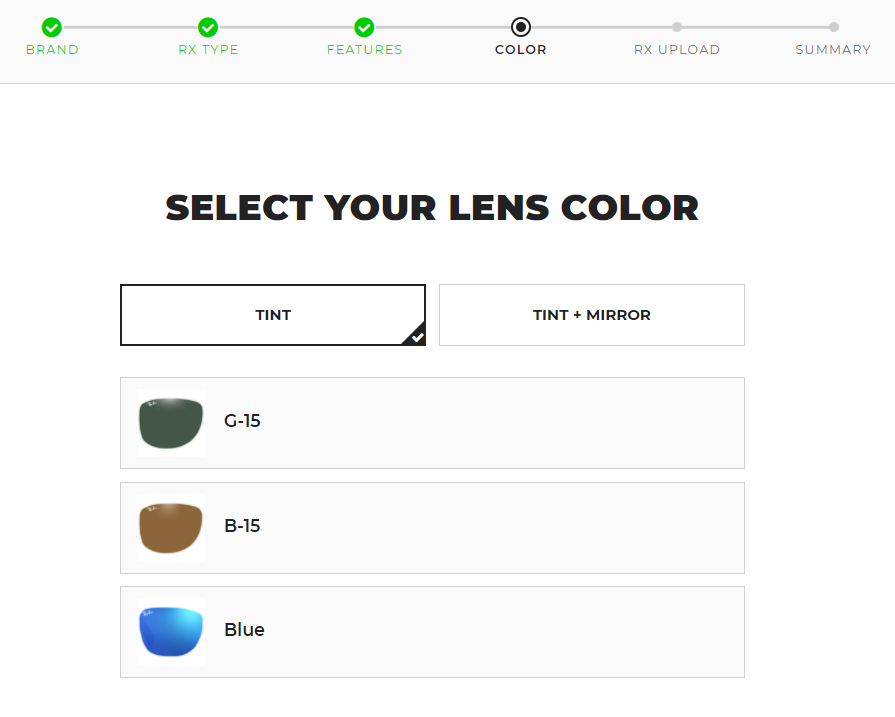 Once you've settled on a lens tint, click it and then "Select" to confirm. We're feeling bold and energetic today, so we're going with the Copper Mirror option for our Aviators.
Once you hit "Select," you'll move into the semifinal step of our lens configurator. But we're going to go back and look over our polarized options, too.
For polarized lenses, you'll see options for a tint, a tint with a mirror coating, or a gradient lens. Like we explained above, a standard tint gives you the G-15 or B-15 lens with that added polarization. Meanwhile, a mirrored and polarized lens gives you a super dark lens, great if you live in a very sunny area or have sensitive eyes. Last, a gradient lens gets lighter at the bottom, which can be handy if you're driving and need to see your car dashboard. They're also great for fashion!
Once you've picked out a lens, be sure to click on it and then "Select" to make your choice final. Depending on your lens material choice, you may not have all the same options we've shown above. That said, no matter which Ray-Ban lens you choose, you'll still be getting top quality prescription lenses. For more information on each of these colors, visit our Guide on Ray-Ban Lenses!
---
Step 3.3: Prescription Upload
The next step is uploading your prescription, but don't panic! If you don't have an updated prescription on hand, you can select "Send It to Us Later" and proceed with checkout.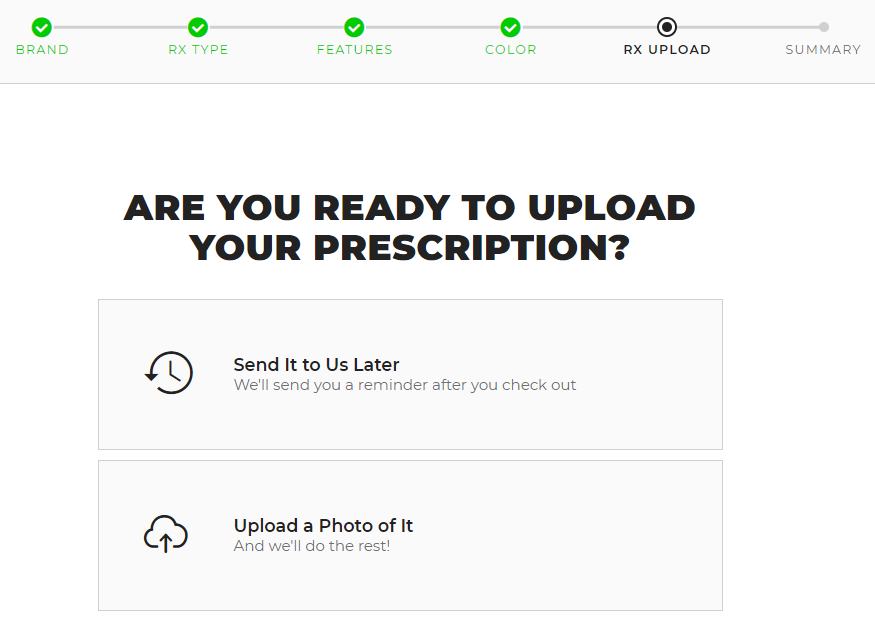 If you do have your prescription on hand, click "Upload a Photo of It" to send us a picture. You'll be given the option to drag and drop a photo of it, along with some guidelines. We also include an example graphic of a prescription so you know what to look for.
We can't make glasses from an expired prescription, so if your prescription is out of date you'll need to visit your eye doctor first.
Note that you need a PD measurement to complete your prescription order. This isn't always written on your glasses prescription, but you can find it by calling the last place that made glasses for you. For more help finding out your PD, check out How to Measure Your Own Pupil Distance.
Since we don't require an Rx to complete checkout, we'll click "Send It to Us Later" and move to the next step.
---
Step 3.4: Summary
Before checking out, you'll see a summary of the sunglasses you've ordered and all the features you selected in the previous steps. Double-check that everything is how you want it, and click the pencil icon next to any feature to change it. You'll be taken back to the appropriate step in the lens configurator, so know that you'll have to pick all your subsequent choices again. This is a great time to make sure you're getting exactly what you want!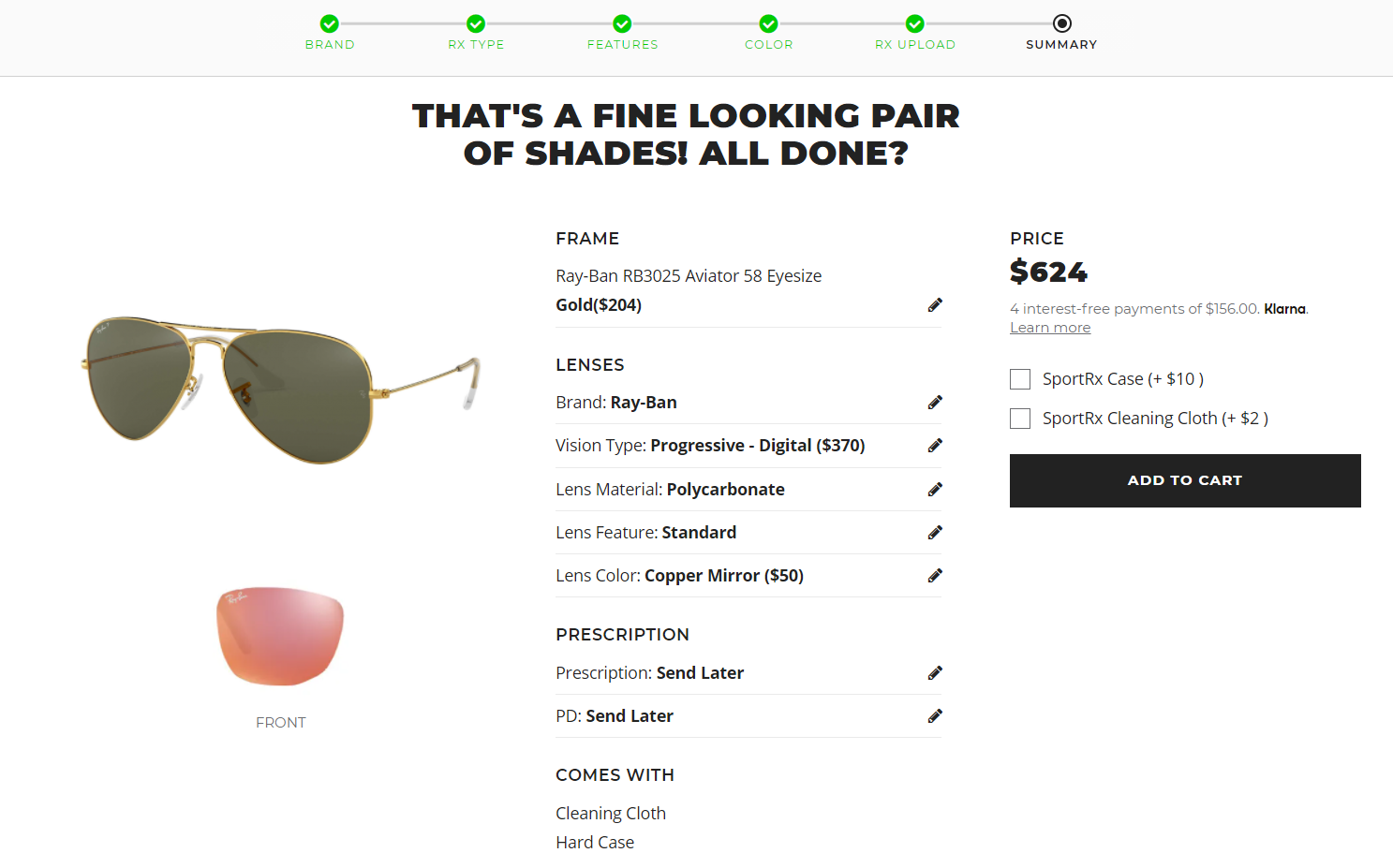 Since we selected Ray-Ban authentic lenses, digital progressives, polycarbonate, and a copper mirror coating, everything looks great to us. Also, all Ray-Ban purchases include a Ray-Ban cleaning cloth and hard case, but you can choose to add a SportRx case and/or cloth for a small additional fee. It's always a good idea to have spares!
---
Step 4: Shipping Information
We're almost there! Once you've confirmed everything, click "Add To Cart" to review your cart before purchasing. If you plan on buying additional Ray-Ban prescription sunglasses, go through our previous steps again. When you're ready, click "Proceed To Checkout" to be taken to the checkout process. If you're no stranger to online shopping, you might already know what to do from here on out, but we'll take you through it to point out all your options.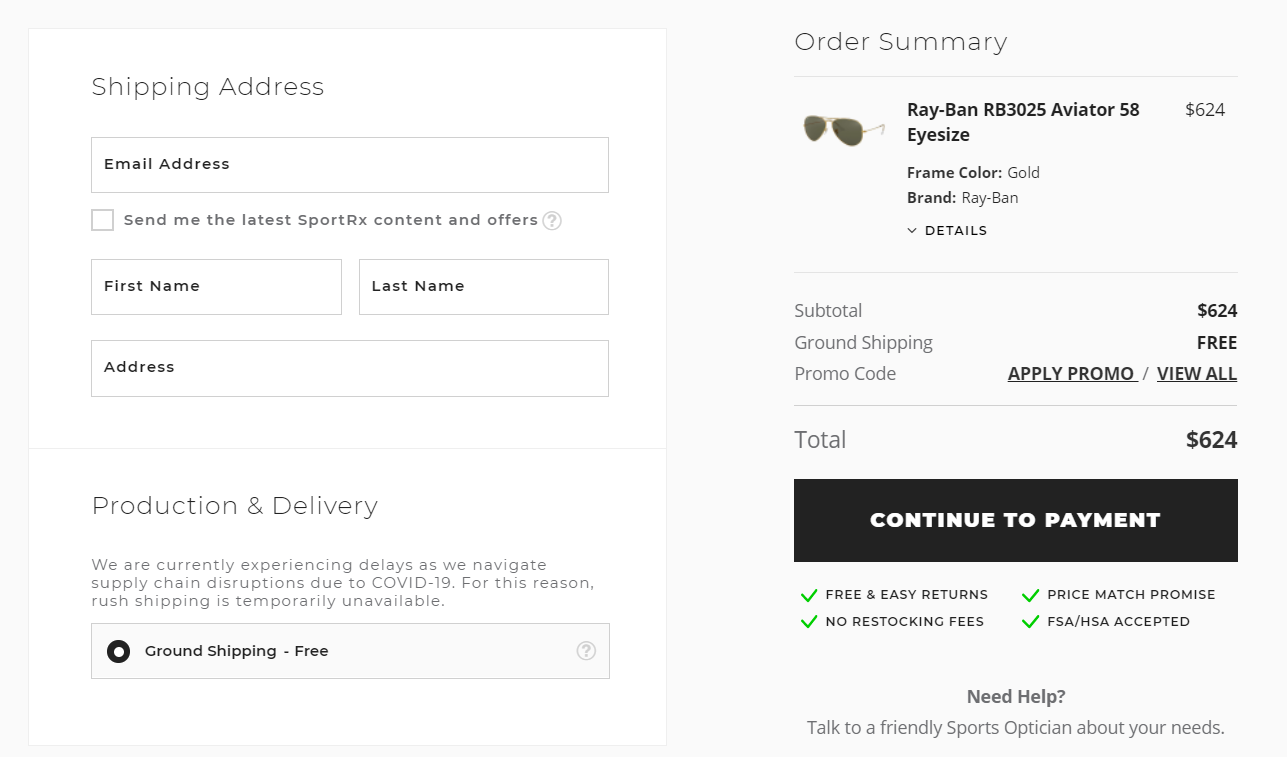 Over to the left, you'll see boxes to enter your email address, name, and shipping address. There's also a little checkbox to be added to our email subscriber list to receive SportRx content and offers. You don't have to check this, but we recommend you do to receive notice on deals right away.
On the bottom left, you'll see shipping options, including free standard ground shipping or rush shipping for an additional fee. As explained on the page, due to supply chain issues caused by COVID-19, rush shipping is temporarily unavailable.
Over to the right there's a summary of your order including the total. You can also click "View All" next to the "Promo Code" text to view our active promos. If your order qualifies, simply click the underlined promo code in the list to automatically apply it! Next, click Continue to Payment to browse payment options.
---
Step 5: Payment
Your last step is payment. We currently offer 4 different payment options: A regular credit card, an FSA/HSA card, PayPal, or Klarna. Click the circle next to your preferred option.
Prescription Ray-Ban sunglasses are qualified FSA/HSA purchases, so if you choose that option your purchase will be charged to your flex account. We also now offer Klarna as a payment option if you'd prefer to pay in smaller, interest-free increments.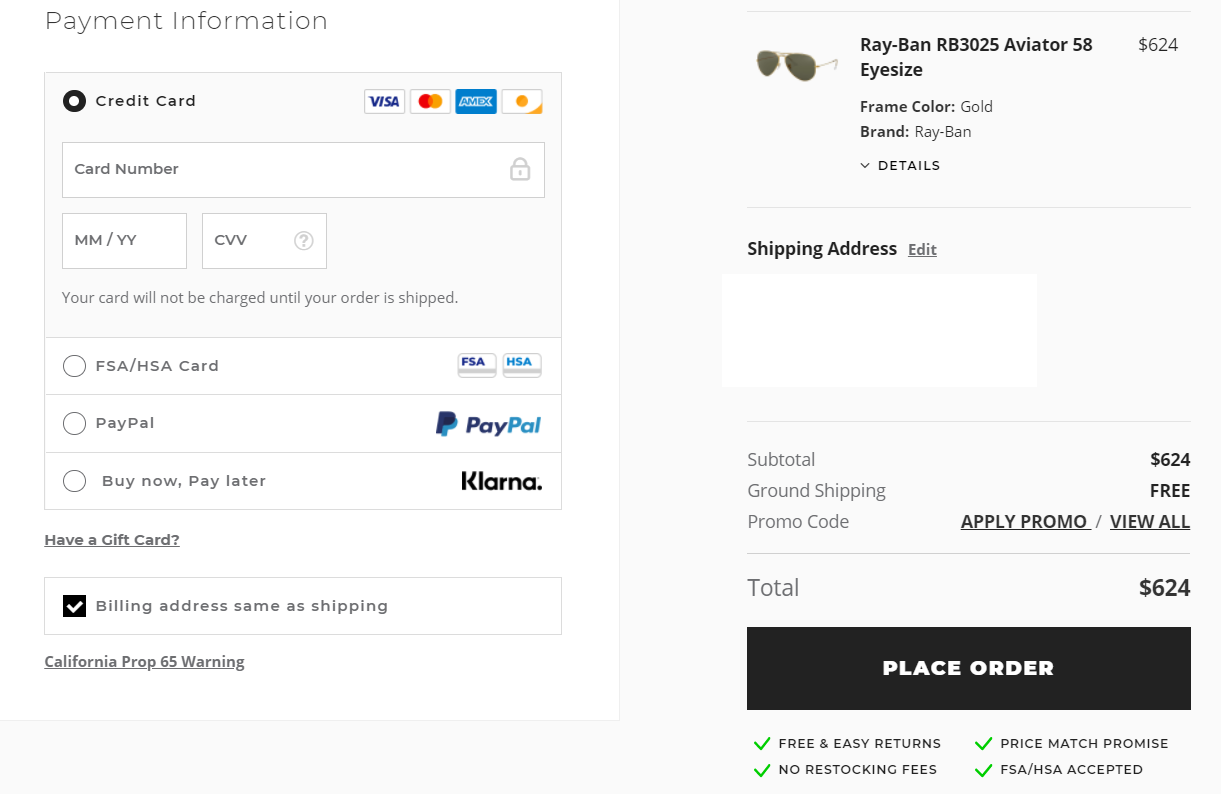 Last but not least, on the bottom left you'll see a checkbox marked "Billing address same as shipping." Uncheck that if your billing address is different, and enter the proper billing address in the field that pops up when you do.
Finally, click "Place Order" to finalize your order. You'll also receive an email confirmation, and as always you can contact us via phone, email, or chat with any questions.
Now you're done! Your new Ray-Ban prescription sunglasses will be arriving at your door shortly, and we thank you for choosing SportRx. Thanks to our See Better Guarantee, if your sunglasses have any type of issue or they're just not everything you dreamed of, you don't have to be stuck with anything you buy from us. We'll do whatever we can to make sure you're satisfied, so you can shop with confidence and get the very best pair of Ray-Ban sunglasses you've ever owned.
---
Prescription Ray-Ban Sunglasses at SportRx
Need prescription Ray-Ban sunglasses? Done. When you shop with us, you'll find video guides and tooltips throughout the build process as you customize the perfect pair. An answer to all your questions is at your fingertips, and if you want to chat with an expert, Contact Us. We'll put you in touch with one of our friendly in-house opticians who can help you build your prescription Ray-Ban sunglasses. Or feel free to explore our Ultimate Ray-Ban Guide for everything you need to know about Ray-Ban!
Ditch risky online shopping with the See Better Guarantee. Try your sunglasses for 45 days. If you're not satisfied, send them back. Get a full refund, exchange, or credit towards a better pair. And return shipping? Covered. Get your pair of prescription Ray-Ban sunglasses at SportRx today!