Blue light is essentially everywhere. Emitted primarily from the sun and found in small amounts from digital displays, experts agree that this wavelength can damage your eyes. We're here to tell you how blue light works and how you can protect your eyes with blue light filter sunglasses and glasses.
---
Blue Light Filter Sunglasses: Save Your Eyes from Harmful Rays
1. Blue Light: The Good and The Bad
2. Blue Light Filter Sunglasses
3. Blue Light Filter Eyeglasses
4. Save Your Eyes With Blue Light Lenses
---
Check out what Eyeglass Tyler and Sunglass Rob from SportRx have to say about the types of blue light and how to block it.
---
Blue Light: The Good and the Bad
So what is blue light? Also known as High-Energy Visible light (HEV for short), it's the shortest and highest-energy light ranging from 400nm-450nm within the visible spectrum.
Different ranges of blue light have different effects on our bodies — some good, some bad. Blue light in the 470nm-500nm range is generally considered beneficial. In its natural state, your body uses this blue light from the sun to regulate your natural sleep cycles, memory, and cognitive performance. Good blue light also helps boost alertness, improve reaction times, elevate moods, and increase the feeling of well-being.
On the other hand, bad blue light rays live in the range of 400nm-450nm, and this is the area where we focus our concern. Lengthy exposure to this HEV blue light may cause retinal damage and contribute to age-related macular degeneration, which can lead to an irreversible decrease in sharpness and clarity of vision.
So while some blue light is good for us, our eyes can't naturally filter out or protect us against the bad blue light rays from the sun. This is where blue light filter sunglasses come into play.
---
Blue Light Filter Sunglasses
Proper blue light filter sunglasses will filter out HEV blue light while letting beneficial blue light pass through. Save your eyes from the sun's harsh blue light rays when you rely on brands like Costa, Maui Jim, or SPY to provide you with blue light filter lenses that will give you coverage beyond just polarization.
---
Costa 580
Costa's 580 lens technology goes beyond polarization to produce the clearest lenses on the planet, and they offer a variety of color options, as seen in our Costa Lens Color Guide. 580 lenses filter out harsh yellows in addition to harmful UV and blue light, making colors brighter and objects appear more defined. So no matter what you're doing under the sun, you'll see in stunning detail.
Costa 580 Key Features:
All lenses are polarized with 99.9% efficiency in blocking out glare
Absorbs 100% of HEV blue light up to 425nm
100% UV protective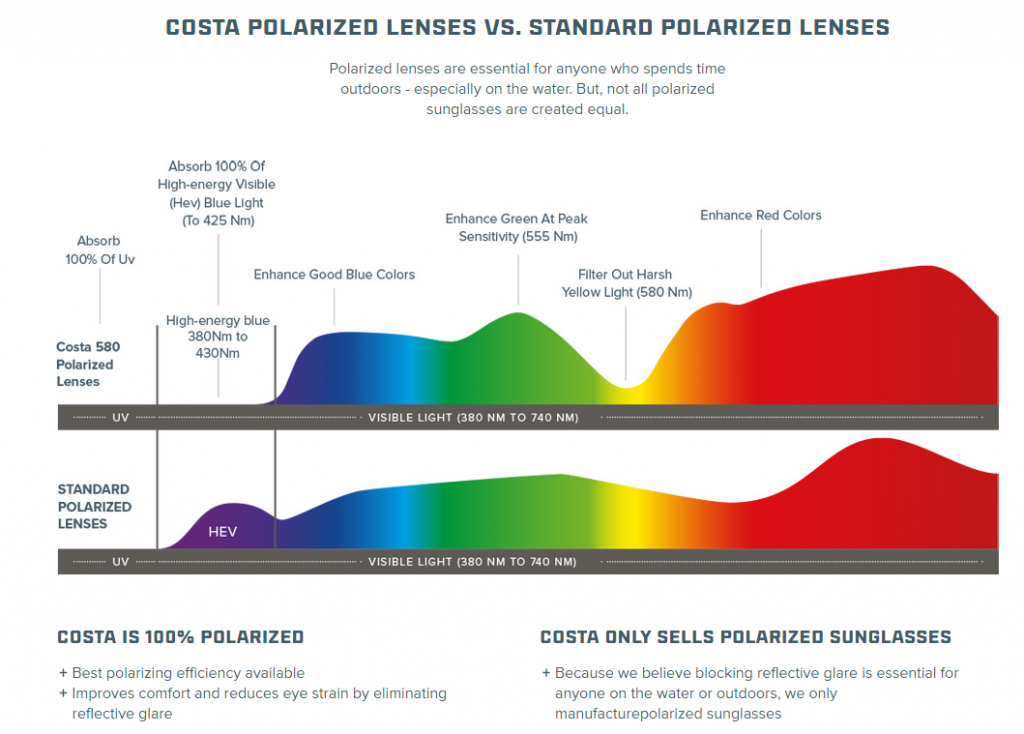 ---
Maui Jim PolarizedPlus2®
PolarizedPlus2® is Maui Jim's lens technology that provides highly effective blue light reduction. In return, Maui Jim's lenses work to keep your eyes safe without removing the beautiful blues of the world. These lenses are engineered to eliminate 95% of bad blue light, protecting you from the sun's rays. Curious about this lens tech? Read more in Maui Jim PolarizedPlus2 Lenses Explained.
Maui Jim PolarizedPlus2® Key Features:
All lenses are polarized with 99.9% efficiency at blocking out glare
Absorbs 95% of HEV blue light in the 400-450nm range
100% UV protective

---
SPY Happy
The SPY Happy Lens creates an incredible color- and contrast-enhancing experience. With a blue light filter at the forefront, SPY Happy sunglasses keep your eyes safe and make you happier.
SPY Happy Key Features:
Available with polarized lenses with more than 99% efficiency at blocking out glare
Blocks HEV blue light while letting in long-wave (beneficial) blue light, improving your mood and alertness.
100% UV protective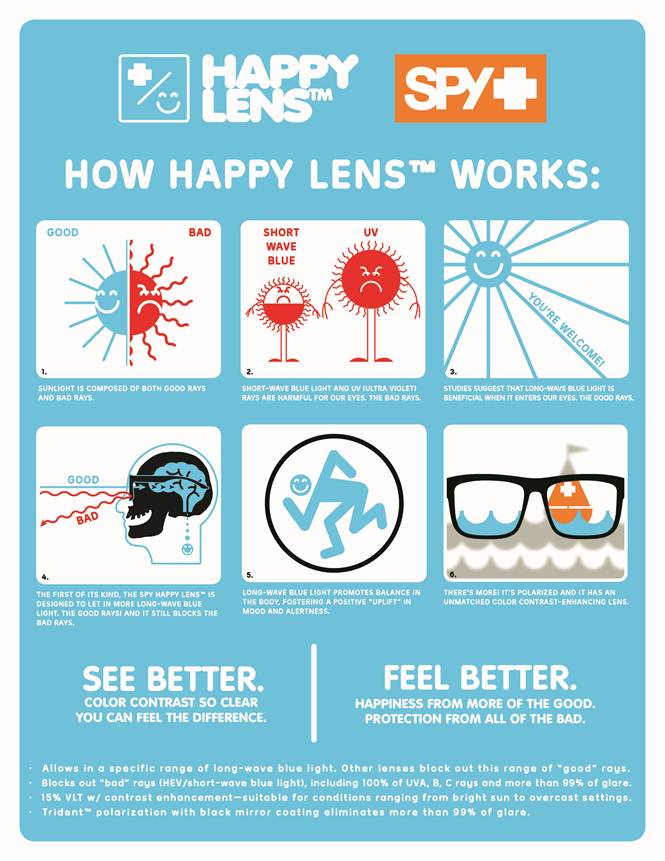 ---
Blue Light Filter Eyeglasses
We live in a digital age, and everything from smartphones to TV screens to fluorescent lights emit small amounts of blue light. As mentioned, exposure to blue light can affect your sleep cycles, so staring at a screen before bed can make it harder to sleep. If this sounds familiar, luckily for you, leading brands such as Ray-Ban, Maui Jim, and Oakley have developed blue light filters for clear lenses. They have everything you love about blue light protection sunglasses, but available in your everyday glasses. For more of the facts, read The Truth Behind Blue Light Lenses: Making Sense of It All.
---
Ray-Ban Blue
Ray-Ban's blue light blocking technology, Ray-Ban Blue, boasts digitally surfaced lenses that provide a more accurate prescription. In addition to protecting the eyes from harmful blue light rays, Ray-Ban Blue lenses are premium quality. They just make your life easier!
Ray-Ban Blue Key Features:
AR (anti-reflective) coating applied to front and back of the lenses
Blocks 20% of HEV from 415-455nm
Hydrophobic, oleophobic, and anti-static coatings repel water, oil, and dust to make easy-to-clean lenses
100% UV protective
---
Maui Jim Maui Blue Light Protect
Maui Blue Light Protect™ is Maui Jim's proprietary blue light blocking technology for eyeglasses. The main draw of these is that Maui Jim provides blue light protection without giving you the yellowish or blue tint you see in other computer glasses. If you aesthetically prefer totally clear lenses, these are the ones for you.
Maui Blue Light Protect Key Features:
Reduces 78% of HEV at 420nm
Blue light filter without a noticeable hue
Hydrophobic and oleophobic lens coatings
100% UV protective
---
Oakley PRIZM™ Gaming
Oakley has taken the e-sports world by storm with PRIZM™ lens technology adapted for gamers. While PRIZM™ Gaming is made with gamers in mind, anyone who stares at the computer for a long period of time each day could benefit from this blue light technology. To check out our full review, head on over to Oakley PRIZM™ Gaming Lens Review.
PRIZM™ Gaming Key Features:
Filters 40% of blue light between 380nm-500nm
Yellowish lenses enhance contrast to improve reaction time
Sharper vision, less fatigue
---
Save Your Eyes with Blue Light Lenses
Need prescription blue light sunglasses? Done. When you shop with us, you'll find video guides and tooltips throughout the build process as you customize the perfect pair. An answer to all your questions is at your fingertips, and if you want to chat with an expert, Contact Us. We'll put you in touch with one of our friendly in-house opticians who can help you build your prescription blue light sunglasses.
Ditch risky online shopping with the See Better Guarantee. Try your glasses or sunglasses for 45 days. If you're not satisfied, send them back. Get a full refund, exchange, or credit towards a better pair. And return shipping? Covered. Get your pair of prescription blue light sunglasses at SportRx today!