Blue light is everywhere. When outside, the shorter, higher energy blue wavelengths travel through the atmosphere. They collide and bounce off other air molecules, which causes them to scatter. While some blue light is good, there is a great deal of harmful blue light.
The Blue Light, or High Energy Visible (HEV) wavelengths we should be concerned about create an intense glare that reduces visual contrast, affecting overall sharpness, clarity, and eye health. As knowledge of harmful blue light becomes more and more prevalent, so does the demand for better eye protection. What does this have to do with fishing sunglasses? Continue on to find out!


Blue Light Filter Lenses for Fishing
1. Blue Light Filter Lenses: An Important Feature of Fishing Sunglasses
2. Choosing a Lens Color
2.1. Costa 580 Lens Technology
2.2. Oakley PRIZM Fishing Lenses
2.3. SMITH ChromaPop Polarized Lenses
---
Blue Light Filter Lenses: An Important Feature of Fishing Sunglasses
Because water is the biggest source of intense glare, blue light wavelengths surrounding water is exceptionally harmful. While polarized lenses work to shield your eyes against glare and harmful UV rays, blue light filter lenses go beyond just polarization. Blue light filter lenses not only reduce harmful high-energy blue light that polarization alone can't prevent, but they also cut haze and glare, producing greater visual clarity and sharpness. Blue light filtering and polarization features combine to provide the most necessary eye protection when you're out on the water for hours on end.
---
Choosing a Lens Color
Light conditions are not only constantly changing, but they also vary depending on where your fishing passions reside. From lakes and streams to the open ocean, brands like Costa, Oakley, and Smith have you covered with unbeatable blue light filter lenses that couldn't be more ideal for the many fishing environments.
Costa 580 Lens Technology

Costa delivers a visual experience that goes beyond polarized sunglasses. For Costa, it's all about filtering out harmful blue light and enhancing beneficial light to deliver greater visual clarity, enhanced contrast, vibrant colors, and unbeatable protection. Costa 580 not only serves as blue light filters, but as the most optically clear lenses on the planet, and so much more.
Filters out harmful high-energy blue light in an impact resistant, lightweight and durable lens
Reduces haze and blur while providing greater contrast, enhanced color definition, and unmatched clarity
Delivers superior clarity and sharpness
20% thinner and 22% lighter than average polarized glass
100% polarization efficiently eliminates reflected glare and reduces eye strain
Encapsulated mirrors last a lifetime without peeling, scratching or deteriorating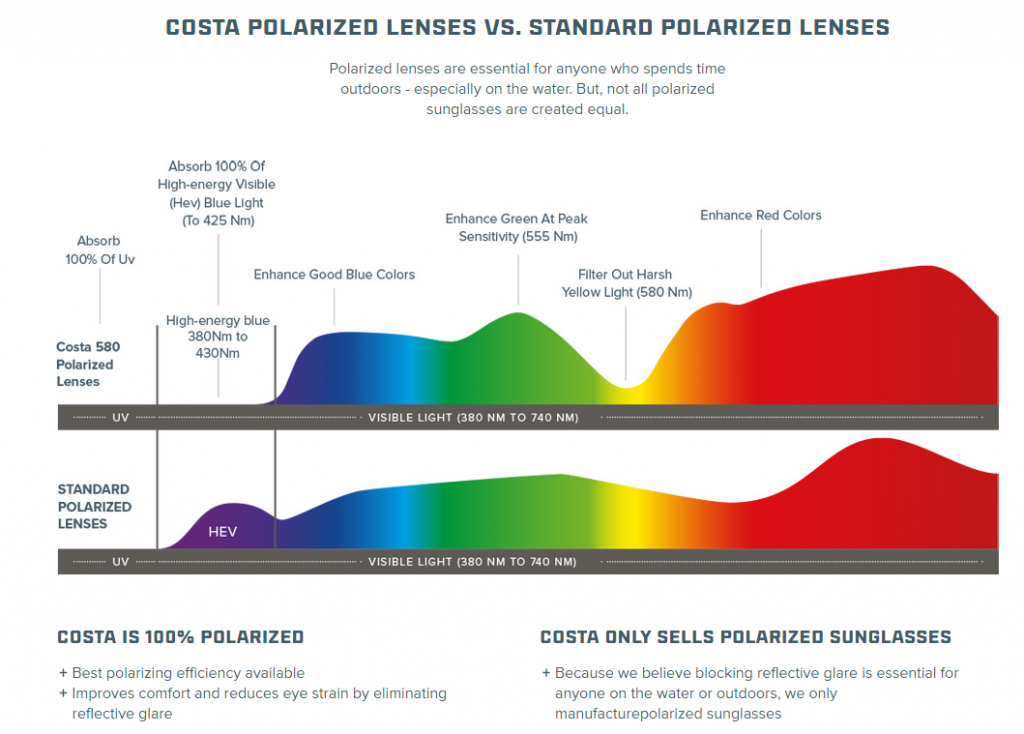 The perfect lens for off-shore fishing
10% Light transmission
Features a grey base with an encapsulated mirror
Best for bright days on the open ocean
An excellent option for freshwater and inshore fishing
10% light transmission
Features a copper base with an encapsulated mirror
Enhances vision and contrast in lake, stream, river, or other in-shore fishing environments
A great lens for a variety of fishing environments
12% light transmission
Cuts glare for eye comfort in a variety of situations
Versatile lens color for all your favorite fishing occasions
---
Oakley PRIZM Fishing Lenses
The mad scientists at Oakley define innovation with PRIZM lens technology. Oakley's PRIZM lenses are fine-tuned to enhance detail in many different sport environments, and fishing is no exception. This lens technology provides an optimized experience by fine-tuning individual wavelengths to enhance vibrant colors that would otherwise be missed while also filtering out distracting colors. Oakley engineered two different lenses for the two main types of fishing: shallow and deep water. PRIZM Deep Water and PRIZM Shallow Water polarized lenses improve color contrast in ways that allow you better see what's going on down below the surface.
Blocks harmful blue light up to 400 nanometers
12-20% Visible Light Transmission
Filters out the shades of blue that overwhelm vision on the open water
Boosts greens and reds for a better view of what's going on below the surface
Tunes light that hits the ocean, reflects off the water and picks up a lot of blue colors
Enables visibility of true vibrant reds, greens, and true hues of blues so you can pick out the nuances between the kelp and the fish, or just different depths through different colors of blue.
The combination of color tuning and HDPolarized technologies work to block 99% of all UV light and eliminate white glare off the surface
Exceptional lenses for deep sea fishing, paddle boarding, kayaking or any open-water activity
Blocks harmful blue light up to 400 nanometers
Boosts the precise green and copper colors, making it easier to see in and out of shadows
Maintains bright whites so you can spot the flash of fish and flies on the surface
Reduces haze or visual distortion that would otherwise inhibit optimal clarity
Helps to better spot shadows of fish
Color tuning lenses are combined with HDPolarized technology to block 99% of reflected glare and UV light, including harmful blue light from the sun's harsh rays
---
SMITH ChromaPop Polarized Lenses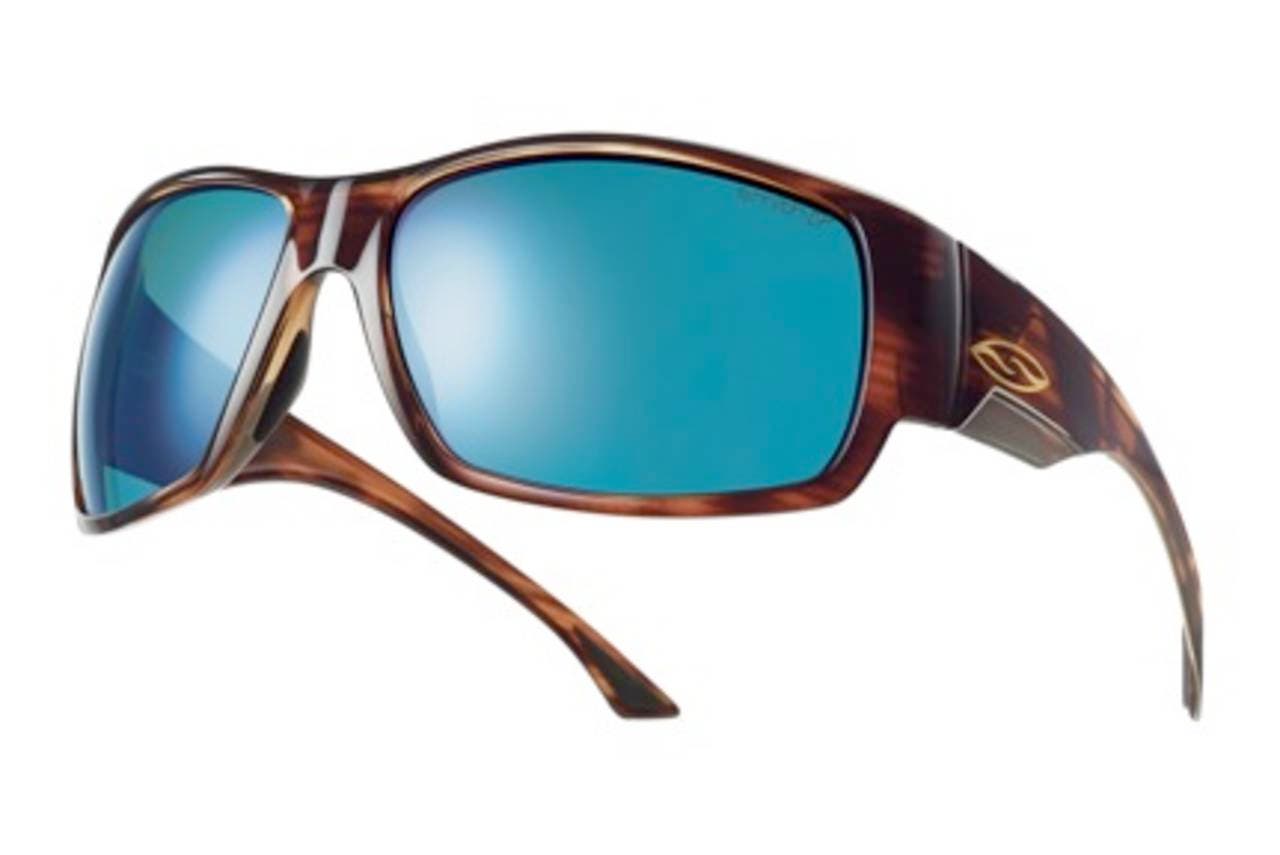 Experience fishing like never before and save your eyes from harmful blue light with the unbeatable protection of Smith Chromapop Polarized lenses. Chromapop lenses serve as another blue light filter lens option that works to eliminate color confusion. In other words, Chromapop comes in to play where the eye has trouble distinguishing color and definition. These blue light filter lenses eliminate confusion by filtering light at the crossovers of blue, green, and red wavelengths. The result? Greater definition of more natural colors and unmatched clarity out on the water.
Chromapop + Polarized Blue Mirror Lenses
Exceptional lens for deep sea fishing where the sun is the brightest and the glare is the most intense
Edge to edge clear viewing with 99.8% polarization efficiency and 100% UV protection
Increases clarity and vibrant colors, allowing for enhanced visibility below the surface
Combination of the grey base with the blue mirror blocks out brightness and cuts glare
Chromapop + Polarized Brown Lenses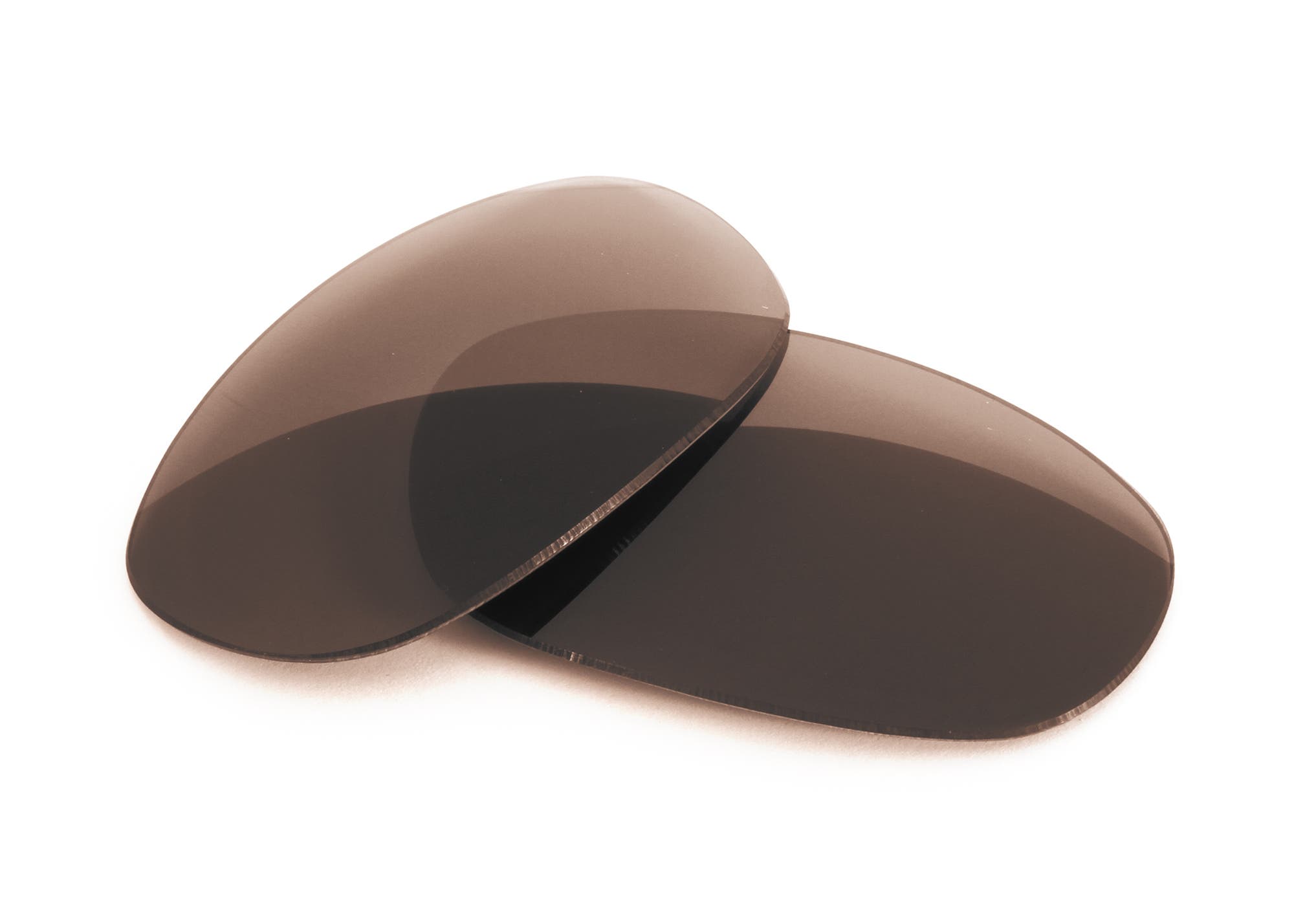 Filters out blue light from the sun's harsh rays and reflected glare off the water
Edge to edge clear viewing with 99.8% polarization efficiency and 100% UV protection
Helps to spot fish more effectively in and out of shadows in the shallow water
Ideal lens for on-shore lake, stream, shallow water fishing
---
See the Fish Better with Blue Light, Polarized Lenses
Count on one of the many blue light lenses to ensure an enhanced visual experience, performance, and eye protection on the water. With a variety of lens colors and frames to choose from, you'll be sure to find the best fishing sunglasses to accompany your love for fishing. If you have any questions about blue light filter lenses, which ones will suit your needs, how to get prescription blue light lenses, or any other questions you can think of, give us a call! We're here to help make your days much more enjoyable on the water with a pair of blue light filter fishing sunglasses or prescription fishing sunglasses.