The life of a fisherman entails long, patient days out on the water. Fishermen need to have a clear vision, which is why having the right pair of fishing sunglasses is crucial to their catching success. We have laid out the best fishing sunglasses of 2017 below to help you and all your fishing buddies. As there are many great brands that offer fishing sunglasses, the best fishing sunglasses of 2017 are coming from Costa Sunglasses, Maui Jim, and Smith Optics. Before we get into the details of each model, let's touch base on some key features of fishing sunglasses.
Each brand featured here offers its own great technologies to give fishermen that visual edge they need to reel in the big catch. However, there are some common features when it comes to the best fishing sunglasses. These include polarized lenses, durability, a comfortable fit and hold on your face. Fishing sunglasses have polarized lenses because they protect your eyes from harsh UV rays reflecting off the water. The polarized lenses will cut out unwanted glare and protect your eyes from unnecessary squinting and eyestrain. Taking it a step further, some of these frames have blue light filter lenses that eliminate bad HEV blue light that is known for harming eye health and hindering visuals. At the end of the day, the best fishing sunglasses are those that protect your eyes from harmful rays and light and allow you to see beyond the surface of the water.
Make sure to check out our latest list for the Best Fishing sunglasses of 2018. Sunglass Rob and 40-year fishing veteran, Randy, explain all the top fishing sunglasses and the advantages of each one.
Our Top 8 Catches
Costa Bloke extra-large fishing sunglasses are extremely durable for intense water lovers. Bloke nose and temple pads ensure that these shades are firmly secured on your face in rough waters. Costa Bloke is among one of the best fishing sunglasses of 2017 because it is available in 580G and 580P lens material and comes in different lens colors. Its large frame protects fishermen from long days in the sun. *Information on brand technologies are listed below Our Top 8 Catches*
The Costa Tuna Alley sunglasses set the standard as to what fishing sunglasses should be. This 8 base wrap around Costa fishing sunglass features ventilation on the front of the frame to control airflow and not allow the sunglasses to fog up. The Tuna Alley also has Hydrolite material along the temples and nose bridge to ensure the sunglasses stay on your face, even in the toughest storms. Pair the Costa Tuna Alleys up with their 580 lens technology and experience optical clarity every day.
Costa Reefton fishing sunglasses are known for fighting off glare, protecting eyes from the sun, and offering a natural, comfortable fit. Co-molded temples, nose and temple pads, and cam-action spring hinges are good for any type of water and fit comfortable and hold on many shape sizes. Reefton fishing sunglasses come in different lens colors and polarized options as well.
Costa Whitetip is medium-sized sunglasses with a vented front to optimize your vision while fishing. Whitetip is a smaller frame option compared to the other Costa sunglasses; however, Costa Whitetip still offers the same amount of protection and visual clarity. With a number of lens color and polarized lens options, Costa Whitetip produces the clearest lenses on the planet for any fishing condition.
Maui Jim Peahi is known as the fisherman's dream. Peahi offers optimal clarity, a lightweight frame, and is scratch resistance. Many reviews brag about Peahi sunglasses being the best fishing sunglasses because they are long lasting and provide all-day comfort. Maui Jim Peahi fishing sunglasses are available in many frame and lens colors.
Maui Jim Red Sands sunglasses are the ultra-lightweight fishing sunglass option. Red Sands rectangular shape complements a variety of face shapes. Red Sands are made of ManiPure lens material technology that features optimal clarity and is both shatter and scratch resistance. These features, including an ultra-lightweight frame, are perfect for dedicated fishermen.
Smith Wolcott sunglasses seem to have it all. Made with Techlite glass and ChromaPop polarized lenses, Wolcott sunglasses provide the clearest color and clarity. With an unbeatable fit and finish and being scratch resistant, these frames are built for durability. With a medium fit and coverage, Smith Wolcott sunglasses are also very popular with our ladies of the sea.
Smith Guide's Choice is for the most advanced fishermen. With a serious wrap and medium-large frame, Guide's Choice offers superior light protection. Smith Guide's Choice also has ChromaPop and Techlite glass lenses to make sure no one is cheated from the beautiful colors of the water and is 100% UV protected. And for these reasons, Smith Guide's Choice is a great…choice!
Brand Technology Breakdown
Costa
For 2017, there are four Costa models we believe deserve the title of "best fishing sunglasses". When choosing a pair of Costa fishing sunglasses, it is important to pick the right lens color depending on where you are fishing. The visual below lays out the different lens colors Costa offers and what light condition corresponds to it.


Costa Sunglasses offer two types of polarized lens options known as Costa 580G and Costa 580P.
580G Benefits
lightwave glass
top visual clarity
scratch proof
thinner and lighter than average polarized glass
580P Benefits
light and durable lens option
scratch resistant
impact resistant
lightweight polarized polycarbonate material
Maui Jim
Maui Jim's fishing sunglasses also offer a variety of options when it comes to lens color and lens material technology. Their lens technology is called PolarizedPlus2. PolarizedPlus2 eliminates glare, enhances color, protects eye health, and offers great lens protection. Maui Jim SuperThin Glass and ManiPure lens material technology are explained below: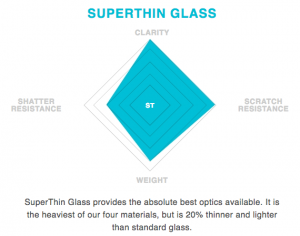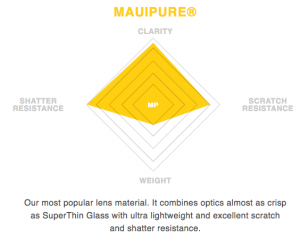 Smith Optics
Smith fishing sunglass collections include ChromaPop lens technology and Techlite polarized glass lenses. ChromaPop lens technology works by filtering specific wavelengths of light that creates a more natural and clearer definition for the wearers. ChromoPop polarized lenses are perfect for fishermen because they are water and oil resistant with 100% UV protection. Techlite polarized glass lenses are a great option for water-based activities like fishing. Techlite lenses are scratch resistant and get rid of any glare you may encounter.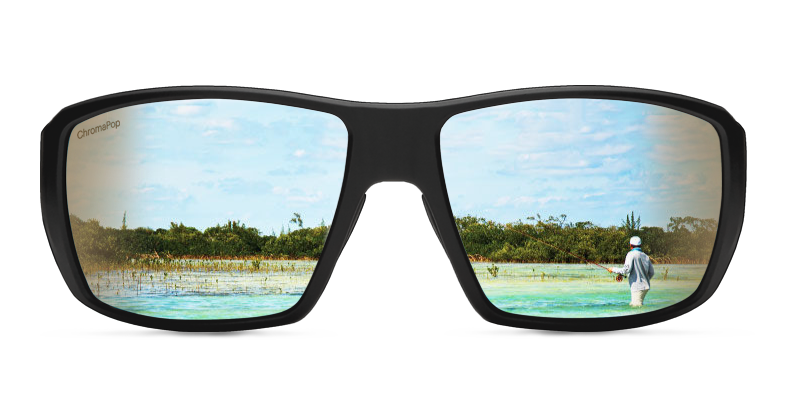 The Best Prescription Fishing Sunglasses of 2017 Online at SportRx
We want you to have the best fishing sunglasses this year no matter where your fishing adventures take you. Here at SportRx, we even offer prescription fishing sunglasses. Need more guidance or assistance on the best fishing sunglasses of 2017? Lucky you, we are experts when it comes to the best fishing shades. Give us a call at SportRx and we will be happy to help you. When in doubt, though, you can't go wrong with our top 8 catches.