Imagine you are out on the slopes on a beautiful blue bird day. Although the morning was a bit chilly, the sun is really heating things up in the afternoon and you have removed your outer layers to adapt to the rising temperature. It may even be so warm that you want to swap out your beloved Oakley snow goggle for a pair of shades to stay cool. Luckily for you, Oakley has started incorporating PRIZM Snow Lens Technology into a few of their top sunglasses. This guide will give you a complete rundown of which Oakley sunglasses have the features and lenses you need for snow activities.
Oakley Clifden
The Oakley Clifden was designed with a removable bridge blocker and side shield to give you maximum versatility. A 20" coated woven steel leash is also incorporated into the design which can be easily removed or attached based on your preferences. We have a separate review of the Oakley Clifden if you want to see our video review!
Oakley Split Shot
Initially launched as a fishing sunglass, Oakley quickly realized the capabilities this design would have on the slopes. It is now available with PRIZM Snow Torch, Snow Sapphire, and Snow Black lenses. All the wrap and coverage you need plus a detachable leash(same as Clifden above) make the Split Shot a great option.
Oakley Wind Jacket 2.0
If coverage is what you are after, the Wind Jacket 2.0 is for you! This retro-inspired design features a removable triple layer face foam on the bridge to keep too much wind from coming in through the top of the sunglass. Also included is a removable strap to help keep your sunglasses secure when you are flying down the mountain.
Oakley Jawbreaker
Another shield option to keep you protected from the elements, the Jawbreaker is iconic. This sunglass has been in the Oakley lineup for years due to its timeless design. Vents in the top and bottom of the shield allow air to flow through to keep your face cool and reduce any chance of fogging. Adjustable temple arms offer a more custom fit for your particular needs.
Oakley Radar EV Path
The Radar EV Path follows the shield design and features a rimless bottom so there is nothing to get in the way of your downward view. This is a major bonus when you are trying to spot your line or see bumps and edges in the snow. Unobtanium grip on the temple arms and nosepad keep these sunglasses securely on your face even if you break a sweat.
Oakley Turbine
Last but certainly not least we have the Oakley Turbine. This sunglass has grip where you need it and enough coverage to keep your eyes fully protected from the harsh glare of the sun on the snow.
Oakley PRIZM Snow Lens Technology
Oakley PRIZM Snow lenses are specifically designed to be used for snow activities. Whether you are skiing, snowboarding, snowshoeing, you name it-these lenses will enhance your experience. They work by manipulating the light spectrum to highlight the colors that bring out detail in snow. This added contrast allows you to see your environment like never before.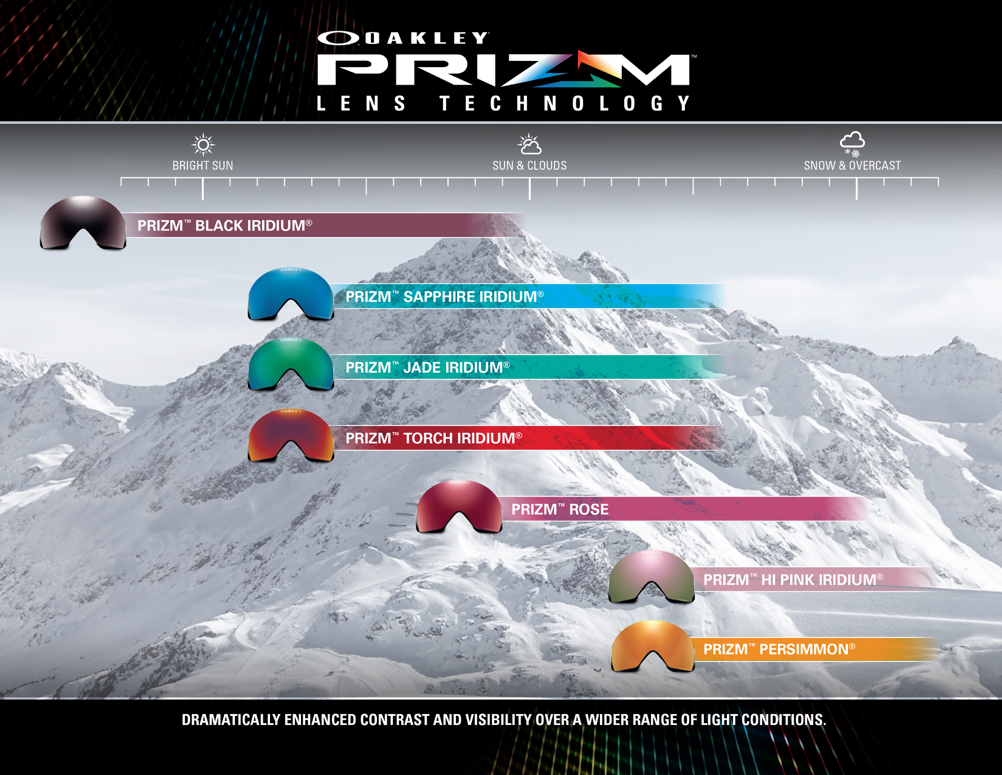 Oakley Prescription Sunglasses Online at SportRx
Need prescription Oakley sunglasses or eyeglasses? Done. When you shop with us, you'll find video guides and tooltips throughout the build process as you customize the perfect pair. An answer to all your questions is at your fingertips, and if you want to chat with an expert, Contact Us. We'll put you in touch with one of our friendly in-house opticians who can help you build your prescription Oakley Sunglasses.
Ditch risky online shopping with the See Better Guarantee. Try your Oakley sunglasses for 45 days. If you're not satisfied, send them back. Get a full refund, exchange, or credit towards a better pair. And return shipping? Covered. Get your pair of prescription Oakley Sunglasses at SportRx today!