When safety ratings are far from simple to understand, SportRx takes the guesswork out of getting the right safety glasses for the job. Our team of expert opticians has waded through the world of ANSI ratings to help you understand what makes ANSI-approved frames different from your everyday styles — and why they're a necessity in many workplace environments. Join us as we answer everything you've been wondering about safety glasses and explain how to pick the best protective eyewear. We'll also share some of our top picks, so you can spend more time on the clock, and less time on research. Buckle up because you're about to learn everything you need to know in this Safety Glasses Buyer's Guide!
Table of Contents
A. What to Look for in Safety Glasses
B. ANSI Rating
C. Frame Technology
1. Material
2. Fit/Grip
3. Coverage
D. Lens Technology
1. Clear Safety Glasses
2. Safety Sunglasses
3. Transition Safety Glasses
4. Prescription Safety Glasses
E. Recommendations for Z87 Safety Glasses
1. Construction
2. Laboratory
3. Office
F. Safety Glasses & Safety Sunglasses FAQs
G. Buy Prescription Safety Glasses Online at SportRx
---
What to Look for in Safety Glasses
In many industries, having the right eyewear is crucial to getting a job well done. Clear vision helps you focus on the task at hand, and ANSI safety ratings safeguard your eyesight from potential workplace hazards. While we can all agree that safety glasses play an imperative role in your vision, how do you know what makes a good pair?
To understand what makes high-quality safety glasses stand out from the competition, we'll review three key protective eyewear components: ANSI rating, frame technology, and lens technology.
---
ANSI Rating
The American National Standards Institute (ANSI) creates the safety standards, and requirements, for protective eyewear. ANSI tests frames and lenses against common workplace hazards such as blunt impacts, liquid splashes, and fine airborne particles like dust, dirt, and debris. To earn ANSI certification, safety eyewear goes through multiple rounds of rigorous testing to guarantee satisfactory protection.
Most employers requiring safety glasses will want them to fulfill ANSI Z87.1 standards. This safety rating encompasses all protective eyewear such as eyeglasses, sunglasses, goggles, shields, welding masks, and more.
Every frame in our Safety Glasses Buyer's Guide is ANSI Z87.1-certified. They are also ANSI Z87-2-certified, since every style is Rx-able. This latter safety rating is simply the prescription equivalent of Z87.1.
---
Frame Technology
Not only do frames act as a physical defense against risk, but they're also responsible for achieving a comfortable fit. Let's look at the main features to consider in frame technology.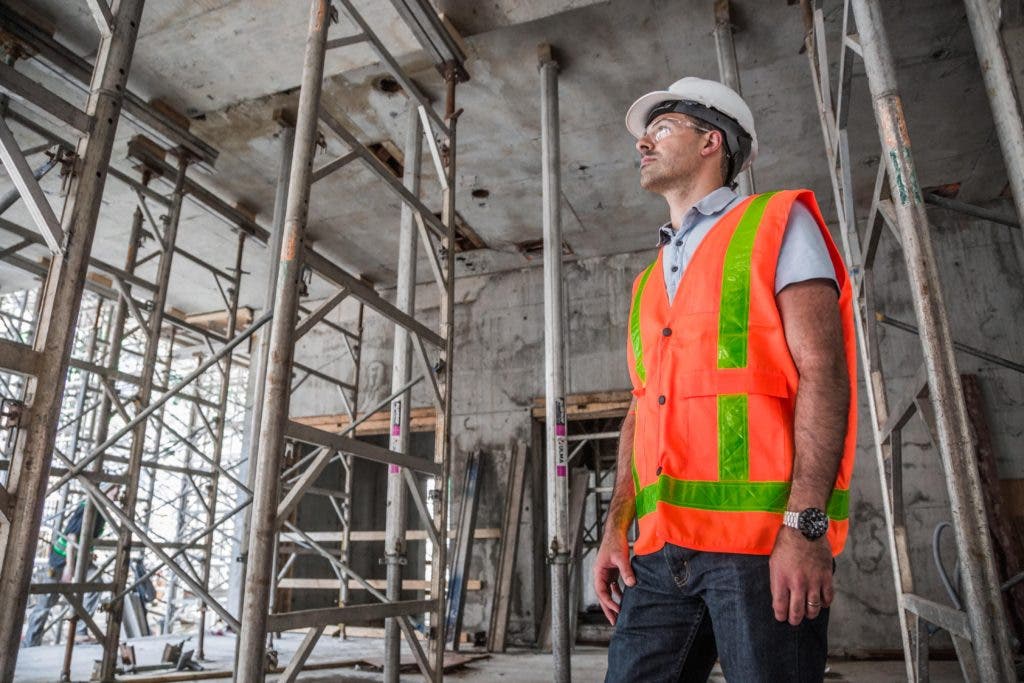 Material
Z87 safety glasses are made from the toughest materials to guarantee impact-resistance. Despite their strong construction and sometimes substantial designs, protective glasses are more lightweight than ever. Nylon is one of the most commonly employed materials and comes in a variety of forms. Wiley X uses virtually indestructible Triloid™ nylon, Oakley uses durable O Matter™, and Tifosi uses Grilamid TR-90. The common thread between all these frame materials? They're all built to last while keeping you safe.
Fit/Grip
With SportRx Frame Width, there's no excuse for wearing ill-fitting frames. We've cracked the code for getting a perfect fit and SFW is your key in. SFW is a reliable way to determine one's personal frame size, and understand the true fit of other frames. Read our Sunglasses Size Guide to learn how SFW works and how you can use it when shopping for safety glasses online.
Why is fit so important? When your eyewear is meant to block external elements, improper fit can lead to frame gaping, which leaves you susceptible to risk. Also, it is a matter of comfort. Safety glasses that are too large lead to dreadful frame slippage and require frequent readjustments. Too small, and you may quickly find yourself with a headache from squeezing temples. Properly fitting safety glasses are vital in getting the most from your eyewear, while staying comfortable and focused on the job.
Coverage
Last, but not least, is coverage. Protective glasses act as a physical barrier between your eyes and potential threats. And since your safety eyewear is serving as a shield, the bigger, the better. That's not to say you have to wear goggles in every situation, nor is coverage a one-size-fits-all category. You can achieve substantial coverage through various design elements such as 8-base wrap, tall and wide lenses, or side shields. Depending on your job, your employer's requirements will best guide you as to what level of coverage is appropriate.
---
Lens Technology
In addition to the physical protection that protective glasses and safety sunglasses provide, clear vision is what allows you to perform your job. Lens technology is an imperative feature in your eyewear (safety-rated and everyday) that largely depends on your intended use. Let's review the various types of safety glasses to better understand what to look for in lens technology in each one.
Clear Safety Glasses
Clear safety glasses can be interpreted in one of two ways. (1) trendy, transparent frames with ANSI-rated protection or (2) any color of safety glasses with clear lenses for indoor use. Whichever style you're after (or a combination of the two), clear safety glasses are one of the most timeless and practical designs. They are appropriate in a variety of settings from medical, dental, laboratory, and many other fields. If you wear prescription, opticians recommend adding an anti-fog coating to keep your vision clear and distraction-free.
---
Safety Sunglasses
Safety sunglasses, or tinted safety glasses, are the ultimate eyewear solution for outdoor settings. In addition to protecting you from visible threats like dirt and debris, safety sunglasses also protect you from the non-visible harmful UV rays. Today, most safety sunglasses deliver 100% UV protection, so you can work confidently and with comfortable vision. Available in a variety of lens colors, you can choose safety sunglasses that enhance your environment and boost contrast.
For specific lens technology recommendations, our Sports Opticians love Oakley PRIZM™ and Wiley X CAPTIVATE™. Both of these proprietary technologies manipulate the light spectrum to reveal brighter colors and greater clarity. As for polarization, PRIZM™ offers a mix of both polarized and non-polarized options, while all CAPTIVATE™ lenses are polarized to block glare.
---
Transition Safety Glasses
If you work in a multitude of settings or lighting conditions, transition safety glasses could be the answer to your multi-frame carrying woes. Transition safety glasses, also known as photochromic safety glasses, are a single do-it-all frame with varying levels of lens tints. They react to UV exposure and darken, or lighten, accordingly. When there is no UV present, the lenses are in their clear, default state. Then, once exposed to UV or sunlight, the lenses take on a darker tint according to the original color chosen. Today, transition safety glasses have become a popular choice for their versatility and the seamless visual experience they provide.
Most often, transition lenses are only available in prescription safety glasses. However, Wiley X offers some non-Rx photochromic options, as seen in the WX Gravity below. You can also get this frame with prescription transition lenses, if needed.
---
Prescription Safety Glasses
Prescription safety glasses combine protection from ANSI-approved materials with precise vision correction. Select from single vision, progressive, and in some cases, bifocal safety glasses, depending on your Rx needs. At SportRx, we understand the importance of 20/20 vision when performing your daily tasks — from the workplace, to weekends, and every moment in between. That's why nearly all the safety glasses we offer are available with prescription lenses. Select your ANSI-rated frame, then we'll walk you through every step of creating your custom prescription lenses. With clear and tinted lens options available, you'll get the perfect lens color for your work environment and profession.
When shopping for prescription safety glasses online, it's important to verify that your prescription lenses will also be ANSI-certified. While this is true at SportRx, it may not be the case at all retailers, so check for confirmation before proceeding with an order. At SportRx, your prescription lenses will be ANSI-approved and feature the Z87 markings on the lenses as authentication.
---
Recommendations for Z87 Safety Glasses
Now that you know the ins and outs of ANSI ratings, safety sunglasses, and prescription safety glasses, let's check out some frames! Here, we'll review our top picks by industry, but we also have a plethora of helpful guides throughout our site. Explore some of our best of lineups below for even more frame recommendations:
---
Construction
There are several hazards present on a worksite, so construction safety glasses have some of the strictest protective needs. Flying debris, eye-watering dust, and chemicals can litter the environment, and your eyewear needs to keep up with every potential encounter. For construction safety glasses, opticians recommend frames with wrap around coverage, foam gaskets, and a secure fit. The Wiley X Climate Control Series is one of our most recommended collections for construction workers because every frame fulfills all three of these requirements.
Introducing the Wiley X Gravity, a do-it-all Climate Control frame that can take on any intruder on the construction site. This 8-base Triloid™ nylon frame can withstand the toughest environments and keep you looking great while on the job. Full wrap coverage protects you from all angles and the removable Facial Cavity™ Seal creates a complete seal from external threats. The WX Gravity features shatterproof Selenite™ lenses with a T-shell coating for maximum impact and scratch-resistance. It also comes with an optional T-Peg strap which converts these safety sunglasses to goggles, or a leash cord that attaches to the temple tips for extra frame security. However you decide to wear your WX Gravity, you'll be equipped for anything the day throws your way when wearing these construction safety glasses.
Below, we're proud to show off our exclusive SportRx collaboration with Wiley X, but you can also find this frame in other colors and with clear lenses here: Wiley X Gravity.
WX Gravity Key Features:
Safety ratings: ANSI Z87.1 & ANSI Z87-2
Removable & Replaceable Facial Cavity™ Seal creates a comfortable, complete seal
Selenite™ polycarbonate lenses are shatterproof & optically pristine
Rx-able with ANSI-rated Wiley X Authentic prescription lenses
SFW: 135
---
Laboratory
Lab safety glasses are a non-negotiable when performing developmental research or handling chemicals. Your level of involvement, or risk of chemical splashes, will determine if you should wear glasses or goggles. If you've determined that you don't need the full protection of lab safety goggles, you'll still want your eyewear to provide more coverage and peripheral protection than standard everyday frames.
The ArmouRx 6006 is the perfect eyewear solution for obtaining ample coverage with a wide field of view. These prescription lab safety glasses feature a contoured fit and integrated side shields to block hazardous particles. A removable foam gasket delivers the extra protection you need in the lab, and can easily be taken out once you're heading home for the day. These lab safety glasses also include an optional strap for additional frame security in the moments you need it most. The ArmouRx 6006 is available in single vision, progressive, and bifocals, so you get a visual experience tailored to your Rx needs.
ArmouRx 6006 Key Features:
Safety ratings: ANSI Z87.1, ANSI Z87-2, & CSA Z94.3
6-base lens design holds a range of prescriptions with ease
Removable foam gasket & optional strap allow for frame customization
Available as Rx only with SportRx Lenses
SFW: 135
---
Office
If your office requires protective glasses, you're in luck with today's offering of fashionable, easy-to-wear styles. Unlike former generations that were doomed to wear safety glasses that sacrificed style, it is now easier than ever to find cool safety glasses. Assuming your office is in an indoor setting, opticians recommend Z87 safety glasses with clear lenses and an anti-fog treatment. If you wear prescription, Rx lenses will help you achieve clear vision and allow you to add coatings, like blue light defense, to ensure comfortable vision when working on the computer.
One of our favorite safety glasses for the office is the Wiley X Chase. Its elegant design is composed of high-quality metal and their signature Triloid™ nylon for durable yet lightweight wear. Adjustable silicone nose pads ensure a perfect, custom fit, and bent temples create additional frame security. There are also removable side shields, so if you're checking on the team's project and need peripheral protection, the WX Chase will have you covered in no time. And if you wear prescription, these safety eyeglasses are available with Wiley X Authentic Lenses that feature their shatterproof Selenite™ polycarbonate material.
WX Chase Key Features:
Safety ratings: ANSI Z87.1 & ANSI Z87-2
4-base lens curvature with removable side shields
Mixed-composition of metal & Triloid™ nylon for lightweight wear
Adjustable nose pads provide a comfortable, custom fit
SFW
---
Safety Glasses & Safety Sunglasses FAQs
If you still have questions after making it through our Safety Glasses Buyer's Guide, don't sweat it. We've got more answers! We also have a team of friendly in-house opticians who are available to answer any ANSI or Rx questions you may have. Reach out to us — 7 days a week!
Why should you wear safety glasses?
According to the US Bureau of Labor Statistics, about 20,000 workplace eye injuries occur every year. A study by the Wilmer Eye Trauma Center confirmed that the majority of workplace eye injuries are from sharp objects. Blunt objects and chemical splashes were also significant causes of injury. Overall, wearing the proper protective eyewear is a safe and proactive approach to guarding the long-term integrity of your vision.
How much are prescription safety glasses?
The cost of prescription safety glasses varies greatly depending on the frame chosen, prescription requirements, and lens options selected. You can find budget-friendly styles with standard single vision lenses starting around $100. Then, as you start to build out more customized Rx lenses, or want a designer frame, the price increases. At SportRx, we invite you to explore our current promos to see if your order is eligible for a discount.
Are safety glasses covered by FSA or HSA?
Prescription safety glasses are an eligible expense for FSA/HSA funds. To use your FSA/HSA at SportRx, simply check the box asking if you are using an FSA/HSA and proceed with checkout. If you would like to learn more about eligible expenses, visit our blog on FSA/HSA spending.
---
Buy Prescription Safety Glasses Online at SportRx
We hope today's blog has equipped you with everything you need to know about buying safety glasses online. If you wear Rx, we've got you covered with several frame options, lens customizations, and anti-fog coatings for your prescription safety sunglasses and glasses. We have video guides and tool tips as you customize your perfect pair. An answer to all your questions is at your fingertips, and if you want to chat with an expert, contact us. We'll put you in touch with one of our friendly in-house opticians who can help you build your prescription safety glasses.
Ditch risky online shopping with our See Better Guarantee™. Try any of our protective glasses and if you're not 100% satisfied, just let us know. Get a full refund, exchange, or credit towards a better pair. And return shipping? We've got you covered there, too. Get the best shopping experience when you buy prescription safety glasses online at SportRx!