Sight fishing is about spotting fish under the surface of the water and then waiting for the adrenaline rush of the bite. Easier said than done, many anglers agree that one of the biggest challenges is the very action that gives this sport its name — seeing the fish. Give yourself the visual advantage with polarized sunglasses designed to enhance contrast and increase clarity.
Join SportRx for tried-and-true frames that will aid in shallow-water fishing and keep you looking great on land. Here are our Best Polarized Sunglasses for Sight Fishing!
Best Polarized Sunglasses for Sight Fishing
Key Features
1. Costa Fantail PRO
2. Oakley Split Shot
3. Costa Diego
4. Wiley X Omega
5. Smith Castaway
6. Maui Jim Haleakala
7. Maui Jim Local Kine
2020 Lineup
Prescription Polarized Sunglasses for Sight Fishing
---
Eyeglass Tyler covers some key features of sight fishing lenses and goes over our list. Watch below or keep reading to learn more!
---
Key Features
As preached by experts, a master angler learns to keep the sun in front of them, as they never want to cast a shadow and scare away a keeper. Since the sun is going to be in front of you, there are a few key features to keep in mind when selecting your frames. Here are the criteria our expert Sports Opticians used when picking the best polarized sunglasses for sight fishing.
Coverage
Protect yourself from all angles with frames that provide maximum coverage. All of these frames have an 8-base wrap, and many feature extended side shields or hooding for additional sun protection.
Secure Fit
After tediously and quietly making your approach, the last thing you need is a falling frame to spook off your fish. All of the frames in today's lineup feature strategically placed rubber grip, so you can be confident that they'll stay in place when you need it most.
Lens Technology
Say goodbye to eye strain and missing the bass below with lens technologies designed to enhance contrast. After all, when your prize is resting just below the water, you're up against one of the biggest culprits of glare. Cut yourself some slack with polarized lenses that block blinding glare and increase contrast and clarity.
See below how Wiley X demonstrates the visual difference through non-polarized lenses and polarized lenses.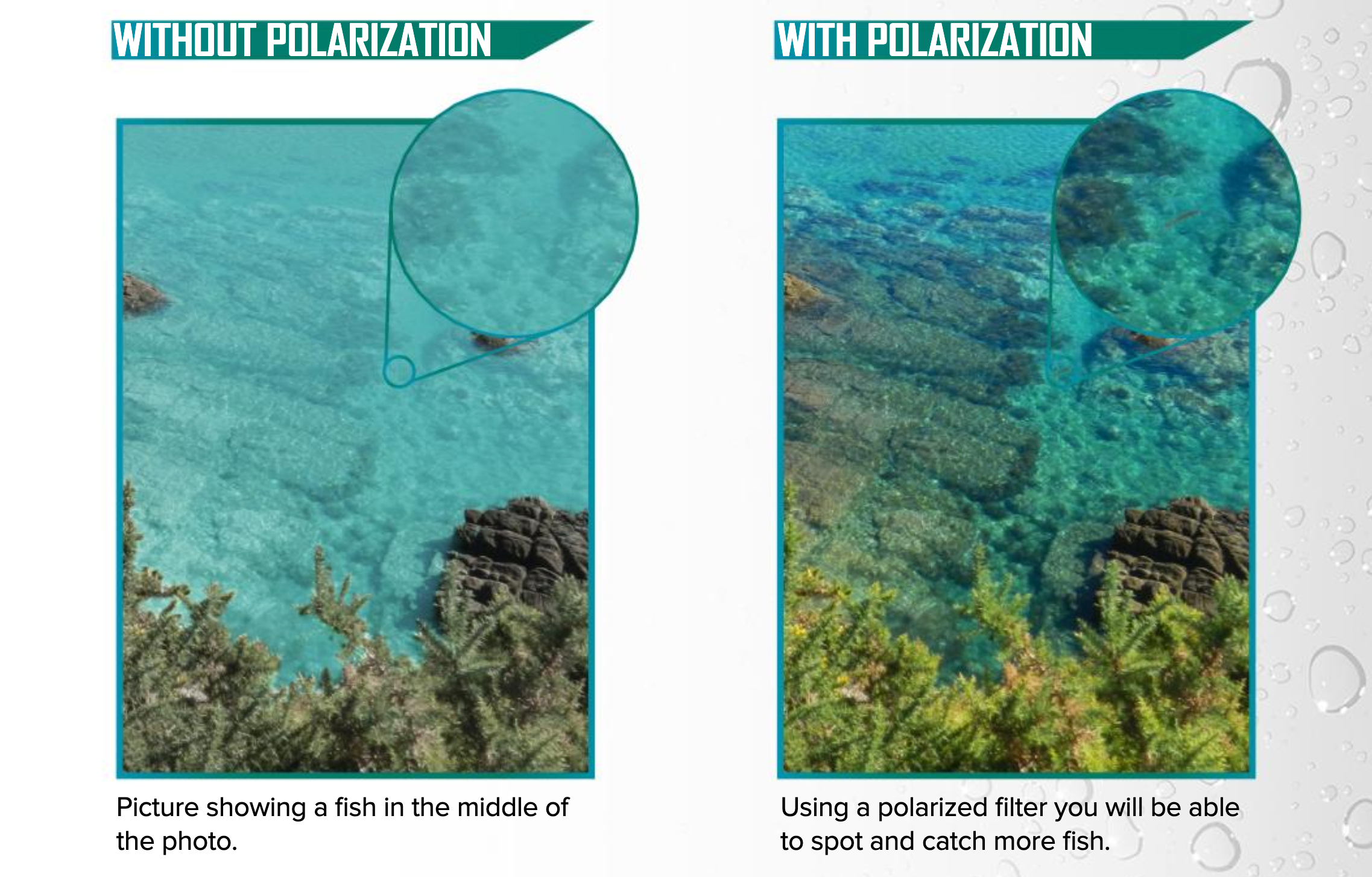 ---
Best Sunglasses for Fishing & Golf
Now let's get into the frames!
In addition to the key features we just covered, all of the frames in today's lineup are available with prescription at SportRx. Give us a call and we'll be happy to review these options with you personally!
Costa Fantail PRO
A member of Costa's PRO Series, you'll get serious frame technology & moisture management on this 8-base frame. Lightweight and durable, it's comfortable to wear for those 10-hr days out on the water. Featuring extended side shields and hooding, you'll receive maximum sun protection. Keep sweat and unexpected splashes in check with sweat channels and eyewire drains that prevent moisture from pooling in the frames. And just in case you do break a sweat, the Costa Fantail PRO will stay perfectly in place thanks to Hydrolite rubber, which grips better when wet. The most exciting feature updated in the PRO version is the vented adjustable nose pads - a very rare feature in a plastic frame - to give you the perfect bridge fit!
As for lenses, you're in for a treat with Costa 580 lens technology. The Fantail PRO is available with 580G lenses and we love the Green Mirror for sight fishing. To read more about it, check out our guide on Costa 580 Lenses!
Costa Fantail Pro Key Features
---
Oakley Split Shot
The first water-specific from Oakley, we're stoked on the Split Shot. With its 8-base wrap and list of Oakley proprietary materials and technologies, it's a given on our list of the best polarized sunglasses for sight fishing. Let's get into it!
Made from Oakley's propriety material, O matter, you'll receive lightweight wear in this flexible and durable frame. Unobtanium rubber details appear on the saddle-style nose pads and temples for extra grip and a comfortable fit. We also love the curved browline and sleek temples because they fit seamlessly with hats for long days spent under the sun.
Finally, Oakley PRIZM lenses will give you the boost you need to spot that bass on its bed. We recommend the PRIZM Shallow Water lens for sight fishing, but to see all lens color options, visit our PRIZM Lens Guide.
Oakley Split Shot Key Features
---
Costa Diego
Ventilation and increased airflow is the name of the game with the Costa Diego. With a reengineered spring hinge vent system, you'll get maximum airflow and fog prevention. Like the Costa Fantail PRO, you'll get the same performance details in this wrap-around frame: bio-resin, TR90 nylon build, hooding and side shields to prevent light leak, and hydrophilic rubber on the nose pads and temples ensure a secure fit. The Costa Diego is also leash-compatible, thanks to metal keeper slots.
In the Diego, we've got another impressive 580 lens recommendation for your sight fishing excursions, the Copper Silver Mirror. You'll get superior sun protection and contrast enhancement when wearing this Costa lens favorite.
Costa Diego Key Features
---
Wiley X Omega
If you're a fisherman with additional extreme hobbies, let us introduce you to the tough and high-performance Wiley X Omega. This ANSI-rated frame can withstand the most intense situations with style. Featuring the same TR90 construction as some of the other frames in the lineup, the Wiley X Omega guarantees comfort and protection. Shatterproof lenses are anti-fog, scratch-resistant, and available with Wiley X CAPTIVATE™ lens technology.
For sight fishing, we love the contrast-enhancing capabilities of the CAPTIVATE™ Bronze Mirror and CAPTIVATE™ Copper lenses. Click each one to read a full review!
Wiley X Omega Key Features
---
Smith Castaway
We'll avoid the cliché intro, as tempted as we are by this frame's name. The Smith Castaway is ready to hit the water for your next fishing trip. Premium Italian spring hinges provide a secure and comfortable fit, while Megol rubber nose pads and temple tips keep the frame in place. Smith's proprietary lens technology, ChromaPop, makes details pop by enhancing color and contrast and cutting glare. And the cherry on top? ChromaPop+ is made from NXT Trivex, which provides superior clarity and is lighter and thinner than traditional polycarbonate.
For sight fishing, we recommend the ChromaPop+ Polarized Bronze Mirror lenses. If you want to learn more about Smith's impressive lens technology, visit our ChromaPop Lens Guide!
Smith Castaway Key Features
---
Maui Jim Haleakala
When you're enjoying the great outdoors and our planet's waters, nobody does nature better than island-based Maui Jim. Starting in Hawaii, Maui Jim was inspired to bring the island's color to life while combatting intense glare. You'll experience your environment like never before thanks to Maui Jim PolarizedPlus2® lens technology. Blocking 99.9% of glare, PolarizedPlus2® lenses increase contrast, color, and depth perception by blending 3 rare earth elements.
As for the frame itself, you may even forget you're wearing the Haleakala due to its unbelievably lightweight nylon construction. Adjustable rubber nose pads allow you a custom fit that stays in place. Anti-corrosive pin hinges provide extra security and promote longevity. This frame was made to last and we're sure that once you give it a try, you'll never want to take them off.
For sight fishing, our favorite lens is the HCL Bronze for enhancing contrast and its versatility in all lighting conditions.
Maui Jim Haleakala Key Features
---
Maui Jim Local Kine
If you're wanting a frame that looks as good as it performs, the search ends here. The Maui Jim Local Kine is one of the most stylish frames in our lineup, with unique color combinations that will surely turn heads. If only looking this good would work on those fish, too...
But the Local Kine's lenses have you covered! After all, the tables are turned when sight fishing. It's up to you to spot your next catch and make the first move. PolarizedPlus2® lenses will give you the contrast you need while the lens material creates the optimal visual experience. The Local Kine utilizes Maui Jim's SuperThin Glass, which is 20% lighter and thinner than standard glass, scratch-resistant, and has a hydro/oleophobic coating to keep water and oil at bay.
We recommend the Maui HT lens for your shallow fishing adventures in lower-light conditions. To see how this compares to our previous Maui Jim lens, read our blog on the HCL Bronze vs. HT.
Maui Jim Local Kine Key Features
Want even more frame recommendations? Check out our list below of 2020's lineup!
---
Best Polarized Sunglasses for Sight Fishing of 2020
Costa Tuna Alley
These Costa sunglasses are great for sight fishing thanks to all its exceptional features. They are constructed with heavy-duty TR-90 nylon frame material, integral hinges, and a patented ventilation system that works to let air flow through so you don't ever have to worry about your favorite pair of sight fishing sunglasses flying off your face at any time.
---
Costa Rincon
Costa 580 lenses were specifically designed by experts to enhance colors because standard sunglass lenses fell short. The lens' multi-patented technology manages light by: Absorbing Harmful High-Energy Blue Light (HEV, known to cause some eye diseases), Cuts haze and blur for greater clarity, In addition to 100% protection from UV light.
This technology in the lens works enhancing reds, greens, and blues, blocking harsh yellow light at 580 nm on the visible light spectrum boosts the amounts of red, greens and blues naturally, enhancing colors and contrast, sharper contrast and higher definition. Isn't it all you want when you are sight fishing?
Oakley Split Shot
The ultimate eyewear for sight fishing! First of all the Prizm™ lenses enhance color, contrast and detail for an optimized experience which works with HDPolarized technology minimizing glare. On top of that, the Plutonite™ lens material offers top UV Protection, filtering 100% of all UVA, UVB up to 400nm and some of harmful blue light.
You can get all those amazing traits featured in a lightweight comfortable frame with no-slip Unobtanium™ nosepad (to Increase grip with perspiration) which will provide you with the coziness to keep focused in what matters the most, your adventure.
---
Oakley Flak 2.0 XL
A lot of reasons make the Oakley Flak 2.0 XL the go-to pair of fishing sunglasses for a lot of professionals and amateurs; and it's because the XL edition offers a standard size frame with enhanced lens coverage, and every millimeter of the peripheral view is optimized with High Definition Optics™ in a durable yet lightweight design that takes performance to the next level and brings style along for the ride, while spotting your next big catch.
Oakley Turbine
This Oakley Polarized sunglasses made for sight fishing, will become your best "gadget in your tool box", since they are engineered to help you identify structure and drop offs, and cut through glare in freshwater environments. PRIZM Shallow Water Polarized are made especially to help you see below the surface to reveal structure, also to enhance underwater contrast to sight the toughest fish in lakes, rivers, and flats and block glare with HDPolarized technology. All these qualities combined will keep the whites vibrant for you to see the flash of fish. The boost in contrast will make finding hiding spots and tracking fish easier. Boom!
---
Maui Jim Peahi
When you are born on the beaches of Maui, you know a thing or two about water and everything that goes on in there. That's why Maui Jim also knows the importance of enhancing the world's true vivid colors in detail while shielding your eyes from glare and harmful UV with their PolarizedPlus2 Technology. These Maui Jim Peahi Polarized Fishing Sunglasses will complete your incredible sight fishing experience with an ultra-lightweight wrap around frame style that'll provide long-lasting wear, an all-day comfortable fit and another element of protection.
---
SMITH Guides Choice
The Smith Guide's Choice is a great selection as your sight fishing sunglasses. They feature a lightweight frame material plus hydrophilic megol nose and temple pads to keep them tight on your face. Experience Smith's Guide Choice sunglasses with their Techlite glass polarized lenses or Chromopop+ polarized technology for optical clarity while on your days on the water.
---
Kaenon Anacapa
Designed in California, made in Italy, these pair of Kaenon Anacapa Polarized Fishing Sunglasses will be your best sight fishing buddy, providing the best protection for your eyes with a wraparound fit to shield from wind and most importantly, the sun reflecting off the water. The Anacapa offers a lightweight, flexible TR-90 frame material that will not corrode from salty air or water. Also, they feature hypoallergenic Recessed Variflex nose pads to provide a comfortable fit.
---
Wiley X Nash
The Wiley X Nash has all the essential features to make them a great option for sight fishing adventures. Lightweight frame, double-injected rubber temples for non-slip comfort, Shatterproof Selenite™ Polycarbonate lenses that provide glare reduction without distorting colors which perform excellent in bright/glare conditions. Also, the Wiley X Nash provide 100% UVA/UVB protection with distortion free clarity so no fish will "camouflage" under the water.
---
Prescription Polarized Sunglasses for Sight Fishing
Need prescription polarized sunglasses for sight fishing? Done. When you shop with us, you'll find video guides and tooltips throughout the build process as you customize the perfect pair. An answer to all your questions is at your fingertips, and if you want to chat with an expert, give us a call! We'll put you in touch with one of our friendly in-house opticians who can help you build your prescription fishing sunglasses.
Ditch risky online shopping with the See Better Guarantee. Try your sight fishing sunglasses for 45 days. If you're not 100% satisfied, send them back. Get a full refund, exchange, or credit towards a better pair. And return shipping? Covered. Get the best polarized sunglasses for sight fishing at SportRx today!