Has sunlight reflecting off water or a nearby car ever blinded you? It's called glare, and it ranges from annoying to dangerous. Luckily for you, there is a solution. We're here to explain what polarized sunglasses are and how they work.
Table of Contents
1. What Are Polarized Lenses?
2. How Do I Tell If My Sunglasses Are Polarized?
3. When Do I Need Polarized Sunglasses?
4. What Are the Best Polarized Sunglasses?
5. Can I Get Polarized Lenses in Prescription?
6. Prescription Polarized Sunglasses at SportRx
---
Watch Sunglass Rob briefly explain what polarized sunglasses are, or read on to learn more.
---
What Are Polarized Lenses?
The sun emits vertical wavelengths of light, but when those wavelengths hit shiny surfaces such as water or metal, they rebound at a 90-degree angle and create horizontal, or polarized, waves. To make a polarized lens, sunglass manufacturers apply layered film to the lens surface in vertical stripes that allow vertical, but not horizontal, waves to pass through. Think Venetian blinds, but for sunglasses.
So if glare bothers you even with sunglasses on, you should consider polarization. While a darker lens reduces polarized glare, it can't get rid of it.
See the difference:
Pretty striking, right? That's the magic of polarization.
---
How Do I Tell If My Sunglasses Are Polarized?
An easy way is to grab your phone, laptop, tablet, or your nearest electronic screen. Look at it with sunglasses on, and turn the screen from side to side. Polarization will often make digital display screens look odd: you might see a rainbow on the screen, a slight 3D effect, or it will look completely black. This is because things like smartphones and car dashboards already have a polarized filter on them. Putting two polarized filters over each other causes them to cancel one another out.
In the SportRx showroom, we have a special display where the video playing on it is only visible with polarized lenses. Unfortunately, this trick only works if you're viewing the screen in person. If you try this at home, the white screen will still only be a white screen. You'll just have to take our word for it, or come and visit the showroom for yourself!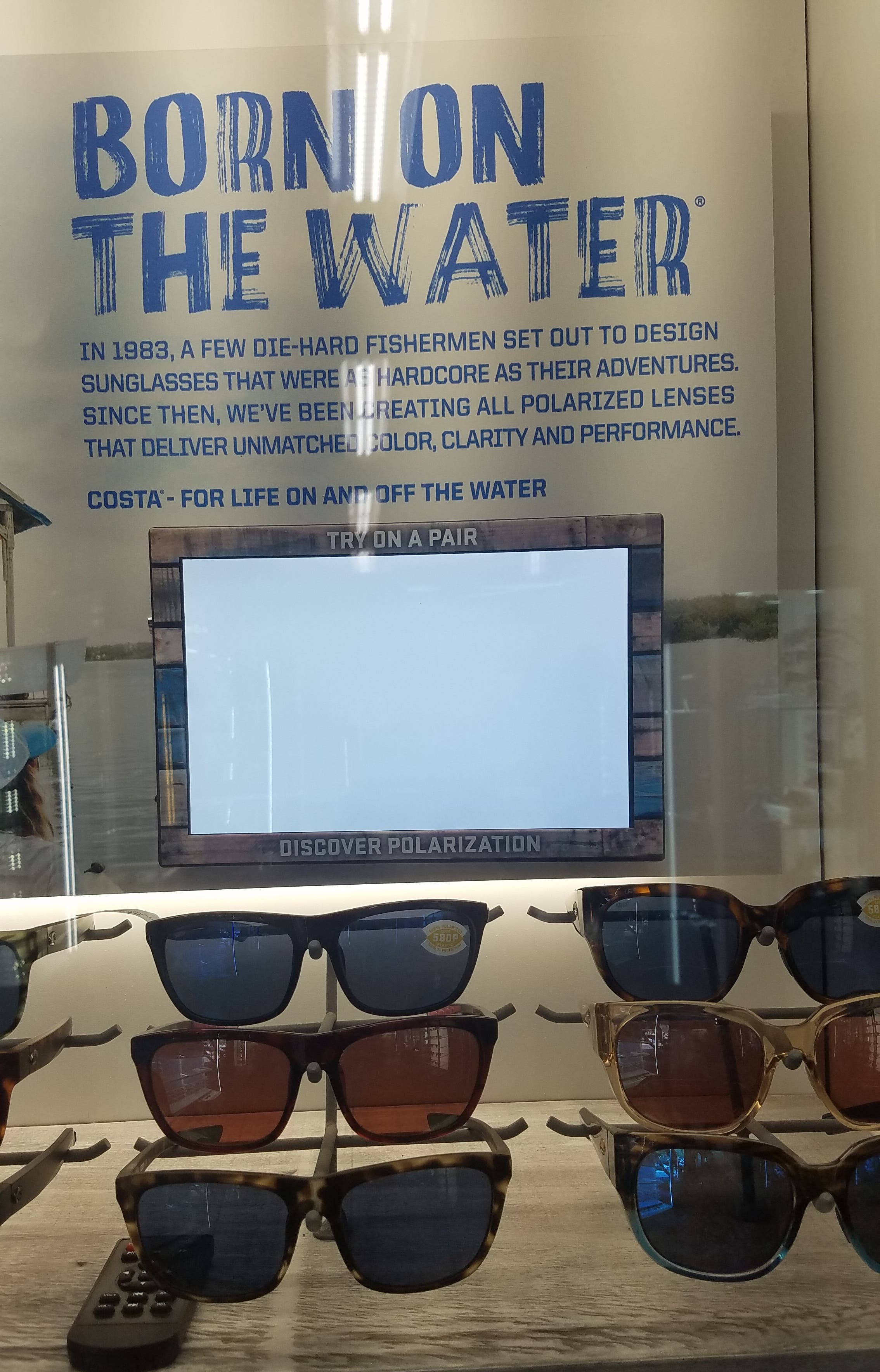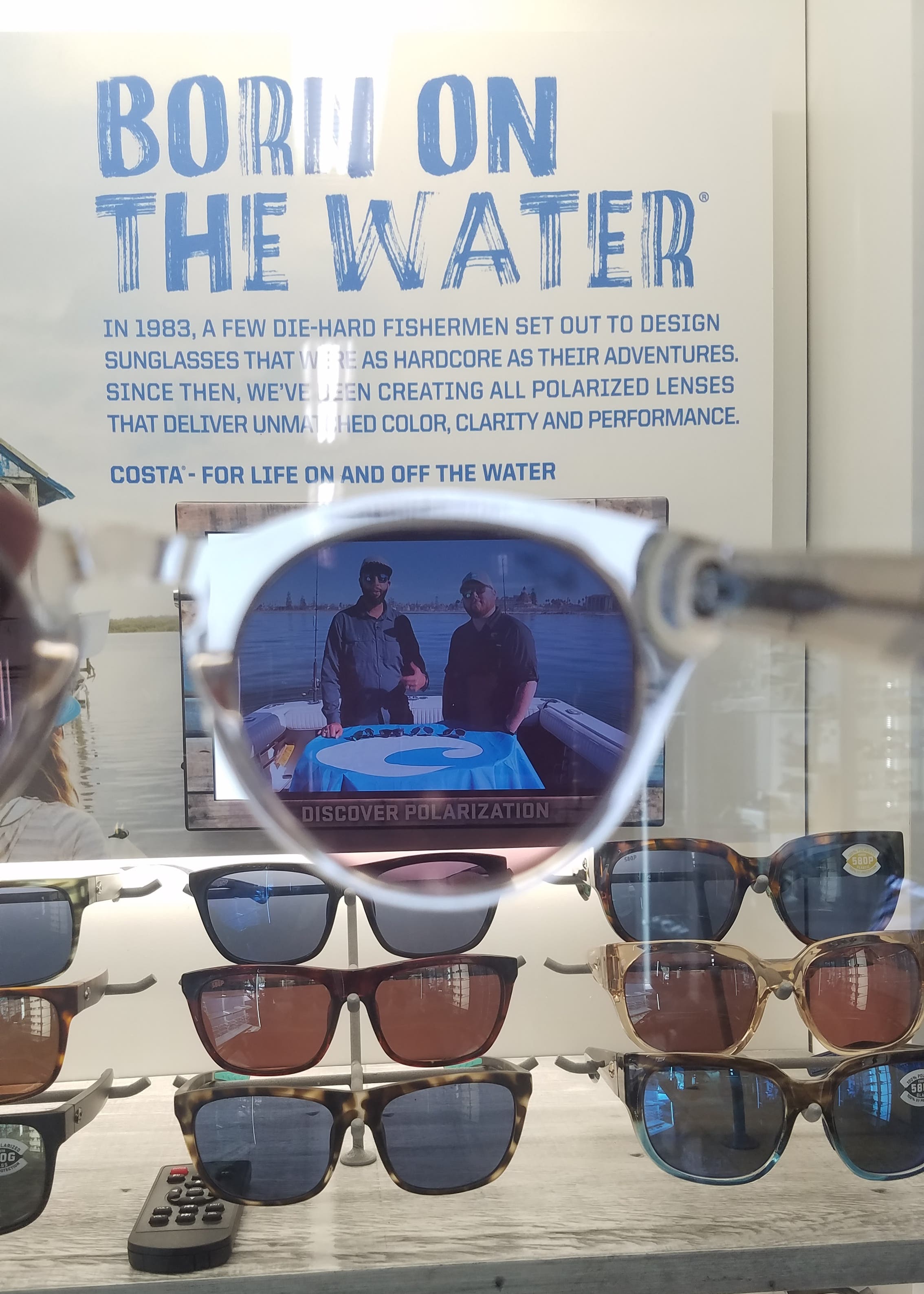 ---
When Do I Need Polarized Sunglasses?
While polarized lenses are great, we don't recommend them for everything. Below are the most common sports people ask us about, but if you're still not sure, feel free to get in touch!
Fishing and Sailing
When you do sports on or near water, such as fishing or sailing, you can't get by without polarized lenses. Water reflects 100% of UV light right back at your eyes, making the surface nearly impossible to see without polarization.
Baseball
We don't recommend polarized lenses for ball sports in general, but especially not baseball (or softball). In these sports, bright, direct sunlight is your issue. Instead of polarized, mirror coatings and the right lens tint help more. Polarization can also affect your depth perception and make it harder to judge exactly where the ball is.
Cycling
Polarized lenses can go either way for cycling. For the full answer, check out our blog post on Polarized Cycling Lenses.
Mountain Biking
With mountain biking, contrast is probably more of an issue than glare, so amber or rose-copper lenses are popular solutions to help you maneuver in and out of trails and shadows. There's not much causing glare in a mountain biking environment, either.
Snowboarding and Skiing
Most snow goggles have partial polarization to reduce the blinding glare coming off snow. If you have complete polarization, it becomes almost impossible to distinguish between snow and ice.
Driving
There's a lot of glare on the road, usually from other cars. A polarized lens will help you navigate this tricky glare.
*Polarized sunglasses don't work with some digital dashboards. If you put them on and your dash blacks out, it's better to just go with a dark lens.
For more on the pros and cons, check out Are Polarized Lenses Worth It?
---
What Are the Best Polarized Sunglasses?
Almost every brand offers its own quality polarized lens technology. If you're on the lookout, check out some of our Best Of roundups below.
---
Can I Get Polarized Prescription Lenses?
Yes! Polarization is compatible with most types of Rx lenses. If you're not sure, feel free to reach out to one of our opticians.
---
Prescription Polarized Sunglasses at SportRx
Need prescription polarized sunglasses? Done. When you shop with us, you'll find video guides and tooltips throughout the build process as you customize the perfect pair. An answer to all your questions is at your fingertips, and if you want to chat with an expert, Contact Us. We'll put you in touch with one of our friendly in-house opticians who can help you build your prescription polarized sunglasses.
Ditch risky online shopping with the See Better Guarantee. Try your sunglasses for 45 days. If you're not satisfied, send them back. Get a full refund, exchange, or credit towards a better pair. And return shipping? Covered. Get your pair of prescription polarized sunglasses at SportRx today!