Have you ever been blinded by sunlight reflecting off of water or a nearby car? This effect ranges from annoying to dangerous, but there is a solution—polarized lenses cut out glare. Watch Sunglass Rob briefly explain what polarized sunglasses are, or read on to learn more.
Table of Contents
1. How do Polarized Sunglasses work?
1.1. How to Tell if Your Sunglasses are Polarized
2. When do I need Polarized Sunglasses?
3. The Difference Between Polarized and Transitions
4. What are the Best Polarized Sunglasses?
4.1. Lens Tech
4.2. Costa
4.3. Maui Jim
4.4. SMITH
5. Prescription Polarized Sunglasses at SportRx
---
How do Polarized Sunglasses work?
The sun emits vertical wavelengths of light, but when those wavelengths hit shiny surfaces such as water or metal they rebound at a 90-degree angle and create horizontal, or polarized, waves. Polarized sunglasses consist of layered film applied to the lens surface in vertical stripes that allow vertical but not horizontal waves to pass through, similarly to Venetian blinds.
So if you're not seeing more clearly through sunglasses, you could be missing out. Darkening your lenses doesn't necessarily eliminate the issue either—lens tint reduces polarized glare to an extent, but it can't get rid of it.
See the difference:
Pretty striking, right? Not only is the contrast enhanced, the surface of the water is much more visible. That's the magic of polarization.
---
How to Tell if Your Sunglasses are Polarized
An easy way is to grab your phone, laptop, tablet, or whatever the nearest electronic screen is, look at it with sunglasses on, and turn the screen from side to side. Polarization will often make digital display screens look odd: You might see a faint rainbow on the screen, a slight 3D effect, or it'll look completely black. Depending on your sunglasses and the angle of the screen, you may not be able to see the display well. However, this problem is becoming less and less apparent as polarization technology gets better and better.
In the SportRx showroom, we have a special display where the video playing on it is only visible if you're wearing polarized sunglasses. Unfortunately, this trick only works if you're viewing the screen in person—if you put on a pair of polarized sunglasses and look at that picture below, the white screen will still only be a white screen. You'll just have to take our word for it, or come and visit the showroom for yourself!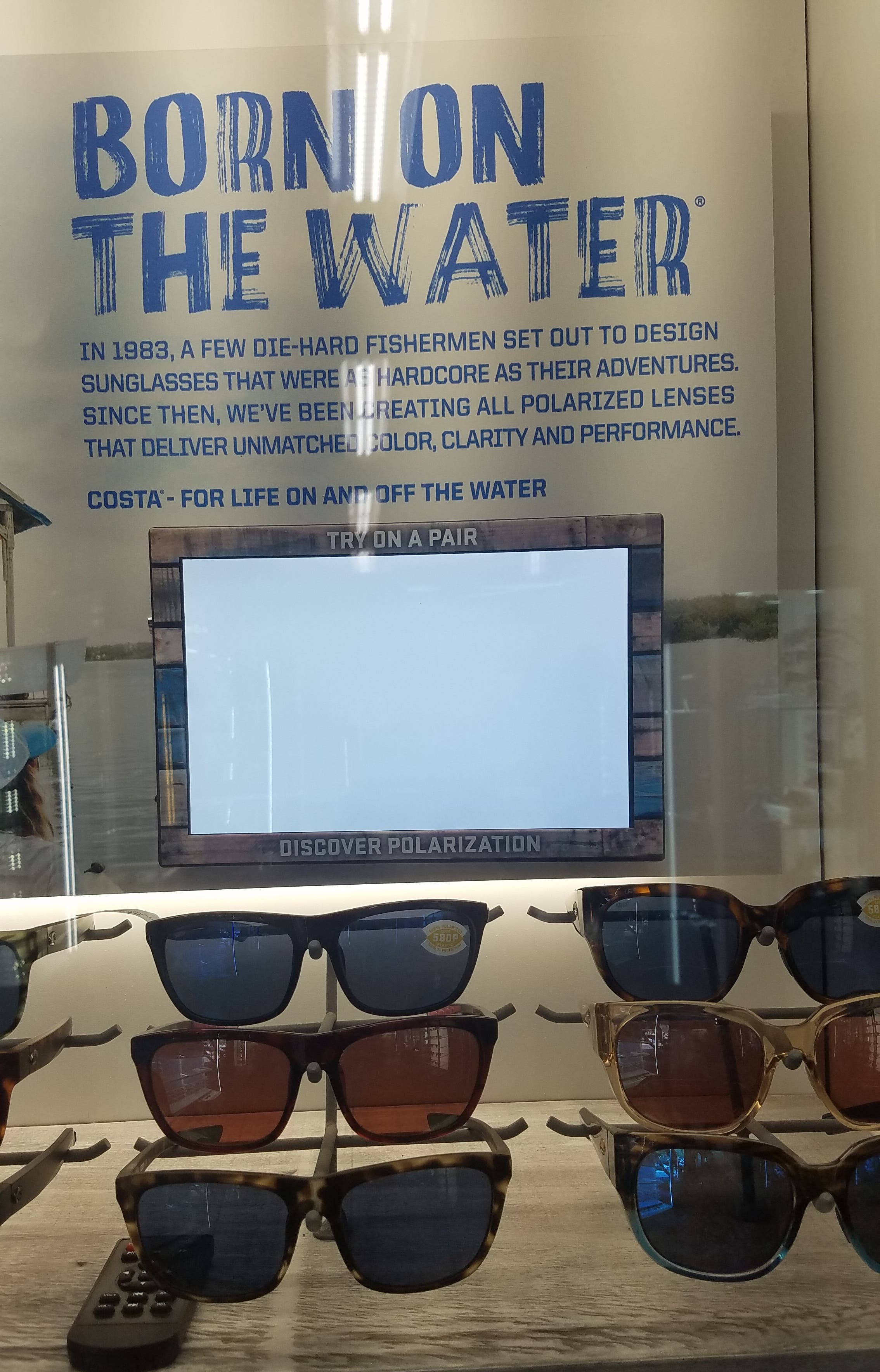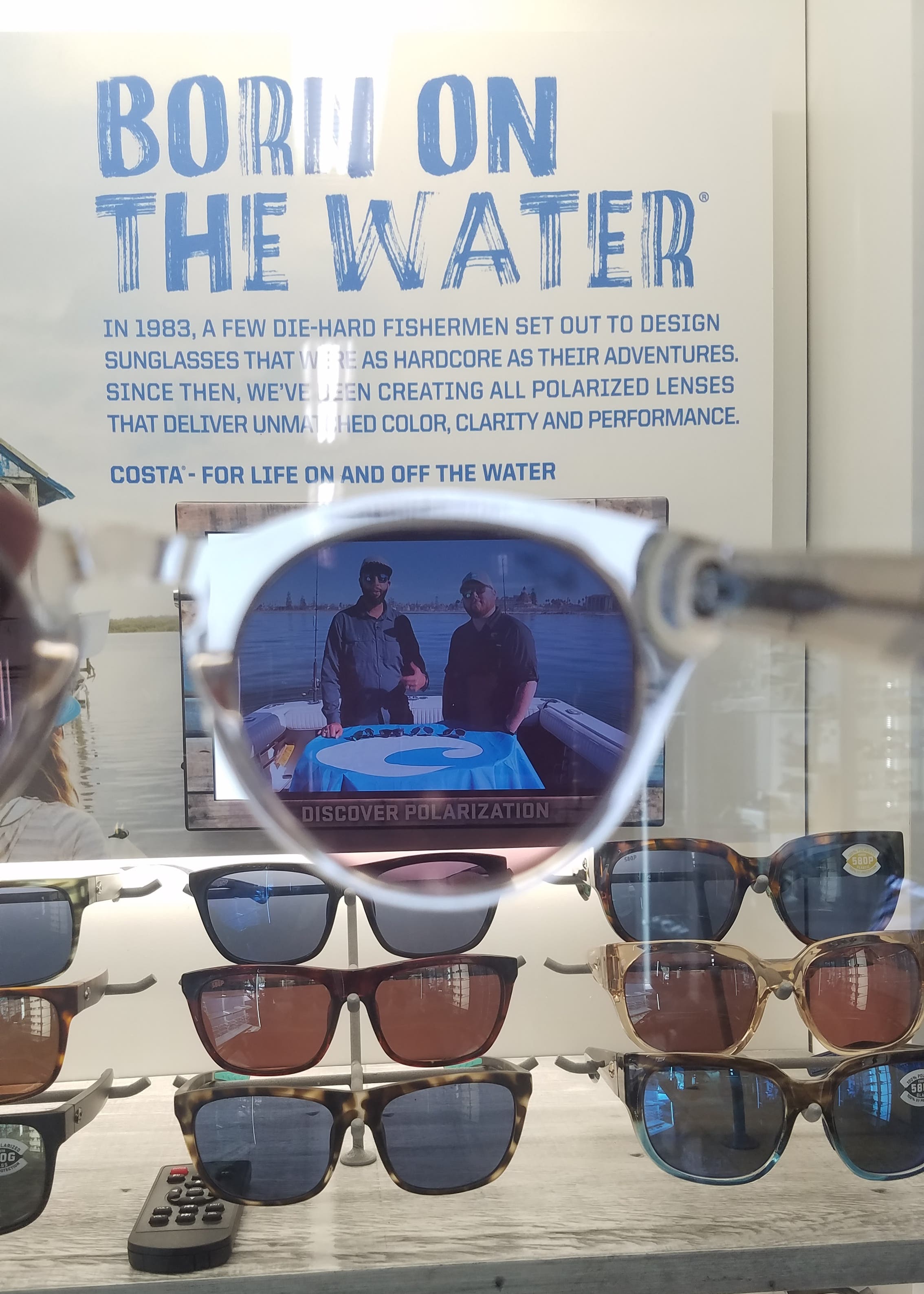 ---
When do I need Polarized Sunglasses?
The truth is, polarized sunglasses are not optimal for every sport or activity. We've compiled a shortlist of the most common, but if you're still not sure, feel free to ask!
Fishing and Sailing
When you do sports on or near water such as fishing or sailing, polarized sunglasses are essential. Reflected sunlight off the ocean affects your ability to spot fish or other underwater objects, but with a polarized lens you'll be able to more easily see through the reflective surface to what's beneath.
Baseball and Golf
Polarized lenses are not recommended for ball sports in general, but especially not baseball and golf. In these sports, glare is not the problem so much as bright, direct sunlight. Thus, mirror coatings and the right lens tint do more to enhance vision. Polarization can also affect your depth perception and thus make it harder to judge exactly where the ball is in relation to you.
However, polarization affects everyone differently, so some prefer polarized lenses with their golfing or baseball sunglasses. Read more in our baseball sunglasses buyer's guide or our golf sunglasses buyer's guide.
Cycling and Mountain Biking
Polarized lenses are also not recommended for cyclists or mountain bikers, due to potential difficulties with reading your bike computer and spotting obstacles such as upcoming oil slicks—as well as the impact on depth perception. With mountain biking, contrast is probably more of an issue than glare, so amber or rose-copper lenses are popular solutions to help you maneuver in and out of trails and shadows.
However, most bike computers nowadays work with polarized lenses and some cyclists also prefer less glare, especially if they often bike near water. You'll need to determine whether it's glare you're fighting, or brightness and contrast. Want more advice? Check out our blog post on whether to get polarized cycling sunglasses here.
Snowboarding and Skiing
This is a tricky one. If you've ever been out on the slopes, you've probably noticed that sunlight reflecting off of snow can be blinding to look at. Polarization helps to cut that back and additionally reveal shadows and texture on the snow, but it becomes almost impossible to distinguish between snow and ice. In this case, we suggest you try both and see which one works out better, or read our ski/snowboard goggles buyer's guide here.
Everyday Life
Generally, polarized lenses are a good choice for a casual lifestyle. When you go sightseeing, walking on the beach, or driving, you've probably been unable to see in front of you because of the sun. Glare can be dangerous, especially when it comes to driving.
---
The Difference Between Polarized and Transitions
Some customers get confused seeing the choice between polarized and Transitions lenses on our "Lens Features" order page.
To put it simply, polarized lenses block glare, while Transitions are a special type of lens that gets darker in sunlight. Some Transitions are also polarized, and you can read more about the different types of Transitions here.
---
What are the Best Polarized Sunglasses?
There are various styles of sunglasses for any activity you can name. If you live an active lifestyle, you can choose wrap sunglasses for more coverage. But if you like just hanging out in the sun, consider a more casual, classic look.
As far as which brand to pick, we have three that we think offer the best polarization: Costa, Maui Jim, and SMITH; plus three frames from each.
---
Lens Tech
Before we get to the frames, we'll explain each brand's lens tech.
Costa 580
All of our Costa sunglasses come with authentic, polarized 580 lenses that enhance color, absorb UV rays and harmful blue light, and block out 99.9% of glare. Made for being on the ocean, Costa lenses are capable of cutting even the harshest glare, and you can learn more about them here.
---
Maui Jim PolarizedPlus2
All polarized Maui Jim sunglasses come with PolarizedPlus2 technology to eliminate 99.9% of glare, enhance natural colors, and block 100% of UV light. Built to handle the Hawaiian sun, Maui Jim sunglasses are likewise capable of handling the brightest sunlight and showing you the best of the world's beauty.
---
SMITH ChromaPop
SMITH's ChromaPop technology filters out two specific wavelengths of light that cause color confusion. True to their name, these lenses make colors pop and provide clearer visibility, all while cutting glare. With numerous layers of coatings as well as the polarization itself, you can't go wrong with ChromaPop. Read more about this incredible tech here.

---
And now, here are our best picks from each brand.
Costa Cape
Are you into fishing, sailing, or any other activities near the water? Bring these outstanding sunglasses! The wide lenses and wraparound frame of the Costa Cape provide good coverage while blocking sunlight and glare. These shades also feature Hydrolite nose and temple pads that prevent slippage during movement.
---
Costa Waterwoman
These oversized women's sunglasses are built solidly, with a bio-resin nylon frame boasting a cool two-tone look, Hydrolite grips on the nose pads and temples, and integral hinges. This is a narrow-fitting, medium-sized frame with angled temples and square lenses. Built for the woman who lives an active lifestyle, you can take the Costa Waterwoman with you wherever you go. Watch our review of the Waterwoman here.
---
Costa Canaveral
Looking for more everyday sunglasses you can wear with any type of clothing? The Costa Canaveral is a pair of aviator sunglasses with a slightly angled lens shape to make a round face slimmer, though anyone can rock this classic style. The flexible spring hinges with a titanium front and beta-titanium temples make these stylish sunglasses almost unbreakable.
---
Maui Jim Kawika
These unisex Maui Jim sunglasses combine a classic rectangular look with new technology. The metal and nylon frame with MauiPure lenses make these shades both lightweight and durable, while their polarization quality is unmatched. Wear the Kawika out on the beach or in your car, but either way you're sure to be satisfied.
---
Maui Jim Red Sands
Named for the rare red sand beach in Maui, the Maui Jim Red Sands are likewise an uncommon blend of lightweight, durable, and stylish. Choose from a variety of frame and lens options; any way you choose these will stay on your face with their adjustable nose pads and temple grips. The Red Sands additionally offer a bi-gradient lens in Maui Jim's MauiPure technology for a shatter- and scratch-resistant material. Also available in readers.
---
Maui Jim World Cup
The Maui Jim World Cup offers superior protection from sunlight and is one of our picks for the best polarized fishing sunglasses. With a comfortable, 8-base nylon frame and grips on the nose pads, these sunglasses will stay on your face all day long. The bi-gradient lens is made of Maui Jim's SuperThin Glass, which is 20-32% lighter than standard glass and offers the clearest optics possible. Also available in readers.
---
SMITH Outlier 2
A winner of our 2018 REXY Awards, the SMITH Outlier 2 is an updated take on Smith's Outlier style. Built with eco-friendly Evolve material and Megol rubber nose pads and temples, these shades will stay in place while providing you with outstanding clarity and color. Also available in an XL size.
---
SMITH Guide's Choice
The SMITH Guide's Choice is the ultimate for those who crave coverage in a pair of sunglasses. Between this frame's wide temples and 8-base wrap design, you can be sure no UV light is getting through. The Guide's Choice also features megol rubber pads on the nose and temples to prevent slippage as well as spring hinges to ensure a comfortable fit even if you have a larger head. Also available in readers.
---
SMITH Lowdown 2
Ending our list is the SMITH Lowdown 2, a versatile frame with a prominent nose bridge and a flatter 4-base frame. Made from lightweight Grilamid TR90 and featuring megol rubber nose pads, you'll hardly even notice these shades are there. Available in slim and XL size, and you can learn more in our review of the Lowdown 2 here.
---
Prescription Polarized Sunglasses at SportRx
So you want polarized sunglasses and are all ready to buy. But wait, you think. Can I get polarized lenses in my prescription?
The answer is yes! Polarization is applied as a film on the lens, so it's compatible with your prescription.
Need prescription polarized sunglasses? Done. When you shop with us, you'll find video guides and tooltips throughout the build process as you customize the perfect pair. An answer to all your questions is at your fingertips, and if you want to chat with an expert, Contact Us. We'll put you in touch with one of our friendly in-house opticians who can help you build your prescription polarized sunglasses.
Ditch risky online shopping with the See Better Guarantee. Try your sunglasses for 45 days. If you're not satisfied, send them back. Get a full refund, exchange, or credit towards a better pair. And return shipping? Covered. Get your pair of prescription polarized sunglasses at SportRx today!