If you haven't experienced Oakley PRIZM Lens Technology, you are missing out. You are probably wondering 'What is so great about PRIZM?' Oakley PRIZM Lens Technology works by manipulating the light spectrum and boosting contrast to make everything in your environment more vivid and colorful. And now there are both polarized and non-polarized PRIZM lens offerings. The combination of Oakley HDPolarized lens tech with PRIZM really is the best of both worlds. Sunglass Rob and Andrew fill you in on all the details below.
What is PRIZM Polarized?
Polarized is a buzzword in the sunglass world. It probably sounds familiar, but do you know what it really means? First off, the main benefit of a polarized lens is glare reduction. Glare is created when the vertical light rays from the sun bounce off a surface and combine with horizontal light rays which is why it is so blinding. It mostly found on or near water and reflecting off car bumpers. Think about the last time you were stuck in traffic without sunglasses on a bright and sunny day and you will know exactly what we are talking about. When functioning properly, a polarized lens will cut out this intense glare, making it easier for you to see while offering added protection from the sun.
PRIZM vs. Polarized
People tend to think that a polarized lens is always better than a non-polarized lens, but this is not always the case. It really depends on what activities you are using your sunglasses for. Many of the PRIZM Sport lenses are not polarized because polarized lenses have been known to throw off depth perception. Needless to say, maintaining hand-eye coordination and depth perception is essential part of many sports. However, a polarized lens is suitable for water sports such as fishing which is why PRIZM Deep Water and Shallow Water are polarized. Polarized lenses are most commonly recommended for everyday activities in sunny environments. All of the PRIZM Everyday lenses are offered in both polarized and non-polarized depending on your specific needs.
PRIZM Polarized vs HDPolarized
To clear the air, all PRIZM Polarized lenses have HDPolarized technology. Oakley HDPolarized lens technology is unique to Oakley due to the proprietary manufacturing process. Oakley HDPolarized lenses are so successful at fighting glare because they are made as a single pair to guarantee the axis of polarization is centered across both lenses. Other brands manufacture their lenses at different times which throws off the axis of polarization and lets more glare pass through the lens. All Oakley Authentic HDPolarized lenses reduce 99% of reflective glare. Another factor that sets Oakley apart is how every Oakley Polarized lens is produced as one, comprehensive single-layer. Some brands sandwich a polarized filter between layers of the lens but this reduces optical clarity. Oakley Authentic lenses guarantee maximum clarity and 100% UVA, UVB, and UVC protection.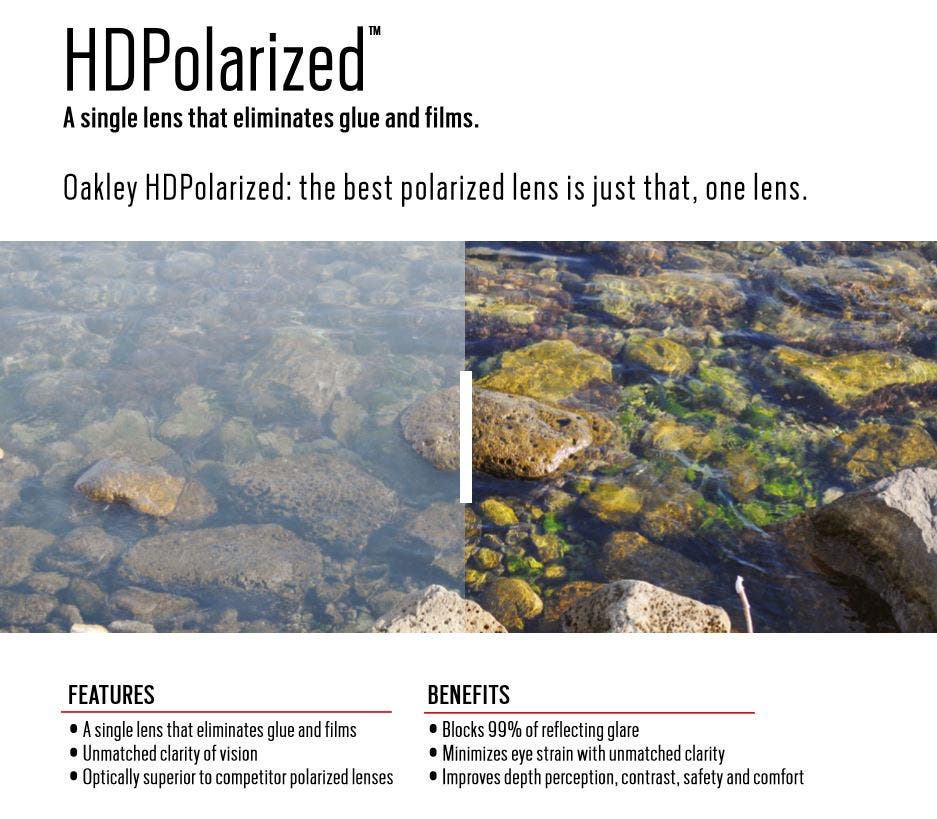 Oakley PRIZM in Prescription at SportRx!
Need prescription Oakley PRIZM Sunglasses? Done. When you shop with us, you'll find video guides and tooltips throughout the build process as you customize the perfect pair. An answer to all your questions is at your fingertips, and if you want to chat with an expert, Contact Us. We'll put you in touch with one of our friendly in-house opticians who can help you build your prescription Oakley PRIZM Sunglasses.
Ditch risky online shopping with the See Better Guarantee. Try your sunglasses or goggles for 45 days. If you're not satisfied, send them back. Get a full refund, exchange, or credit towards a better pair. And return shipping? Covered. Get your pair of prescription Oakley PRIZM Sunglasses at SportRx today!