Oakley PRIZM Jade Snow lens is out of this world! The futuristic coloring creates almost a rainbow-like effect, illustrating different colors depending on the angle you're looking at. Basically, these Oakley Snow Goggles are all rainbows and butterflies (sorry, I couldn't resist). Check out our team's on-slope review of the Oakley PRIZM Jade snow lens:
Oakley PRIZM Jade is categorized in the middle of Oakley's PRIZM Snow lens spectrum. This PRIZM lens has a wide range of functionality and work in many different weather conditions- engineered for snow and shine. The light transmission is 17-20% and the contrast is increased. These goggles have rose base color to boost contrast We have a complete Oakley PRIZM lens guide that explains exactly how it works. The Jade is scientifically engineered for both sunny and cloudy days, so you can use them regardless of the weather or environment!
We also have a separate review comparison of PRIZM Jade vs PRIZM Sapphire and even PRIZM Jade vs PRIZM Torch. These comparison reviews will give you a really good idea of how all the PRIZM Snow all-condition lenses stack up against one another.
---
Oakley PRIZM Snow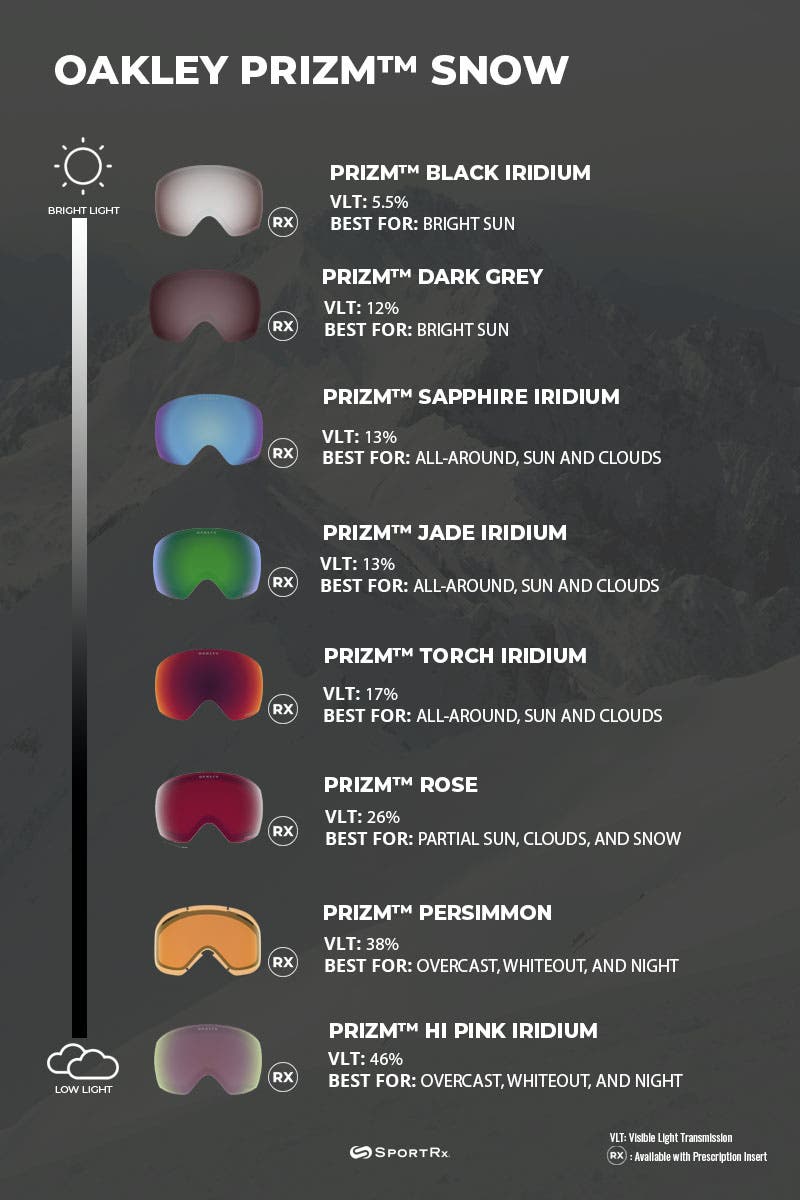 Prescription Oakley PRIZM Jade Goggles Online at SportRx!
Oakley PRIZM Jade is a very a versatile lens and can be perfect for whatever weather conditions are thrown at you. This lens option eliminates the need to switch lenses when the conditions change. And best news yet; experience PRIZM Jade with prescription goggle inserts. Do you want these goggles in your future? SportRx sells all of the PRIZM Snow lens technology and our opticians can perfect them to any prescription. Contact an expert optician at SportRx now to find your prescription Oakley snow goggles!