Oakley is known for disruptive designs and superior technology for a one of a kind product. For the ski and snowboard lovers, Oakley Flight Deck Goggles are a must-have. The Flight Deck has the peripheral vision you need with the boost in contrast and color that will increase your confidence when you are on the mountain.
The Flight Deck is so great that we thought it deserved another review! Check out the video above as Sunglass Rob along with Kevin and TJ of Snowboard Pro Camp break down what makes the Oakley Flight Deck so amazing. We also have a review on how to change the lenses on the Flight Deck and Flight Deck XM.
Oakley Flight Deck
Flight Deck XM
What You Get With Your Oakley Flight Deck Goggles:
Spherical Lens- A spherical lens gives you slightly better optics and a wider peripheral view than a cylindrical lens. this shape also offers more room between your face and the lens to reduce chances of fogging. See how to easily interchange lenses on your Flight Deck.
Rimless Design- With no rim there is nothing to get in the way of your line of sight. This also gives you an enhanced peripheral and upward and downward view.
PRIZM Lens Technology- PRIZM Snow lenses give you the contrast needed to see every little detail on the mountain. This makes for a safer and more enjoyable riding experience.
Dual-pane Lenses- Having two layers of lens helps to balance the outside and internal temperatures and reduces any chance of fogging.
Anti-Fog Coating- All Flight Decks come standard with anti-fog coating on the inside of the goggle lens.
Triple-Layer Foam- This is crucial for a proper seal around the edges of the goggles. With three layers of anti-microbial foam it is also very comfortable to be worn for extended periods of time.
Fit- The Flight Deck is a large goggle made to fit someone with a larger head or anyone searching for an oversize look. There is also a Flight Deck XM that has more of a medium fit. You can check out the difference between the Flight Deck and Flight Deck XM in our review. If you are in need of more padding around your nosebridge, the Flight Deck is available in asian fit.
Oakley PRIZM Snow Lenses
The innovation of Oakley PRIZM Snow lenses make this goggle even more awesome. Based on decades of color science research, Oakley patented the PRIZM Lens technology to provide unprecedented control of light transmission resulting in colors precisely tuned to maximize contrast and enhance visibility. This is possible through an emphasis of specific wavelengths along the color spectrum by filtering some others. Optimizing the contrast and fine-tuned vision will give you a level of detail that you cannot get with the naked eye. This will also enable you to ride in a wider range of lighting conditions, decreasing the need to switch lenses as conditions change.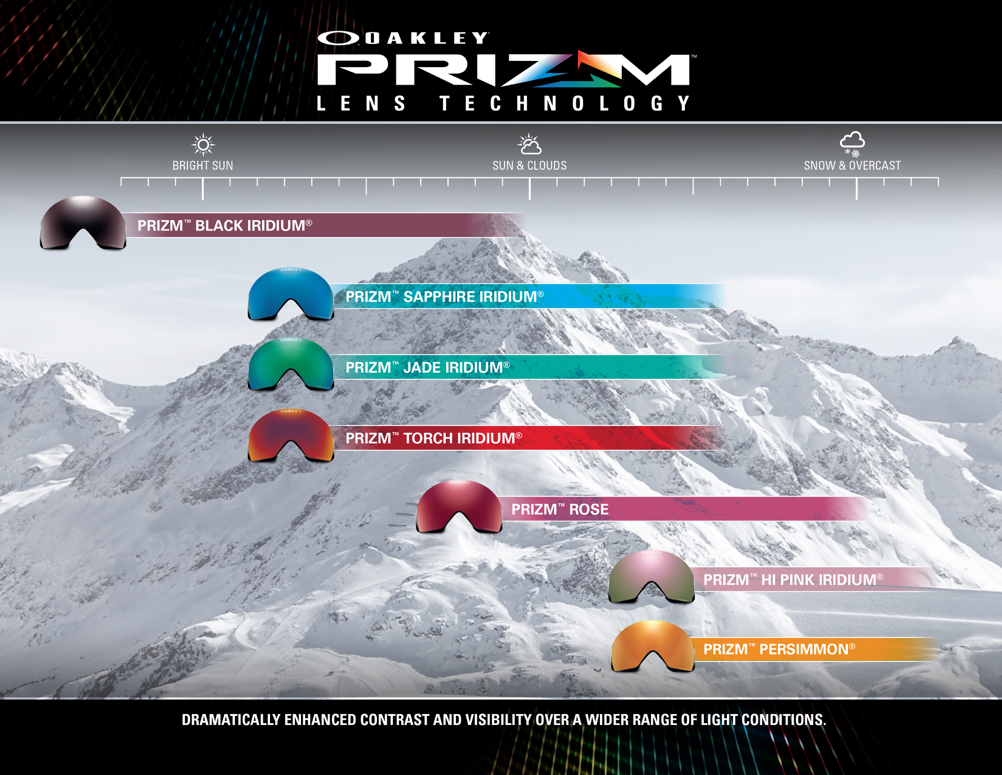 Prescription Oakley Flight Deck in Prescription at SportRx!
In a nutshell, Oakley Flight Deck PRIZM Goggles stand out from other goggles with three main features. First, the snug foam fit will prevent air entry. Second, the rimless and spherical lens maximizes peripheral vision. And last, it has the Oakley PRIZM Lens technology that increases contrast and adds saturation. Once you try the Oakley Flight Deck, you will never be going back to sub-par goggles. And if you need it in prescription, our certified opticians have you covered! Contact Us with any questions about the Oakley Flight Deck or other Oakley snow goggles.