Founded and headquartered in Lahaina, Maui, Maui Jim is inspired by the vibrant color in the world around us. Their sunglasses are specifically engineered to combat harmful rays from the sun while harnessing its light to improve the human experience. Maui Jim revolutionized a polarized lens that makes the most of long hours fishing under the sun. This is vital for fishing sunglasses because they must be polarized. When it comes to Maui Jim Polarized Fishing Sunglasses, you're getting the best of the best.
Table of Contents
1. What to Look for in Maui Jim Fishing Sunglasses
1.1. Frame Technology
– Coverage
– Frame Materials
– Fit
1.2. Lens Technology
– Polarization
– Lens Materials
– Color Enhancement
2. Best Lenses for Your Environment
3. Our Top Picks for Maui Jim Fishing Sunglasses
What to Look for in Maui Jim Fishing Sunglasses
Since fishing is one of the few sports that requires sunglasses as an essential tool, it's important to understand the various features that are offered and which of those features will best complement the environment you're in. This guide will dive into Maui Jim's unique frame and lens technologies, and how they fit their frames to be comfortable despite the elements.
Frame Technology
The 3 aspects of frame technology are coverage, materials, and fit. Every feature on a frame works to protect your eyes, keep your lenses in place, and be as comfortable as possible. They accommodate versatile fishing climates and allow you to be fully immersed in the experience.
Coverage
Standard in fishing sunglasses, Maui Jim utilizes an 8-base frame. Many things can distract you and interfere with your catch when you're out on the water, like sunlight, wind, or debris. The 8-base frame is designed to keep your eyes protected and your sunglasses in place so you can focus. Once you feel that tug on your line, things move fast. You don't have time to readjust your sunglasses or wipe your eyes. An 8-base frame features a full wrap to secure them to your head, and thicker temples that work as a shield for your eyes. Knowing your sunglasses are locked in place and your eyes are protected, you're ready to reel one in.
Frame Materials
Maui Jim uses a premium Nylon blend for their fishing sunglasses frames. This ensures they're not only lightweight, but extremely durable and able to adjust from one temperature to another without bending. Acetate frames, though light and flexible, cannot withstand extreme heat and will lose their shape. Fishing environments are tough on metal, causing it to rust and corrode. Nylon offers the most protection, coverage, and is the most versatile material.
Fit
Part of having an excellent fishing experience is being as comfortable as possible. If you don't take comfort into consideration when choosing your sunglasses, chances are you'll want to ditch them an hour into the trip and have to deal with blinding glare or an aching head. It starts with selecting the proper size, so the temples are snug but not digging into the sides of your head. Maui Jim equips their fishing sunglasses with nose pads to gently grip your skin so they are both secure and comfortable. The protective 8 base wrap and lightweight Nylon material also aim to keep you feeling comfortable all day long.
Lens Technology
For being such a small piece of equipment, lenses have an amazing amount of technology invested in them. Our vision plays a vital part in almost everything we do, so it's crucial to know which lens is best for you. Fishing sunglasses must be polarized, made from scratch resistant material, and have a lens color tailored for your environment. For more info, check out our Maui Jim Fishing Lens Buyers Guide.
Polarization
Maui Jim revolutionized a technology called PolarizedPlus2 that cuts through glare and protects against UV radiation. These factors are harmful to our vision; fatiguing our eyes, washing out color, and making details appear fuzzy, all of which work against a fisher. PolarizedPlus2 targets the most common horizontal glare that reflects from any flat, smooth, or shiny surface and has a Bi-Gradient mirror that prevents you from having to squint from bright light above and below the lens. Their patented Anti-Reflective Treatment is also worth mentioning, as it blocks "bounce-back" glare from behind you that distorts your vision. Polarization is essential for any pair of fishing sunglasses, but Maui Jim's technology goes beyond basic- they thought of everything!
Lens Materials

There are 4 different lens materials, each crafted with a specific function in mind:
SuperThin Glass – crispest optics available, thinner/lighter than standard glass, best scratch resistance
MauiBrilliant – optics nearly as clear as glass, but even lighter
MauiPure – most popular lens material, combines optics of SuperThin Glass with lightness of MauiBrilliant
Maui Evolution – leverages SuperThin Glass and polycarbonate to create a lightweight, impact resistant material
SuperThin Glass is an excellent option for fishing sunglasses because of its superior optical clarity and high level of scratch and solvent resistance. MauiBrilliant will work nicely as well because of its sharp clarity and lightweight feel. If you want to know a bit more about Maui Jim's polarized lenses, check out our blog here!
Color Enhancement
PolarizedPlus2 enhances the world's true vivid color by taking what our eyes naturally perceive and adding contrast and greater depth perception. How do they accomplish this? Their lenses have a blend of 3 rare Earth elements to bring out red, green, and blue light waves. It's these elements that increase the saturation of colors we see and filter the colors we can't see. This is ideal in any fishing setting because you have to navigate through every shade of blue and green and the colors beyond the surface and in the shadows. In the next section we'll visit the 4 different colors of PolarizedPlus2 lenses and the conditions they perform best in.

Best Lenses for Your Environment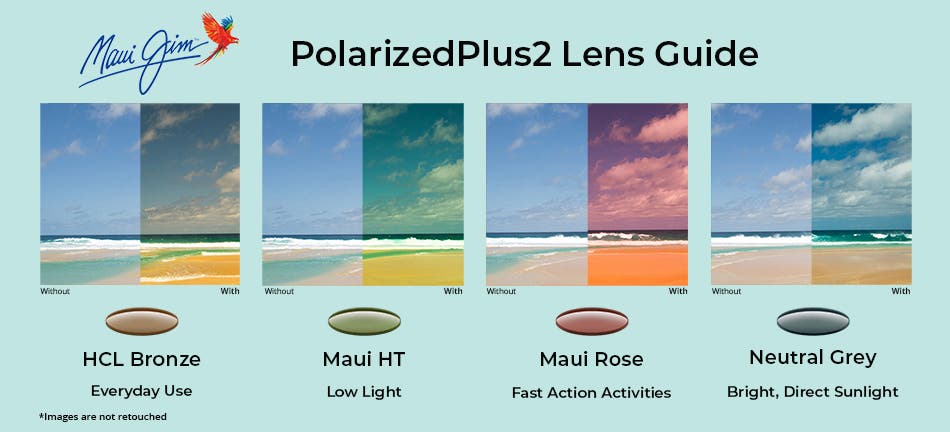 To optimize every condition, Maui Jim chose 4 different lens colors for their PolarizedPlus2 lenses:
Neutral Grey – bright, direct sunlight
HCL Bronze – everyday use
Maui Rose – fast action activities
Maui HT – low light
If you want to get the most out of your fishing sunglasses, you must differentiate between in-shore and off-shore fishing and pick the lens color accordingly.
Off-Shore
Off-shore fishing is typically deep sea where you're in direct sunlight and surrounded by all the blues of the open ocean. Sunlight bounces off the water creating an intense glare, making the fish harder to track as they're reeled to surface. To counteract these potential setbacks, select a grey base to filter the shades of blue and protect you from harsh sunlight. This way you can have a sharper optical experience and spot your fish with precision.
In-Shore
On the contrary, in-shore fishing takes place 30 meters deep or less, such as a in lake, river, saltwater bay, or flat close to shore. You're often surrounded by natural colors from trees, bushes, and, plants, which also provide shade that filters harsh light. All of these factors require a lighter lens to enhance contrast and brighten your environment so you can see into hiding places.
Our Top Picks for Maui Jim Fishing Sunglasses
Below, you'll find a few of our top picks, but if you want to see the complete list of our favorite Maui fishing frames, check out our blog!
Maui Jim World Cup
World Cup has everything you could want in your fishing sunglasses. They're made with a premium Nylon blend that is durable and lightweight, and feature an 8 base wrap for an undeniably comfortable and secure fit. For added comfort and grip they are fitted with nose pads. If you want to take your fishing trip to the next level, slip on World Cup and experience a sharper, more vivid world where you can spot fish better than ever before. The PolarizedPlus2 SuperThin Glass lens will have you forgetting you're even wearing sunglasses. They're so light and clear. Don't settle for washed-out, undefined color when you can be immersed in a rich, crisp environment with sunglasses innovated specifically for the fishing experience.

Maui Jim World Cup in Matte Black Rubber with Neutral Grey lenses
SFW: (142) An extra large fit for men and women
Frame material: Nylon
Lens Material: SuperThin Glass
Does the Maui Jim World Cup come in Prescription? Yes!
---
Maui Jim Equator
Next in line is one of Maui Jim's best fishing sunglasses of 2022! The Equator comes packed with a fantastic wrapped design, ideal for maximum sun coverage. When it comes to polarized fishing sunglasses, this frame delivers. You get Maui's standard high quality PolarizedPlus2 lenses in their optimal fishing tint, HCL Bronze. The flared lower edge of the lenses gives a little extra protection, while the saddle-style nose bridge, is fitted with embedded rubberized grips to keep these in place.
SFW: (137) Men's and women's large
Frame material: Nylon
Lens Material: SuperThin Glass
Does the Maui Jim Equator come in Prescription? Yes!
Get Maui Jim Prescription Fishing Sunglasses Online at SportRx
Need prescription Fishing Sunglasses? Done. When you shop with us, you'll find video guides and tooltips throughout the build process as you customize the perfect pair. An answer to all your questions is at your fingertips, and if you want to chat with an expert, Contact Us. We'll put you in touch with one of our friendly in-house opticians who can help you build your prescription Fishing Sunglasses.
Ditch risky online shopping with the See Better Guarantee. Try your sunglasses for 45 days. If you're not satisfied, send them back. Get a full refund, exchange, or credit towards a better pair. And return shipping? Covered. Get your pair of prescription Fishing Sunglasses at SportRx today!