Aloha! You've landed at the ultimate guide to Maui Jim aviator sunglasses! If you're wondering whether aviators are still in style, the answer is YES! The quintessential frames have managed to fly high over the years and still look effortlessly cool whether you're poolside, or on the beach. When it comes to Maui Jim aviator shades you can count on that same style to keep you protected from the sun whether you're actually visiting the brilliant shores of Hawaii or just trying to maintain that tropical state of mind.
Everything you need to know about Maui Jim Aviators
A. Do Aviator sunglasses look good on everyone?
B. What face shape is best with aviator sunglasses?
C. Can I pull off aviators?
D. Are Maui Jim aviators worth it?
E. Are Maui Jim aviators better than Ray Ban aviators?
F. Do I need polarized aviator sunglasses?
G. The Best Maui Jim Aviator Sunglasses
-Baby Beach
-Mavericks
-The Bird
-Cliff House
-Wiki Wiki
-Haleiwa
-Fair Winds
-Jim Castles
-Alelele Bridge
-Waterfront
H. Maui Jim Prescription Aviators Online at SportRx
---
Do Aviator Sunglasses look good on everyone?
When you think aviator sunglasses you probably picture Tom Cruise in Top Gun. But if you don't happen to be a dashingly good looking aviator yourself don't worry, aviators are great with almost any face shape. There happens to be a wide array of different Maui Jim aviator styles to choose from. Fortunately, this means that aviator sunglasses can indeed look good on everyone. It's simply a matter of determining your face shape and finding the right pair of aviators to match.
---
What face shape is best with aviator sunglasses?
Great news! Aviator sunglasses work with almost all face shapes. To determine your face shape you can simply refer to this guide below or check out our blog on face shape. If you have a square, oval, or heart shaped face you're ready to browse some stylin' Maui Jim aviators. If you happen to have a round face you can also find some less traditional aviator frames that have a square or cat eye shape.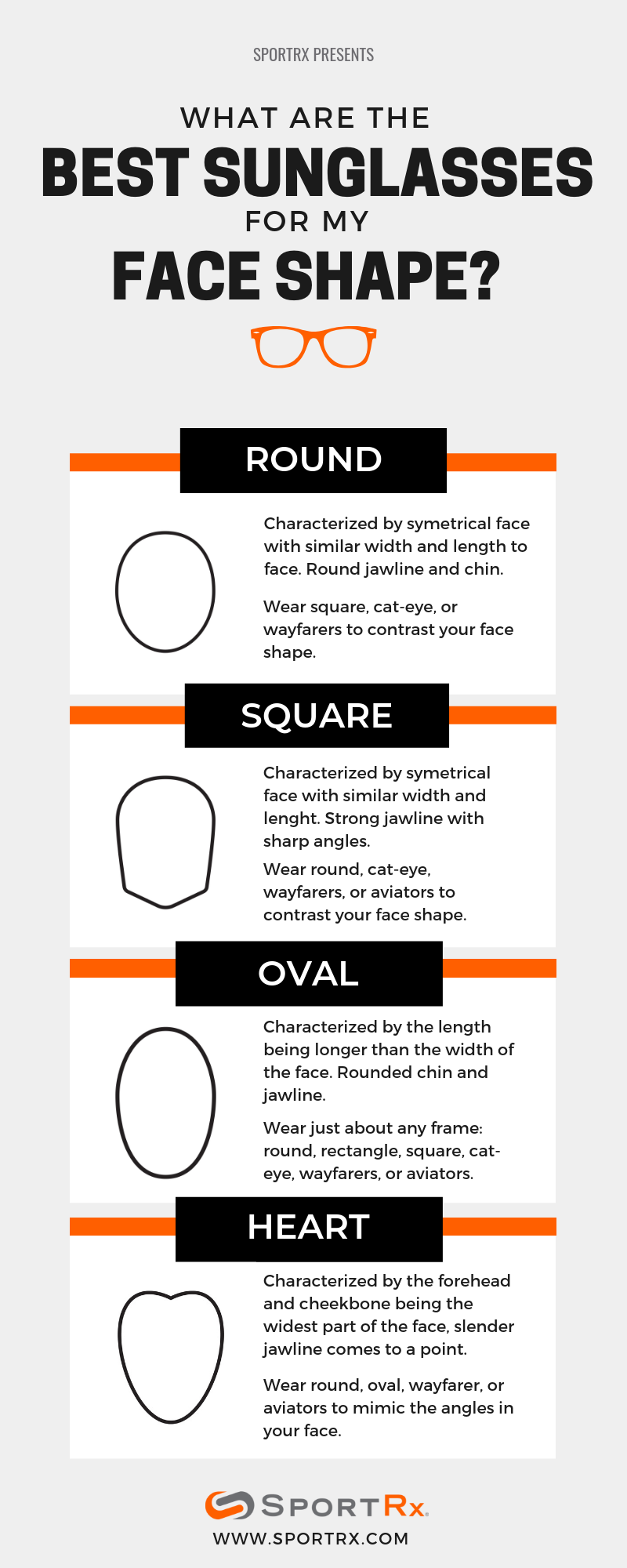 ---
Can I pull off aviators?
Do you have what it takes to look laid back and relaxed in aviators? The answer is most likely yes. However, there are a few aviator do's and don'ts to consider before heading out the door.
What to wear with aviator sunglasses
Keep it simple. The aviator look compliments casual well. Picture, happy hour at a tiki bar on the sand. Flip Flops, tank tops, sundresses and Hawaiin shirts are all a safe bet.

To contrast with our last statement, aviators look great with a suit or business casual. Your everyday professional with a splash of statement with your eyewear.

Finally, watches and simple jewelry can complete the aviator look well. If you like gold, white gold, or rose accessories, match your aviators frame.
What not to wear with aviator sunglasses
The first thing to keep in mind when it comes to what NOT to wear with you aviators is that flashy is a no no.

Steer clear of bold jewelry.

And lastly, keep in mind that distracting designs and colors on your outfits might take away from the effect your slick aviators have in your look.
---
Are Maui Jim Aviators worth it?
When you browse the Maui Jim aviator aviator collection you might ask yourself whether they're worth the price. Our quick answer is yes but you need details, you need facts. Let's talk a bit about why Maui Jim Aviators cost as much as they do.
Lenses:
When it comes to quality sunglasses the lenses should be an important factor in selecting your ideal frame. Lens tint, mirror, clarity, and weight are all factors to consider. Maui Jim's sterling PolarizedPlus2® lens technology blocks 99.9% of the glare reflecting off surfaces such as water, windshields, or bumpers while blocking harmful UV rays and HEV blue light.
Proprietary treatments to the backside of the lenses also ensure anti-reflection, while hydrophobic and oleophobic barriers repel liquid and oil. This lens treatment makes cleaning your lenses a breeze. Tack on the fantastic scratch protection and you've got a lens that will keep up with all the fun under the sun.
PolarizedPlus2® lenses increase contrast, color, and depth perception with the use of a patented blend of 3 rare earth elements. These elements enhance reds, greens, and blues. To put it simply, they filter out the bad colors while making the good ones more vibrant.
Lens Material:
Maui Jim offers 5 main lens materials alongside a standard polycarbonate which you can read about in more detail in our other blogs. In short, glass is always going to be the most clear lens you can find, though they will also be heavier and less scratch resistant. Maui Jim's other options such as MauiBrilliant offer spectacular lens clarity while not having the issues of weight or scratching as a problem. The list of Maui Jim's lens options can be seen below:
Lens Colors:
Maui Jim offers 4 colors in their base lens along with gradient and mirrored options. Maui Jim's line of colorful mirrors includes MauiGreen, Blue Hawaii, Hawaii Lava, and Maui Rose all of which offer their unique sense of personal flair.
Frames:
Maui Jim aviators will be comprised of monel metal, pure titanium, or a lightweight thin injected nylon. Depending on the model you may find acetate or rubber on the nose bridge and temples. In short, the design, material, and durability are all top notch. When it comes to style, you have an abundance of excellent options to choose from.
---
Are Maui Jim aviators better than Ray Ban aviators?
To be fair, both brands are great. The question of who flies the highest when it comes to aviator sunglasses is tough to answer and might actually come down to personal preference. So, with that said lets talk about what makes Maui Jim Aviator sunglasses unique.
When it comes to an iconic frame style like the aviator you must ask yourself what's important. If you've read the breakdown above then you know what you'll be getting in terms of frame material, lens quality, and overall design. Below, we'll go over polarized lenses and from there, it's really just a question of which style suits you best.
---
Do I need polarized aviator sunglasses?
Polarized lenses are great for reducing glare and blocking harmful UV rays from the sun. With polarized aviators you'll be getting both wide coverage as well as the protection your eyes need. Our section on Maui Jim PolarizedPlus2® lens tech above dives a bit deeper into how Maui Jim lenses protect your eyes.
---
The Best Maui Jim Aviator Sunglasses?
Our list of the best Maui Jim aviators includes everything from the iconic shades made famous by pilots to stylish modernized designs. The Maui Jim aviator collection is pretty large so we narrowed it down to 10 of our favorites. For more aviators visit our Maui Jim Aviator Sunglasses page.
Maui Jim Baby Beach
To kick off our list we have Maui Jim's Baby Beach. This aviators name comes from a beach on Maui's north shore. Adjustable no slip silicone nose pads and comfortable temples make this lightweight aviator sunglass perfect to hang on the hikes and kick back in the sand.
---
Maui Jim Mavericks
The Maui Jim Mavericks are your classic aviator shades but with the added benefit of all that is modern Maui Jim technology. You'll be flying just a little bit higher and farther (hopefully to Maui) with modern non-slip silicone nose pads and adjustable temple.
---
Maui Jim The Bird
When we mentioned that some of these aviators would have a modern flare, The Bird is what we meant. These scream muscle car but will still look as good in that super charged 69 Chevy, as they will in the newest iteration of the Stingray Corvette. With Maui's SuperThin Glass lenses, comfortable adjustable nose pad, and slightly-wrapped flexible sides, you get all the comfort and function you could ever want while looking like some version of the most interesting man in the world.
---
Maui Jim Cliff House
Ahh, the Maui Jim Cliff House. What isn't to love about this classic looking aviator with it's titanium frame, traditional hinge, and colorful lens options? This mix of classic meets modern actually makes for an impressive all around sunglass. Tee off for 18 holes, dominate the beach volleyball game, or just sip an ice cold beverage as the waves roll in. Just know that these are another solid option in the Maui Jim Aviator collection.
---
Maui Jim Wiki Wiki
The Maui Jim Wiki Wiki features a rectangular shaped design while also being on the smaller side. This is one of those aviators for our friends with round faces. The Wiki Wiki sports a pure titanium frame with adjustable nosepads which means durable and comfortable. It's also worth noting that the Wiki Wiki features Maui Jim's newest fashion flash lens Blue Hawaii which you can check out by clicking the shopping link below!
---
Maui Jim Haleiwa
Maui Jim's Haleiwa is another bold looking frame from the Aviator line. The subtle rectangular frame give this frame a no no-nonsense kind of vibe but it's the doubled metal bars connecting the traditional hinge and comfortable temple that give this frame its distinct look. The bright Blue Hawaii lens featured below gives a nice contrast to the dark frame though if the colors here don't suit your taste check our site for more Mauii options in the Haleiwa
---
Maui Jim Fair Winds
I enjoy when the name of a place or thing elicits a picture or place in my mind. The Fair Winds take me to a partly cloudy coast with smooth seas, gulls and other coastal birds ride a light coastal breeze that brings the hint of summer. And I have my coordinates to some new place. But day dreams aside, this titanium frame is partnered with a flexible, glossy nylon inner rim that gives it a truly stand out look among it's peers in the aviator line. The solid titanium temples and nose pads finish off what is certainly a special frame.
---
Maui Jim Castles
The Castles aviator from Maui Jim features a combination of materials making for another great looking frame. Monel metal meets with nickel to give a subtly flashy frame, while acetate temples and adjustable rubber nose pads make up the comfort perks on the frame. SuperThin Glass means you get the best in Maui Jim optics and you can bet that you'll be looking great while seeing the world through these Maui Jim Aviators.
---
Maui Jim Alelele Bridge
The Alelele Bridge is another standout frame from Maui Jim's class of aviator frames. Though appearing to be a classic aviator, the nylon injected frame stands alone as the only non metal frame on this list. This makes the Alelele Bridge the lightest aviator on the list. Adjustable rubber nose pads and rubber inserts on the temples keep this frame from flying off on its own adventures so you can be sure they'll stay with you wherever you might take them.
---
Maui Jim Waterfront
The Maui Jim Waterfront sunglasses are a unique choice when it comes to aviators. These double bridged monel metal frames are They feature Maui's Superthin (ST) Glass lenses which means top notch clarity on the optical side. A spring hinge, adjustable rubber nose pads and temples will offer a great fit.
---
Maui Jim Prescription Aviators Online at SportRx
At SportRx, we understand the importance of prescription eyewear and only offer the best styles in your prescription. Almost every frame in the Maui Jim Aviator Collection is available with prescription! Crafted with care to fit your vision needs and unique style, Maui Jim prescription Aviators will quickly become your new favorite sunglasses. We have helpful guides, like the Maui Jim Lens Color Guide, and tools throughout the customization process and have a team of friendly opticians ready to help, 7 days a week. Contact us and we'll be happy to help you find the perfect prescription Maui Jim sunglasses that will have you seeing clearly in no time.
Ditch risky only shopping with our See Better Guarantee. If you are not 100% satisfied with your Maui Jim prescription sunglasses, simply let us know within 45 days of receipt. We will remake them to perfection, coordinate an exchange, or provide a full refund. Don't let fears of shipping and restocking fees hold you back. We cover shipping- both ways, and never charge restocking fees. Your peace of mind is worth it.