The Best of SMITH: Cycling Glasses for 2018
Smith Optics has a motto of living life outside walls, and with this motto, they have created products for their customers to help them get the most out of every moment. Driven by this, Smith has become a front-runner in the cycling industry. Countless athletes worldwide entrust Smith to equip them with the best sunglasses so that they can perform at their peak performance. Luckily enough for you, SportRx experts have chosen the Best Smith Cycling Glasses 2018 to help you have a seamless ride. To learn more about these top-level cycling glasses, continue following along.
What To Look For in a Pair of Cycling Glasses
Fit - First and foremost when trying on any pair of sunglasses, making sure that you have the proper fit is key. Now when it comes to cycling this is even more important because not only do you have to make sure that the sunglasses fit your face, but that they also fit under your helmet. Frames that have straight-back temples are going to be prime for cycling versus the traditional hooked temples. These straight-back temples are also going to make it easier to replace when you need to.
Grip - Sunglasses that are specific to cycling will have rubber on both the nose piece and the temples. This is critical for maintaining a precise optimal alignment when you begin to sweat. This is especially key for those with prescription sunglasses.
Coverage & Protection - When it comes to cycling glasses, having maximum coverage is key. The reason for this is you want ample wind and debris protection so that you have no mishaps when cycling. Ideally, for cycling, you want a wraparound frame design. The reason for this is that the more wrap you have the more coverage and extended peripherals. A side note to remember, as a cyclist having coverage on the top by the brow is important for when you are in the drop position. This will allow for a better visual.
Lightweight Build - Having a pair of sunglasses when cycling is a very important piece of equipment. However, you do not want to feel as though you have a piece of equipment on when riding. Basically, you want to feel as though there is nothing there at all. The reason for this is that when you are leaning over, in the drop position, heavy sunglasses may begin to slide off your face. This is will greatly impair your riding experience.
Optimal Lenses for Road Conditions - For a cyclist, it is important to go with lighter lenses for your sunglasses. The reason is that darker lenses may cause you to miss obstacles such as potholes which will hinder your riding experience. Lighter lenses provide enhance contrast, which will allow you to spot those obstacles and avoid them ahead of time.
Best Smith Cycling Glasses of 2018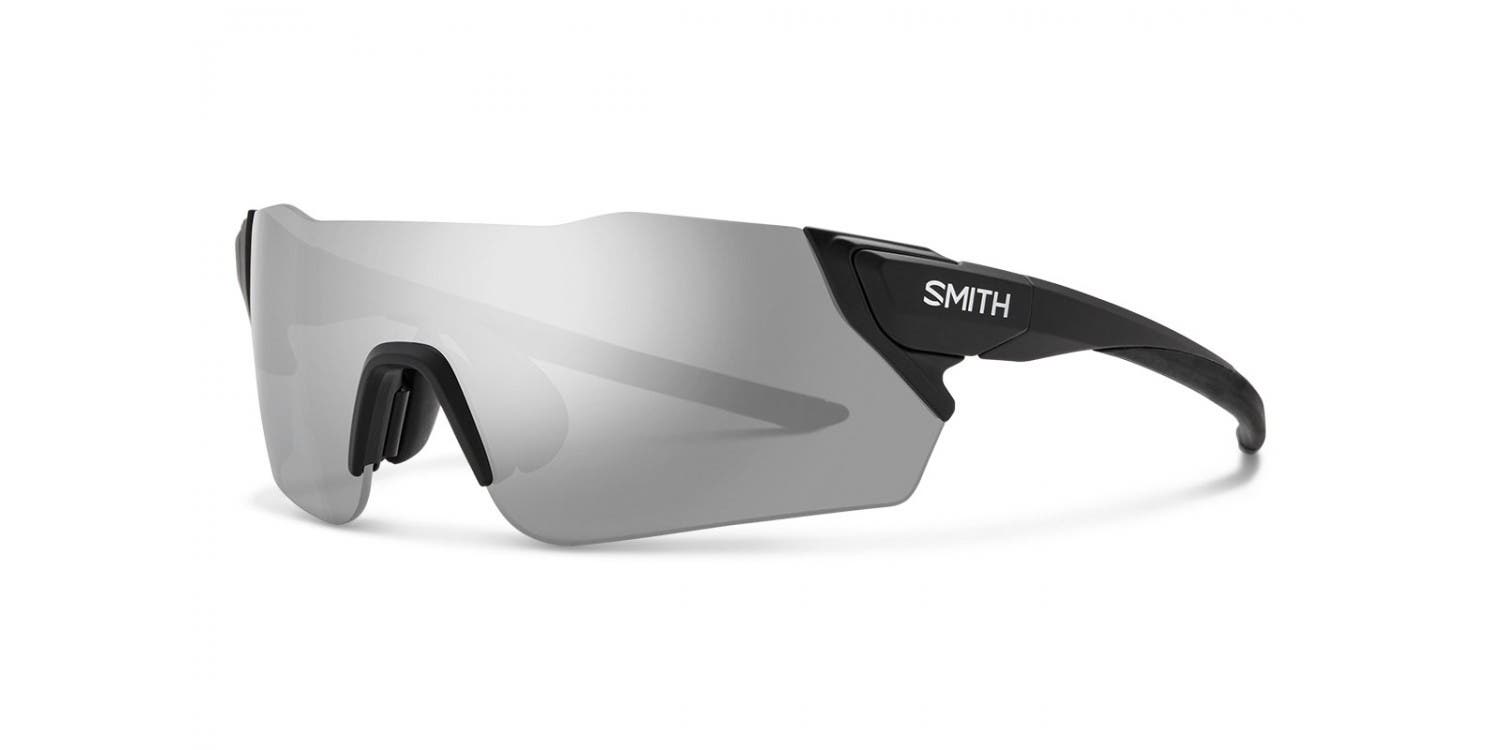 SMITH Attack in Matte Black with ChromaPop Platinum & Contrast Rose Flash lens
The Smith Attack Sunglasses are SportRx's top choice when it comes to the best Smith cycling glasses of 2018. The Smith Attack sunglasses are equipped with interchangeable technology to allow you to swap out lenses for various light conditions. The Attack comes with two ChromaPop lenses that offer a lower brow design to allow for increased ventilation on hot days.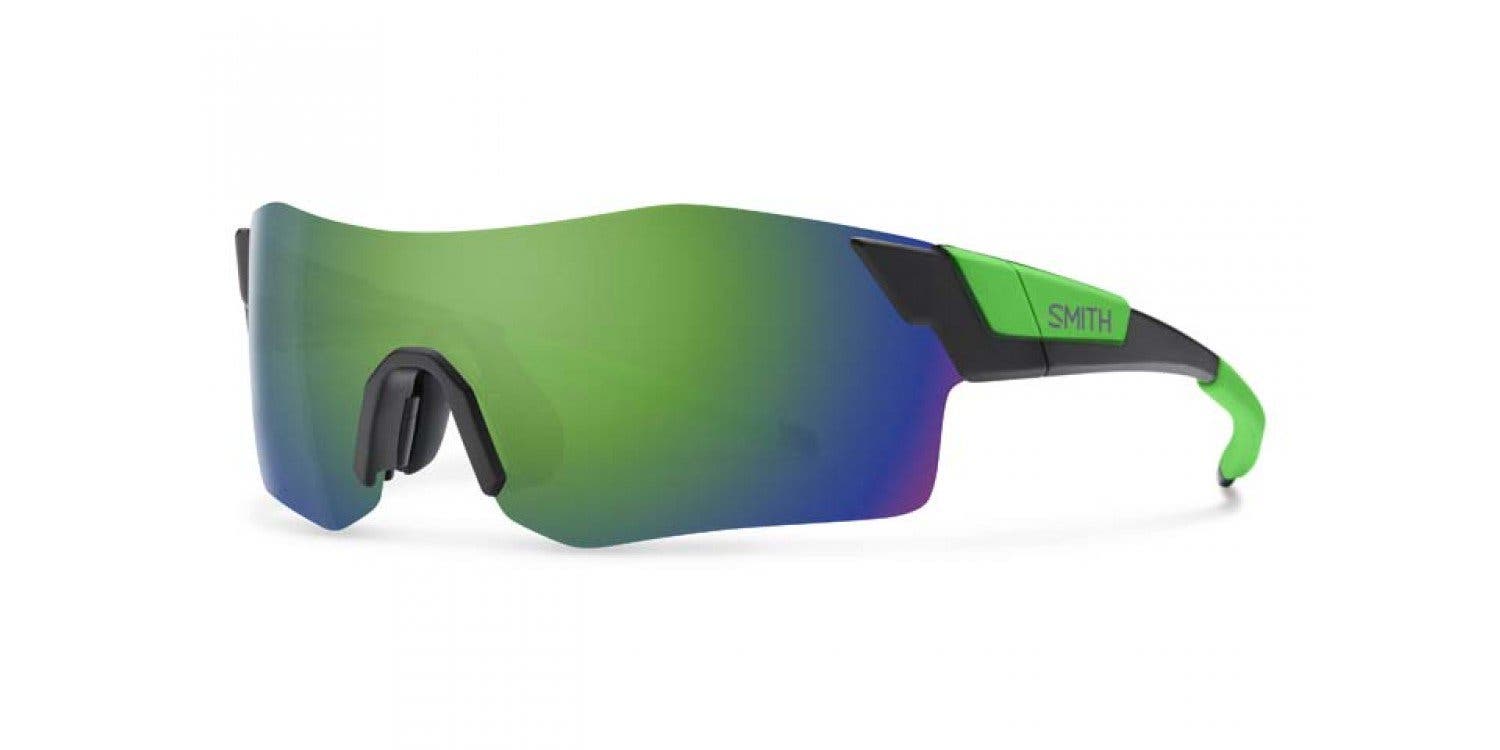 SMITH Pivlock Arena in Matte Black Reactor with ChromaPop Green lens
The Smith Pivlock Arena sunglasses were built for optimum comfort for athletes that are training in any condition. This is a very lightweight frame that provides a lot of coverage which is what you want as a cyclist.
The Smith Tempo Max is the newest of the choices that Smith has provided. It comes with 2 lens sizes. Of the four options that we have provided you these sunglasses would have to be the easiest for being made in prescription. They have a half-open, or bottom style design. This is more of your traditional style of shades that many of you may be accustomed too.
SMITH Rebound in Matte Rise with ChromaPop Sun Red Mirror lenses
The Smith Rebound gives you a full range of coverage. These sunglasses were designed for speed. They also come equipped with megol nose pads and temples which allows for a secure fit and a smooth helmet integration.
Prescription Smith Cycling Glasses at SportRx
If you want great quality cycling glasses then look no further, because SportRx has got you covered. All of the above sunglasses by Smith are available here at SportRx. If you have any questions about the list of the best smith cycling glasses of 2018, or just about prescription cycling glasses, give us a call. We have opticians on hand 7 days a week that are eager to help you. Visit SportRx today and purchase your new pair of cycling glasses!