Is blinding glare taking away from your enjoyment of the ride? Clear, sunny days can offer some of the greatest views, but can also be the biggest culprit of eye strain and distracting glare. And when your vision is the key to a safe ride, nothing should get in the way.
With polarized motorcycle sunglasses, your riding experience changes for the better. They block out blinding glare, cut harsh UV rays, and reveal greater contrast and clarity. At SportRx, we take clear vision and safety seriously, so we decided to find the best of the best. Join us as we unveil the best polarized motorcycle sunglasses of 2021!
Table of Contents
A. Video Review
B. What to Look for in Motorcycle Sunglasses
C. Best Polarized Motorcycle Sunglasses of 2021
1. Native Eyewear Kodiak
2. Wiley X Gravity
3. Wiley X Peak
4. Oakley Double Edge
5. 7Eye Panhead
D. Prescription Motorcycle Glasses Online at SportRx
---
Video Review
---
What to Look for in Motorcycle Sunglasses
In addition to polarization, our Sports Opticians used the following criteria when selecting the best polarized motorcycle sunglasses.
Frame Technology
When safety is of the utmost priority, our eyewear picks don't mess around. All the frames in our lineup feature durable materials that are impact-resistant and safe for the ride. They also all have an 8-base wrap for maximum coverage and protection from flying debris, UV rays, and nature's elements.
Lens Technology
Safety concerns don't stop at just the frame. All of the lenses in today's lineup feature impact-resistant materials that are built to last. To get specific color recommendations based on your riding conditions, check out our Motorcycle Lens Color Guide.
Want even more information on how to pick polarized motorcycle glasses? Visit our Motorcycle Sunglasses Buyer's Guide.
---
Best Polarized Motorcycle Sunglasses of 2021
Let's check out the frames!
Native Eyewear Kodiak
Don't let the sleek look of the Native Eyewear Kodiak fool you. These polarized motorcycle sunglasses pack a serious performance punch. So much so, that we're not even sure where to start. Should we lead with the co-injected Rhyno-Tuff® Air construction that is tough as nails, but ultra-lightweight? Or maybe you'd rather hear about the browline ventilation system that draws out warm air for fog-free vision? We best not forget the Cushinol™ rubber nose pads or temple tips either. They're the reason this frame's comfort is taken to the next level.
If that wasn't enough, the Kodiak's lenses are the ultimate showstopper. With a 99% polarization efficiency, you'll get clear vision free from distracting glare. The discrete lens interchange system (which is a rare find in full-rim frames) also allows you to easily swap lenses for changing light conditions. And it's Rx-able!
Native Eyewear Kodiak Key Features
8-base wrap provides sun protection from all angles
Rhyno-Tuff® Air frame material withstands high-velocity collisions & extreme temperatures
Lens interchange system allows you to swap lenses according to changing light conditions
Rx-able
SportRx Frame Width (What is SFW?): 133mm
---
Wiley X Gravity
We can't talk safety on the bike without talking Wiley X. Creators of some of the most loved sunglasses by motorcyclists, the Wiley X Gravity tops the list of favorites. It's ANSI Z87-approved and comes with accessories that can amp up the safety depending on your needs. A removable foam eyecup protects your eyes from harsh winds, and an optional T-peg strap easily converts these glasses to goggles.
As for the lenses, Wiley X CAPTIVATE™ will change the way you view the road. By manipulating the light spectrum, you'll get truer color definition, better depth perception, and superior optical clarity. All Wiley X CAPTIVATE™ lenses are polarized and have Rx-ability.
Wiley X Gravity Key Features
ANSI Z87 safety compliant — including the lenses!
Removable foam eyecup for added wind protection
Optional T-strap easily converts these polarized motorcycle glasses to goggles
Available with Rx-able Wiley X CAPTIVATE™ lens technology
SFW: 135mm
---
Wiley X Peak
The second Wiley X frame in our best polarized motorcycle sunglasses lineup, we're proud to introduce the Peak. It packs all the protection you need, with the ANSI Z87 rating to prove it. Featuring a squarer lens than the Gravity, the Wiley X Peak is a versatile frame that looks good on and off the bike. This rare combo of square plus 8-base wrap is a unique design, but our Sports Opticians are here for it!
Similar to the Gravity, the Wiley X Peak is also available with contrast-enhancing CAPTIVATE™ lens technology. Choose from a variety of lens colors that best fit your riding environment and vision needs.
Wiley X Peak Key Features
ANSI Z87 safety compliant — including the lenses!
Unique square lens with 8-base wrap for superior sun protection
Rubber nose pads increase comfort while providing extra grip
Available with Rx-able Wiley X CAPTIVATE™ lens technology
SFW: 136mm
---
Oakley Double Edge
A member of the Oakley Active Collection, the Double Edge is all-day comfort and performance rolled into one seriously good-looking frame. You'll get the best Oakley tech, like the lightweight O Matter™ construction and Unobtainium® rubber grip that gets tackier when wet. It also uses a Three-Point Fit system, which alleviates pressure points while creating perfect optical alignment.
While all of this makes for one of the most comfortable frame experiences out there, the real star of the show is the PRIZM™ Polarized lens technology. Oakley's proprietary polarized lens blocks 99% of glare, minimizes eye strain, and reveals greater clarity and contrast. It's also available with prescription!
Oakley Double Edge Key Features
O Matter™ frame construction is lightweight & extremely durable
Unobtainium® rubber nose pads get tackier when wet (rain or sweat — these frames won't budge!)
Three Point Fit system keeps the frame perfectly optically aligned & comfortable for all-day wear
Available with Rx-able Oakley PRIZM™ Polarized lens technology
SFW: 136mm
---
7Eye Panhead
If you're looking for sunglasses that pull out all the stops, the 7Eye Panhead will quickly become your favorite riding companion. This no-nonsense, seriously safe, and high-performance frame, doesn't skip out on any detail. It's ANSI Z87.1 safety compliant, features shatter-resistant lenses, and has a venting system to keep you cool. A removable AirShield® foam eyecup blocks wind when you're cruising down the freeway, and adjustable temple tips keep it securely in place when you encounter a bump.
The 7Eye Panhead has contoured rectangular lenses that deliver a wide field of vision and accommodates prescriptions. Select from a variety of lenses, including polarized, to get the best visual experience for your next ride.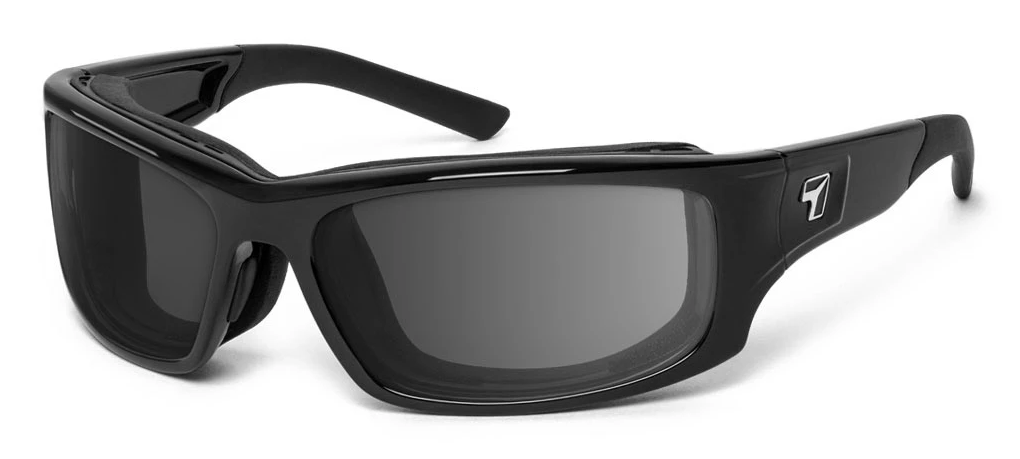 7Eye Panhead in Glossy Black with Sharpview Polarized Gray Lenses
7Eye Panhead Key Features
ANSI Z87.1 safety compliant
Removable AirShield® foam eyecup blocks wind & debris
Adjustable temple tips can bend 360-degrees for a custom fit
Available with Rx-able shatterproof lenses
SFW: 139mm
---
Prescription Motorcycle Glasses Online at SportRx
Need polarized motorcycle sunglasses with prescription? Done. When you shop with SportRx, you'll find video guides and tool tips throughout the build process as you customize the perfect pair. An answer to all your questions is at your fingertips, and if you want to chat with an expert, give us a call! We'll put you in touch with one of our friendly in-house Sport Opticians who can help you build your polarized motorcycle glasses.
Ditch risky online shopping with our See Better Guarantee. Try your polarized motorcycle sunglasses for 45 days. If you're not 100% satisfied, send them back. Get a full refund, exchange, or credit towards a better pair. And return shipping? Covered. Get the best polarized motorcycle sunglasses online at SportRx today!