Whether you're a football fan or a passionate historian, this blog is one you'll want to read. So dust off the pipes and relax while we take it back to the late 1800s when American football made its debut. Read on to discover the founding of American football below.

Taking it Back to Way Back
Thanks to rugby and football, American football was born. After the Civil War ended, athletic clubs became more popular. This influenced young men to start the mesh of these two sports into American football. Then, on November 6, 1869, after collegiate sports started in 1843, a game between Rutgers and Princeton took place as the first competitive football game.
But the true beginning of pro football was on November 12, 1892. The Allegheny Athletic Association (AAA) football team and the Pittsburg Athletic Club (PAC) played against one another. Though the game itself was not momentous, the actions taken on this day are what went down in history. William Heffelfinger was paid $500 to participate in this game and he became the first player to be paid to play American football.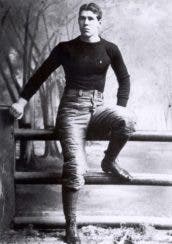 William Heffelfinger, the first professional football player
Football Forward
During World War 1, players were recruited from other states because it was becoming more difficult to find local men to play. To keep the field fair, all teams and clubs started recruiting out-of-state. Therefore, in 1920, the American Professional Football Association (APFA) was born. The first APFA president was Jim Thorpe, who coached and played for the Canton Bulldogs in the 1910s.
Just two years after the formation of the APFA, the league took on its current name, the National Football League (NFL). The game of football has soared in popularity ever since. In 1932, the first playoff game against the Chicago Bears and Portsmouth Spartans took place, setting the rest in motion.
After the 1932 playoff game, the AP Poll was brought into the league. The Heisman Trophy Award was presented. The first annual NFL draft took place, and so on and so forth.
By 1966, teams began merging and new ones were being built. The NFL made its place in the sports world and has continued to grow ever since.
Football Today
A lot has changed since the first game was ever recorded and a lot has yet to come. Today there's a total of 32 teams split equally between the National Football Conference (NFC) and the American Football Conference (AFC). It is one of four major professional sports leagues in Northern American and the highest professional level football in the world. The NFL has been a well-oiled machine that thousands ride along on every year. Football is a staple to the American name and has truly been a sport that has brought many people together.
For more ways to get into the game of football, check out this blog.