A football team is nothing without its fans. Winning or losing, you cheer your hardest until time runs out in the fourth quarter, leaving you anxiously waiting for the next game. Regardless of the outcome, your loyalty remains unquestioned. This is what makes you a true fan. Maybe you show loyalty by sporting your favorite player's jersey, painting your face, or creating a sign to heckle the opponents.
But now you have another way to show affection for the team you love. Oakley and the NFL have partnered up to bring you exclusive sunglass colorways for your favorite team! There is no better way to represent your favorite NFL team than rocking a pair of Oakley-NFL sunglasses.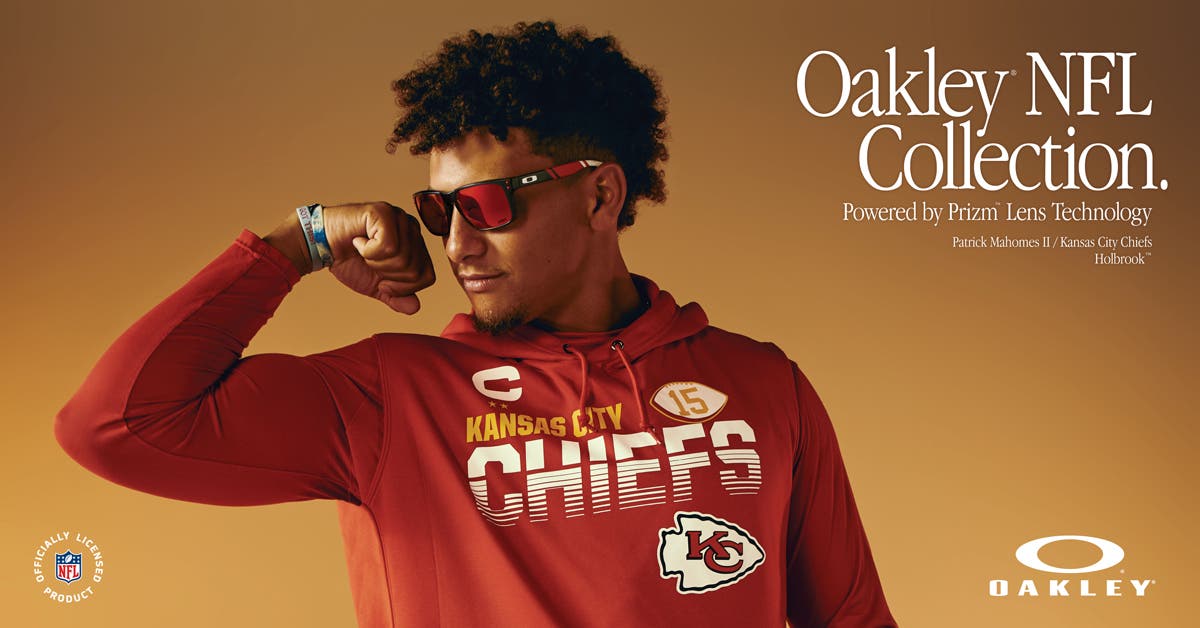 NFL Team Colorways
Team colorways are available for the Oakley Flak 2.0 XL, Sutro, and Holbrook. What makes these limited-edition colorways even more exclusive is that they are not available as stock options in any of these frames. So, in a sense, none of these models have ever been or will be again released with these colors, surely make them collector's items for Oakley heads and NFL superfans alike.
NFL Team Logo Lens Etching
There is more to each frame than the unique colors. The left lens on each model has your favorite team's logo etched on it. Talk about custom! New to this year, you can get the custom logo etching when you order Oakley authentic PRIZM lenses in prescription. Whether you wear a prescription or not, that custom logo etching will be on the lens.
NFL Custom Microfiber Bag
Also included is a custom NFL microfiber bag. This all-white soft bag features the Oakley icon front and center with the NFL crest on the opposite side to signify authenticity. This is just one more reason to show off your sunglasses even when they aren't on your face.
PRIZM Lens Technology
PRIZM Lens Technology comes standard with your Oakley NFL sunglasses. As the optical world's leading lens tech, PRIZM has paved the way for contrast-enhancement. Oakley PRIZM lenses work by manipulating the light spectrum through specially designed dyes. These dyes serve as a filter on the lens, accentuating all the important colors while muting the other 'noisy' colors. In turn, this boosts contrast and makes every detail easier to see. We have a complete PRIZM Lens Guide if you want to learn more about these game-changing sunglasses.
---
Oakley NFL Sunglasses
Oakley NFL Flak 2.0 XL
---
Oakley NFL Sutro
---
Oakley NFL Holbrook
---
OAKLEY PRESCRIPTION SUNGLASSES & EYEGLASSES ONLINE AT SPORTRX
Need prescription Oakley sunglasses or eyeglasses? Done. When you shop with us, you'll find video guides and tooltips throughout the build process as you customize the perfect pair. An answer to all your questions is at your fingertips, and if you want to chat with an expert, Contact Us. We'll put you in touch with one of our friendly in-house opticians who can help you build your prescription Oakley Sunglasses.
Ditch risky online shopping with the See Better Guarantee. Try your Oakley NFL sunglasses for 45 days. If you're not satisfied, send them back. Get a full refund, exchange, or credit towards a better pair. And return shipping? Covered. Get your pair of prescription Oakley Sunglasses