Did you know that tennis is one of the oldest sports that dates back to the 12th century of France? Of course, it wasn't called tennis back then, it was called "Paume" -- meaning palm. The word tennis came from players shouting at the start of the match, "tenez" -- meaning play. They also just used their hands instead of rackets because they didn't even have rackets. What!? The point here or shall I say match point, is that the game has been around for a long, long, time. Like all sports, advances in technology have changed how games are played. Oakley Tennis is at the forefront for eyewear, but we'll take a look how other tennis technology comes into play.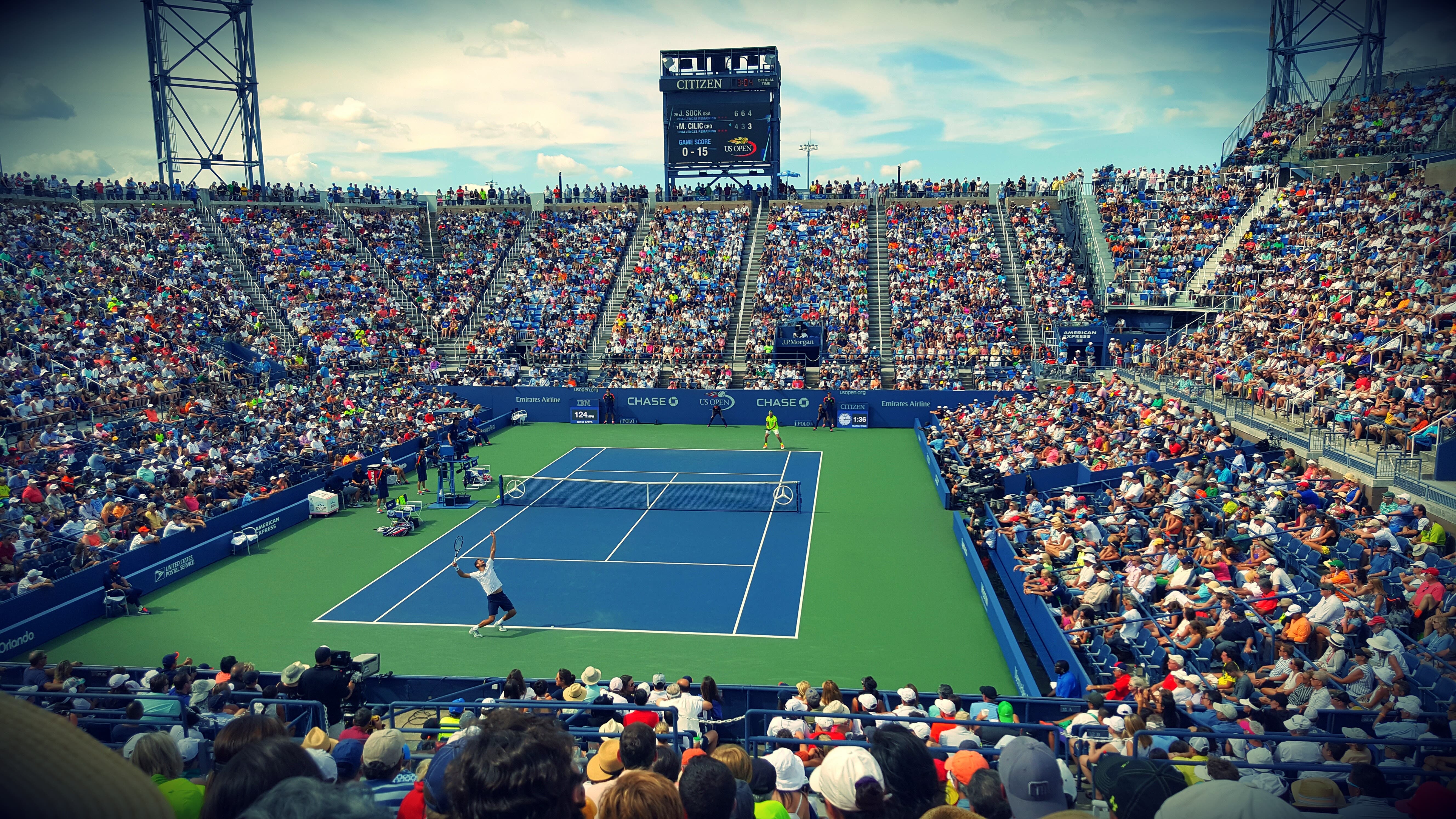 TENNIS TECHNOLOGY
Tennis is actually one of the first sports to embrace technology. These days, most sports use some type of video format to enforce the rules of the game and make decisions that are too close to call by the human eye. For tennis, it wasn't till the Australian Open in 2007 that they started using the system Hawk-Eye to assist in challenges to line calls. Using six or seven cameras positioned above the court, the system tracks the ball from all different angles making the chair umpire's job a tiny bit less stressful.
WHAT ABOUT THE TENNIS HOBBYISTS?
Unless you're a professional, the courts you'll be playing on probably won't be formatted with Hawk-Eye. However, with the help of technology, a gadget called In/Out can make you feel like you are in Wimbledon with your very own chair umpire. Similar to a GoPro, the device attaches to any tennis net post to determine in real-time which side of the line the ball lands. It's no Hawk-Eye, but it's definitely a Bird's Eye. Oh man, that joke was bad. Ok, moving on.
VIDEO ANALYSIS
Other advancements that make you feel like a professional tennis player without being a professional tennis player is match video analysis. And I'm not talking about recording your match and having your coach point out the things you did wrong. I'm talking full breakdown. Companies such as Tennis Analytics allows you to subscribe to their service and gives you an index video of your match with a full match report - just like a pro. You get serve percentage, number of aces, double faults, return percentage, winners, errors, and differential stats for both you and your opponent. It's all about the numbers.
TENNIS TRAINING
For those interested in the numbers, equipment that focuses on analyzing the player can get pretty detailed these days. Below are some devices that can collect data based on your performance.
Babolat Pure Drive Racket

Sony Tennis Sensor

Zepp Tennis Swing Analyzer

Qlipp Tennis Sensor
All of these devices focus on collecting information on technique and serve out more statistics than you could think of. Be aware though, not all of these devices are 100% accurate, but they will help improve your game over time. In addition, the longer you collect data, the more accurate it will be. So don't just expect to wake up the next day and be serving like Janko Tipsarevic.
TENNIS EQUIPMENT TECHNOLOGY
Technology has always played a controversial role in any sport. How much will it take away from the actual athletic skill when technology is doing all the work? Keep an eye out for a company called Babolat. With the use of their racket technology, they have created the Pure Drive racket. Babolat has plans to place sensors on the strings of your racket to record critical data that can improve your game. These rackets help players serve the ball at speeds of 120mph. DAAAAAMN! That has to hurt. With speeds like that, it's a good thing lens technology for sunglasses has also evolved so you see the ball better and actually return a serve.
PRIZM LENS TECHNOLOGY
Sunglasses have come a long way and with most outdoor sports, your biggest competitor is the sun. Talk about sports star on fire, literally. One sunglass company making big strides in technology is Oakley with their Prizm lens, which manipulates the light spectrum. This lens technology is designed to enhance color and contrast so you can see more detail. The contrast is important because it enhances depth perception and highlights features in the surrounding environment. In tennis, this helps players better see the tiny yellow ball bouncing off of a green court at 120mph. You'll also feel better knowing that the lens material is made from plutonite, a material designed and manufactured exclusively for Oakley Tennis. It is made from the purest form of optical polycarbonate. You're basically wearing the coolest safety glasses on the market.
For more information regarding PRIZM Lens Technology, check out this chart below.
PRIZM FIELD
Which Oakley Prizm lens is best for tennis? Our opticians recommend the Prizm Field, with a FLAK 2.0 XL frame. This lens is best suited for playing in sunny conditions and is also available in prescription. Just don't freak out when you realize this lens was designed for baseball. The same conditions on a baseball field are similar to the tennis court when it comes to sunglasses.
PRISM GOLF
I know, this is a tennis blog. However, when it comes to lenses the PRIZM Golf lens also works for tennis as well. This lens works great in overcast/variable conditions or squeezing a match in before work in the early morning.
Get Prescription Tennis Sunglasses at SportRx
Need prescription tennis sunglasses? Done. When you shop with us, you'll find video guides and tooltips throughout the build process as you customize the perfect pair. An answer to all your questions is at your fingertips, and if you want to chat with an expert, Contact Us. We'll put you in touch with one of our friendly in-house opticians who can help you build your prescription tennis sunglasses.
Ditch risky online shopping with the See Better Guarantee. Try your sunglasses for 45 days. If you're not satisfied, send them back. Get a full refund, exchange, or credit towards a better pair. And return shipping? Covered. Get your pair of prescription tennis sunglasses at SportRx today!