Appropriately named, the Oakley Latch Alpha will have you looking and feeling like a BOSS. The newest addition to the Latch series features new frame materials for a more premium feel. See what Sunglass Rob and Oakley Nick have to say about the luxurious frame.
The Latch Alpha is part of Oakley's Latch collection. Every model in this series has a clip built into the hinge so you can clip it to your shirt or pocket on the fly. The Latch Alpha has the same frame design as the Latch Beta but is constructed of upgraded materials. We have separate reviews of the Latch, Latch Beta, and Latch SQ if you want to see more.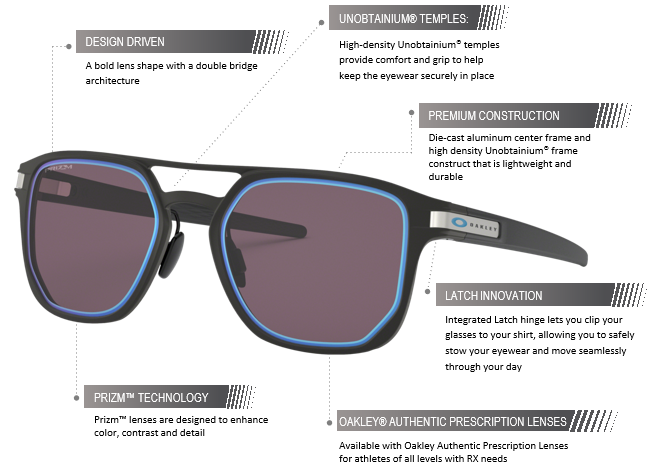 FRAME FEATURES:
Frame Construction: The frame front is made of die-cast aluminum while the temples are constructed entirely of high-density Unobtanium. Unobtanium is Oakley's proprietary grip technology and it gets stickier and tackier the more you sweat.
Design Driven: Stray away from the ordinary and make a statement with this unique lens shape. The straight temples complete Oakley's three-point fit system to equalize points of pressure across the frame so you can wear it for extended periods of time.
Latch Innovation: Oakley's proprietary latch mechanism is seamlessly integrated into the frame so you can clip your glasses to your shirt or pocket and continue about your day.
Grip-Fit Nosepads: The semi-adjustable, silicone nosepads are made to fit a variety of nosebridge shapes and sizes for a more custom fit and feel.
PRIZM Lens Technology: Oakley designed PRIZM lenses to enhance contrast in specific environments. The lenses work by filtering out the noisy colors while simultaneously boosting the colors that our eyes are most sensitive to. And now PRIZM Everyday lenses will make your daily routine more enjoyable. See what you've been missing with Oakley PRIZM lens technology.
FRAME DIMENSIONS:
Lens width: 53 mm
Lens Height: 45 mm
DBL(Distance Between Lenses): 19 mm
Temple Length: 142 mm *Rob says 132 mm in the video but it is actually 142 mm*
Frame Width: 130 mm
OAKLEY PRESCRIPTION SUNGLASSES AT SPORTRX!
Did you learn all you wanted to know about the Latch Alpha? Did you know that it is also available with prescription Oakley authentic sunglass lenses?! We have certified opticians on the phone 7 days a week to help you out with any of your prescription or non-prescription needs. Contact us by phone or Live Chat with a certified optician if that is more convenient to you. SportRx is here for you!