Don't be fooled by the lifestyle appearance of the Oakley Forager. The frame materials and design allow this frame to be worn casually or used for a multitude of sports so you don't miss a beat. See what Sunglass Rob and Oakley Nick think about this on-trend sunglass.
The Forager is part of Oakley's Latitude collection which integrates sport features in lifestyle frames. This gives you a casual look that allows you to be versatile on a daily basis.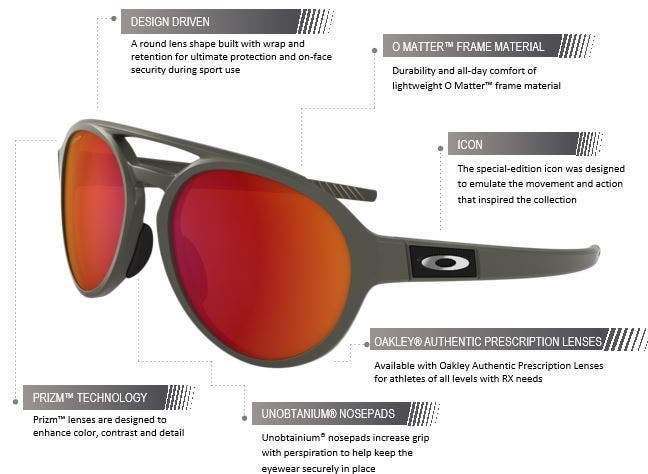 FRAME FEATURES:
Twin-toric lenses: Let's face it, round lenses are in. Now you can stay on trend with what is hot on the streets. The lenses have twice as much curve on the horizontal plane than the vertical plane (4-base vs. 2-base) which means more protection and better form to the shape of your face.
O Matter Frame Material: Oakley's proprietary frame material is known for its strength and durability. This impact-resistant frame is made to survive drops and dings along the way because as much as we love to take care of our sunglasses, accidents are inevitable. Especially if you are using them for sports. The strength to weight ration of O Matter makes the frames lightweight so you can wear them for extended periods of time without feeling the weight of them on your face.
Unobtanium Nosepads: What really takes this frame from lifestyle to sport is the Unobtanium nosepad. Unobtanium is Oakley's proprietary grip technology that gets sticker and tackier the more you sweat. This keeps the frames from sliding down your nose so you can move seamlessly throughout your day.
Fit: This sunglass is designed to fit a variety of head sizes but it is probably best described as having a medium fit. If you are looking for an alternative fit it is also available in asian fit.
PRIZM Lens Technology: Oakley designed PRIZM lenses to enhance contrast in specific environments. The lenses work by filtering out the noisy colors while simultaneously boosting the colors that our eyes are most sensitive to. And now PRIZM Everyday lenses will make your daily routine more enjoyable. See what you've been missing with Oakley PRIZM lens technology.
FRAME DIMENSIONS:
Lens width: 58 mm
Lens Height: 50 mm
DBL(Distance Between Lenses): 18 mm
Temple Length: 134 mm
Frame Width: 133 mm
OAKLEY PRESCRIPTION SUNGLASSES AT SPORTRX!
Did you learn all you wanted to know about the Forager? Did you know that it is also available with prescription Oakley authentic sunglass lenses?! Do you have questions about other Oakley glasses? We have certified opticians on the phone 7 days a week to help you out with any of your prescription or non-prescription needs. Contact us by phone or Live Chat with a certified optician if that is more convenient to you. SportRx is here for you!