ASIAN FIT SUNGLASSES
If you have problems with glasses constantly touching your cheeks or hitting your eyelashes...you should try out asian fit sunglasses. Asian Fit glasses refers to a different type of eyewear fit that prevents any of these fitting issues. This collection is designed for lower or minimal bridges and high cheekbones. Asian fit sizing is also typically called Universal fit, omni fit, and global.
What problems does asian fit solve?
Lifts the sunglasses off of your cheek bones
Properly places the sunglasses on your nose
Prevents your eyelashes from touching the lenses
The differences between regular fit and asian fit
A thicker nose bridge
A shorter and wider lens
A more reduced frame curvature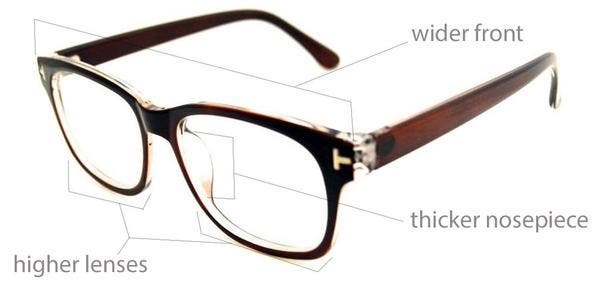 What are other names for asian fit glasses?
Omni Fit
Universal Fit
Global Fit
What brands sell asian fit?
Oakley TruBridge Technology
Oakley TruBridge offers an alternative fit by including multiple nosepads with your frames. Trubridge and asian fit frames are different. Most asian fit frames will come with one larger nosepad to substitute but Trubridge expands the customization to include 4 different size nosepads.

Oakley TruBridge Technology is also known as MNP(modular nose pad) Technology
Oakley now offers 4 different nose bridge options so you can find the perfect fit for you
With a wider range of nosebridge offerings it is more than just an 'asian fit' solution
Ideal for anyone with a large or uneven shaped nose
Makes for a more personalized fit
If you end up ordering an Oakley MNP...let us know that you want it sized for asian fit and we will do it for you so it is ready when you get it(:
What products come in asian fit?
Sunglasses, eyeglasses, goggles
Prescription sunglasses, eyeglasses, & goggles
Sport sunglasses, glasses, & goggles
Helmets
PRESCRIPTION ASIAN FIT EYEWEAR ONLINE AT SPORTRX!
If you don't know if you should buy asian fit eyewear, the answer is that you probably shouldn't. If you have a lower and minimal nose bridge and high cheekbones and constantly struggle to find a right fitting frame...try out asian fit! SportRx has a wide variety of brands and products available in a universal fit. Need 'em in prescription? Easy done. SportRx just so happens to specialize in prescription eyewear! For questions or suggestions on which frames are right for you, just contact a certified optician! We are always here any happy to help(: