To make it onto our list of best polarized fishing readers is no easy feast. These frames are tried and true and ready to help you reel in your next big catch. Discover which ones made the cut and will keep you seeing clearly for your next day out on the water.
Best Polarized Fishing Sunglasses with Readers
1. Costa Tuna Alley
2. Maui Jim Peahi
3. Costa Fisch
4. Maui Jim World Cup
5. Maui Jim Twin Falls
6. 2019 Lineup
---
The Criteria
All of the frames within our lineup have been put to the test by our Sports Opticians. Like you, they have a passion for fishing and enjoy the thrill of the catch. Combined with their extensive optical knowledge, these fishing sunglasses are no ordinary bifocals. Before we jump into the frames, let's briefly review which criteria was considered when picking the best polarized fishing readers.
Coverage
Protect yourself from the elements with a frame that provides generous coverage. Our favorites include an 8-base wrap that blocks wind and debris while delivering superior peripheral vision. You'll receive 100% UV protection from all angles, which means squint-free casting.
Secure Fit
Whether you're looking down to tie a knot, looking up at those incoming ominous clouds, or just received an unexpected splash, a secure fit is essential for your frame staying in place. Say goodbye to slippage and constant readjustments with hydrophilic rubber materials. Strategically placed on nose pads and temples, hydrophilic rubber gets tackier with moisture and stays perfectly in place when you need it the most.
Contrast-Enhancing Lenses
In addition to the frame, the lenses are an integral part of selecting the best fishing sunglasses with readers. Our first must-have? Polarization. When spending a day out on the boat, the surface of the water reflects harsh sunlight into your eyes. Polarization works to block this blinding glare so you can see more clearly and with greater contrast. It also helps to reduce eye fatigue, which is particularly important when wearing your fishing sunglasses for long periods of time.
Another key component of contrast-enhancing lenses is the tint. We love rose coppers and ambers to boost contrast and help define fish within the different textures of the water. To see a full list, visit our blog on the Best Lens Colors for Fishing.
---
Best Polarized Fishing Sunglasses with Readers
As we dive into the frames, keep in mind that there are different power strengths available in each style. Every frame listed below is available in the following powers: +1.50, +2.00, +2.50.
Not sure which strength is best for you? Give us a call and our friendly Sports Opticians will be happy to help you out!
---
Costa Tuna Alley
A fisherman favorite time and time again. The Costa Tuna Alley is no stranger to the water or our SportRx best-of-fishing lineups.
This frame's 8-base wrap is constructed from Grilamid TR-90 Nylon, a lightweight and durable material that delivers all-day comfort. This bio-based material is created from Costa's Bio-Resin Raw Material Process as part of their Kick Plastic Initiative to reduce our carbon footprint & protect our planet's waters. Because fishing is cool, but protecting our playground while at it is even cooler.
You'll achieve a secure fit & increased airflow when wearing the Costa Tuna Alley, even on the choppiest and sweatiest of days. Hydrolite rubber nose pads and temples prevent slippage, while the patented 3-hole-ventilation system encourages air flow. You'll achieve comfortable all-day wear, free from fogging.
As for the readers version, the Costa Tuna Alley sunglass readers is considered part of Costa's C-Mate Collection. Your favorite Costa styles are available with no-line bifocal magnification where you need it most. Whether you're tying a hook, checking the time, or reading a map, Costa fishing readers will give you the visual boost you need. Available in a variety of 580P lens colors, pick the lens color that best enhances your fishing environment! We've got you covered with our Costa Lens Color Guide.
Costa Tuna Alley Key Features
---
Maui Jim Peahi
The Maui Jim Peahi sunglass readers are the frames of fishermen's dreams. An 8-base wrap provides optimal coverage and unobstructed peripheral vision while blocking 100% UV rays. Similar to the Costa Tuna Alley, the Maui Jim Peahi is also made from Grilamid TR-90 Nylon. Lightweight and durable, the Peahi will keep you comfortable with ease.
As for the lenses, you're in for a treat with Maui Jim PolarizedPlus2® lens technology. In addition to blocking 99.9% of glare, PolarizedPlus2® lenses increase contrast, color, and depth perception thanks to a patented blend of 3 rare earth elements. To learn more, visit our blog on Maui Jim PolarizedPlus2® Lenses.
Now that you know the frame and lenses are perfect for your next fishing trip, it's time to talk about Maui Jim's unique approach to bifocals. Unlike traditional bifocals, Maui Jim sunglass readers incorporate the bifocal onto the backside of the lens. This makes the bifocal practically undetectable from the external perspective. You'll be enjoying your Maui Jim reader sunglasses and no one will know the difference — except you!
Maui Jim Peahi Key Features
---
Costa Fisch
With the same benefits of our previous Costa frame—the Tuna Alley, the Costa Fisch sunglass readers boast the same high performance in this bio-based frame. We get a fresh new shape in the Fisch design which is less angular than the Tuna Alley counterpart. A gentler rectangle is a flattering shape that still delivers the coverage and protection you need for long days under the sun.
As for sizing, the Fisch is slightly larger. This makes it an excellent option for those who often struggle to find a properly fitting frame. The Costa Fisch is considered an Extra-Large frame, so you'll get the comfort you deserve.
Costa Fisch Key Features
---
Maui Jim World Cup
This modified rectangular 8-base frame provides the same great benefits as the previous Maui Jim Peahi. You'll achieve the same lightweight wear, extra grip and comfort, and superior optics thanks to the Maui Jim PolarizedPlus2® lens technology. What makes this style different? Generous, thick temples provide extra peripheral coverage. If you're particularly light-sensitive, you'll appreciate the extra blocking effect from harsh sunlight.
As for sizing, a slightly smaller lens actually translates to a bigger frame. Compared to the Maui Jim Peahi, the World Cup has 2mm less in lens height and 1mm less in lens depth. However, this frame has an SFW of 142mm, making it the preferred option for a big-headed fishermen! Literally speaking, of course.
Maui Jim World Cup Key Features
---
Maui Jim Twin Falls
This flattering frame provides the same 8-base wrap as the other Maui Jim readers in our lineup. We love the gentler interpretation of this rectangle shape with a hint of oval. This frame looks great on a variety of face shapes and has one key feature that really make it sound out: rabalon adjustable nose pads.
If you struggle to find a proper-fitting frame, you're in good hands with the Maui Jim Twin Falls. The adjustable nose pads allow you to customize the fit so you never have to compromise on a "good enough" fit again. When you're out on the boat, these frames are sure to stay securely in place thanks to the rabalon rubber material. It provides extra grip so you can keep your hands-free when reeling in your catch.
Maui Jim Twin Falls Key Features
---
2019 Lineup
Costa Inlet
Costa's Inlet Sunglass Readers are perfect for fishing excursions with their sturdy nylon construction and spring hinges for comfort. These Costa reading sunglasses also provide 100% UV protection and 100% polarization for eliminating glare and eye strain.
---
Costa Fisch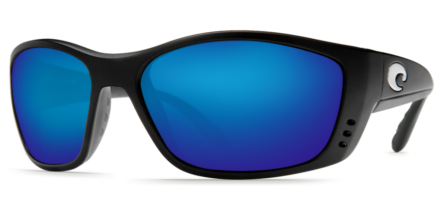 Costa Fisch Sunglass Readers in Matte Black with Blue Mirror 580P Lens
Costa Fisch Sunglass Readers allow you to experience clarity and comfort on or off the water. With its vented system, nylon frame material, 580 lenses, and no slip hydrolite lining, they are an essential and comfortable addition to your next fishing trip.
---
Costa Tuna Alley
The Costa Tuna Alley Sunglass Readers have 100% polarization, 100% UV protection, venting and scratch resistance. You can throw these fishing readers on with confidence that you will be able to enjoy the experience and whatever you catch on the water!
---
Costa Whitetip
Costa Whitetip Sunglass Readers give you the benefit of readers and sunglasses all in one. Made with fisherman in mind, the Costa Whitetip features gripper temples holes, 580P lenses, and a lightweight, yet durable wraparound frame. You can wear these readers all day and go from reading instruments, tying a hook, to spotting a fish for the ultimate clarity on or off the boat.
---
Get Polarized Fishing Sunglass with Readers Online at SportRx
Need polarized fishing sunglasses for fishing? Done. When you shop with us, you'll find video guides and tooltips throughout the build process as you customize the perfect pair. An answer to all your questions is at your fingertips, and if you want to chat with an expert, give us a call! We'll put you in touch with one of our friendly in-house opticians who can help you build your fishing bifocal sunglasses.
Ditch risky online shopping with the See Better Guarantee. Try your fishing sunglasses with readers for 45 days. If you're not satisfied, send them back. Get a full refund, exchange, or credit towards a better pair. And return shipping? Covered. Get your pair of polarized bifocal fishing sunglasses at SportRx today!