Best Driving Sunglasses of 2019
Human beings have been driving vehicles since the 1700s and we have no plans of slowing down. Some people spend many hours in a car on a daily basis and it's important to protect your eyes from the sun. For the best driving sunglasses, you want to look for frames that are comfortable, have rubberized nose pads and temples, wrap-around, large lenses, and certain frame material. Check out the video and list below to learn more about the Best Driving Sunglasses of 2019.
Table of Contents
What to look for in Driving Sunglasses
The Best Driving Sunglasses of 2019
1. Serengeti Agostino
2. Costa Aransas
3. Costa Slack Tide
4. Costa Del Mar
5. Maui Jim Kanio Coast
6.Randolph Engineering Aviators
7. Oakley Sliver
8. Oakley Holbrook
9. Oakley Moonlighter
10. Ray-Ban 3025
11. Ray-Ban New Wayfarer 55 Eyesize
12. Spy Helm 2
13. Kaenon Burnet Mid
What to look for in Driving Sunglasses?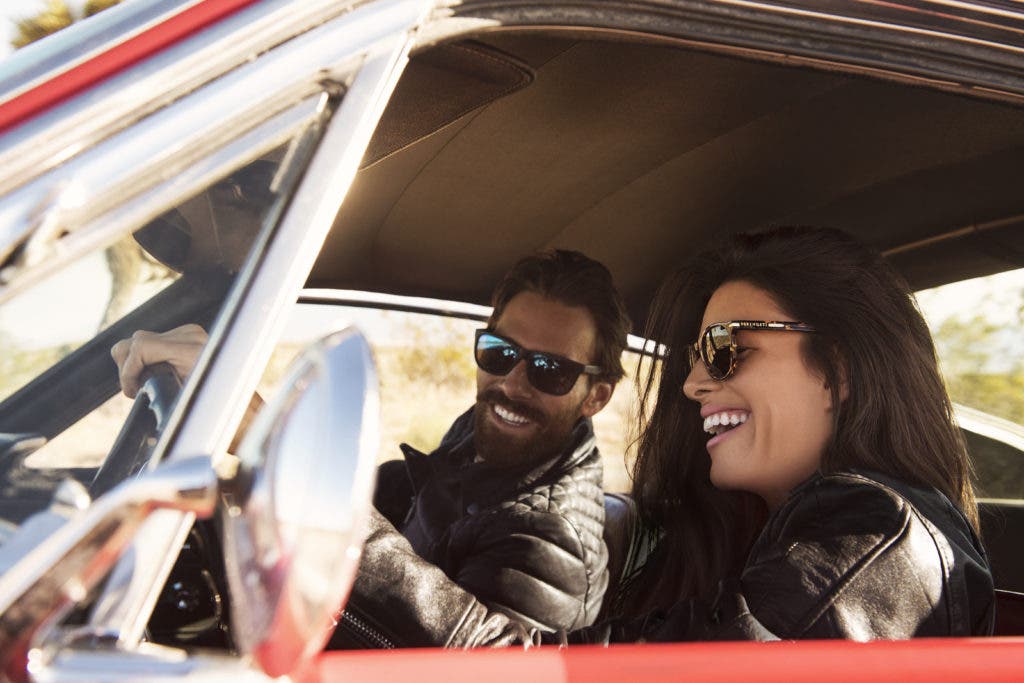 Frame Technology: For driving sunglasses, you want to look for frames with a certain material, grip, coverage, and a comfortable fit. For material, we recommend sunglasses made up of Nylon, Acetate, or metal. Coverage is personal preference between a flat lens design or a wrap-around design. Flat lenses will provide a comfortable fit and more casual look, but a wrap-around design will block the sunlight from all angles. Most importantly, find driving sunglasses that fit properly. Use our test run program to try on as many frames as you'd like and find the perfect driving sunglasses.
Lens Technology: Sunlight will bounce off shiny surfaces such as stop signs or wet roads and create a harmful that can blind you while driving. This makes it essential for your driving sunglasses have polarized lenses. Polarized lenses cut out glare bouncing off those shiny surfaces and you'll experience less eye strain while driving. Another thing to keep in mind is the lens tint you select as certain colors can cause color distortion. To learn more make sure to check out our guide on how to buy driving sunglasses.
The Best Driving Sunglasses of 2019
Serengeti Agostino
With a very modern flat design, Serengeti Agostino Sunglasses has been created helping drivers to see their road with perfect clarity. With a darker polarized driver lens, they had been designed also to provide a clear view on the dashboard below, it captures details from a great distance without obscuring the panel instruments view. Serengeti Agostino Sunglasses ideal for driving everyday use.
Costa Aransas
Costa Aransas part of the new Del Mar Collection. Named for the only town on mustang island, this sunglasses with a large acetate frame and square lens are considerate an L fit. Holding vibrant colors that remains true throughout the life and driving experience. The Costa Aransas Sunglasses come with Costa's signature 580G technology, polarized lenses that also enhance color and contrast for an unmatched visual experience on and off the road. Drive better with Costa.
Costa Slack Tide
Cost Slack tide sunglasses are designed with innovative technology and the toughest components, Slack tide stands up for polycarbonate and tivex are your lightest and most durable lens materials options , these laidback shades are built to perform, explore, and protect. Slack Tide features include hydrolite padding on the temples and nose pads, a ventilation system, and keeper ready! These prescription sunglasses are extremely comfortable and ready for long miles on the road.
Costa Del Mar
The Costa Del Mar are the centerpiece of the Del Mar collection. These timeless rounded sunglasses also feature the classic keyhole nose-bridge for that must-have look. These sunglasses are crafted with premium acetate, the choice material for holding vibrant colors and patterns. The Del Mar also comes with Costa's patented 580G technology, polarized glass lenses that provide unmatched optical clarity while enhancing both color and contrast. Drive better with Costa.
Maui Jim Kanaio Coast
The Kanaio Coast is one of the most desolate locations in Maui. Many adventurists like to come here to enjoy this paradise on the road, checking out the undisturbed fish and underwater volcanic structures. With this in mind, Maui Jim created these sunglasses using lightweight triple injected nylon frames that are designed for comfort and stability. Make the Kanaio Coast sunglasses your next pair of shades on the road!
Randolph Engineering Aviators
These Randolph Engineering Aviator sunglasses are adjusted to a 55mm base frame, giving the glasses a slightly larger finish. The bayonet temple replicates the feel of a military pilot's eyewear, letting you take off with a better vision and style on the road. these Iconic temples were designed to slide easily under pilot headsets, helmets and other headgear. Which means comfort on your drive. Randolph has design the exact angle of the temple bend to prevent headache that may result from undue temple pressure. Features include: prescription ready, adjustable nose pads.
Oakley Sliver
Oakley Sliver in Matte Black with Black Iridium lenses
This Oakley Sliver sunglasses are lightweight and ready to keep up with your lifestyle as a driver in the road. The keyhole nose bridge and three-point fit system work to create a comfortable fit for you. Oakley proprietary O-Matter is incredibly durable so you know these frames are up for anything. PRIZM lenses can improve your overall viewing experience and make these frames even better! You can even add your prescription and rock these glasses everyday.
Oakley Holbrook
This Oakley Holbrook sunglasses have become one of Oakley's most popular frames. This sunglass incorporates a classic look with Oakley patented technology. The Oakley Holbrook are made of stress-resistant O-Matter and offers a three-point fit that ensure your frames will stay in place and be comfortable enough to be worn and improve your driving experience all-day long. This Holbrook sunglasses are available in prescription. You'll be seeing better than ever and ready to take on any environment life throws at you when a SportRx optician custom-builds your Oakley Holbrook prescription sunglasses.
Oakley Moonlighter
The Oakley Moonlighter sunglasses offer the perfect late 80s vibe that melds with the newest technology to create the ultimate mash-up of fun and functionality in a women's frame. This on-trend frame is designed to fit petite face shapes and built to withstand serious mischief. Oakley Moonlighter sunglasses are constructed of a lightweight, stress-resistant material for durability and all-day comfort on every ride on the road, patented hydrophilic nosepads to ensure a snug and secure fit, and metal icon accents.
Ray-Ban 3025
The Ray-Ban RB3025 Aviator sunglasses were originally built in the 1930s for Military pilots and have since then continued to carry on the vintage style of this frame. These classic RB3025 Aviator sunglasses come in a 62 eyesize frame and are constructed with metal for a lightweight yet durable frame. Need a pair of Ray-Ban aviator prescription sunglasses? Call us up or shop our large collection of RB3025 aviators online at SportRx. Our expert opticians will get to makin' your Ray-Ban RB3025 Aviator 62 eyesize prescription sunglasses.
Ray-Ban New Wayfarer 55 Eyesize
The Ray-Ban RB2132 New Wayfarer 55 eyesize sunglasses offer a retro look for those with a medium to larger face. The New Wayfarer sunglasses eliminate the tilt of the originals and offer a higher level of clarity protection. The Ray-Ban RB2132 are perfect for drivers looking for the perfect outfit on the road. Experience the best vision out there when you order your Ray-Ban New Wayfarer 55 eyesize.
Spy Helm 2
The SPY Helm 2 sunglasses are the perfect pair of lifestyle frames. They are the perfect blend between style and function. These shades pair a fashionable square design with SPY's Happy Lenses. These lenses enhance color and contrast to provide you with the best visual clarity when driving. Crafted with a nearly indestructible Grimilad frame and polycarbonate lenses, these frames are built for durability and protection. The temples also have double injected rubber to ensure your glasses stay through narrow curves on the road . Wherever drive, the SPY Helm 2 glasses are ready for any adventure.
Kaenon Burnet Mid
The Kaenon Burnet Mid sunglasses are the newest addition to the Burnet line of sunglasses. Designed to fit medium to large faces, The Burnet Mid comes with Kaenon's game-changing SR-91 lenses, offering the clarity benefits of glass in an ultra lightweight construction and impact resistance of a polycarbonate. TR-90 nylon frame accompanies SR-91 lenses for maximum comfort on every drive. Enhance every moment with the Kaenon Burnet Mid.
Get the Best Prescription Driving Sunglasses of 2019 at SportRx
Need prescription Driving Sunglasses? Done. When you shop with us, you'll find video guides and tooltips throughout the build process as you customize the perfect pair. An answer to all your questions is at your fingertips, and if you want to chat with an expert, Contact Us. We'll put you in touch with one of our friendly in-house opticians who can help you build your prescription Driving Sunglasses. Ditch risky online shopping with the See Better Guarantee. Try your sunglasses for 45 days. If you're not satisfied, send them back. Get a full refund, exchange, or credit towards a better pair. And return shipping? Covered. Get your pair of prescription Driving sunglasses at SportRx today!