When most people think of sunglasses, they imagine being outside at the beach or maybe on a beautiful hike with an amazing view. But while we all would love to be on the beach every day, sunglasses get their everyday use from one thing—driving. Check out the video and information below to learn how to buy driving sunglasses and the features that make the best.
---
Table of Contents
What to Look for in Driving Sunglasses
1. Frame Technology
1.1 Fit
1.2 Grip
1.3 Coverage
1.4 Material
2. Lens Technology
2.1 Polarized
2.2 Material
2.3 Transitions Lenses
2.4 Gradient Lenses
3. What is the best color sunglass lens for driving?
4. Are polarized lenses good for driving?
5. Should I wear sunglasses while driving?
Top Driving Sunglasses
---
What to look for in Driving Sunglasses
---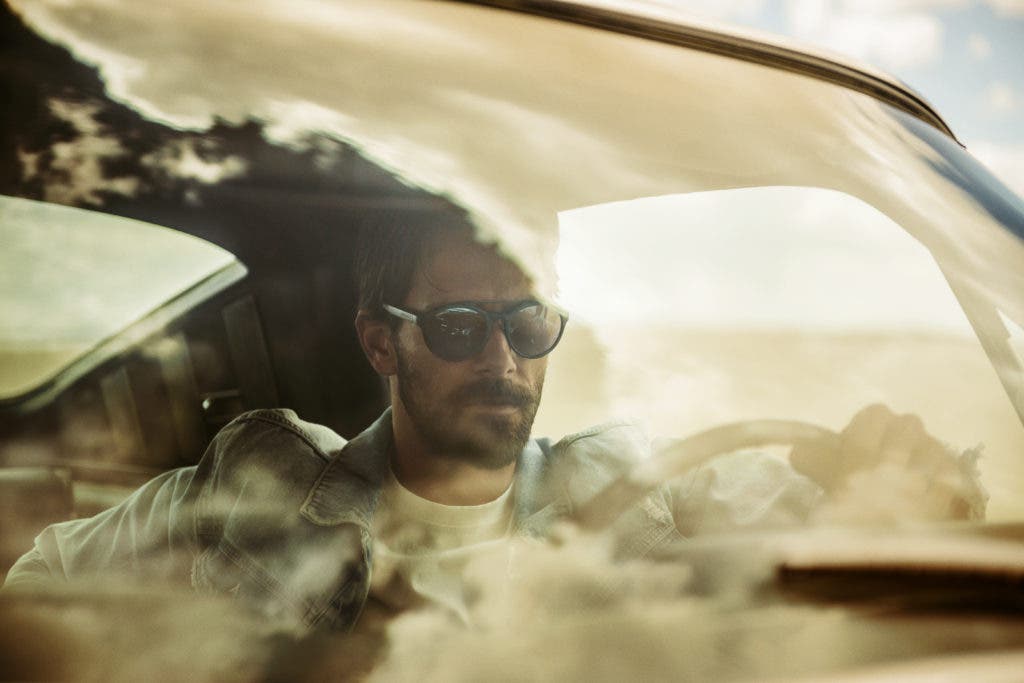 Frame Technology
Fit
The first thing you should do when shopping for new sunglasses is to try them on to make sure they have a comfortable fit. Some of us spend multiple hours in a car every day, so it's important that your sunglasses aren't causing pressure on the side of your temples. This can cause headaches or migraines. One recommendation is to look for frames with straight-back temples or a slight hook at the end.
Grip
Another feature that can be useful for driving sunglasses is rubberized nose pads and temple tips. This is not an essential feature for driving sunglasses. However, if you're looking to use your sunglasses for more than just driving, then make sure to look for the rubberized temple tips and nose pads. Most brands have a hydrophilic material that gets stickier the more you sweat.
Coverage
A key feature to look for in driving sunglasses is frames with wider and taller lens designs. Also look for a wraparound design. Sunlight can enter in from the side while you are driving and hinder your vision. A wraparound design or frame with a large lens design will have you covered from all angles of sunlight. If you prefer a casual look with a comfortable fit, then a 6-base or flat frame is the one for you.
Material
Our last feature to consider when buying driving sunglasses is the frame material. There is no perfect frame material for driving sunglasses; it is more of a personal preference. For the most comfort, look for a frame that is made of acetate. Acetate is known for its texture, patterns, and ability to hold an array of colors. The second frame material to consider is nylon. Nylon is lightweight and flexible, making it a good choice if you have to wear sunglasses for long periods of time. Also, nylon can hold its shape under extreme conditions make them a great pair of all-around sunglasses. The last frame material to consider is metal. Metal frames typically don't offer a lot of wrap-around designs, but they are lightweight and have thin temples for a comfortable fit.
---
Lens Technology
Polarized Lenses
Polarized lenses are practically a must for any pair of driving sunglasses. When you are driving sunlight comes down and reflects off headlights, stop signs, and wet surfaces on the road. This harsh glare can blind you and make it hard to see the road in front of you. Polarized lenses also allow your eyes to relax and be comfortable while you are driving. Glare will cause you to squint which can lead to your eyes being strained. Polarized lenses will provide UV protection, block all glare, and provide a comfortable driving experience.
Note that some newer vehicles have digital dashboard displays, which you may not be able to see with a polarized lens. If you get polarized lenses, be sure to check them out in your car before you head out onto the road.
Material
For lens material you have two main options: glass or polycarbonate. Glass lenses provide the best optical clarity and are the most scratch-resistant lenses. The cons of glass lenses are they are heavier and less impact-resistant. They are also difficult to get in prescription for this reason.
The perks of polycarbonate lenses are they are lightweight and impact-resistant. The downfall of polycarbonate lenses is they scratch easier and are not as optically clear as glass lenses.
Transitions Lenses
Transition, or photochromic, lenses are a hot commodity in the optical industry, and for good reason. These lenses go from clear to dark depending on how much sunlight is hitting the lens. Unfortunately, the brand Transitions lenses aren't as effective when driving. This is because car windshields will block the UV exposure required to change the lens from clear to dark.
The best option to consider if you really want photochromic lenses are the Serengeti Drivers lenses. Serengeti's lenses react to both available light and UV light, which means they will get darker behind the windshield of a car.
Gradient Lenses
Gradient lenses start dark at the top and become lighter near the bottom. These lenses are more known as a fashion lens but they do offer value for driving sunglasses. When you are focused on the road and driving, your eyes will look through the darkest part of the lens to protect you from the sunlight. Then as you look down at the dashboard, the lens is more clear, making it easier to read the display.
---
What is the best color sunglass lens for driving?
Selecting the right lens color is the first step to consider when buying driving sunglasses. Typically, a neutral base color such as grey or a contrast boosting copper base are the best routes to take. A grey base will keep images sharper without enhancing the colors you see. If you prefer more contrast and color enhancing, then the copper base is a good color. Colors to avoid as the base tint would be green, blue, pink, or red because they have been known to distort certain colors, like red lights or stop signs.
---
Are polarized lenses good for driving?
Polarized lenses are a must for any pair of driving sunglasses. Each year there are thousands of motor accidents reported because glare impaired the driver's vision. All polarized lenses have a specific coating that combats any glare bouncing off shiny surfaces. When driving you experience glare from sunlight bouncing off objects like a stop sign, asphalt, roads, wet surfaces, and headlights. Reduced glare means less stress on your eyes, which allows you to focus on the road in front of you. Check out the links below to learn more about how polarized sunglasses work.
Like we mentioned above, there is a small caveat involving digital dashboards, usually found in newer or luxury vehicles. But for the most part, polarized lenses are a great option for driving.
---
Should I wear sunglasses while driving?
Yes, you should always wear sunglasses while driving during the daytime. Sunlight reflects off the road, stop signs, other cars, etc. making it harder to see the road in front of you. Driving requires your full attention at all times and one simple mistake can result in serious consequences. If those UV rays are shining down and you don't have protection, your eyes will fatigue quicker. This can result in a slower reaction time. Essentially, always keep a good pair of driving sunglasses in your car.
---
Best Driving Sunglasses
The driving sunglasses listed below are here to show you a few things in mind when making your purchase. These are only a few of our recommendations as we have a complete guide to the best driving sunglasses of 2020. Make sure to check out which frames made the list.
Serengeti Dante
Serengeti has mastered the art of the perfect driving lenses, and the Dante is no exception. Catch everyone's eyes and coast in comfort with this striking metal frame.
Serengeti Dante Key Features:
Polarized, photochromic lenses provide crystal-clear vision regardless of conditions.
Wire-Flex frame adjusts to fit your face comfortably.
Adjustable temple tips and nose pads for a custom fit.
---
Maui Jim Red Sands
Feel like one in a million with these Maui Jim sunglasses, named for the rare red sand beach on Maui. These ultra-light sunglasses are sure to enhance any drive, no matter how mundane.
Maui Jim Red Sands Key Features:
PolarizedPlus2® lens technology grants you a completely glare-free and UV-protected field of view while also enhancing the colors of your surroundings.
Super lightweight frame lets you go about your day with minimal distractions.
Wraparound shape blocks light from all angles.
---
Prescription Driving Sunglasses Online at SportRx
Need prescription driving sunglasses? Done. When you shop with us, you'll find video guides and tooltips throughout the build process as you customize the perfect pair. An answer to all your questions is at your fingertips, and if you want to chat with an expert, Contact Us. We'll put you in touch with one of our friendly in-house opticians who can help you build your prescription driving sunglasses.
Ditch risky online shopping with the See Better Guarantee. Try your sunglasses for 45 days. If you're not satisfied, send them back. Get a full refund, exchange, or credit towards a better pair. And return shipping? Covered. Get your pair of prescription driving sunglasses at SportRx today!