Driven by adventure, Zeal Optics snow goggles give you the quality and durability you crave. SportRx has compiled this guide to help you understand the ins and outs of Zeal lenses so you're prepared for whatever the mountain throws your way.
Table of Contents
1. Optimum Lens Technology
2. Optimum Polarized Automatic+ Technology
3. Automatic+ Lens Color Options
4. Best Zeal Snow Goggles
5. Prescription Zeal Snow Goggles at SportRx
---
Optimum™ Lens Technology
Optimum™ lens technology lays the foundation for all Zeal snow goggles. To get the ideal lens to tackle any obstacle on the mountain, Zeal starts with complete protection from harmful UV light, then adds Everclear Anti-Fog, Permashield Hardcoat, and blue light filters.
In addition to regular Optimum technology, there's Optimum Polarized and Optimum Polarized Automatic+ technology, our main topic for today.
---
Optimum Polarized Automatic+™ Technology
Optimum Polarized Automatic+ takes all the benefits above and adds polarized and photochromic elements. Your snow goggles both block glare with a premium polarizing filter and automatically adjust the lens tint from light to dark and vice versa in under 10 seconds.
In addition to the polarized and photochromic capabilities, with Automatic+ lenses you get hydrophobic and oleophobic coatings on mirrored lenses, 95% HEV blue light protection, and a color boost.
---
Automatic+ Lens Color Options
There are several base tints for Automatic+ lenses, and thanks to the photochromic technologies each is pretty good in all types of weather.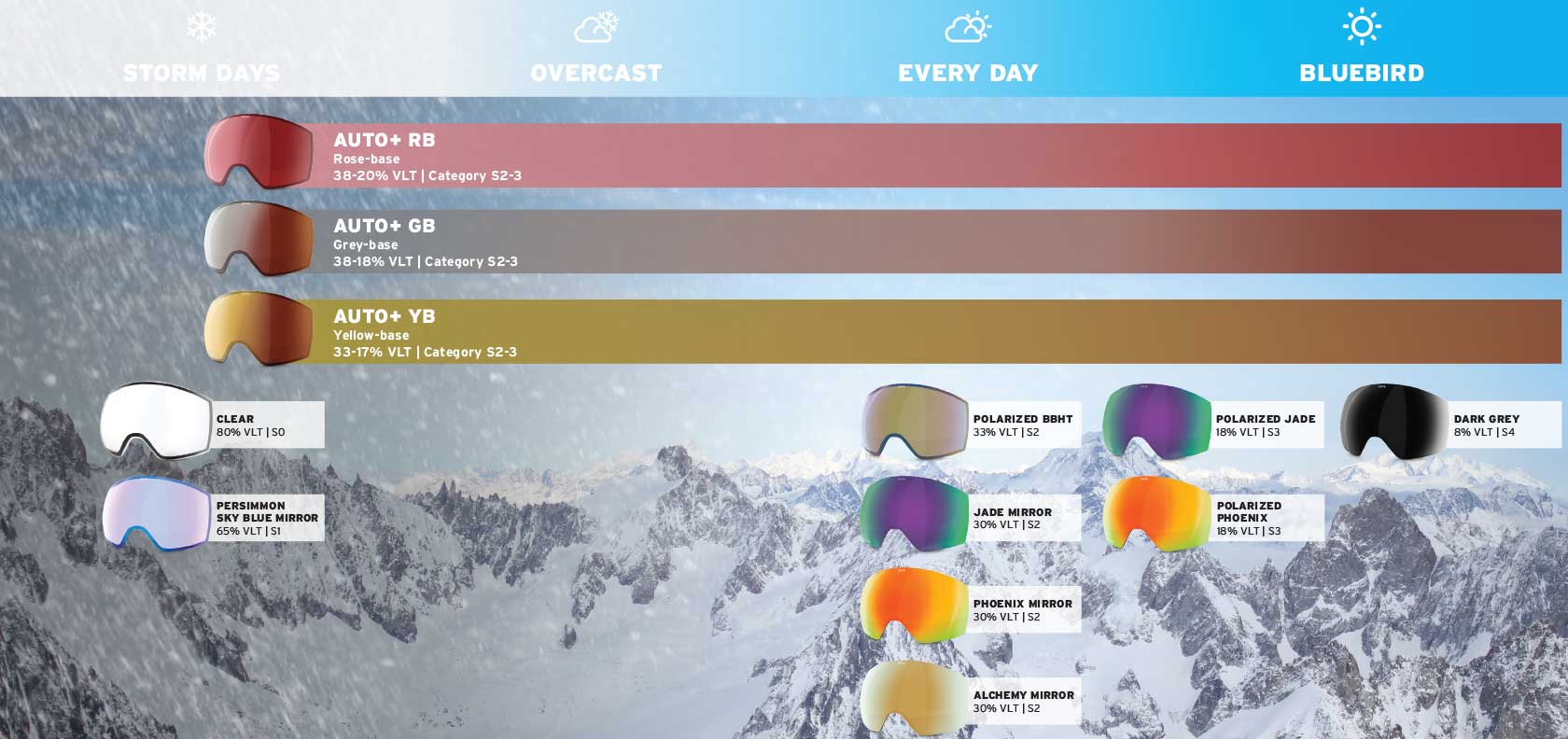 Auto+ YB
This first lens has a yellow base with an active persimmon tint. The VLT ranges from 33% to 17%, making it work even in brighter conditions.
Auto+ GB
The next lens has a grey base and active deep rose tint. The VLT range is 38% to 18% so it's just a bit lighter than the first.
Auto+ RB
Last but not least, this lens has a light rose base with an active deep rose tint, making it best for cloudy or everyday conditions when contrast is even more important. The VLT ranges from 38% to 20%.
---
The Best Zeal Snow Goggles
Here at SportRx, we offer a range of Zeal snow goggles. Check out the best 2 to figure out which works better for you! Both are available in prescription with a SportRx insert.
Zeal Optics Portal
The main thing to note about the Portal is its spherical lens shape that provides the best optics possible. And just in case you get caught in a storm, it comes with a spare Persimmon Sky Blue lens with a lighter tint than the Automatic+ lens.
Zeal Portal Key Features:
Rail Lock magnetic lens change system makes swapping lenses lightning fast
Triple-layer face foam keeps your face dry even in intense conditions
Spare stormy weather lens included
---
Zeal Optics Beacon
If you're after a more traditional look, check out the Zeal Beacon with its cylindrical lens. These snow goggles debut Zeal's Observation Deck Technology for a completely unobstructed field of view. Paired with Automatic+ lenses, we have a true force of nature on our hands.
Zeal Beacon Key Features:
Non-slip adjustable dual strap keeps these in place
Observation Deck Technology + rimless design provides an expansive view
---
Prescription Zeal Snow Goggles at SportRx
Need prescription Zeal snow goggles? Done. When you shop with us, you'll find video guides and tooltips throughout the build process as you customize the perfect pair. An answer to all your questions is at your fingertips, and if you want to chat with an expert, Contact Us. We'll put you in touch with one of our friendly in-house opticians who can help you build your prescription Zeal snow goggles.
Ditch risky online shopping with the See Better Guarantee. Try your goggles for 45 days. If you're not satisfied, send them back. Get a full refund, exchange, or credit towards a better pair. And return shipping? Covered. Get your pair of prescription snow goggles at SportRx today!